User Concern
"My Yahoo mail doesn't work unless I'm connected to WiFi on my iPhone 14. All my other apps work fine without WiFi connection. Does anyone know how to fix this?"
Yahoo mail users can either add their mail account on the in-built Mail app or install the Yahoo Mail app on the iPhone. Recently many users have reported that they are facing issues in sending and receiving Yahoo mails on iPhone.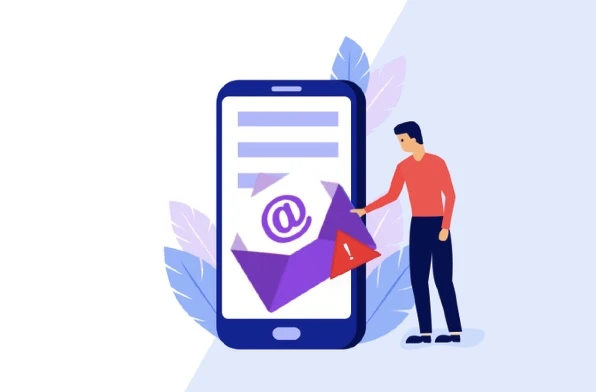 If you are one of the users who has run into the same problem of Yahoo mail not working on iPhone, you've come to the right place. Now let's first check some of the most common issues about Yahoo mail app by iOS users;
Yahoo mail is not loading or very slow.
The messages get stuck.
Yahoo mail is not showing all emails
Not sending or receiving emails in iOS Mail app.
Unable to open the Mail app to read emails.
Unable to open an email attachment.
The Yahoo Mail app is not updating.
The Yahool Mail app doesn't work without WiFi connection.
In this article, we will show you all the possible solutions to fix Yahoo mail not working on iPhone or iPad. Let's check out.
Common Solutions for the Yahoo Mail Not Working on iPhone Issue
The following are just some of the troubleshooting solutions you can choose from, if you would rather not use third-party software;
Tip 1. Check If Yahoo Account Working Properly
If soemthing is wrong with your Yahoo account, you will have the Yahoo mail not working on iPhone problem. So, the first thing you should do is to check your Yahoo account;
Open Safari on your iPhone and go to the Yahoo Mail website.
Login to your Yahoo account and try to send or read the emails.
If everything works fine, then there is nothing wrong with your Yaoo account.
Tip 2. Sign Out and Sign In to Yahoo Account
If you are unable to receive emails on your Yahoo inbox, signing out and then signing back in to your Yahoo account has been known to work.
To do that, go to Yahoo Mail and tap "Sign out of your Account". Wait a few seconds and the sign in again into your account.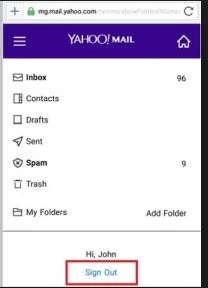 Tip 3. Delete and Re-add Yahoo Mail to iOS Mail
If that didn't work, you should consider deleting the Yahoo Mail account from iOS mail and then re-add it. Here's how to do that;
Open the Settings on your iPhone and then tap on "Passwords & Accounts".
Select the Yahoo mail account and tap "Delete Account" to remove it.
Now on the Accounts & Passwords page, tap "Add Account" and choose "Yahoo"; to sign in with your email address and password and re-add the account.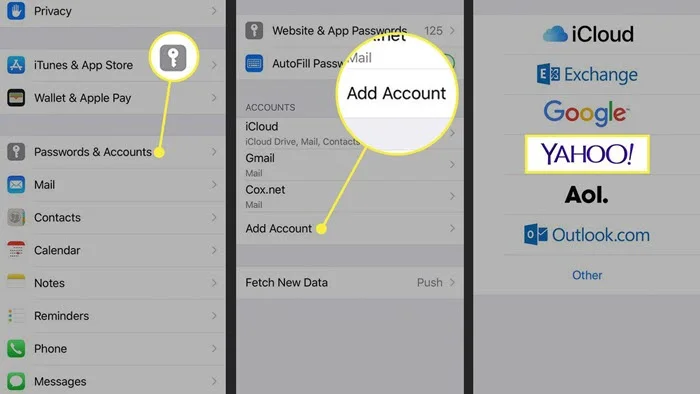 Tip 4. Check Yahoo Email Settings
If you are trying to access Yahoo from diifferent applications, you may face a sign-in . In such case, you can change the Yahoo email settings to fix the problem;
On your iPhone, open Safari and go to https://mail.yahoo.com.
Sign in to your Yahool email account and click on "Account Info > Account Security".
Then tap on "Allow apps that use less secure sign-in" to enable it.
Tip 5. Enable Cellular Data
Yahoo may fail to work properly if you are out of range of your Wi-Fi and you are therefore not connected to the internet. In this case, the best thing to do is to connect to cellular data.
To do that, go to Settings > Cellular and turn on "Cellular Data". Scroll down to find "Mail" and toggle it on.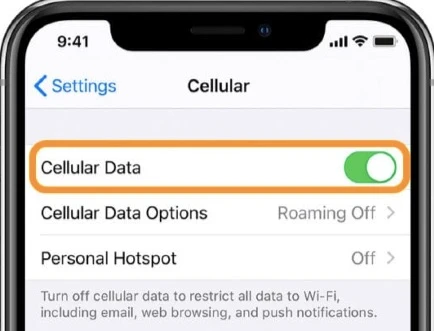 Tip 6. Restart Your iPhone
Restarting iPhone works to fix many minor iOS errors including this one. So, try to restart your iPhone followng the below steps;
For iPhones with Face ID, press and hold the Power button together with Volume Up button until you see the power off slider.
For iPhones without Face ID, press and hold the Power button until the power offer slider appears on the screen.
Just drag the slider to turn off your iPhone and wait for a few seconds, press and hold the Poer button to turn the device back on.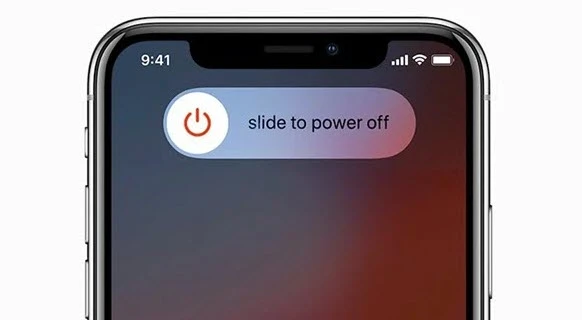 Tip 7. Update iOS to the Latest Version
Updating the iPhone to the latest version of iOS 16 is one of the best ways to eliminate some of the bugs that could be causing the Yahoo mail not working issue. Follow these simple steps to update your iPhone:
Go to Settings > General > Software Update.
If an update is available, tap "Download and Install" to install it.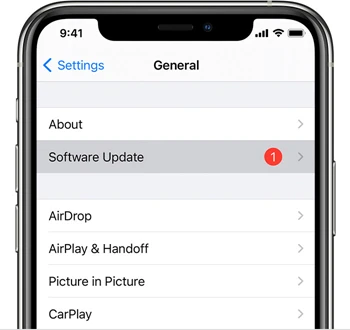 Tip 8. Set SMTP Server
Setting the SMTP server can also help to resolve this issue. Follow these simple steps to do it;
Go to Settings > Accounts & Passwords.
Tap on Yahoo > Account > Outgoing Mail Server SMTP> Other SMTP servers.
The Hostname should be smtp.mail.yahoo.com.
Enter the user name and password and set the port to 465 or 587 and SSL to "Yes."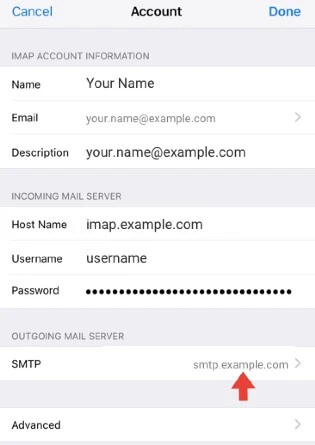 Tip 9. Generate Third-Party App Passwords
Sometimes Yahoo can ask you to use third-party passwords when accessing Yahoo mail from other apps like the Mail app. If this happens, follow these simple steps to generate the passwords;
Sign in to your Yahoo account on the web and click on the "Account Security" option.
Click on "Generate App Passwords" (may also be "Manage App Passwords").
Select the app you want to generate the password for and then click "Generate".
Follow the on-screen instructions to complete the process. You can now use the generated password to sign in to Yahoo on the Mail app.
Tip 10. Use the Yahoo Mail App
If all the above solutions don't work to fix the problem and you are still unable to access Yahoo mail in your iPhone's Mail app, consider downloading and installing the Yahoo Mail app from App Store. Launch the app after installation and sign in your Yahoo mail account to access your emails.
Best Way to Fix Yahoo Mail Not Working on iPhone
This problem is often caused by a conflict in the iOS system, causing the Yahoo mail service to fail. Therefore, the best solution to this problem is to repair the iOS system, eliminating the conflict and getting the device working normally again. The best tool to repair iOS system is FoneGeek iOS System Recovery. This tool is both safe and effective.
To fix the Yahoo Mail not working issue on your iPhone, install the program on your computer and then follow these simple steps;
Step 1: Open FoneGeek iOS Repair tool on your computer and in the main window, click on "Standard Mode". Connect the iPhone to the computer using USB cables and unlock the device.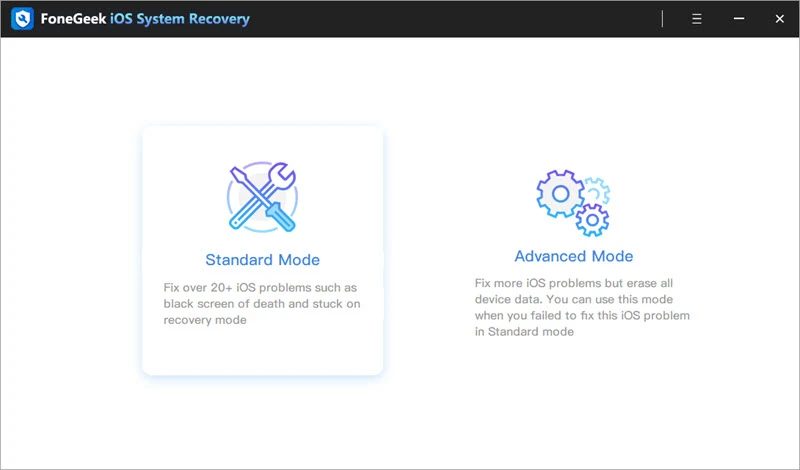 Step 2: The program will then detect the device and offer several firmware options for the device. Select an appropriate one and click "Download" to download the firmware package.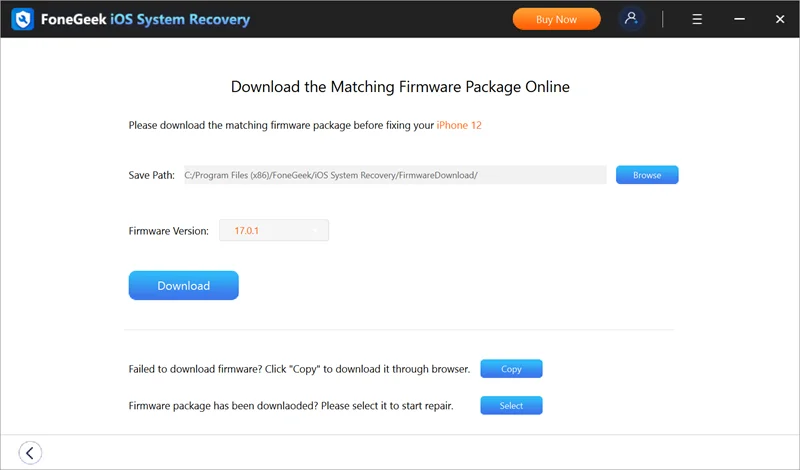 Step 3: After downloading, click on "Fix Now" and the program will begin repairing the device immediately.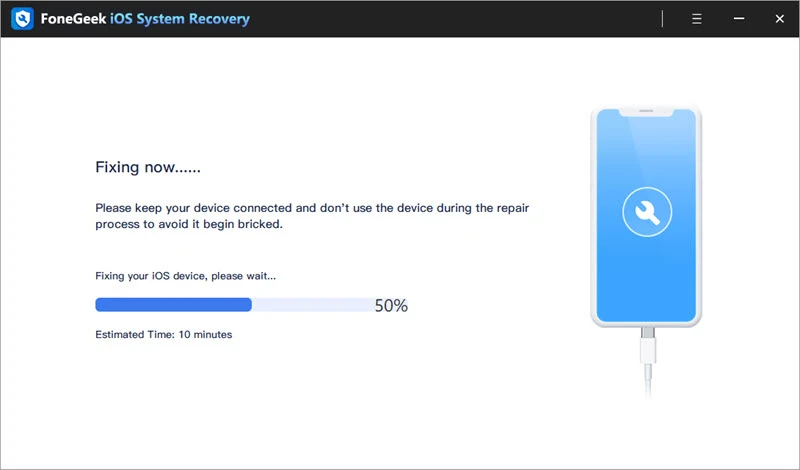 Once the process is complete, the device will restart and the Yahoo mail issue should be gone.
Conclusion
The solutions above can help you overcome the Yahoo Mail not working on iPhone issue. It is important to select a solution that you want to use and follow the instructions to implement it fully. If you have any questions or comment about this particular problem or any other iOS related issue, use the comments section below and we'll do our best to help.