Many users have reported experiencing YouTube not working on iPhone, especially after the new iOS 16 update. However, this is an issue that has been around long before iOS 16. Plus, the cause of it could be anything.
Regardless of the cause though, the outcome is the same. You can't access and watch your favorite YouTube videos. The upside is that there are many effective solutions to fix it and that's what we've gathered in this detailed guide.
Before we go through them, let's first know the reasons for YouTube on iPhone not working.
Why is YouTube Not Working on My iPhone?
It can be frustrating when you want to watch videos, only to find that YouTube is not working on your iPhone. Many reasons could lead to this error. It could be that you're using an outdated YouTube app, there's an issue with the YouTube server, or maybe the cache files have just piled up.
If you can't open a YouTube video on Safari, Chrome, or another browser, then you may need to update the browser. It's also likely that the problem is actually with the iPhone itself, especially if many other apps stop working too. The iOS could be outdated or it's corrupted hence requiring repair.
Whatever the cause, the solutions below will help you fix this issue. They can work for all iPhone models, from iPhone 6s to iPhone 14, as well as iPad models, from iPad mini to iPad Pro. Let's check them out.
1. Check If YouTube is Down
YouTube servers sometimes may experience outages or undergo routine maintenance. So when YouTube is not working on your iPhone, you should first check if the server is temporarily down.
This is important because if the server is down, then none of its services would be available on any platform and there's nothing you can do about it at your end. There are a couple of websites that can help you check if YouTube servers or other online services are up and running or not.
A good example is the Downdetector, which shows real-time problems as well as outage monitoring. In the search box, type YouTube and press enter. The website will show the outage data in the last 24 hours.
If indeed the server is down, then the only thing you can do is to wait until the YouTube team fixes the problem. If the servers are running with no issues, move to the next solution.
2. Check Internet Connection
The second step you should take is to make sure that your iPhone is connected to a working internet. If there's a problem with the internet connection, YouTube won't load properly.
You can do this by launching Safari and trying to open any webpage. If the page loads, that's great but if it doesn't, then you may be having some internet issues. Try to connect your phone to a more reliable Wi-Fi network.
In case you're using mobile data or metered Wi-Fi, make sure the data allowance is enough to last the day or month.
3. Turn the Airplane Mode On & Off
Enabling the Airplane mode and then turning it off is a simple trick that can actually solve your YouTube not working issue. It's a quick and effective fix to minor network errors.
You only have to head to the Control Center and tap the plane icon to enable the Airplane mode. Wait a few seconds and tap the icon again to turn it off. That's it. Now connect your device to your Wi-Fi network and open the YouTube video to see if videos can play again.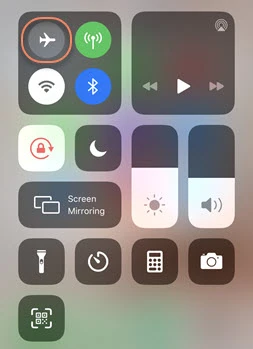 4. Turn Off VPN on Your iPhone
VPN can prevent access to certain region-specific online content. Therefore, if you've set a VPN on your iPhone so that you're able to browse the internet privately, then that could be what's causing YouTube videos not to play on your iPhone.
You can fix this by turning off the VPN. To do that, head to Settings, tap General and then just toggle the VPN slider to the off position to disable VPN.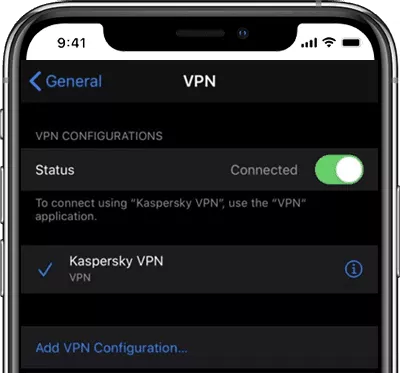 5. Reset Network Settings
You can try this method if it's the network that's causing YouTube not to work on your iPhone. It can be a bad network connection or maybe your iPhone is stuck and not responding even when it receives a better network. Whichever the case, try to reset your iPhone's network settings to fix this issue.
Head to Settings and tap General. Move down to the Reset option and tap it. On the next page, tap Reset Network Settings. Once you do this, all your Network preferences and settings will be erased. However, all the other data on your device won't be touched.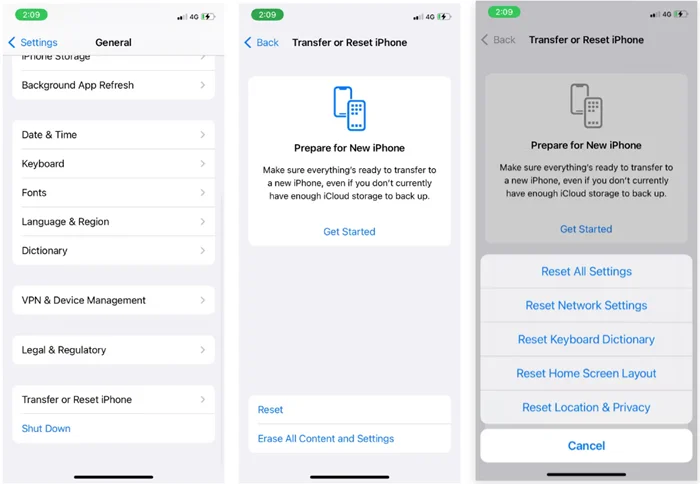 6. Change YouTube Video Quality
When the internet speed is slow or poor, YouTube will display the loading screen or fail to work altogether. You can fix this by decreasing the YouTube video quality. Tap the 3 dots icon on YouTube. Tap on Quality and then tap the Advanced option. From the options, select lower video quality. The 144p is the least quality option but 360p resolution can also work well for a slow/poor connection.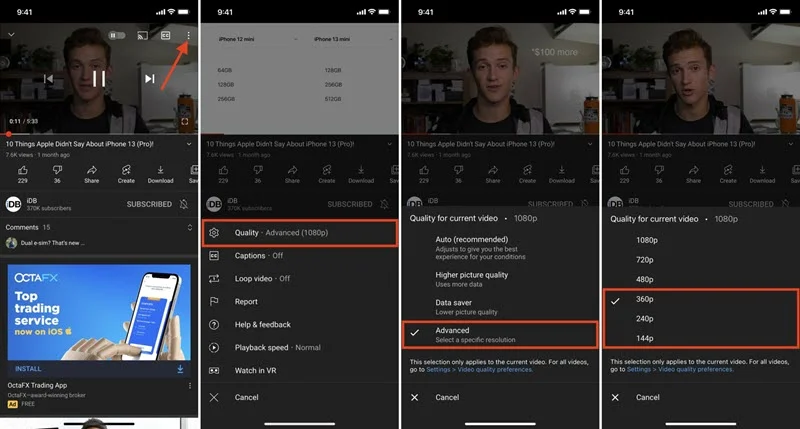 You can also have all YouTube videos set to lower quality in case your data cap isn't sufficient or you live in an area where internet speeds are usually slow. To do that:
Open the YouTube app and tap your profile picture. Select Settings.
Next, tap the Video quality preferences.
Now, tap On Wi-Fi or On mobile networks and then select Data saver.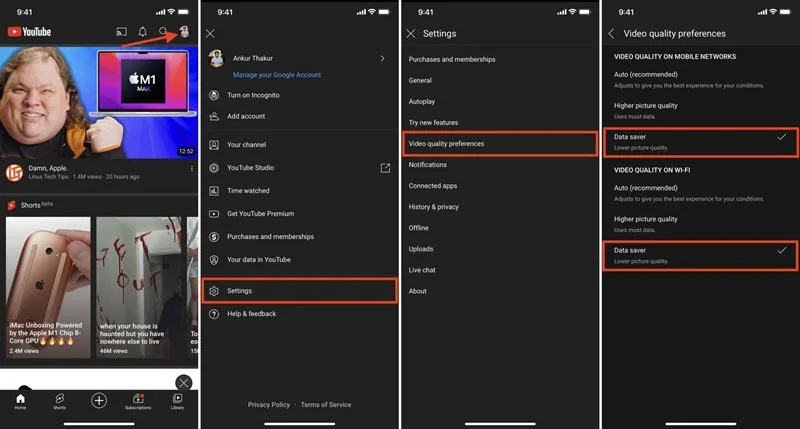 7. Restart Your iPhone
Another simple way to fix the YouTube app on iPhone not working issue is to restart your device. This is a solution that works many times, especially in resolving issues such as this.
If you're using iPhone 7 or later, you can restart it by long pressing either the Volume button and the Side button and then releasing them as soon as the power-off slider appears. Now, drag the slider all the way to the right to switch off your iPhone.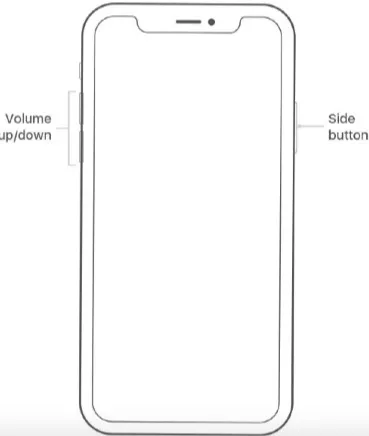 Wait a few seconds and turn the phone on by long-pressing the right Side button and releasing it when you see the Apple logo. When the iPhone is up and running, open YouTube and see if the videos play properly. If the phone freezes and fails to respond, force-restart it.
8. Clear the iPhone Cache
Files like cache, cookies, and temp files usually pile up on the iPhone and end up taking up storage space and then affecting the iOS performance. These non-essential files which are created by Apps and browsing activities could cause YouTube not to work. As such, deleting them can help enhance the performance and speed of the iPhone and ultimately fix this YouTube not working on iPhone problem.
Follow these steps to clear the cache of iPhone apps:
Launch Settings. Tap General and then select the iPhone Storage option.
A list of apps will appear, choose the YouTube app and tap on Offload App.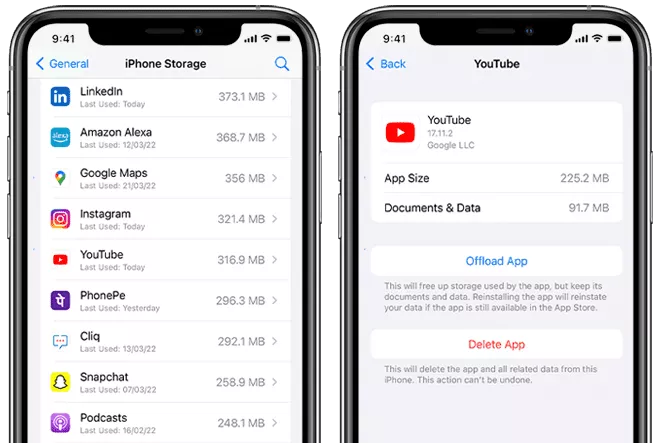 Alternatively, you can tap Enable against the Offload Unused Apps. Doing so will clear caches plus other unnecessary data created by unused apps on your iPhone.
You can as well clear the cache data of your browser in case YouTube videos fail to work on the browser. Follow these steps to clear the cache and history data of Safari on your iPhone.
Head to Settings and tap on Safari.
Tap the Clear History and Website Data option.
You'll be prompted to confirm that you want to clear cache data, so do so.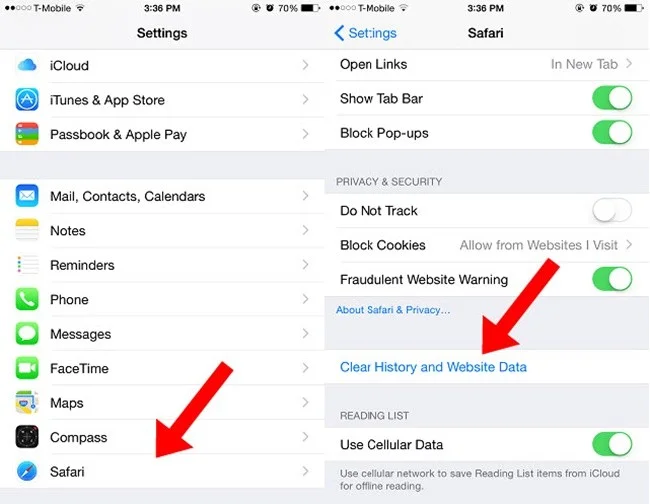 9. Re-sign Into Your YouTube Account
When you're signed out of your YouTube account, the only thing you can do is to search and watch videos. You can't comment on videos or save playlists. However, logging in to your YouTube account gives you access to all its features. Therefore, if you're still facing the YouTube not working issue, signing out of the app and then signing in again may help fix it. To do that:
Open the YouTube app on your iPhone. Tap your profile photo and then tap your account name.
Select Switch Account option and then tap Use YouTube Signed Out.
After that, re-launch the YouTube app on your iPhone. Tap on Account and then tap on Sign in.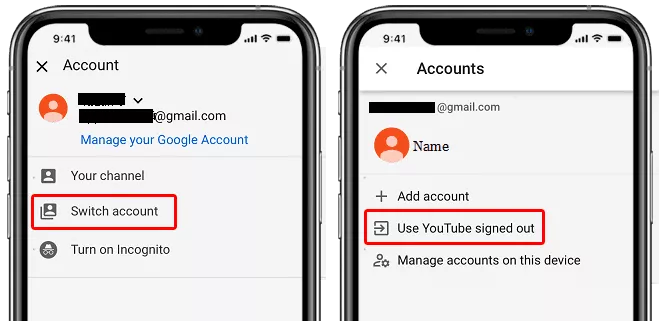 When you're signed in, the YouTube videos should play smoothly without any problems.
10. Force Quit the YouTube App and Reopen It
To force quit the YouTube app on iPhone that uses a Face ID, go to Home Screen and swipe up starting from the bottom and hold. For other iPhone models, simply press the Home button.
Once you do that, locate and drag up the YouTube card to force close it. Wait for around 15 seconds, and then re-launch the YouTube app. It should be able to work now.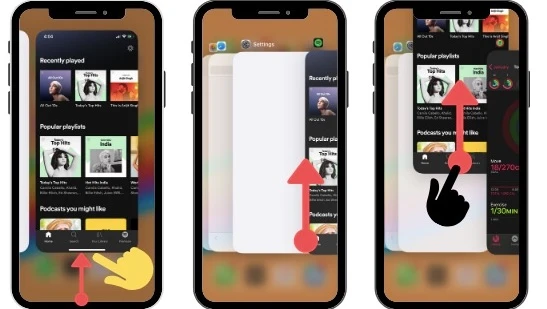 11. Update the YouTube App and iOS
As we mentioned earlier, one possible cause of YouTube not working on iPhone is running an older version of the app. So, check if there's any pending update of your YouTube app on your iPhone. If there's one, update the app to the latest version. Follow these steps to do so:
Visit the App Store and tap on your profile photo.
Head down to the bottom and check if there's any pending YouTube app update.
If there is one, tap on Update (besides the YouTube icon).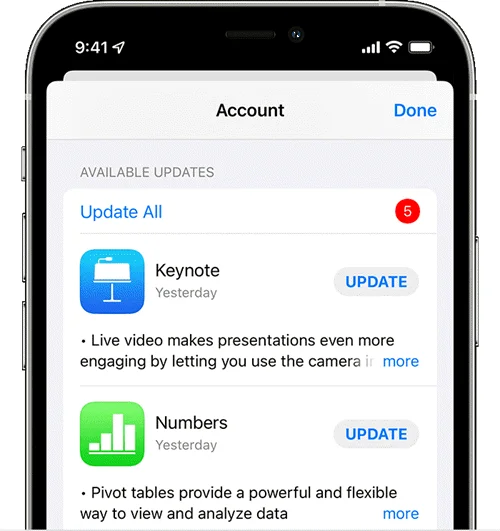 If you've updated the YouTube app but still the same problem persists, we recommend you try updating the iPhone iOS to the latest version if there are any pending updates. iOS updates basically help fix software glitches that may be causing this YouTube issue. Follow these steps to update your iPhone iOS to the latest version.
Launch Settings and tap General. Head to Software Update and tap it.
Now, turn on the Download and Install iOS updates option to update your iPhone's iOS to the latest version.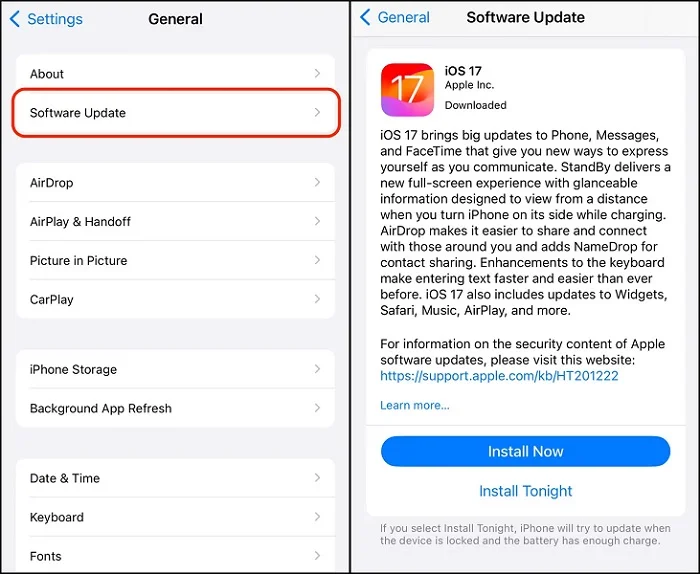 12. Re-install the YouTube App
If after trying the above methods you still encounter the same problem, uninstalling and reinstalling the YouTube app on your iPhone can help. When you uninstall the app, all the settings as well as the cache data of the app will be erased.
Your YouTube account won't get deleted though. You'll still be able to sign in using the same Apple ID once you reinstall the app and also be able to recover your saved videos plus the subscriptions in your YouTube account.
Reinstall the YouTube app on iPhone by following these steps:
Go to your iPhone's Home screen and long press the YouTube app icon.
From the quick action menu, select Remove App. Tap Delete App and then Delete.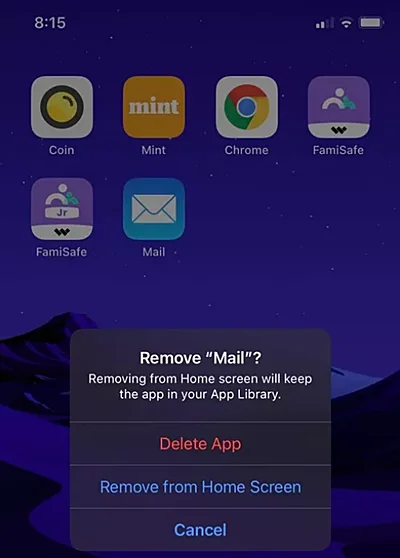 To re-install the app, launch the App Store. Type YouTube app in the search box. When the app appears, tap Install. After installation, launch the app and check if YouTube works on your iPhone.
13. Repair iOS without Data Loss
You can try repairing the iOS if reinstalling the YouTube app doesn't work. It's likely the problem is the software and the best way to resolve this is to use an iOS repairing tool like the FoneGeek iOS System Recovery.
This professional iOS system troubleshooter is able to quickly and effectively resolve almost any issue with your iPhone's iOS including this issue of YouTube app on iPhone not working. It does this without data loss, plus it can work with most iOS versions and iPhone models, even the newest iOS 16 and iPhone 14.
Steps to resolve YouTube not working on iPhone using FoneGeek iOS system recovery:
Download the FoneGeek program, install, and run it on your computer. Click the "Standard Mode" option.
Use a USB cable to connect the iPhone/iPad to your computer. Unlock the device and tap "Next."
After detecting your device, FoneGeek will display the device model and the corresponding firmware versions. Choose the ideal version and click "Download." The firmware package will start to download.
After the program finishes downloading the firmware, click "Fix Now," so that FoneGeek can start fixing the iOS of your iPhone and get YouTube to work as normal again.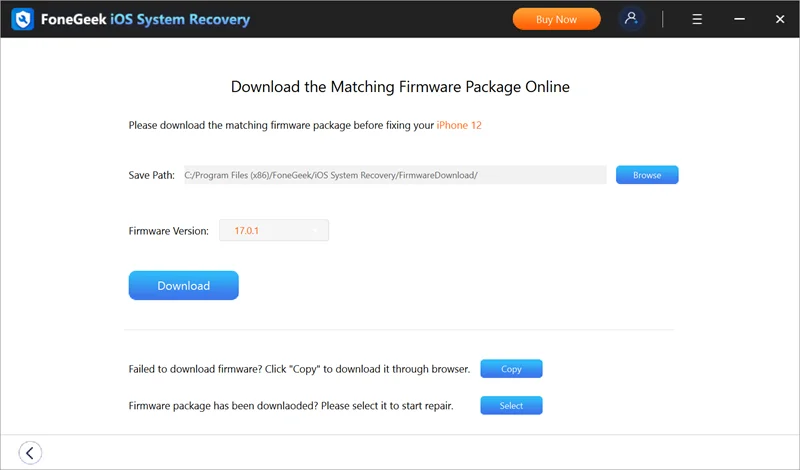 Wrapping Up
Any of the above fixes can help solve the YouTube not working on iPhone issue if you give them a try. They have worked for many users and we're certain they can work for you too, especially the FoneGeek iOS System Recovery tool.
It's the most reliable solution if the rest fail. This tool will effectively fix the issue that stops YouTube from working on your iPhone as well as many other iOS system issues. And no data will get lost in the process.