In order to launch the cloud services, Apple launched the iCloud service in 2011 to provide online backup services for users. Later, when iOS 8 and OS X Yosemite were launched, Apple further launched iCloud Drive for users to store various files. However, when it is actually used, most users will get confused between iCloud and iCloud Drive. So what's the difference between iCloud and iCloud drive?
1. What is iCloud
The primary use of iCloud is to back up iOS devices for users. According to Apple's instructions, iCloud will back up the App Store's purchase history, device settings, information in the app (excluding the app itself), iMessage, SMS and voicemail. For your own videos and photos, you need to enable iCloud Photos from iCloud in advance. On the other hand, all videos, musics and e-books that are not purchased through the iTunes Store will not be backed up to iCloud either.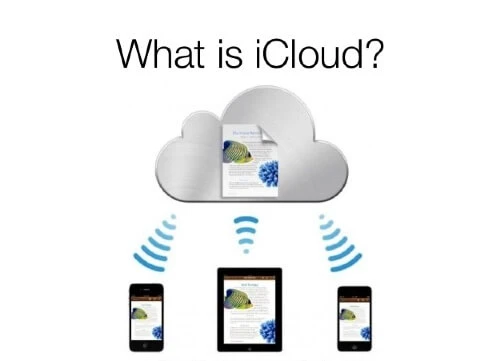 2. What is iCloud Drive
iCloud Drive is the enhancement to Apple's Cloud Services. In addition to system cloud backup, it also enables better file synchronization between iOS and Mac devices. Simply put, iCloud Drive is considered as a cloud storage disk that supports data storage and synchronization for Apple and third-party applications.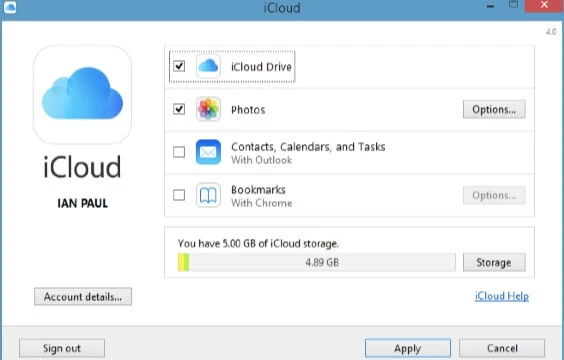 In general, you can directly consider iCloud Drive as an alternative to 360, Baidu cloud disk that stores the temporary files or small files you need to use directly in the iCloud Drive folder, each time you change the saved files, the changes will be automatically synchronized to the cloud. Here are the steps to view iCloud Drive:
If you have the iCloud Drive App on your iPhone or Mac, you can access or save the content on iCloud Drive as soon as you open the app. If you need to access iCloud Drive on Windows computer, you have to install the iCloud drive program by yourself.
Official website to download iCloud Drive:
https://support.apple.com/en-us/HT204283
3. What's the Difference between iCloud and iCloud Drive
iCloud Drive should be one part of iCloud. What are backed up to iCloud Drive will also be backed up to iCloud as well. iCloud is focusing on backing up iOS data and sync them to other iOS devices by using the same iCloud account. iCloud Drive focuses on the data transferring among iOS devices without sending them to other devices via 3rd-party tool.
For instance, you created a new Numbers file on your Mac and you haven't finished it yet, you can still work on this file on any of other iOS devices.
4. How to View iCloud Backup
For the sake of security reason, users are not allowed to know where the iCloud backup files are located. If you need to access and view what have been backed up on iCloud, you should try using a third-party tool or search for the path of the iCloud backup file. However, even if you find an iCloud backup file, you will not be able to view the data in the iCloud backup file in detail. This is a package that mixes all the data together and appears as code. Fortunately, iCloud Backup Viewer will allow you to view all iCloud backup files and selectively extract data from iCloud backup without restoring iPhone.
Check out Other Features of iCloud Backup Viewer:
View iCloud/iTunes backup and extract specific data from iCloud/iTunes backup. No need to erase all content and settings on your iPhone.
Recover lost data on your iPhone even if deleted data are not kept in iCloud or iTunes backup.
Preview deleted data from iPhone directly for free without signing into the program.
Works for all iPhones, iPads and iPod touch. iOS 16 and iPhone 14 are also supported.
Step 1. Download and install iCloud Backup Viewer on your computer. Here are both the Mac and Windows versions. Start it immediately after installation and click 'Data Recovery'.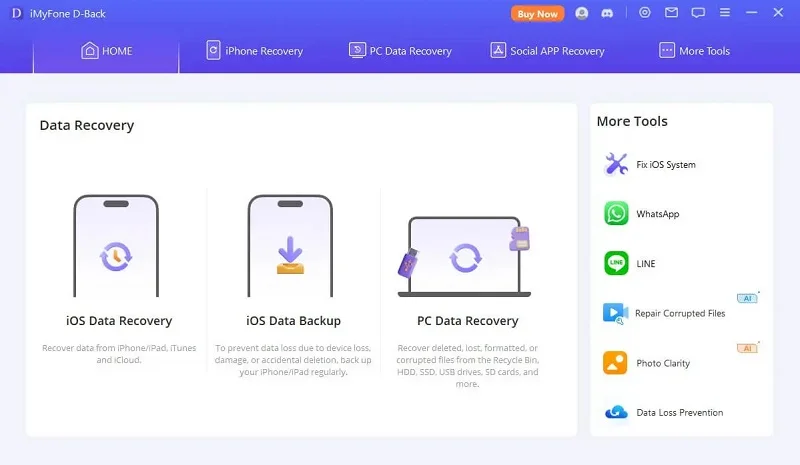 Step 2. Hit 'Recover from iCloud Backup' and log in to your iCloud account.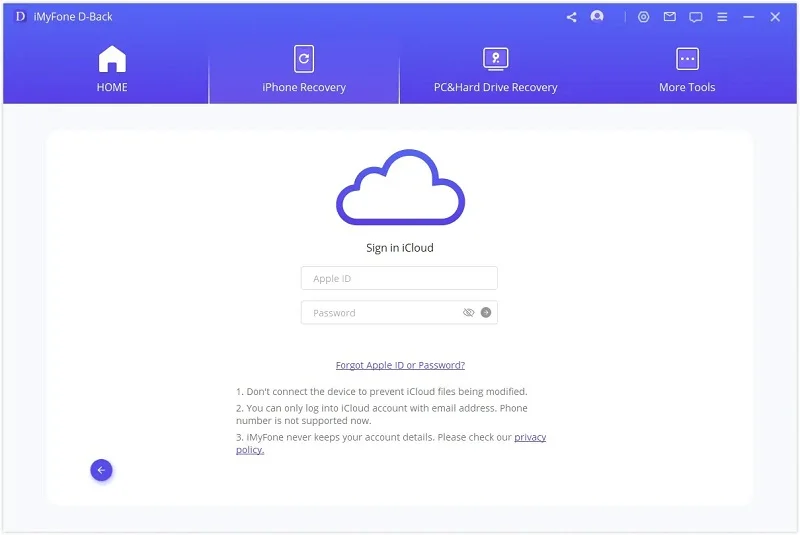 Step 3. Click Start Scan to scan the data on your iCloud account. In the process, you can see all the data in the left sidebar, including SMS, WhatsApp messages, WhatsApp attachments, Kik and Viber messages, and photos.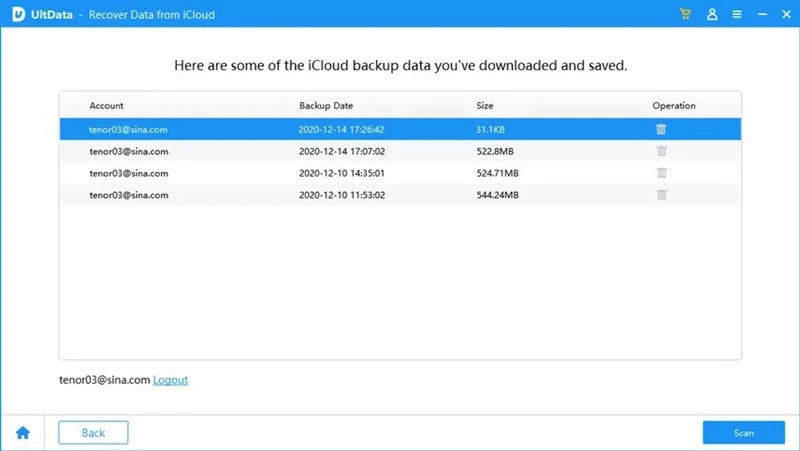 Step 4. After the scan is completed, you can view the iCloud backup file in the interface. Check the item you want and save it as an HTML file on your computer.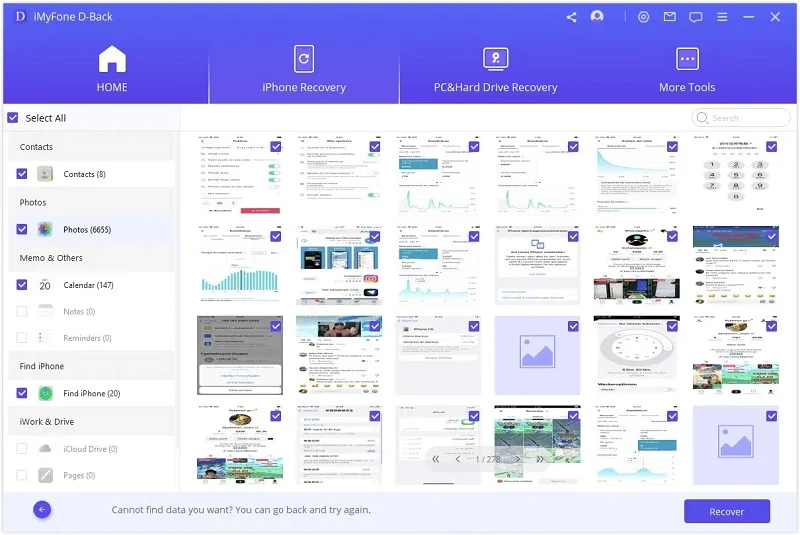 Well, we hope that you have had the good understanding the difference between iCloud and iCloud Drive. Both of them are developed to ensure that you will not lose data from your iOS devices.