User Concern
"Hi, I'm using Notes app on the iPad and I make a mistake deleting. I want to know if I can recover notes on my iPad. Any suggestions?"
The built-in Notes app for iPhone, iPad and iPod touch brings great convenience to our life. You can record important information like daily schedule, shopping list, account and password list, etc.
However, anything unexpected may happen. It is reported that iPhone notes missing is one of the most common problem that users may suffer.
You may have no idea why your notes get lost, don't worry, this post briefly outlines the practical ways to recover deleted notes on iPhone 14, 13, 12, etc. Read on and check out.
Way 1. Recover Disappeared Notes from Recently Deleted Folder
The deleted notes will be saved on the Recently Deleted folder for 30 days. When you mistakenly delete important notes on your iPhone, you should first check the Recently Deleted folder to retrieve them back. Here's how to do it:
Open the Notes app on your iPhone or iPad. Find the back arrow button on the top left corner, then click it to check the Folders list.
Select "Recently Deleted" folder (If you don't view any notes on the deleted folder, it means that the notes may be deleted permanently).
Click on "Edit" option and choose the notes that you want to recover, then tap "Move" and choose the folder you want to save the deleted notes.
If you store your notes on iCloud or other services like Gmail or Yahoo, you can also check the Recently Deleted folder of that account in the Notes app to recover deleted notes.

Note
Keep in mind that the Recently Deleted only save deleted notes for 30 days. Once it exceeds the deadline, they will be deleted permenantly. You can only recover notes deleted from iPhone, but not deleted from the Recently Deleted folder.
Way 2. Recover Your Notes from iPhone Settings
If you have enabled notes on iCloud from iPhone Settings, the notes will be syned to your third-party account or email service, such as Gmail or Yahoo. Then, you can check your account settings to recover lost notes even if they are removed from your iPhone.
Go to Settings > Mail and then tap on "Accounts".
Select the email account that you want to check and tap on it.
Then enable notes and all the deleted notes will be back.
Way 3. Recover Deleted Notes From iCloud
If you have signed into iCloud account on iPhone and regularly backed up the device data, there's a substantial chance to recover deleted notes via iCloud.
Go to iPhone Settings and click on your profile on the settings page.
Click on iCloud and ensure that "Notes" is enabled.
Then open iCloud.com and log in with your own iCloud account.
Click on "Notes"to check if you can see the notes.
Then go back to the Note app to see if the deleted notes get back.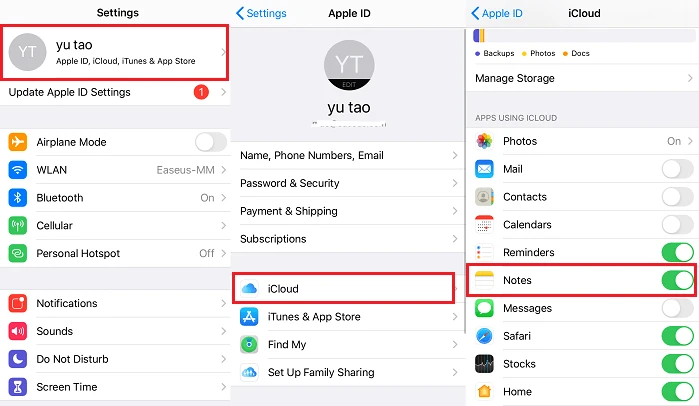 Way 4. Restore Deleted Notes from iTunes/iCloud backup
Restore from iCloud backup
If you already backed up your iPhone with iCloud:
Go to Settings > General > Erase All Content and Settings to restore your iPhone to factory settings.
Then set up the iPhone and choose "Restore from iCloud Backup". Sign in with your Apple ID and select a backup to restore.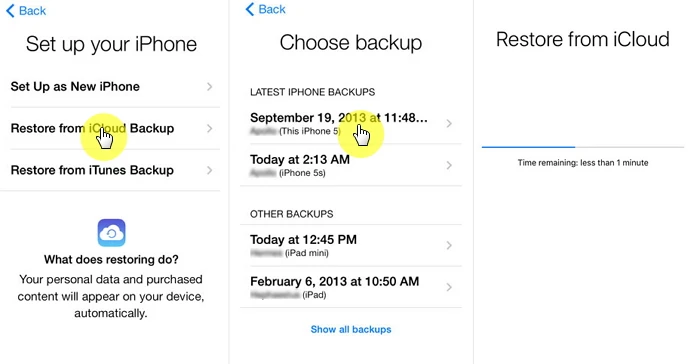 Restore from iTunes backup
Make sure that you have the latest iTunes installed on PC, launch it and connect your device to the computer.
Select the device when it is detected by iTunes and click "Restore Backup" to restore your iPhone to the latest iTunes backup.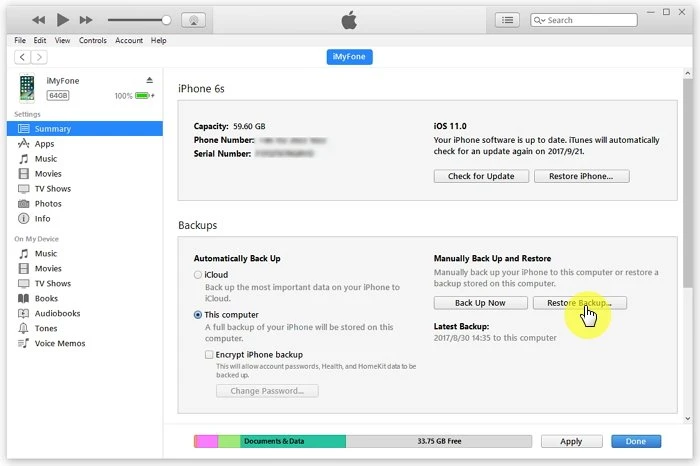 Note
Obvious, this would be inconvenient to restore from iTunes/iCloud backup, as the restoring process will overwrite the existing data on your iPhone. And you are not allowed to preview the data in your backup and restore only notes to your iPhone.
Way 5. Recover iPhone Disappeared Notes without Backup
If you still fail to recover deleted notes on iPhone after trying the ways mentioned above, or if you have no backup of your iPhone when you found the notes get disappeared, it doesn't mean that you'll lose them permanently.
You still have chance to get them back via FoneGeek iPhone Data Recovery, which are developed to recover not only notes, but also contacts, messages, WhatsApp messages, photos, videos , etc. and save them on computer or get them back to the device.
Steps on How to Recover Deleted Notes on iPhone without Backup
Step 1. Launch FoneGeek iPhone Notes Recovery software on your computer and choose "Recover Data from iOS Device" from the main interface.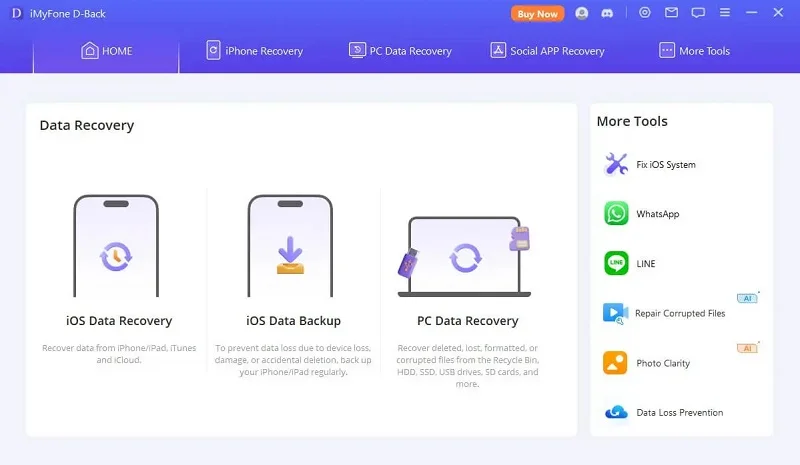 Step 2. Connect your iPhone to the computer using USB cable and once the device is detected, select the data types you want to recover and click on "Scan" to proceed.
Step 3. After the scan, the program will list the deleted files and existing files. Preview and choose the data you want to recover, then click "Recover to PC" to save the recovered data on your computer.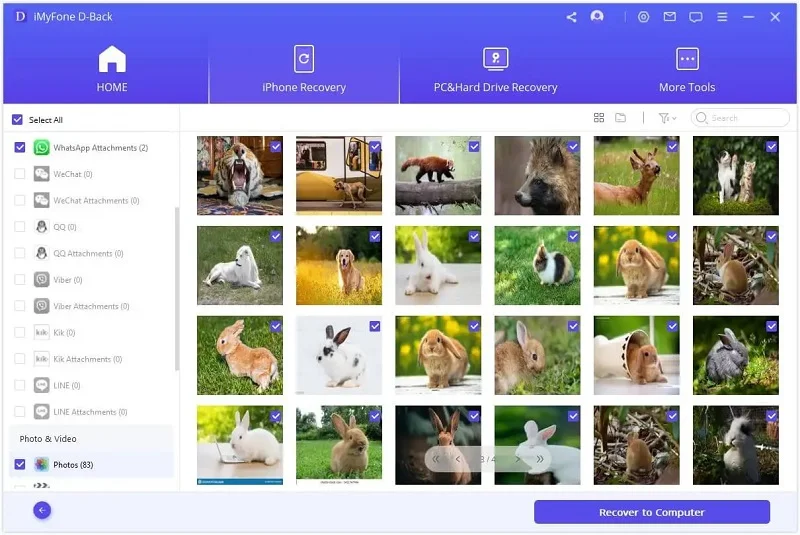 Note
FoneGeek iPhone Data Recovery also supports to extract and recover data from iTunes or iCloud backup. If you don't want to lose the existing data on your iPhone, we recommend you use this tool to scan your backup and selectively recover deleted notes. Also, you're allowed to prevew the notes before recovery.
Bonus Tip: Regularly Back Up iPhone to Avoid Future Data Loss
To make sure that your important notes and data on your iPhone safe, it's best to back it up. Whether you rely on iCloud or iTunes, it's always important to make a regular backup to avoid unexpected data loss happens on your iPhone or iPad.
As we mentioned above, restoring from iCloud/iTunes backup has some limitations, so here we'd like to recommend you an convenient way to back up your iPhone/iPad - using FoneGeek Backup & Restore (iOS). This software can be your best choice as it allows you to selectively back up and restore data. All files backed up are accessible and readable. Why not have a try?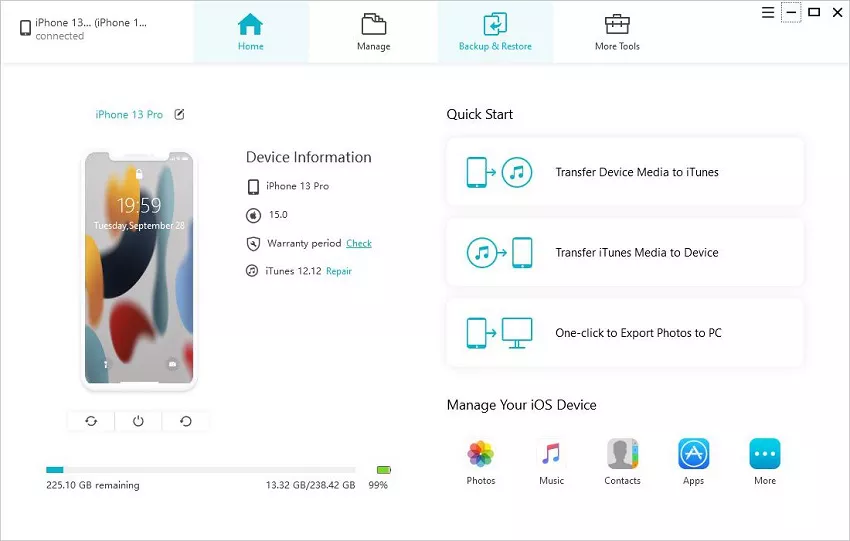 In Conclusion
We hope that you have retrieved deleted iPhone notes smoothly when you read this post. Each method has its advantages and disadvantages, you can choose one to try as what you need.
It is worthy to note that there is no iPhone data recovery tool can guarantee 100% success rate of recovery, thus it is of great importance to regularly make a backup of iPhone data. We'll appreciate a lot if you could share your opinions with us.