You may need to factory reset iPhone when the device doesn't work properly or when you decide to sell your iPhone.
But here is the question: Does resetting iPhone delete everything? Most people think they will lose all data in the process.
Well, in this article, we are going to look at some details regarding factory resetting an iPhone, and hopefully help you decide when it is worth doing this and when you should consider other options.
What's more, if you lost important data after factory reset, you can find an effective way to get them back. Let's begin.
Does Resetting iPhone Delete Everything?
Resetting iPhone is like the feature of "Erase All Content and Settings on iPhone". After resetting the iPhone, you will never see the contacts, notes, messages, phone calls, apps, photos, etc that you saved on iPhone.
Thus, resetting iPhone will absolutely delete everything. That's also the reason to backup with iTunes or iCloud before performing the factory reset. Now, we can check the reset effects on iPhone individually.
Will I lose personal data if I reset my iPhone?
YES. When you reset your iPhone, the iPhone will return to the original settings as a new one. That's to say, all the personal data including messages, contacts, videos, photos notes, songs, apps will be erased. Thus we think it is necessary to back up your iPhone before resetting the device.
The iOS system apps such as Mail, Camera, Calendar and others will not be deleted, but the records on the stock apps will be cleared out.
Does resetting iPhone delete factory software?
Factory software refers to the software that came with the iPhone when you bought it. So, basically things like camera, mail, phone, calendar and the like, otherwise known as stock apps. The factory reset will not delete these apps, everything else will be deleted except stock apps.
Does resetting iPhone delete jailbreak apps and tweaks?
Resetting your iPhone will remove all the jailbreak apps on the device as well as all tweaks. In fact, resetting will often undo a jailbreak and you'll have to jailbreak the device again after the reset.
Does resetting iPhone delete iTunes/iCloud backups?
The good news is that resetting iPhone will not harm your iTunes/iCloud backups since they are not saved on iPhone. This is why it is often a good idea to back up all the data on iCloud/iTunes before resetting. This way, you can fix whatever problem the device was experiencing and then get all your data back by simply restoring the backup.
Official Way to Factory Reset iPhone
Having said all that, factory reset still remains one of the best ways to fix iOS related issues and here's how to do it:
Begin by opening the Settings on your iPhone.
Tap on General > General > Transfer or Reset iPhone.
Select Erase all Contents and Settings and the tap Continue in the next interface to confirm.
You may need to enter your Apple ID password or passcode to complete the process.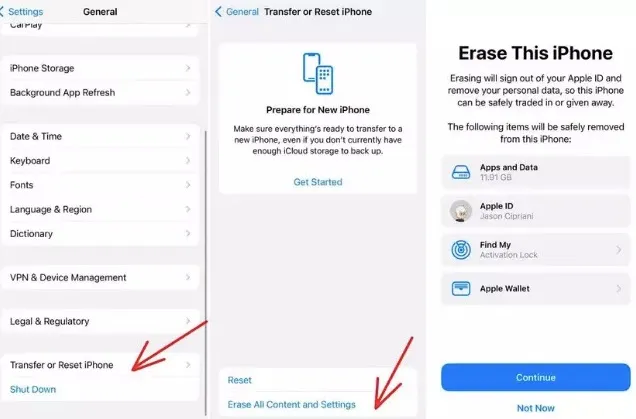 The process will take a few minutes. When it is complete, the device will revert back to the welcome screen and you can restore the device from your iCloud or iTunes backup.
How Do I Reset iPhone without Losing Everything?
You may find that resetting will cause data loss and sometimes, you may not have backed up all the data on your iPhone before resetting. If this happens, you will need to rely on third-party data recovery tool to get back the lost data.
The best tool to use is FoneGeek iPhone Data Recovery. This tool can easily and efficiently recover missing data from iPhone or iPad even if you don't have a backup. Some of the features that make it the best solution include the following:
It supports the recovery of all types of data. Whether you lost contacts, messages, videos, music, notes, WhatsApp, the program can get them back.
It can also recover the data regardless of how it was lost in the first place including accidental deletion, factory reset, iOS update, jailbreak, water damage, software crash, or even device is lost or stolen.
It can also be used to retrieve data from an iCloud or iTunes backup without restoring the whole backup.
It supports all iOS devices and all iOS version, including the latest iPhone 14/13 and iOS 16/15.
Here's how to recover lost data on your iPhone after factory reset:
Step 1: Begin by installing FoneGeek iPhone Data Recovery software on to your computer. Click on Recover from iOS Device to select the recovery mode we need for this process.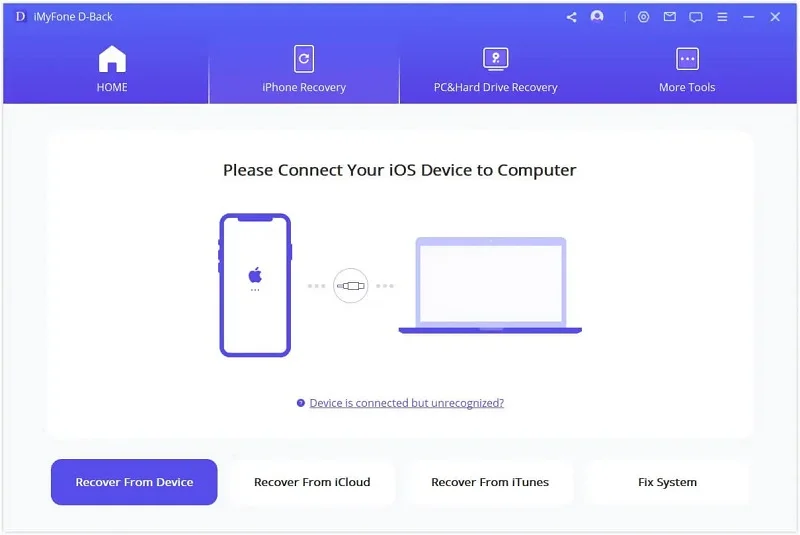 Step 2: Connect the iPhone to the computer using USB cable. The software will detect the connected iPhone and display the various types of data on the device. Select the data you want to recover and click Scan.
Wait a few moments while the program scans the iPhone for the missing data. When the scan is complete, it will display the data on the next screen by categories.
Step 3: Here, preview and select the various types of data you would like to recover and then click Recover to complete the process.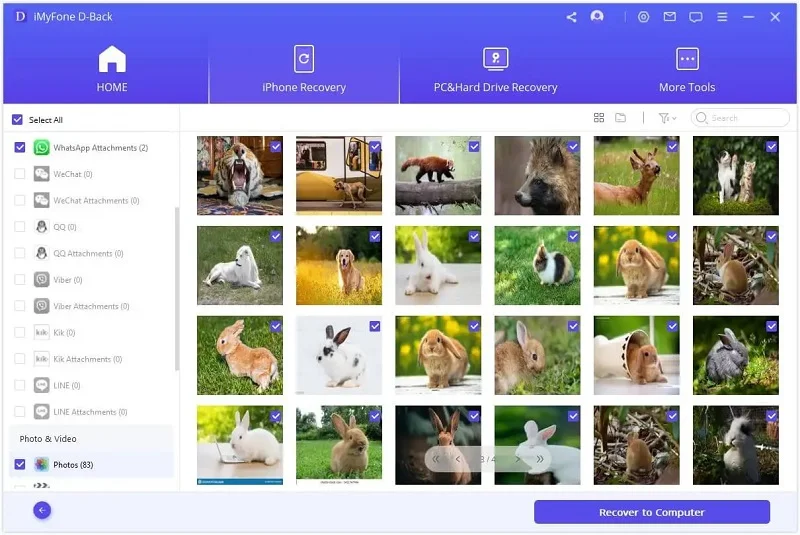 What Does Different Reset Settings Mean?
Besides to the factory reset feature we discuess in this article, there are still other 5 reset features. Let's take a look at what these different types of reset mean, just to help you decide what kind of reset you need:
Reset All Settings - Just as the name suggests, this is a way to reset all the settings on your iPhone and will not cause data loss.
Erase All Content and Settings - This form of reset will erase everything on the iPhone. All your music, messages, emails, photos and even apps will be gone. It is also referred to a factory reset since it will reset the device back to its factory settings.
Reset Network Settings - This will reset the network settings, meaning that all you saved username and passwords for your networks will be removed.
Reset Keyboard Dictionary - This is the reset to use when your keyboard is acting up, like for example when the autocorrect is not working as it should.
Reset Home Screen Layout - This reset action will reset the home screen to the default group of apps.
Reset Location and Privacy - This reset action is the best way to factory reset the location and privacy settings on your iPhone and therefore is the best way to fix any problems with privacy and location.
Conclusion
We hope the process of resetting your iPhone has become clear to you. Keep in mind that if you need a factory reset to repair any problems with the device, create a backup before doing it to prevent frustrating incidences of data loss. Otherwise, we welcome any questions or comments you may have on this and any other iOS related topics.