Text messages will easily get lost when we update our iPhone or clean the iPhone's memory.
Although it is not frequently to use text messages in our daily communication, sometimes your messages may have critical information there.
So it is still a troublesome thing if you lost these messages by accident. Luckily, there are some ways to recover deleted text messages from iPhone.
This post introduces several free iPhone text message recovery solutions allowing you to recover deleted text messages on iPhone for free.
1. Free Recover Deleted Text Messages Using iCloud Backup
If iCloud Backup is enabled on your iPhone, iCloud will automatically back up your device's data when the iPhone is locked, charged and connected with WiFi. When you deleted or lost text messages, you can get it back by restoring your iPhone from iCloud backup.
Step 1. Go to iPhone Settings > General > Reset, then select "Erase All Content and Settings". Here you need to enter the password.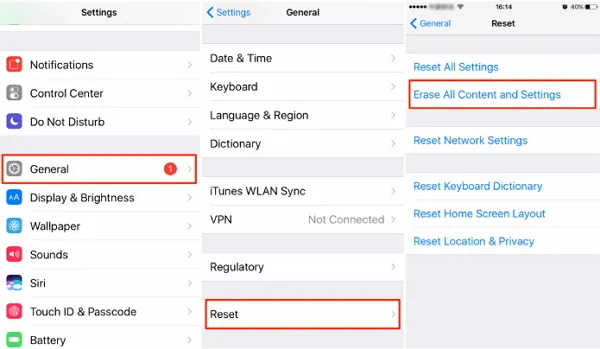 Step 2. Follow the setup process and on the screen of "App and Data", choose "Restore from iCloud Backup", then log into the iCloud account.
Step 3. Choose one iCloud backup file from the list. And then your iPhone will turn on automatically.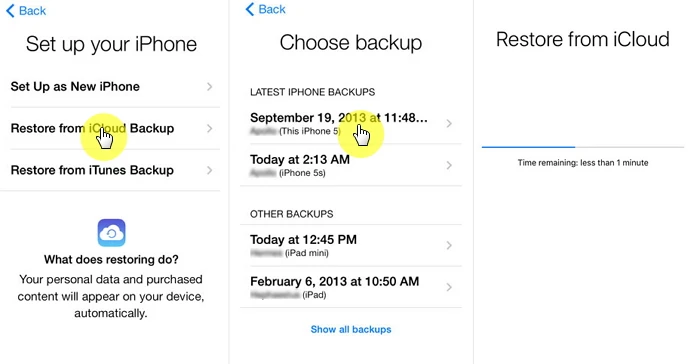 Note
Keep in mind that you will lose all data and settings from the time after the backup. Plus, iCloud doesn't allow users to preview data in the backup files. This is a big problem if the backup files doesn't contain the deleted text messages.
2. Free Retreive Deleted Text Messages from iCloud.com
As we mentioned above, iCloud will store all the files of your iPhone or iPad if the backup feature is enabled. If you don't want to lose the existing data your iPhone, you can follow the steps below to recover deleted text messages:
On your browser, go to iCloud website and login with your Apple ID and password.
Click on "Text Messags" and then check if the deleted text messages are there.
On your iPhone, head to Settings > Apple ID > iCloud to turn off "Text Messags".
In the pop-up message, select "Keep On My iPhone" and then turn the "Text Messages" back on.
Now choose "Merge" and the deleted text messages on the iCloud will be merged into your iPhone.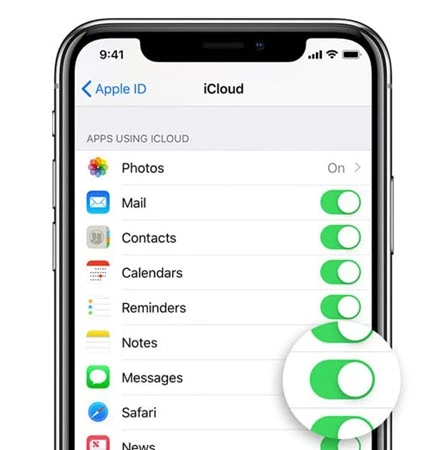 3. Free Recover Deleted Texts from iTunes/Finder Backup
If you have made an iTunes or Finder backup before deleting text messages, you can then restore your iPhone from the backup to get back deleted text messages for free.
Step 1. Connect your iPhone to the computer you've backed it up with and launch iTunes. For a Mac with macOS Catalina or later, open Finder.
Step 2. After the device is successfully connected with computer, click the iPhone icon in iTunes. In Finder, just select your device from the left menu bar.
Step 3. Tap on "Restore Backup" and then select the most recent iTunes backup, then click "Restore".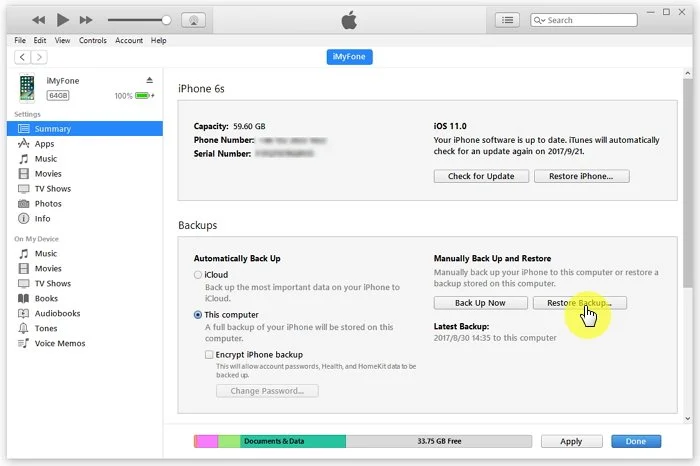 Step 4. After the restore process, your device will restart automatically. Now you can check whether the deleted text messages are retrieved or not.

Note
Same as the previous iCloud backup method, to recover deleted text messages from iTunes/Finder backup, everything on your iPhone will be replaced by the contents in the backup. Preview and selectively restore is not allowed.
4. Free Restore Deleted Texts by Contacting Service Carrier
Some service carriers may keep a copy of text messages you send or receive for a limited time. If you've deleted a text message that is really important, you can try to contact your carrier to get a copy of it.
Please note that you will be required to prove your identity or get permission from the other party you were texting with. Moreover, this method will only work for text messages, not iMessages. This is due to the way that iMessage is encrpted.
5. Text Message Recovery without Resetting iPhone (Free Trial)
The traditional way of restoring from iTunes or iCloud backup brings many inconveniences, all the device data and settings will be erased and you can't preview the backup files before the restore process.
To reduce unnecessary trouble inconvenience, most iPhone users would prefer to choose an efficient iPhone SMS Recovery to do the recovery without reset your iPhone.
FoneGeek iPhone Data Recovery is recommended here to recover deleted text messages as well as contacts, call logs, notes, voice memos, etc. from iPhone even without backup.
Unlike iTunes or iCloud, you can preview any data saved in the iTunes or iCloud backup file for free and selectively restore specific data that you want.
How to Recover Deleted Text Messages on iPhone without Backup
Step 1. Go to the FoneGeek official site of the product page or directly click the download button above to install the software on your Mac or PC.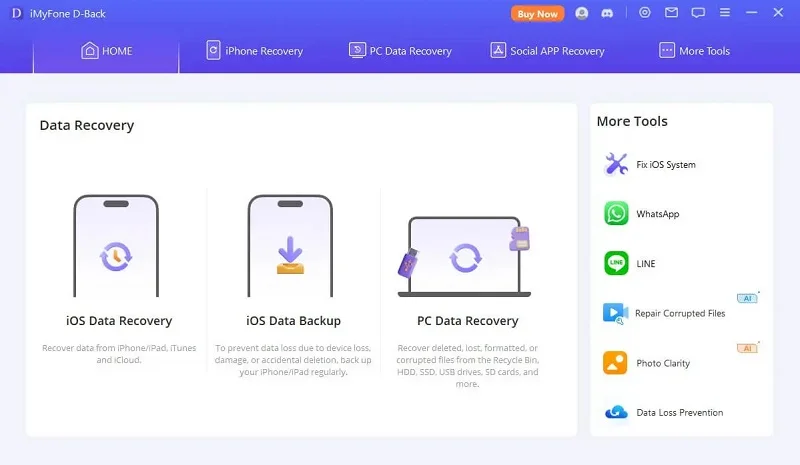 Step 2. Run this program and choose "Recover Data from iOS Deviced" and connect your iPhone to PC. Then choose the data you want to recovery and press "Scan".
Step 3. When the scanning process is complete, you'll find that all the recoverable text messages are sorted in category. You can filter deleted and existing text messages by selecting the option of "Show only the detect items" and "Show only the existing items".
Step 4. Click each message one by one to confirm whether they are the deleted items that you want, then tap on "Recover to PC" to export the deleted messages on your computer.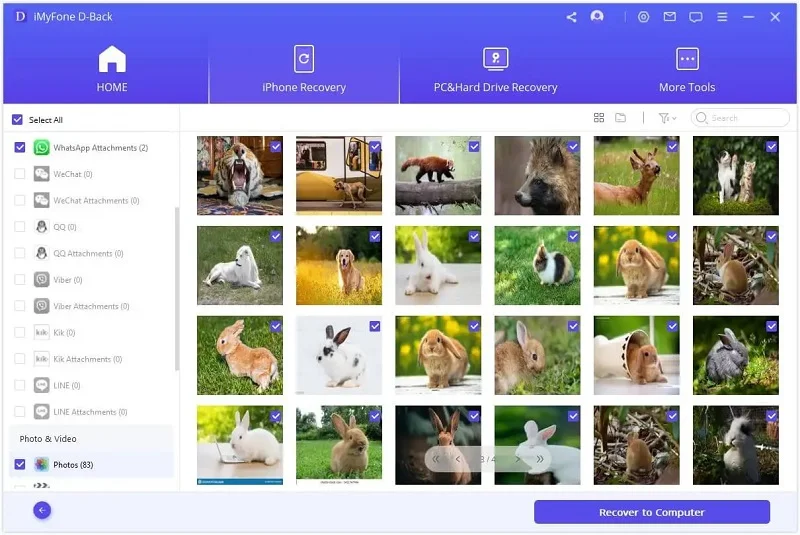 FAQs about Free iPhone Text Message Recovery
Why can I recover deleted text essages from iPhone directly?
When you delete text messages or any other data on your iPhone, the iOS system doesn't erase the data permanently but only mark their storage space as available. These deleted files can be recovered until they are overwritten by new data.
Are deleted text messages stored on iPhone?
Yes, the deleted text messages will be stored on your iPhone until they are overwritten by the system. To completely delete text messages or other files on your iPhone, you should consider doing a factory reset.
How can I recover deleted text messages on iPhone for free?
To recover deleted text messages on your iPhone for free, you can perform a iCloud or iTunes restore. Or you can contact your phone provider who may have copies of your deleted text messages.
How can I retrieve deleted iMessages?
You can follow the ways to recover deleted text messags from iPhone to retrieve deleted iMessages. For more details, you can refer to Free iMessage Recovery: Recover Deleted iMessages in One Click.
The Bottoom Line
That's the end of our post. It is always advisable to make a full backup of your iPhone data regularly. Hope that the different free text messages recovery solutions are useful to you. Do let us know the result after trying these solutions.