User Concern
"Can I recover my last month imessages. I want to view the past months imessage history. Is this possible and how do i do this. I have an iPhone 12. I setup my icloud account a month ago"
How to recover deleted iMessages on iPhone? The release of iOS 15 brought attention to the features of iMessage once again. A number of users gave up the usage of other apps in order to experience the differences brought by Apple's new features on iMessage. It's extremely easy to delete iMessages when you try to implement its new features.
Is it possible to recover deleted iMessages from iPhone after accidentally deletion? it's not easy to do, but it is possible.
Can you get back deleted iMessages?
In reality, the deleted iMessages are not deleted permanantely, they are still stored in the internal database on the device.
It is advisable to stop using your iPhone once you fond the iMessages get deleted immediately. As the newly added data will completely overwrite the deleted iMessages.
1. Recover Deleted iMessages on iPhone from Other iDevices
iMessage is closely related to Apple ID. In other word, the devices set up using the same Apple ID will receive the same iMessages. It's also the reason why the deleted iMessages on iPhone can be recovered from other devices.
If the Apple ID that you set up for iMessages is the same one among your iPhone, iPad, and Mac, you'd better check whether the iMessages on iPad or Mac contain the deleted ones that you lose on iPhone.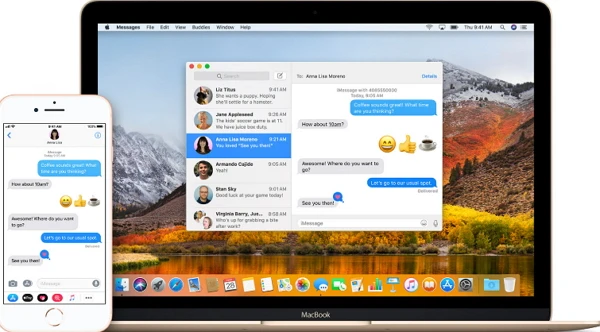 If this way is not working, an iMessage recovery tool can come in handy.
2. Recover Deleted iMessages from iPhone without Backup
FoneGeek iPhone Data Recovery (iOS 15 Supported) is such a tool to view and recover deleted iMessages as well as other precious data on iPhone, iPad, iPod touch without backup. You don't need to worry about the data loss as your iPhone will not be restored to factory reset. You can choose to recover only iMessages in one click.
In addition to recovering from iOS device, it also allows you to recover iMessages from iCloud backup and iTunes backup selectively.
Before going ahead, you will need to download the FoneGeek iPhone Data Recovery to your computer. Run it when the dowload is complete.
Step 1. Select 'Recover Data from iOS Devices' and connect the iPhone that lost iMessages with ths computer via an original USB cable. When the iPhone is connected and recognized, click 'Start Scan' to continue.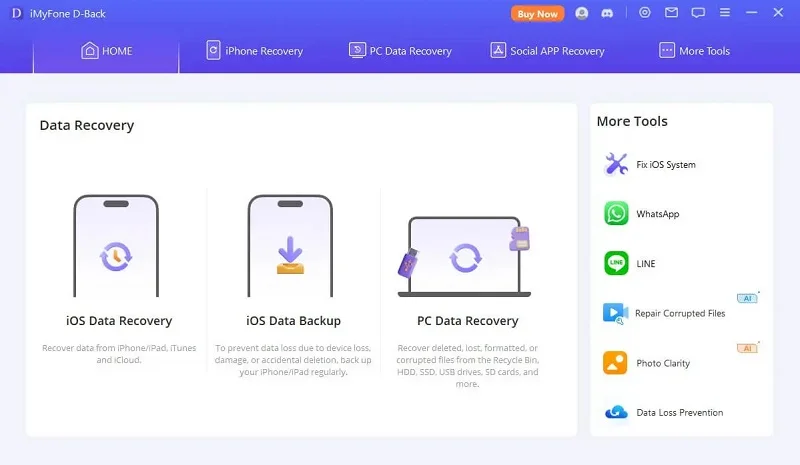 Step 2. The iMessage Recovery software will enter the status of automatic analysis and identification. You can preview the results at the end of scan. Click Messages, and the data in red fonts are all deleted message and iMessage content. Tick the iMessages that you want to get back and click 'Recover' button.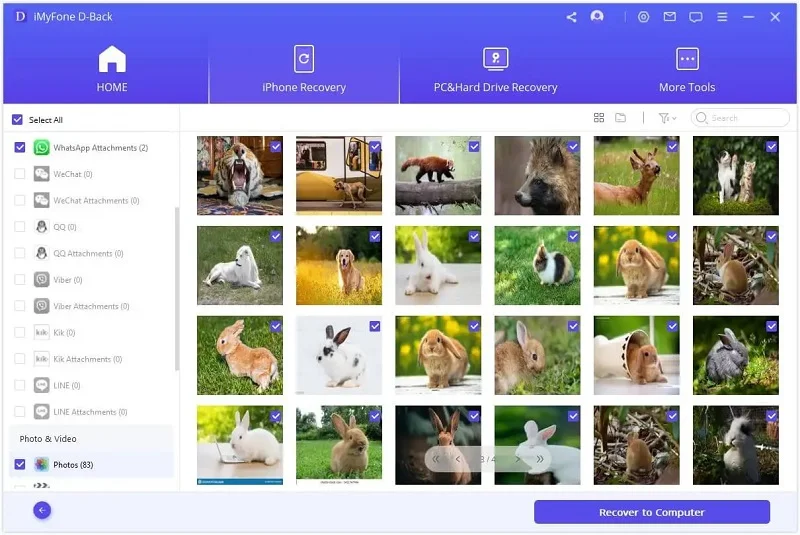 3. Fully Restore Deleted iMessages from iPhone Backup
This method is effective for users who keep an iTunes or iCloud backup of iMessages. However, this will restore all the data to your iPhone. It may result in data loss.
3.1 Restore Deleted iMessages from iTunes Backup
Run iTunes that has backed up your iPhone data on your computer.
Plug the device to computer with a lightning cable and enter the passcode to get it connected.
Tap on the device icon when it appears and click on 'Restore Backup'. Select an iTunes backup that may contain the deleted iMessages.
When the restore is completed, reboot your iPhone and the deleted iMessages may be back to the Message app.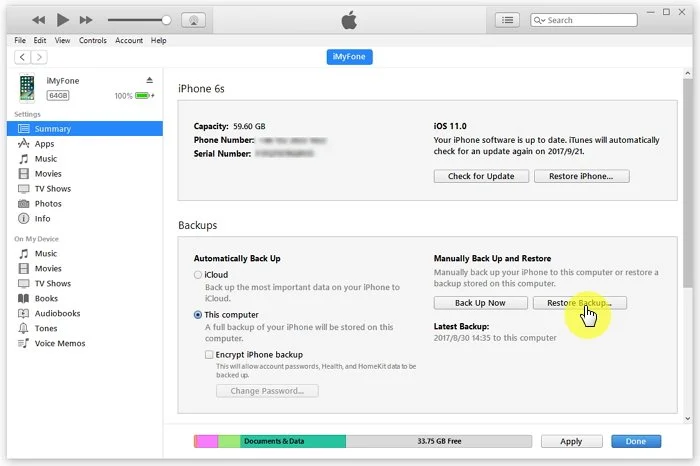 3.2 Restore Deleted iMessages from iCloud Backup
Factory reset your iPhone first by going to Settings > General > Reset > Erase All Content and Settings.
Restart the device and follow the instructions to set up the device as a new one.
On the 'Apps & Data' screen, click on 'Restore from iCloud Backup' and sign into iCloud.
Select an iCloud backup that contains the deleted iMessages to restore from.
Keep connected with WiFi until the restore process is done.
When it is done, all the backup data will be restored to your iPhone again.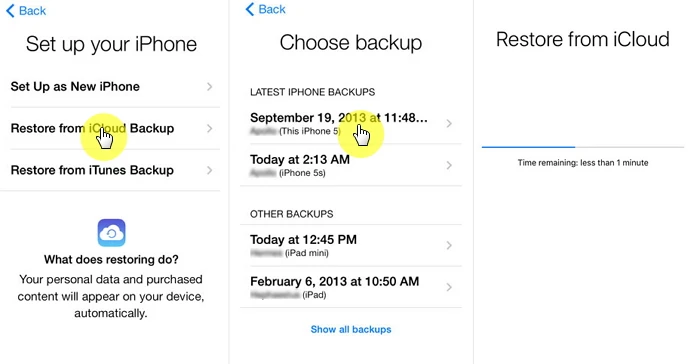 4. Recover Deleted iMessages without Overwriting from iCloud Account
If the iTunes/iCloud backup doesn't contain iMessages, you can try the steps below to see if you can recover iMessages from iCloud account.
Go to iCloud.com and log into iCloud with your Apple ID account.
Click on SMS icon and search the iMessages that you need.
Now, go to iPhone settings and click on iCloud.
Disable iMessages and you will view a popup. Click on 'Keep On My iPhone'.
Enable iMessages and click on Merge.
The deleted iMessages shall appear on your iPhone.
You will have a good knowledge on how to recover deleted iMessages. We don't recommend you to restore from iTunes and iCloud backup to save the lost iMessages, as you have to erase all content and settings of your iPhone, and there are some risks leading to data loss.

As a professional writer who is interested in technology, Edwin J. Parke has helped thousands of users by offering various tips to solve their problems.

Home
>
iPhone Recovery
>4 Methods to Recover Deleted iMessages on iPhone 13/12/11