It's common to lose your WhatsApp chats or media, especially when you accidentally delete them or remove WhatsApp from your phone. It can even happen when you change your device without having a backup of your WhatsApp data. In all these instances, recovering your deleted WhatsApp messages can be quite difficult. However, all hope is not lost if this is your case.
Data recovery tools like iMyFone ChatsBack can help you easily recover deleted WhatsApp messages and media from iPhone/Android device. Now, you may be wondering what is iMyFone ChatsBack. Is it safe? Does it really work? Well, we're going to answer all these questions you may have in this full iMyFone ChatsBack review. Also, we'll share one of the best alternatives of iMyFone ChatsBack. Let's jump right in.
What is iMyFone ChatsBack?
iMyFone ChatsBack is basically a data recovery software that's designed to recover WhatsApp messages from iOS and Android devices as well as from iTunes backup or Google Drive backup. It's a tool you can use to recover lost or deleted WhatsApp chats/messages, contacts, photos, videos, and documents, regardless of the circumstances.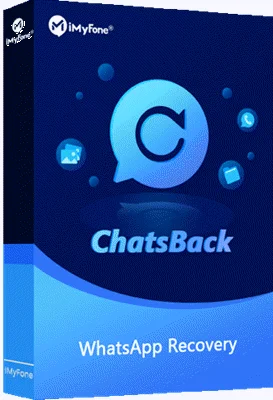 Some of the instances where iMyFone ChatsBack can help users recover their WhatsApp data include:
When you lose your iPhone or Android device.
When your WhatsApp data is missing.
When you factory reset your device by mistake and everything is erased.
When you lose data after upgrading or downgrading iOS/Android version.
When iPhone or Android phone gets damaged.
In case you delete data or folder by mistake.
Main Features of iMyFone ChatsBack
iMyFone ChatsBack comes with several features that are mainly tools available for users to recover their WhatsApp data. All these features are a guarantee of what exactly you expect to get from this iMyFone ChatsBack WhatsApp recovery program. They include:
Securely recover 100% of deleted or lost WhatsApp messages and attachments.
You can choose between multiple data recovery modes (up to four).
Ensure the highest success rate in retrieving WhatsApp data.
WhatsApp conversations preview before doing the final recovery.
Export and restore WhatsApp conversations and attachments to devices and computers.
Free trial for users to confirm if ChatsBack is of value to them prior to purchasing it.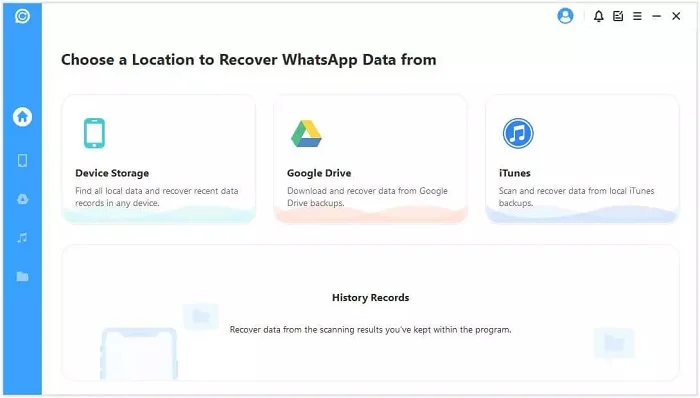 Is iMyFone ChatsBack Safe?
It's normal for users to be cautious of the software they install on their computers, especially third-party applications. Plus, before allowing the app to access their mobile device (s), they'll want to first ensure that it's safe. You may be wondering, is iMyFone ChatsBack safe? Well, the answer is an absolute YES. This tool is secure and safe for retrieving deleted WhatsApp messages and other data.
iMyFone ChatsBack WhatsApp recovery tool doesn't come with any plugin, malware, or virus that can possibly cause damage to your mobile device (s) or computer, or put them at risk. The security of your personal data stored on your mobile devices (s) or computer is guaranteed too. But, this is only if you download the tool directly from the iMyFone official site.
Is iMyFone ChatsBack Free?
Now that you know iMyFonne ChatsBack is safe, the next question lingering in your mind might be, is iMyFone ChatsBack WhatsApp recovery free? If it's not free, then what is the pricing? To start, iMyFone ChatsBack is not free. There are free functions you can access and enjoy once you download it, though. But the free version has limited features. You have to buy the full version to enjoy all the recovery features of iMyFone ChatsBack.
For individuals/personal plans, the price of iMyFone ChatsBack is as follows:
$29.95 per month
$49.95 per year
$69.95 for a lifetime plan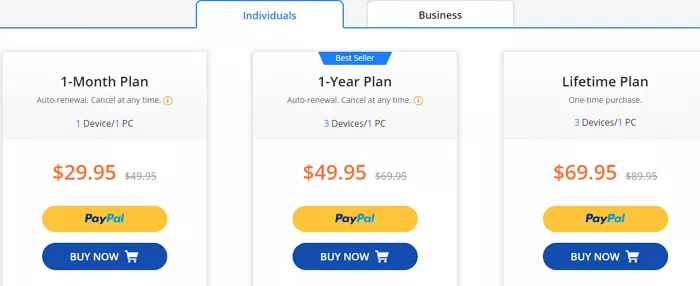 In all these plans, you'll get the iMyFone ChatsBack registration code that you can use to gain access to the full version. There's also a Business Plan which you can purchase or you can even get a Custom Plan by contacting iMyFone at the purchase page.
Is iMyFone ChatsBack Worth Trying?
Being a quite useful third-party app, iMyFone ChatsBack is recommended as a reliable and decent data recovery tool. However, its price tag is hefty which may lock out many people.
iMyFone ChatsBack Pros:
Reliably recovers all your lost/deleted WhatsApp data from Android and iOS device.
Recover WhatsApp messages via different methods: from device, iTunes, or Google Drive backup.
Works effectively regardless of the recovery scenario.
The free trial version allows you to test the software before buying a license.
Customer support is good and responsive.
iMyFone ChatsBack Cons:
Files can be corrupted when being recovered.
The trial version has limited functions, only free scan and preview.
There is no option to recover deleted WhatsApp messages from iCloud.
The email registration sometimes fails to work properly.
Does iMyFone ChatsBack Really Work?
Yes, iMyFone ChatsBack does work. Many people have used it to successfully recover their lost WhatsApp chats and media. It takes just 3 steps to use this iMyFone ChatsBack WhatsApp recovery tool - Install, Scan, and Recover. Let's look at them in detail below:
Step 1: Start by downloading iMyFone ChatsBack software and then get it installed on your computer. Launch the program once installed.
Step 2: Use a USB cable to get your device and computer connected. Choose the kind of recovery mode you intend to use to scan your WhatsApp data on your device.
If you're using Android: Type in your phone number plus an SMS message to confirm your number. Now click the Start button to scan your device.
If you have iPhone: Select WhatsApp Messages or WhatsApp Business. Now click the Start button to scan your device.
Step 3: Choose the WhatsApp data that you want to recover once the scanning is done. Then click on the Recover to PC or Recover to Device option to restore the messages according to your needs.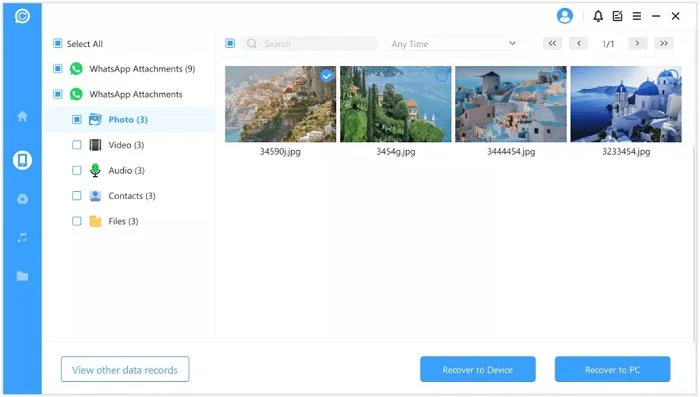 Best Alternative to iMyFone ChatsBack
We've introduced all the things you need to know about the iMyFone ChatsBack WhatsApp recovery tool, now it's time to look at its best alternative. Compared to iMyFone ChatsBack, Tenorshare UltData for WhatsApp is a strongly recommended tool because it offers more functions and has a higher success rate. Furthermore, it works on thousands of Android and iOS devices.
With UltData for WhatsApp, you can quickly and effectively recover deleted or lost WhatsApp data without requiring a backup file or root access. Unlike iMyFone ChatsBack, this tool is easier to use and powerful enough to aid WhatsApp users retrieve their chats, plus it's even cheaper, around $30.
Tenorshare UltData for WhatsApp Main Features
Get deleted WhatsApp (Business) messages recovered without backup.
Get WhatsApp backup restored from Google Drive or iTunes Backup.
Preview deleted WhatsApp data and selectively recover them quickly.
Back up your WhatsApp or WhatsApp Business data to your PC with just a few clicks.
Get your WhatsApp data exported to your PC as PDF/XML/CSV/HTM, etc.
Compatible with the latest Android and iOS versions, plus supports all WhatsApp data.
Simple steps to retrieve deleted/lost WhatsApp data on Android/iPhone devices:
After installing Tenorshare UltData WhatsApp Recovery on your computer, launch it and choose the Device option. Use a USB cable next to get your PC and device connected.
When the device is detected, click Start Scan to begin scaning all your lost WhatsApp data. The scanning process should be done in a few minutes.
Finally, preview the lost/deleted WhatsApp data and then choose the particular data you wish to recover or the whole category. Now click the Recover button to complete the process.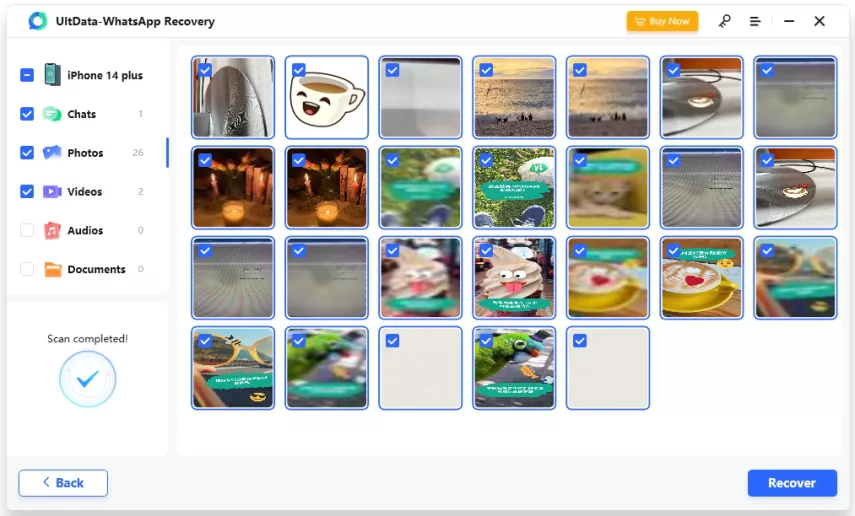 With only these three steps, you'll easily get back your WhatsApp chats and other data without any limitations or restrictions. Plus, Tenorshare UltData WhatsApp Recovery supports WhatsApp Business. It also allows you to view and read WhatsApp backup on your Google Drive. It's definitely worth a try if you want the best WhatsApp data recovery tool.
Conclusion
In this iMyFone ChatsBack review, you've seen that you can indeed recover all your lost/deleted WhatsApp data using the iMyFone ChatsBack. It's a good tool that works well in different data loss circumstances and it supports both iOS and Android devices.
Still, though, some users reported that the tool failed to work on their devices. So, we would recommend the Tenorshare UltData WhatsApp Recovery. It's the best alternative as it's very effective and a highly recommended tool for recovering any deleted WhatsApp data. Moreover, unlike iMyFone ChatsBack, it's easy to use and offers more functions yet it's cheaper. You should certainly give it a try.