Sometimes you may have valuable text messages on your iPhone that you need to save or print, either to provide convincing evidence in a court or create a paper trail of your important conversations related to business.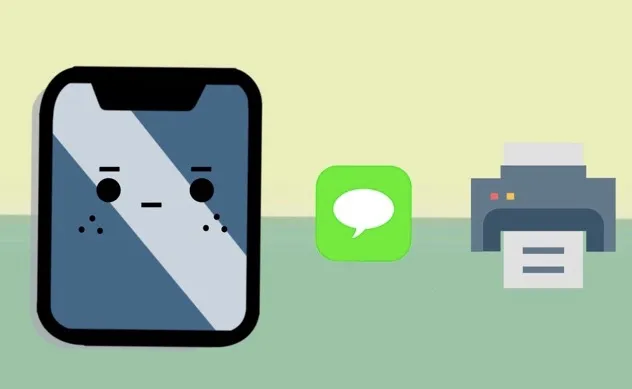 A complete text message not only includes the text content, but also includes the sending and receiving time, the mobile phone number, etc.
In this article, we will show you how to print text messages on your iPhone using a third-party tool, the Mail app, by taking screenshots or contacting phone carrier.
Read on to learn the 4 different ways to print out text messages from iPhone and choose the one that works best for you. Here's a breakdown:
If you have only a few texts to print from iPhone, then the 1st and 2nd method are suggested to try.
If you have a large number of messages to print out and you want to do that in one click, then the 3rd method is recommended.
If you want to present your iPhone texts in a court or for other legal purposes, you'd better consult a lawyer before printing.
Way 1: Print Text Messages on iPhone via Mail App
This free method can be used if you only have a few text messages to print out, since only one text message can be printed each time via the mail app, and you also need to copy and paste each text message content to the email manually. Follow these simple steps to print text messages on iPhone via Email:
Step 1. Open the Messages app on your iPhone and click the text conversation that you want to print.
Step 2. Press and hold the text message and select the option of "Copy" to copy the content of this message.
Step 3. Open the Mail app and tap the new email icon, then paste the text message to the body of your email. Enter the email address that you have access to and click "Send" to deliver this text message to the email that you entered.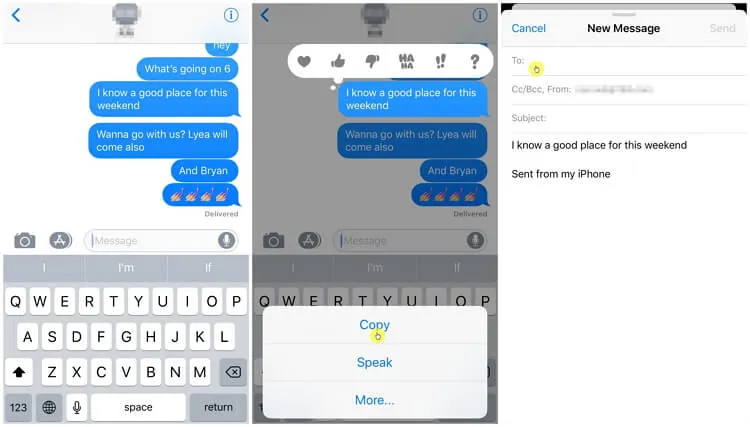 Step 4. Now sign into email with the same email address on your computer to check the text message you received and print it out.

Note
This method is not recommended if you have plenty of messages to print. In addition, you will lose all the timestamps as well as the contact information in the texts.
Way 2: Print Texts on iPhone by Taking Screenshots
Unlike the email method, taking screenshots allows you to save all the important information like contact, date and time of the text message. Still, it's not feasible if you have lost of messages to print. It is especially helpful when you are dealing with a court case.
To print out text messages via screenshot, you should take screenshots of the messages first, then print the screenshot via AirPrint printer.
Step 1: Open the Messages app and click on the text conversation that you want to print.
Step 2: Then press the Power button and the Volume Up button (or the Home button for old models) simultaneously to take a screenshot. You may need to take multiple screenshots for a long conversation.
Step 3: Open the Photos app and tap on the screenshots you'd like to print, than tap on the "Share" icon.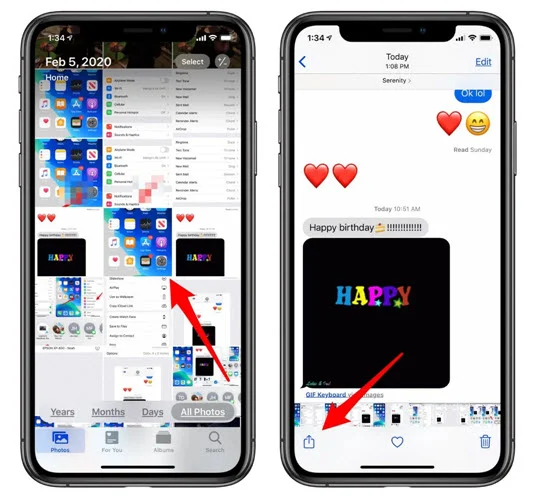 Step 4: Scroll to the bottom and tap on "Print". Then select the printer you want to use and tap on "Print" again.

Note
This method is best used when you have only a few messages to print. If you have a number of screenshots, you will need to order and organize the images manually so that the printed pages can match the thread of the text.
Way 3: 1-Click Print Bulk Text Messages from iPhone
If you want to print a long text message thread or all of the text messages from iPhone in one click, then FoneGeek iPhone Data Recovery (iOS 17/16 Supported) is one of the more appropriate tool that will be available for you. It is intended to export text messages from iPhone, iTunes, iCloud to computer and then print them out.
Advantages of FoneGeek iPhone Data Recovery:
Print out slective or entire text messages from iPhone with one click.
Export text messages or iMessages to readable formats like PDF, Text, CSV or HTML.
Export all message attachments like photos, videos, GIFs, voice messages, etc. to computer.
Export other iPhone data like contacts, call logs, photos, videos, WhatsApp messages, Viber history, etc.
To print text messages from iPhone with this professional tool, you need to download and install it on your computer, then follow the steps below:
Step 1. Run this program and click "Recover from iOS Device" tab on the main interface.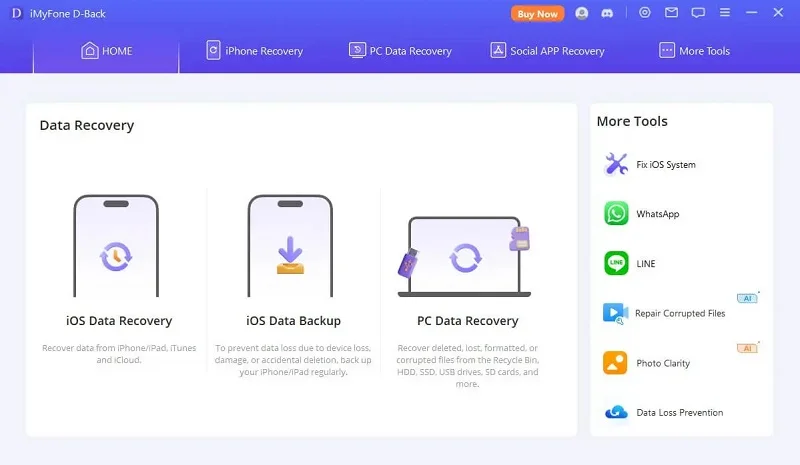 Step 2. Connect your iPhone to the computer and trust the connection. You will see the message of "XXX is connected" when the device is recognized.
Step 3. Click "Messages" and the program will scan all the text messages, iMessages saved on your iPhone. If you need to print other data, you can also select other data types here.
Step 4. When the scan is compelte, click "Recover" and choose the path where you want to save the text messages and the text messages will be downloaded to this path.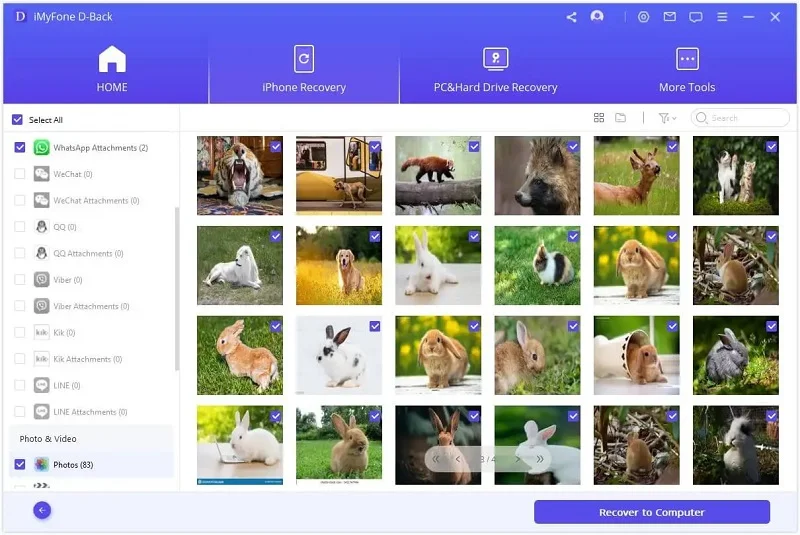 The text messages will be saved as the format of HTML. You can go to the designated folder to find this HTML file, open and print it out.
Way 4: Contact Your Phone Carrier for Help
The last trick method is to contact your phone carrier to get a copy of text message history for printing. However, not all phone carriers provide such service and even if they do, you will be required to provide an reasonable explanation and a number of special documents for your request. Moreover, most phone carriers don't save the content of your iPhone texts, only the contacts, date and time.
The phone carrier's support center may request you to provide the reasons for the request of printing text messages. They may even ask you to fill out the special form to request for printing.
The Bottom Line
We're already gone through how to print text messages from your iPhone. As you can see, it is easy and quick to export and print iPhone texts with FoneGeek iPhone Data Recovery. In addition, it can help you recover deleted text messages from iPhone. Let me know if you have any questions about this tool. Also, feel free to share your suggestions in the comments below.