User Concern
"How do I recover deleted voice memos on iPhone 13 running iOS 16? I just recorded a voice memo. While playing it back, I inadvertently touched the trash icon. The memo was immediately removed. It did not even ask for confirmation. How can I get it back?"
More and more iPhone users tend to record information via voice memo. With this voice recorder, they can jot down any information, such as songs, lectures, ideas, thoughts, etc. whenever and wherever without writing.
However, bad things always happen without warning. Users may often get into the situations of lost important voice recordings on iPhone.
Have you ever lost voice memos due to accidental deletion, iOS update, factory reset, device jailbreak, damage or broken? It's not the end, you still have chances to get them back.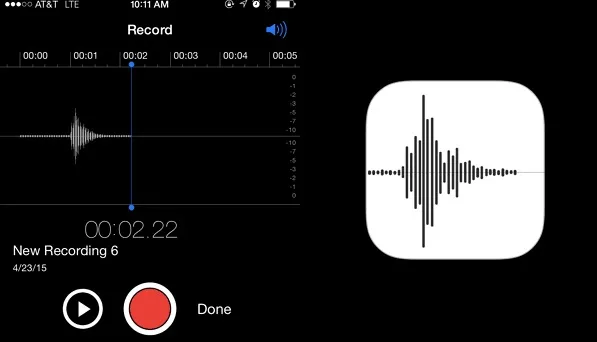 Here we'll share several methods to recover deleted voice memos from iPhone. Also, learn how to protect your voice memos from future loss.
Part 1. Can I Recover Deleted Voice Memos?
YES. You can certainly recover deleted voice memos on iPhone. Let's start by exploring where deleted voice memos go. Before deleting the voice memos, they will be saved in the database storage system as "Allocated" data. When they are deleted, they will still be saved in the storage system and be marked as "Unallocated".
But the "Unallocated" data cannot be viewed. You need a tool to extract and recover the "Unallocated" data to computer.
Part 2. Check Whether You Have Shared the Voice Memos
Before you take any further measures to recover deleted iPhone voice memo, check whether you have shared the voice memos with your computer via AirDrop, or emailed to your friends. And don't forget to check the audio/video editing tools, with which you might have edited the voice memo files.
Part 3. Recover Voice Memos from Recently Deleted Folder
When you delete a voice memo from iPhone, it will stay in the Recently Deleted folder for 30 days and then be erased permanently. If you lost voice memos are within this period, you can recover them from the Recently Deleted folder:
Open Voice Memos and tap on "Recently Deleted".
Find the voice memo that you want to recover and tap on it.
Click on "Recover" and then "Recover Recording".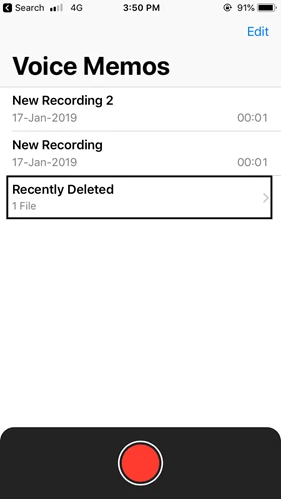 Here is a suggestion for you: You can go to iPhone Settings > Voice Memos > Clear Deleted and select "Never". After that, the voice memos will not be automatically removed from Recently Deleted folder.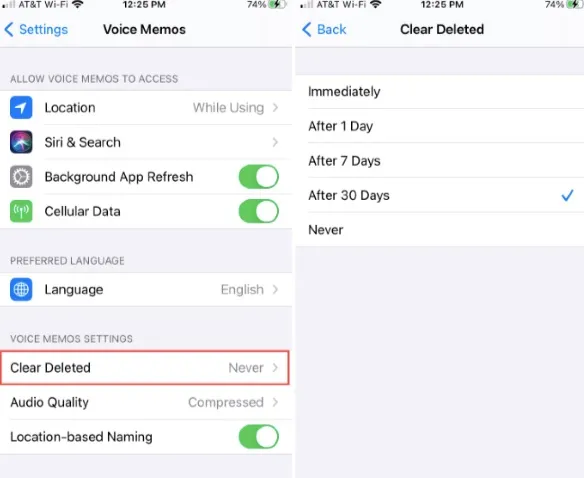 Part 4. Restore Deleted Voice Memos from Synced Devices
If you have synced voice memos to iCloud or iTunes before, the deleted voice memos will remain on the synced devices. You can easily restore them from those devices. Here we will show you how to sync voice memos from iTunes back into iPhone:
Connect your iPhone to the computer and launch iTunes.
On the left pane, tap "Songs" and choose the voice memos in the playlist.
Drag the voice memos up to your iPhone listed in the Devices.

Part 5. Fully Restore Deleted Voice Memos from Backup
If you have backed up your iPhone to iTunes or iCloud, you can reasily get back voice memos by restoring the device from the backup.
Restore from iTunes Backup:
Connect your iPhone to the computer that you've made a backup and open iTunes.
Select your iPhone icon and click on "Restore Backup".
Choose the recent backup and tap "Restore". All data from iTunes including voice memos will be restored to your iPhone.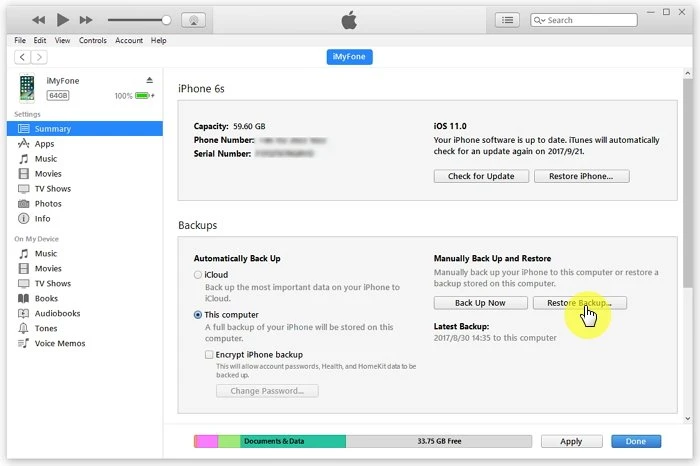 Restore from iCloud Backup:
On your iPhone, go to Settings > General >Reset, then choose "Erase All Contents and Settings".
Set up the iPhone and on the "Apps & Data" screen, tap on "Restore from iCloud Backup".
Sign in to your iCloud account and choose the last backup, then click on "Restore".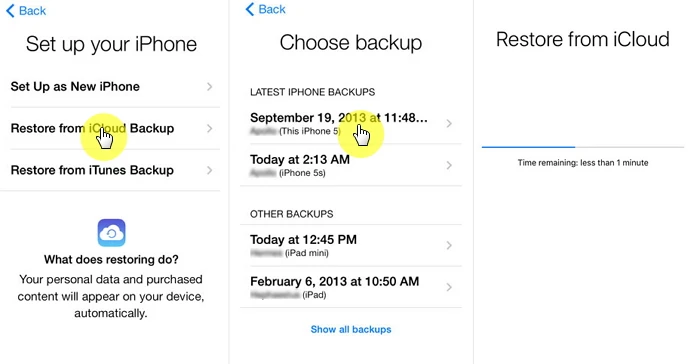 Note
Please note that the iTunes/iCloud restore method has some drawbacks. When you choose to restore from iTunes or iCloud backup, all the existing data on your iPhone will be overwritten, which means that you are in risk of new data loss. And it is impossible to recover only voice memos, all settings and content will be restored as well. If you want to find a better solution, move ahead.
Part 6. Recover Deleted Voice Memos on iPhone without Backup
What if you don't made any backup before deleting voice memos from iPhone? Don't fret. The deleted voice memos are not completed erased from the device and there are still chances to recover them with the help of professional iPhone data recovery software, such as, FoneGeek iPhone Data Recovery.
This tool provices users an easy and quick way to recover deleted voice memos from iPhone with or without backup. Unlike restore from iTunes/iCloud backup, FoneGeek iPhone Data Recovery allows you to preview the deleted data and selectively recover what you need only.
Key Features of FoneGeek iPhone Data Recovery:
It supports to recover data from built-in apps on iPhone as well as 3rd-party apps, inlcuding photos, videos, contacts, messages, voice memos, notes, Safari history, WhatsApp Viber, Kik, etc.
You have chances to get the data back lost due to various reasons, such as accidental deletion, virus attack, factory reset, iOS update, jailbreak, device not responding, device locked or any other reasons.
It supports to back up your iPhone/iPad/iPod data and extract different types of data to your computer without restore the device. (No Data Loss)
It is fully compatible with the newest iPhone 14/14 Pro (Max) and iOS 16/15.
Here is the step by step guide on how to recover deleted voice memos from iPhone without backup. Download FoneGeek iPhone Data Recovery and install it on your computer to proceed.
Step 1: Launch FoneGeek Voice Memo recovery software on your Mac or Windows PC, choose the mode of "Recover from iOS Device" and connect your iPhone to computer to start the process.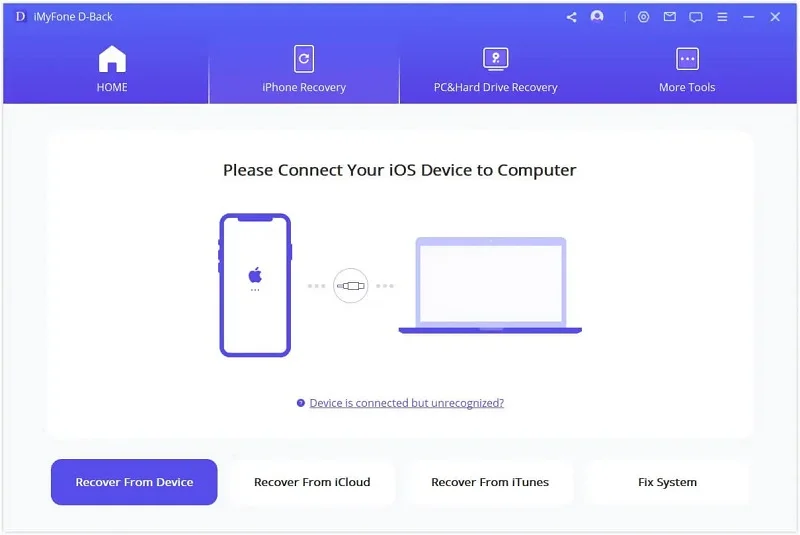 Step 2: Choose "Voice Memos" and click on "Scan", the program will start to scan the connected device for lost data. The whole process will take for a moment.
Step 3: When the scanning has been done, the recoverable voice memos will be listed for you to preview in detail. After the preview, you can select the deleted ones and click "Recover" to save them on a folder on your computer.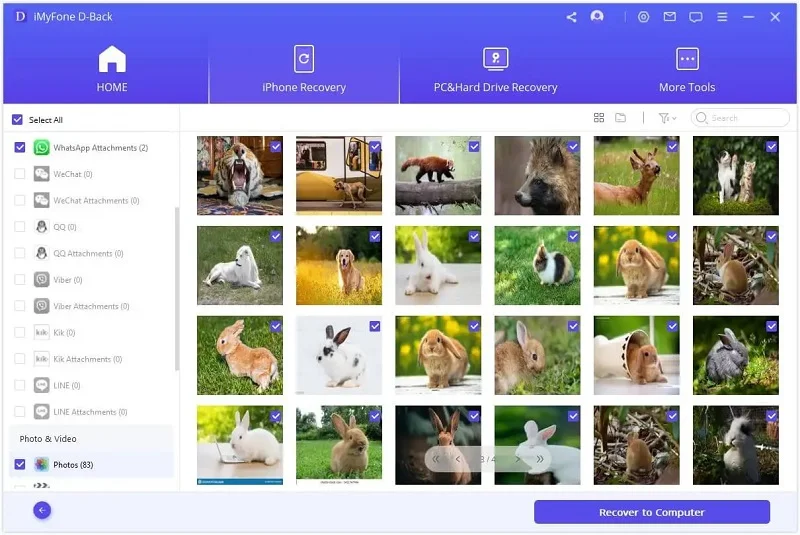 Bonu: Simple Ways to Protect Voice Memos from Loss
Duplicate Voice Memos: You can create a duplicate of any important voice memo for backup. Just open the Voice Memo app and select the voice recording that you want to make a copy. Then click on the three dots and choose "Duplicate".
Share Voice Memos: Also, you can share important voice memos with any iOS device on the same Wi-Fi network. You can share via AirDrop, Message, Mail, Dropbox or add to Notes on your iPhone.
Sync to iCloud & iTunes: To avoid unexpected loss of important voice memo recordings, you can sync them to iCloud and iTunes. When the recordings are deleted from your iPhone by mistake, you can still access them on other devices.
Conclusion
In this article, we have explained 5 different methods to recover deleted or lost voice memos from iPhone - check your shared voice memos, restore from recently deleted folder, synced devices, iTunes or iCloud backup, or using a third-party iPhone data recovery tool.
Hope that you have successfully get back you voice recordings after trying these methods. Among them, FoneGeek iPhone Data Recovery is the best choise. You can download the free trial version to verify that your deleted voice memo can be retrieved by this program.