User Concern
"I am trying to recover a deleted voicemail and there is no undelete option. How can I recover the deleted voicemail? I have an iPhone 14 running iOS 17. Please help!"
Have you ever mistakenly deleted a voicemail on your iPhone and then want to get it back? Or your iPhone voicemails disappeared due to iOS 17 update, jailbreak, software crash, virus attack, etc.
Worry not. In this article, we will walk you through how to undelete/recover deleted vociemails on iPhone with or without backup. The instructions apply to all iPhone models even running the latest iOS 17/15. Keep reading.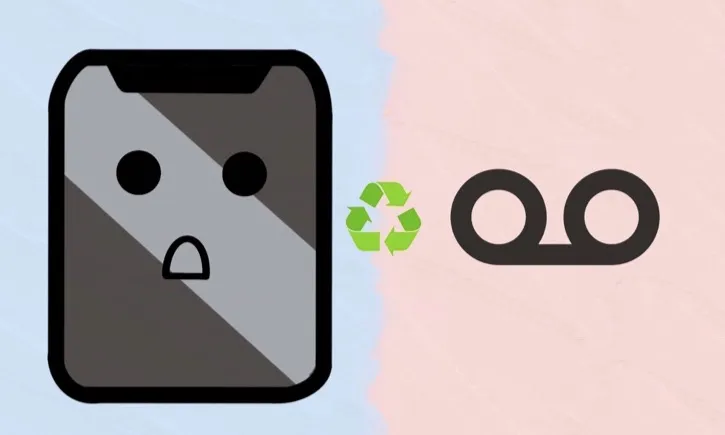 Can You Get Back Deleted Voicemails on iPhone?
Yes, your deleted voicemails are not completely removed from iPhone and can still be recovered without hassle. There is a built-in feature on iPhone that allows you to undelete voicemails.
When you delete a vociemail on your iPhone, it will be removed to a folder called "Deleted Messages", which is the same as the trash or recycel bin on a computer. So, you can easily get back deleted voicemails by checking that folder.
What if the deleted voicemails don't appear in the Deleted Messages folder? Don't worry. You still have chances to get them back as long as they have not been overwritten by new data added to your iPhone. All you have to do is using a third-party recovery tool and perform the recovery as soon as possible.
Now we know that it is possible to recover voicemails you deleted from your iPhone, let's get into the instructions on how to do it.
Way 1. Recover Recently Deleted Voicemails on iPhone Directly
If you have recently deleted important voicemails on your iPhone and now would like to get them back, follow these steps to undelete voicemails on iPhone from Deleted Messages folder:
Open the Phone app and click on "Voicemail" in the bottom-right corner.
Scroll down until you see the "Deleted Messages" menu and tap on it.
You will see a list of voicemails that you've recently deleted. Choose the message you want to retrieve and tap on "Undelete".
The deleted voicemail will be moved back to your regular voicemail inbox.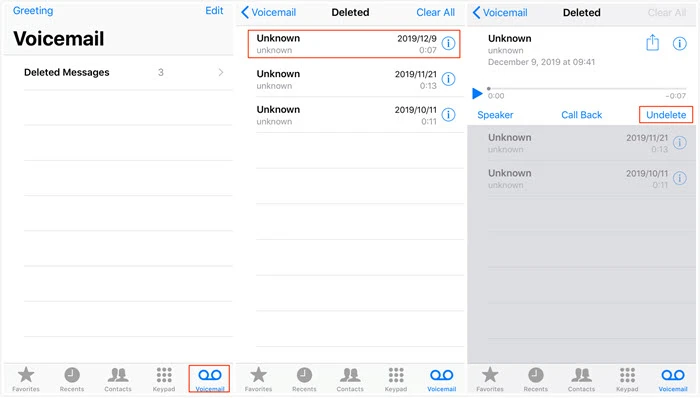 Note
Keep in mind that voicemails in the "Deleted Messages" folder are usually kept for a limited time (around 30 days) from being permanently removed, so act promptly if you want to recover any deleted voicemails.
Way 2. Recover Permanently Deleted Voicemails on iPhone without Backup
When you unable to undelete vociemail on iPhone from the Deleted Messages folder, you can try to use a third-party data recovery tool - FoneGeek iPhone Data Recovery. It is famous throughout the world and well accepted by millions of iOS users.
With this program, you will have access to all of your deleted and existing voicemails. You can simply get the lost voicemails back with or without backup.
Main Features of FoneGeek iPhone Data Recovery:
Provides 3 recovery modes: Recover from iOS Device, Recover from iTunes Backup and Recover from iCloud.
You have chance to preview all data on iPhone/iPad, iTunes and iCloud backup for free.
Supports various data types, including voicemail, messages, contacts, photos, videos, notes, WhatsApp messages, voice memos, etc.
Fully compatible with all iOS versions and iOS models, even the latest iOS 17/16 and iPhone 15/14/13/12 Pro (Max).
Now follow the steps below to learn how to recover permanently deleted voicemails on iPhone without backup:
Step 1. Download and install this iPhone Voicemail Recovery on your computer. Choose "Recover from iOS Device" and connect your iPhone using a USB cable.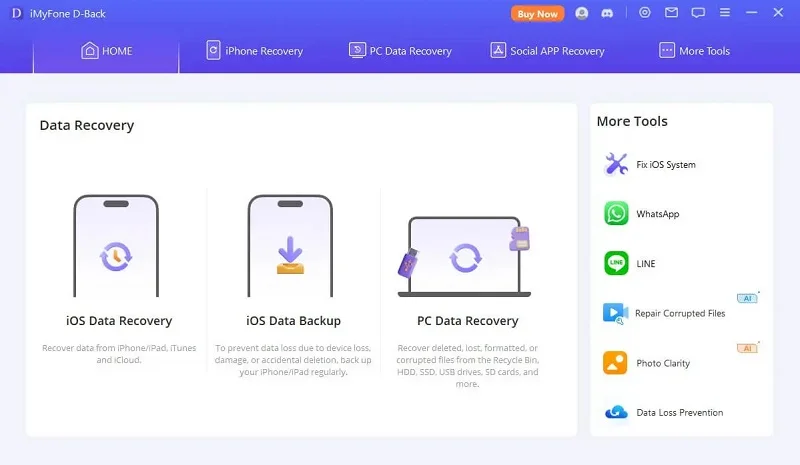 Step 2. Choose the data types you want to retrieve from iPhone, then click on "Scan" to begin scanning.
Step 3. Once the scan has been done, the deleted and existing vociemails would be showed for you to preview. Just choose the files you need and click on "Recover to PC".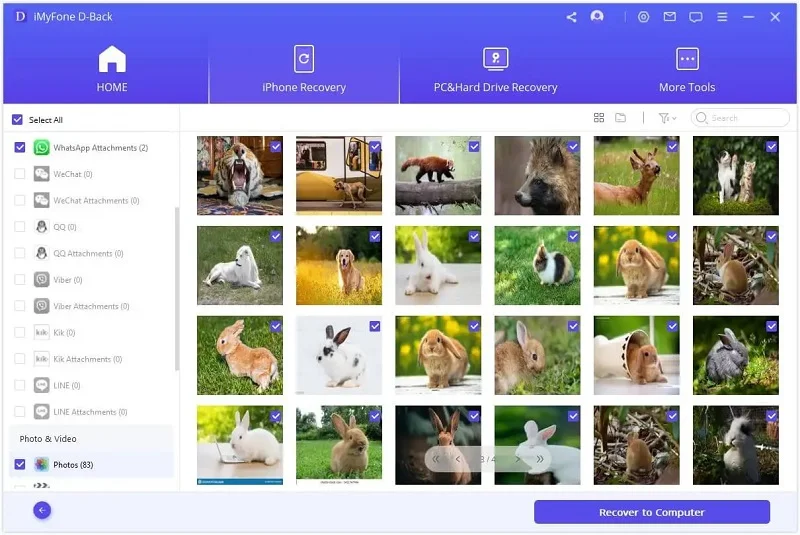 Way 3. Recover Permanently Deleted Voicemails on iPhone from iTunes Backup
Apple provides the option to save all your iPhone data to computer using iTunes. If you have backed up your iPhone to iTunes before losing voicemails, you can easily restore the iTunes backup to your iPhone to get back the deleted voicemails. The process will restore all your data, inclduing the deleted voicemails. Here's how you can do it:
Plug your iPhone to computer using an USB cable and launch iTunes.
Select your iPhone when it appears and go to the "Summary"tab.
Now tap on "Restore Backup" and choose the most recent backup that contains the voicemails you want to recover.
Tap on "Restore" again and wait for the process to complete.
Once done, your iPhone will restart with all the restored data, and the deleted voicemails should be back in your voicemail box.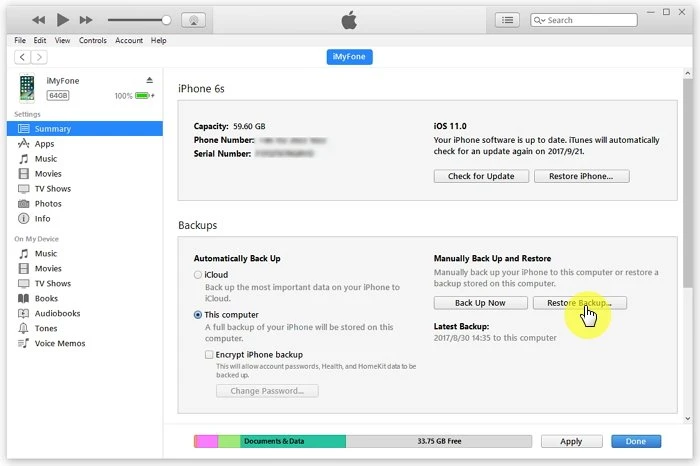 Important Note: Restoring from an iTunes backup will replace all existing data on your iPhone with the data from the backup, so make sure to back up any recent data before proceeding.
Plus, you won't be able to preview the deleted files and restore voicemails only. Then, we suggest you use FoneGeek iPhone Data Recovery to selectively recover deleted voicemails from iTunes backup.
Step 1. Run the program and choose "Recover from iTunes Backup". If you have ever backed up your iPhone with iTunes, the iTunes backup files will be displayed on this program. You need to choose one to proceed.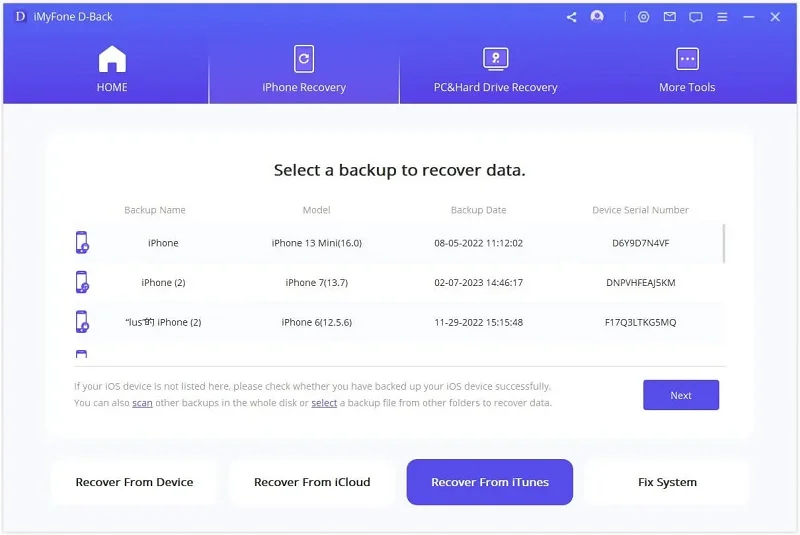 Step 2. Click on "Next" and the scanning process will get started, you can view all the files on the iTunes backup.
Step 3. After reading and verifying these files, you'll be able to choose any items you want to recover and save them to your computer.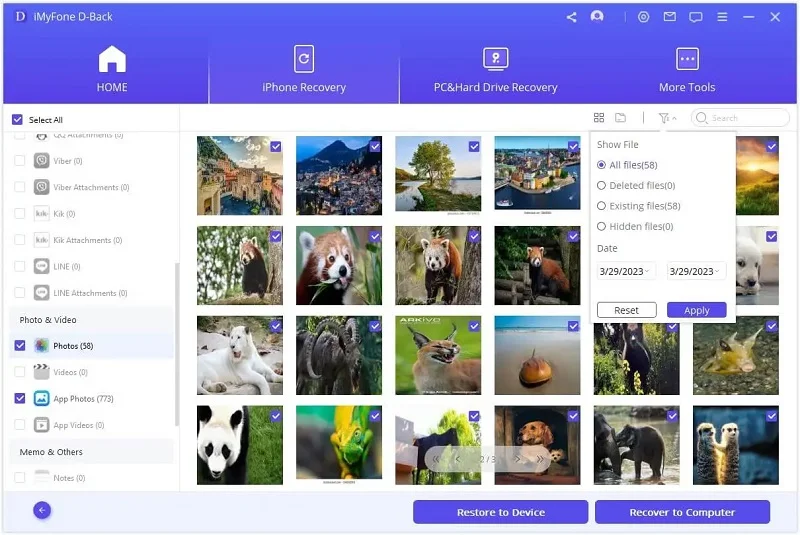 Way 4. Recover Permanently Deleted Voicemail on iPhone from iCloud Backup
If iCloud backup is turned on, your iPhone data will be automatically backed up to cloud server when the device is connected to Wi-Fi. Same as iTunes, you can retrieve deleted voicemails on iPhone by restoring the device from iCloud backup.
Go to Settings > [your name] > iCloud > Manage Backup > Backups to ensure that you have a recent backup to restore from, then follow the steps below:
On your iPhone, navigate to Settings > General > Reset and tap on "Erase All Content and Settings" to wipe the device first.
Follow the onscreen setup steps and on the Apps & Data screen, choose "Restore from iCloud Backup".
Sign in to your iCloud account with correct Apple ID and password.
From the list of available backups, choose the one that contains the voicemails you want to restore.
Wait for the restore to complete. The duration will depend on the size of the backup and your internet connection speed.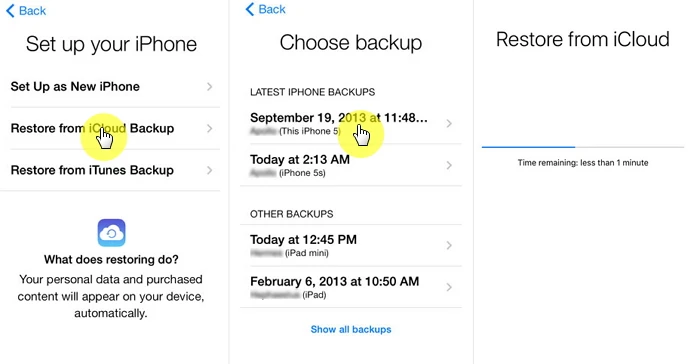 Remind Again: As you can see, you need to wipe your iPhone before restoring the iCloud backup, which might cause new data loss on the device. Worse still, there is no option to preview the deleted files and selectively restore only the voicemails.
Why not use FoneGeek iPhone Data Recovery? It allows you to recover only voicemails from iCloud backup without having to reset the device.
Step 1. Run the program and select "Recover from iCloud" from the home interface. Sign into iCloud account using your Apple ID and password.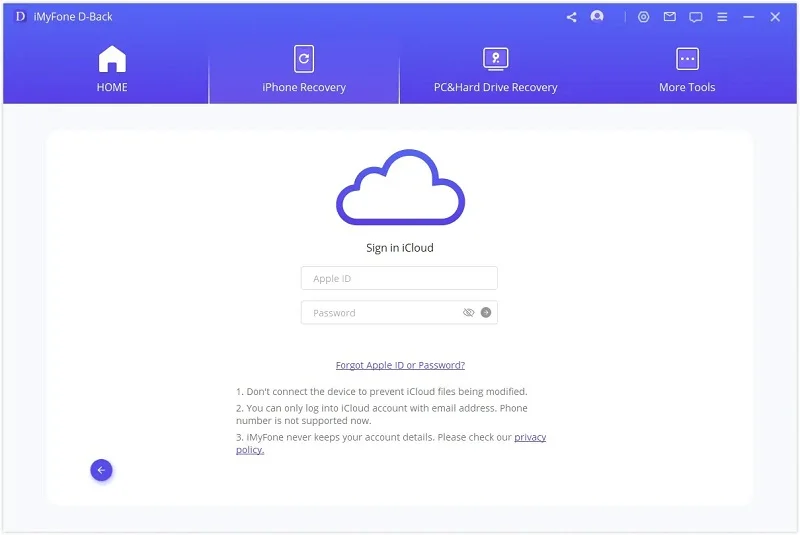 Step 2. Select any data you want to restore and click the "Scan" button to beging downloading iCloud data.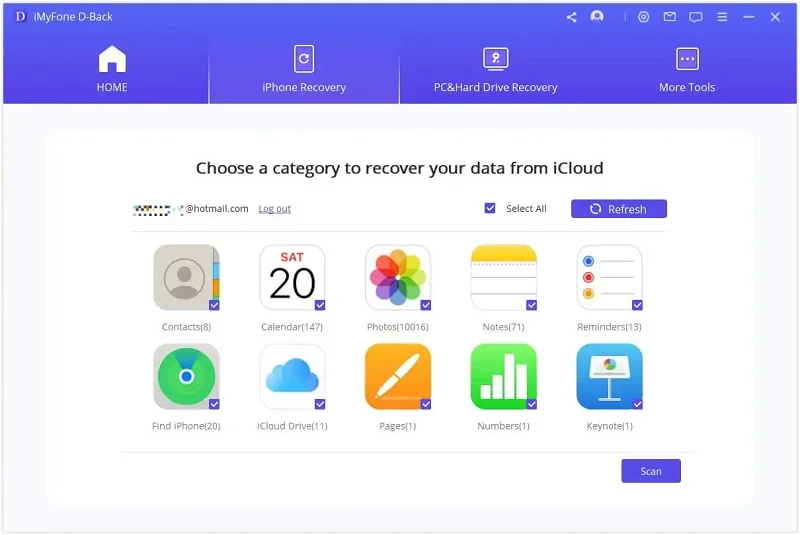 Step 3. Once you've downloaded the data, you can preview the data and choose the files you want to recover, then click on "Recover" to save them on your computer.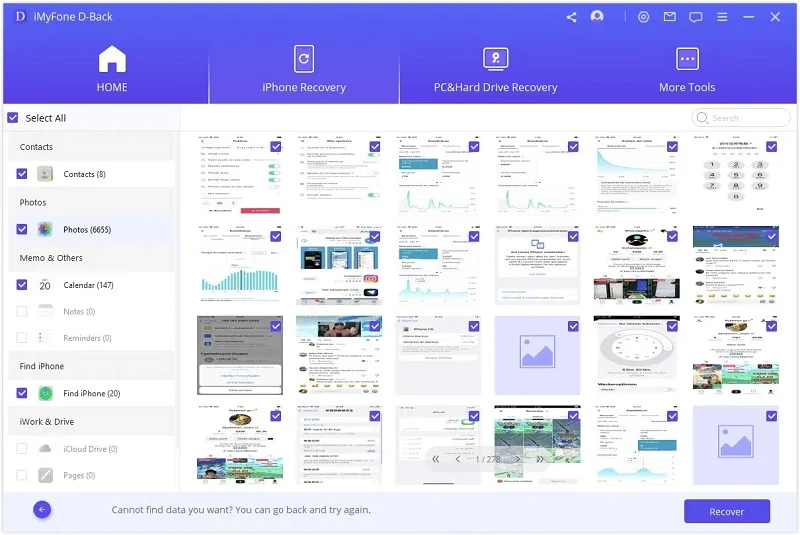 Way 5. Recover Deleted Voicemail on iPhone by Contacting Your Carrier
In some case, contacting your phone carrier can help to retrieve your deleted voicemails. Some carriers may store voicemails on their servers for a limited period, typically ranging from a few days to a few weeks. If the voicemail was recently deleted, they might be able to recover it from their server backups.
However, keep in mind that carrier policies can vary, and there's no guarantee they will have the deleted voicemails available for retrieval. It's best to reach out to their customer support as soon as possible to explore the possibility of recovering your deleted voicemails.
FAQs for Recovering iPhone Deleted Voicemails
How long do deleted voicemails stay on iPhone?
You may wonder how long the deleted vociemail messages are stored in your iPhone. Well, it depends on the particular phone carrier you are using. For most carriers, the voicemails are saved in Deleted Messages folder for 30 days.
Why there is no Deleted Messages folder on your iPhone?
If you deleted a voicemail more than 30 days, you won't be able to undelete it. If you don't have any deleted voicemails available for you to recover, the Deleted Messages folder will not appear in your voicemail inbox.
Can I recover voicemails if there is no "Delete Messages" folder?
Yes, of course. Please stop using your iPhone and immediately use third-party tools like FoneGeek iPhone Data Recovery to directly scan the device and recover permanently deleted voicemails even without backup.
How can I permanently delete iPhone voicemails?
To delete voicemails permanently from your iPhone, you can open the Phone app and choose "Voicemail", then tap on "Deleted Messages". Tap on "Clear All" in the top-right corner to empty your Deleted Voicemails folder.
Can I recover permanently deleted vociemails on iPhone without a backup?
Yes, you can. There are many third-party data recovery tools that could help you in this situation. One reputable tool that has been widely used is FoneGeek iPhone Data Recovery. It is able to recover various types of data, including voicemails, from iPhone even without a backup.
Can I recover deleted voicemail on iPhone without using a computer?
Certainly! You can recover deleted voicemails on your iPhone without using a computer by either checking the "Deleted Messages" folder or restoring your iPhone from an iCloud backup.
How to recover permanently deleted contacts or messages from iPhone?
Apart from voicemails, FoneGeek iPhone Data Recovery also supports to recover permanently deleted contacts, messages, call logs, photos, videos, notes, WhatsApp, Viber, Kik, and more data from iPhone or iPad.
The Bottom Line
In this comprehensive guide, we've explored different methods to recover deleted voicemails on an iPhone, such as searching the "Deleted Messages" folder, using third-party tool like FoneGeek iPhone Data Recovery, restoring from an iTunes/iCloud backup, and even contacting your phone carrier.
By following these step-by-step procedures and choosing the appropriate tools, you have a chance to successfully retrieve your lost voicemails from iPhone. Remember to act quickly when attempting data recovery and consider regular backups as a preventive measure for any future data loss.