User Concern
"I just deleted my WhatsApp messages few month ago and want to recover it online. Please help me guys, thank you!"
WhatsApp has quickly become the best way to connect people with friends and family. It has established itself as a go-to social media platform for most users. Yet just like every other app on your device, WhatsApp is not immune to the very real possibility of data loss.
If you have been using WhatsApp for some time, you may have experienced the loss of some of your messages and other WhatsApp data. If this is what you are dealing with, this article will share with you the best way to recover your deleted WhatsApp messages.
3 Ways to Recover WhatsApp Messages Online from iPhone
Recover WhatsApp Messages Online from iCloud Backup
WhatsApp for iOS allows for the periodic backing up of all messages to iCloud. This makes it very easy to recover lost messages by simply restoring them from the iCloud Backup. The following is how you can do this;
Step 1: If you have already backed up WhatsApp to iCloud, the first step you should do is uninstalling WhatsApp from your iPhone. Then go to the App Store and download a new copy of the app onto your device.
Step 2: Once the app is installed, follow the on-screen instructions to set it up, confirm your phone number and tap on "Restore Chat History" to restore all WhatsApp messages back onto the device.
Step 3: When you open WhatsApp after the restore process is complete, you should see all the deleted messages in the chat.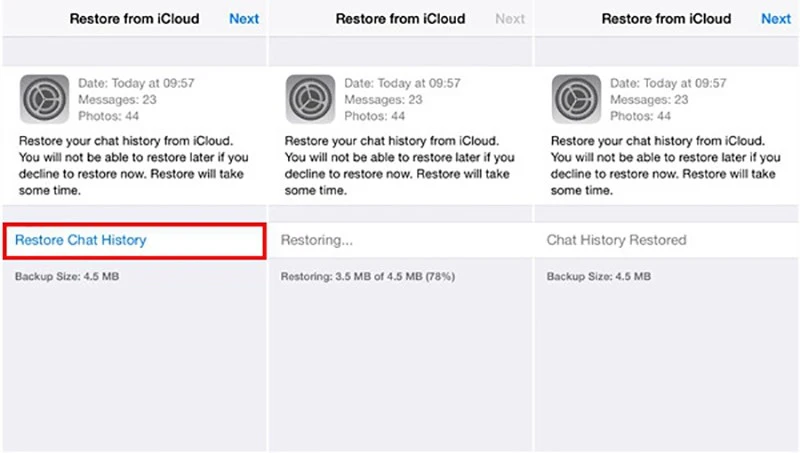 Note: It is important to make sure that you have adequate storage on your iPhone for the recovery process. Ideally, the storage space should be twice the size of the backup file.
Recover WhatsApp Messages Online from iPhone Selectively
If you wish to selectively recover WhatsApp messages online from iPhone, FoneGeek iPhone Data Recovery is the best tool that you can pick to restore WhatsApp messages, photos, videos, contacts and more on iPhone/iPad. You can preview and only recover the deleted WhatsApp messages that you need. In addition, you can use this tool to recover deleted text messages, iMessages, photos, videos, notes, voice memos, and more from iOS devices.
Step 1: Visit the official site of this iPhone Data Recovery to download the correct version of this program on your computer. Install and run it afterwards, then select "Recover Data from iOS Devices."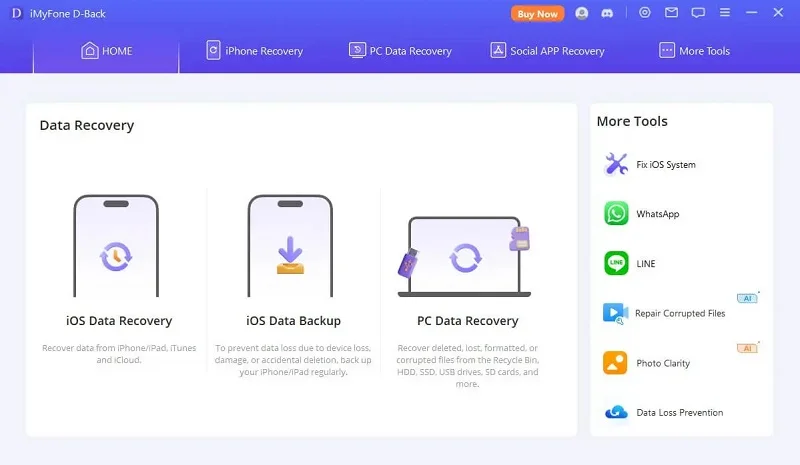 Step 2: Using an USB cable to connect the iOS device to computer. Upon successful connection, all the data types will be displayed on the screen. Choose "WhatsApp & Attachments" and click "Scan" button.
Step 3: The program will properly scan the WhatsApp messages on iPhone. After the scanning completed, you will be able to preview all the WhatsApp chats on this screen. Choose the messages you want to pick and tap on "Recover to PC" button to save them on your computer.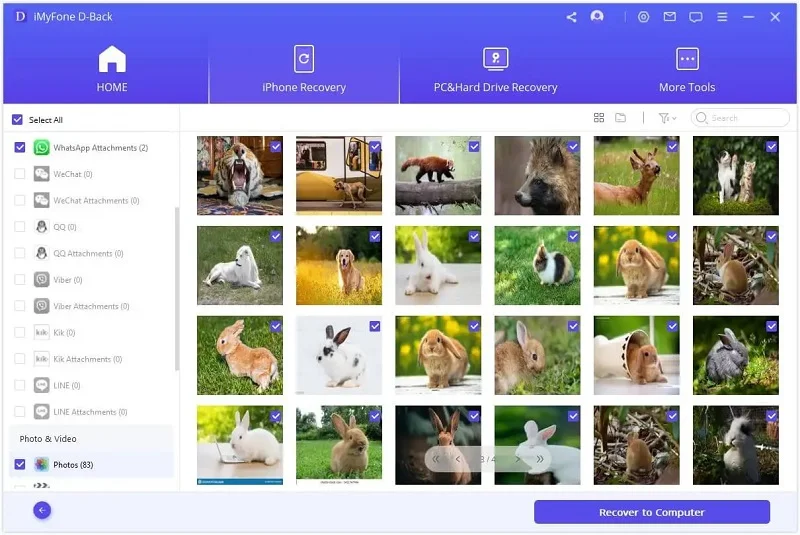 Recover WhatsApp Messages from iTunes Selectively
iTunes will also create a full backup of WhatsApp messages if you have performed the backup before. Now using this FoneGeek iPhone Data Recovery to selectively restore WhatsApp or other data from iTunes backup.
Step 1: Run this program and select "Recover Data from iTunes Backup" tab on the interface. Wait for a while and the program will load the previous iTunes backup files. Choose one iTunes backup here. If the iTunes backup if encrypted, you will be required to enter the password to decrypt it first.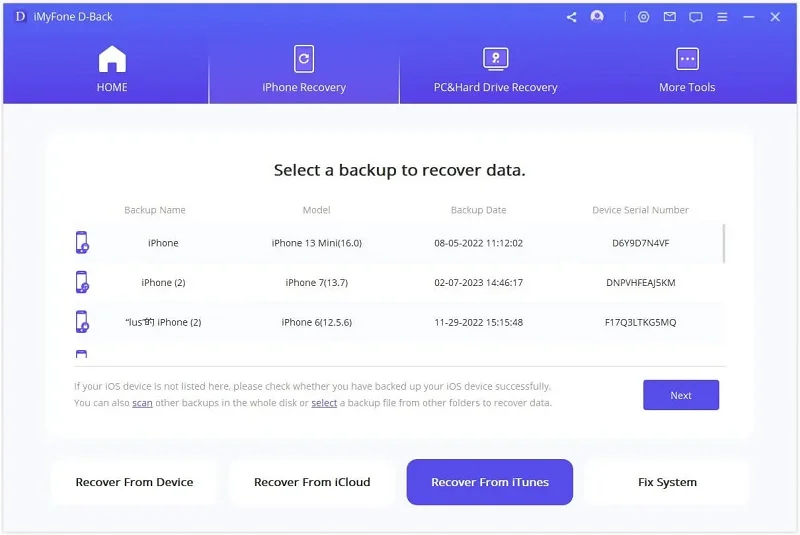 Step 2: Then tick the "Next" button to allow the tool to analyze the iTunes backup. All the iTunes backup data, including the WhatsApp messages will be deeply scanned.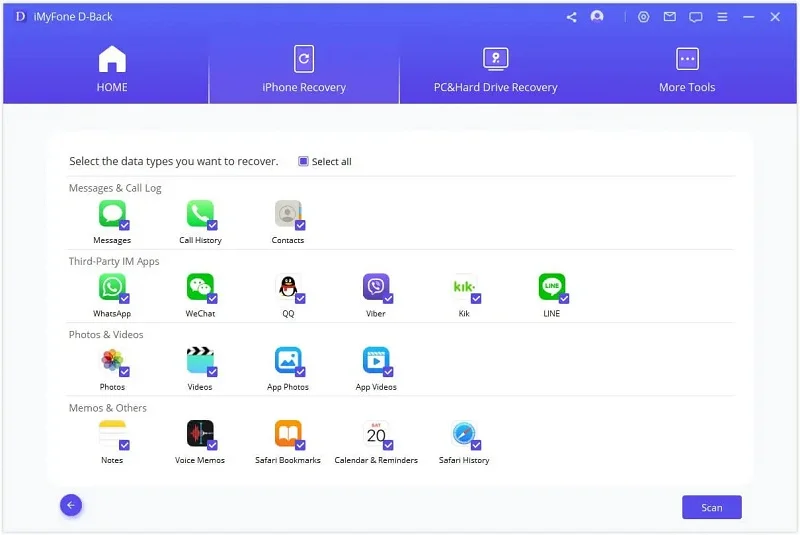 Step 3: After the analyzing, click "WhatsApp Attachments" to read all the deleted and current WhatsApp messages. Then press "Recover to PC" button to export the selected WhatsApp data to your computer.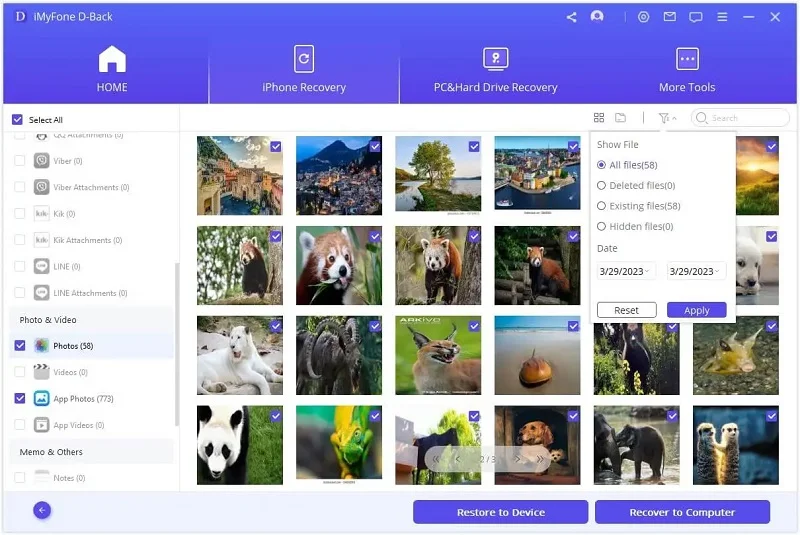 3 Ways to Recover WhatsApp Messages Online from Android
Recover WhatsApp Messages Online from Google Drive
WhatsApp for Android also allows you to automatically back up all WhatsApp messages to your Google account. If this feature was enabled, then you can easily recover the deleted messages by simply restoring the backup.
Here's how the process works. Keep in mind that WhatsApp will only save the latest two backup files in any Android device.
Step 1: Delete WhatsApp from your Android and install it again from Google Play store.
Step 2: After the installation, log in with the same phone number used to create the local WhatsApp backup.
Step 3: If everything goes right, you will be notified that the WhatsApp chats have been detected. Tap on "Restore" to recover the WhatsApp data.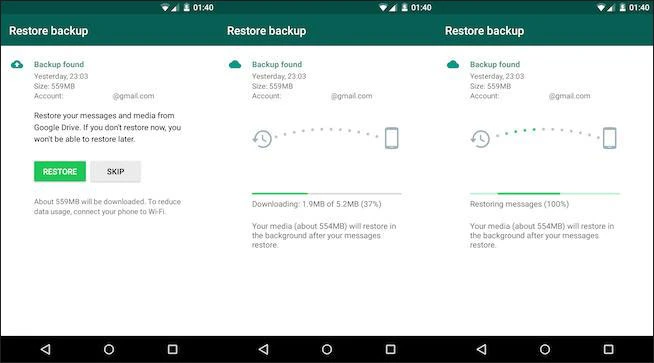 Recover WhatsApp Messages Online from Local Backup
In addition to the backup stored in your Google account, WhatsApp will also create another daily backup at 2.00 AM. This backup will be stored on the Android device 's internal memory or SD card. You can use these steps to recover the WhatsApp Messages from this backup;
Step 1: Open any file manager app on your Android phone. If you don't already have one, there are a lot of free options on the Google Play Store.
Step 2: Open the File Manager app and navigate to "sdcard/WhatsApp/Databases." If you don't have an SD card, this folder may be in the device's internal storage.
Step 3: Now you should rename the backup file that you would like to restore from "msgstore-YYYY-MM-DD.1.db.crypt12" to "msgstore.db.crypt12." To avoid messing with the restore process, do not change the number after the word "crypt."
Step 4: Now open the Google Drive app on your device and choose "Backups." If there is a WhatsApp backup associated with your phone number, tap on the "More" option and choose "Delete Backup."
Step 5: Now just uninstall the WhatsApp app and then reinstall it back onto your device. When prompted, restore the backup that you edited in step 3 above.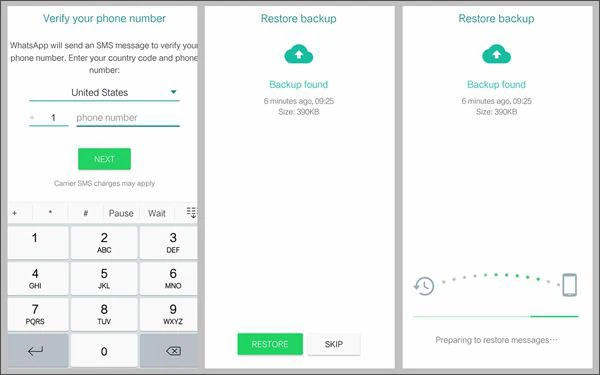 Note: This method will allow you to choose an older backup, rather than the most recent one. But it will also mean that you will lose all messages sent and received before the backup was created.
Recover WhatsApp Messages on Android without Backup
If you find that the lost WhatsApp messages were not included in any backup, your best option is to use a professional WhatsApp messages recovery program like FoneGeek Android Data Recovery. This program is designed to help you recover not just messages, but all other types of WhatsApp data including any videos, photos, documents, stickers, and audio recordings that you may have sent and received on Android devices.
Step 1: Install and launch FoneGeek Android WhatsApp Recovery on your computer. Choose "Recover WhatsApp Data" and then use a reliable USB cable to connect the Android device to the computer.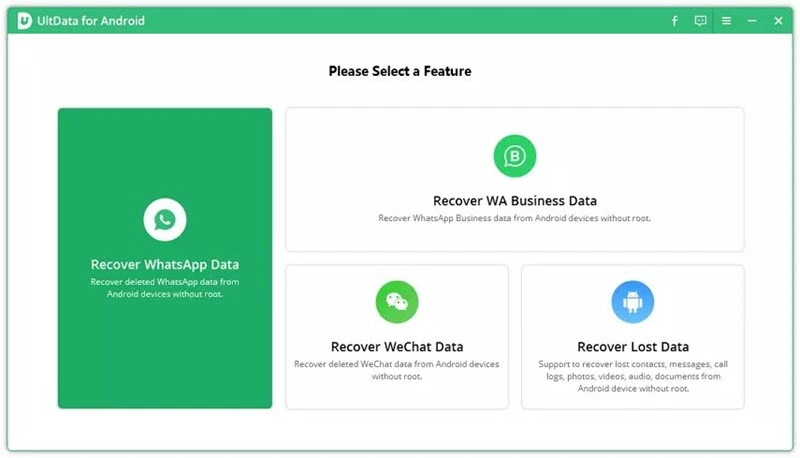 Step 2: The software should detect the connected Android device. Follow the onscreen instructions to install the Android USB driver and enable USB debugging on the device to make it easier to work with.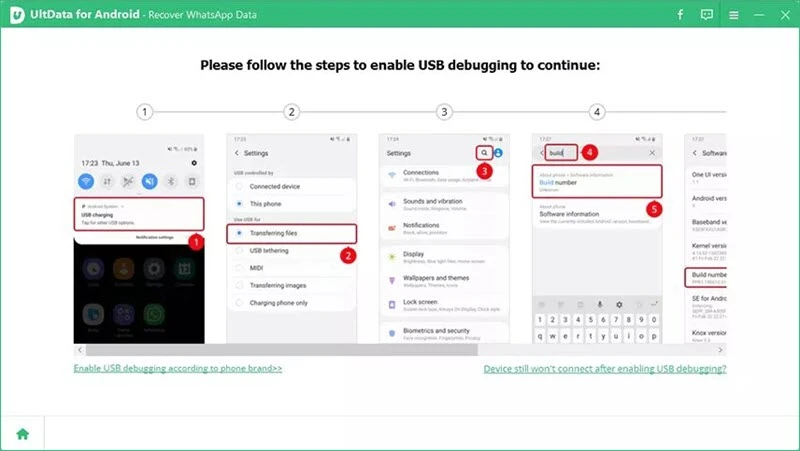 Step 3: Then simply click "Start" and the software will find the deleted WhatsApp messages.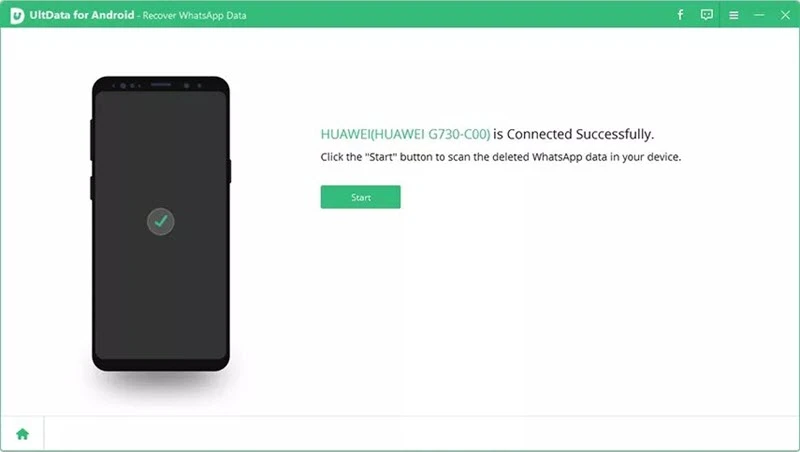 Step 4: Use the guide that the program provides to sign in to your WhatsApp account and back up all your data. The program will then scan the device for all WhatsApp data stored on it.
Step 5: You should then see the details of all the WhatsApp data that the program has been able to recover. You have the option to select the chats you would like to recover and then click "Recover" to save them.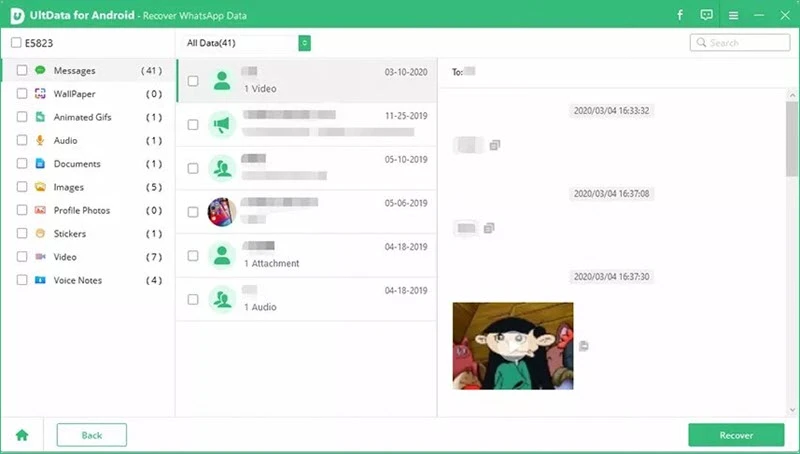 Conclusion
This article has provided you with the solutions to recover WhatsApp messages no matter you use iPhone or Android device. With these options, you can get all your messages back quickly and easily, allowing you to pick a right where you left off.
If you find that the messages you need to recover were not included in a backup, FoneGeek iPhone/Android Data Recovery gives you the unique ability to recover chats even without a backup. Try it today and let us know how it has worked out for you. Post your comments, questions, and suggestions in the comments section below.