It annoys us a lot when it comes to uninstalling WhatsApp to restore WhatsApp chat history.
Some users left the comments that they dislike to uninstall WhatsApp program. Thus, in this article, we will talk about how to restore WhatsApp backup without uninstalling this app.
Part 1. Is There Any Chance to Restore WhatsApp without Uninstalling
While you can easily restore all your WhatsApp chat history on to your Android device or iPhone using the guidelines WhatsApp suggests, this method will often require you to uninstall the app.
There are official ways to restore WhatsApp chat history, but they all require uninstalling the application.
But this doesn't mean that you can't restore WhatsApp without uninstalling the app. To do this, you would need to use a 3rd-party tool or use iTunes.
Part 2. Restore WhatsApp Backup without Uninstalling By FoneGeek (For iPhone and Android)
The best and easiest way to restore WhatsApp without uninstalling the app is to use a third-party tool. And, the best third-party tool for this purpose is FoneGeek WhatsApp Transfer.. This is the best WhatsApp management tool as it allows you to backup WhatsApp chats and restore them to any device in a single click.
Follow these simple steps to use this app to restore WhatsApp without uninstalling. But since you can't restore data that you haven't backed up, we will begin by showing you how back up WhatsApp chats.
Step 1: Connect your phone to the computer and open FoneGeek WhatsApp Transfer. Wait for the program to detect the device and once it does, click on "Back Up Now". The backup of all your WhatsApp chats will begin immediately. Keep the device connected until you see a notification indicating that the process is complete.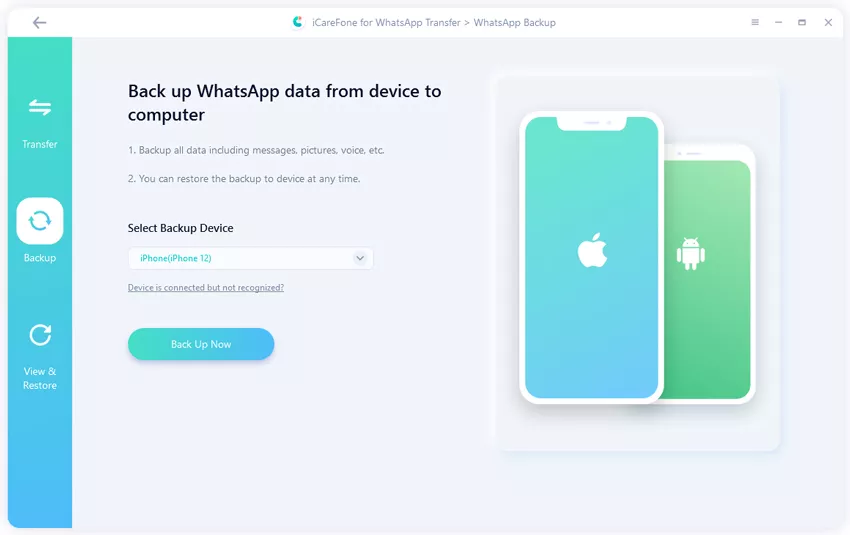 Step 2: Once the backup is complete, you should now be able to restore the backup. To do that, click on "View & Restore" in the program's menu and choose the WhatsApp backup file from the list of backup options that appear.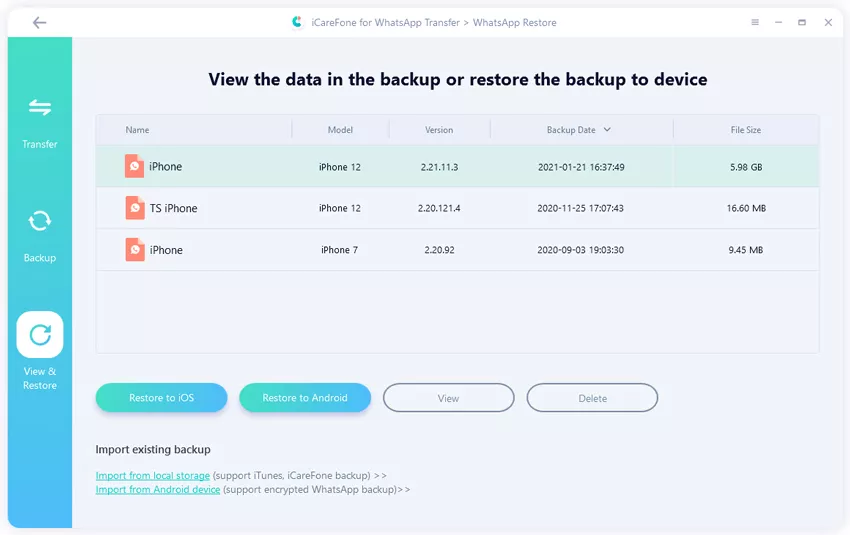 Step 3: Click "Restore to iOS" or "Restore to Android" and the program will restore all WhatsApp chats in the backup. You should see a progress bar on the screen, indicating the on-going process.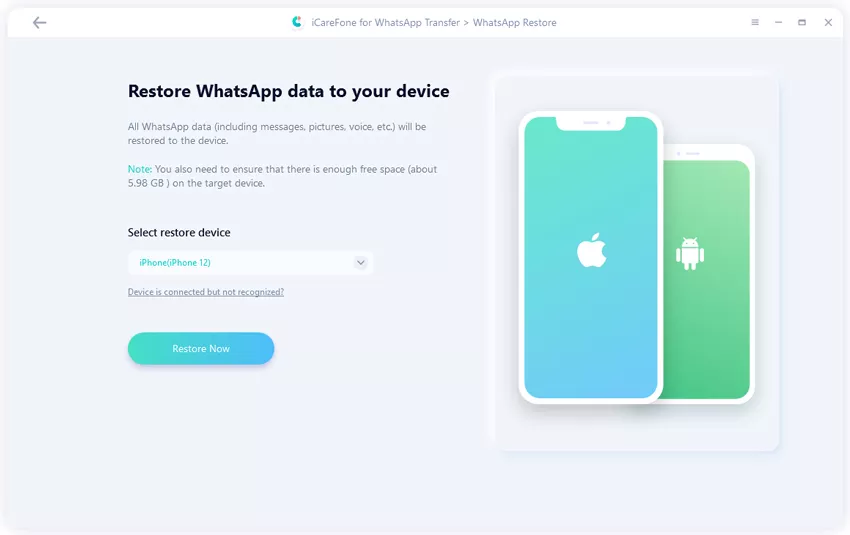 Step 4: Keep the phone connected to the computer while the program restores all WhatsApp chats to the device. The process may take some time depending in the amount of data in the backup. When the backup is complete, you can disconnect the device from the computer.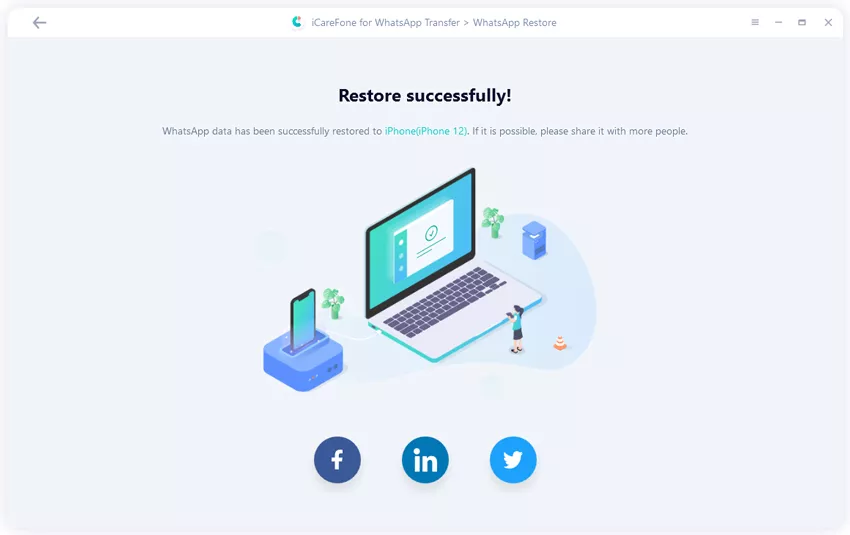 You should now be able to see all your restored WhatsApp contacts, chats, videos and images on your device.
The following are some of its main features:
You can use it to transfer WhatsApp chats from one device to another including Android to iPhone, iPhone to Android, iPhone to iPhone and Android to Android.
Backup all WhatsApp chats on iPhone and Android FOR FREE.
It works well with all Android devices and all iOS devices and it supports all versions of iOS firmware and Android OS
The user interface is very easy to navigate, making it very easy to use.
You data is safe when using this program. Your privacy is the top priority for us.
Part 3. Restore WhatsApp Backup Without Uninstalling Using iTunes (For iPhone Only)
The 2nd solution that you can use to restore WhatsApp without uninstalling this app is iTunes. For this method to work, you will need to have a backup of the chats that you want to restore. If you don't, connect the iPhone to the computer and backup all the data on your device, including WhatsApp chats to the device.
Then, follow these simple steps to restore the backup to your device:
Step 1: Connect the iPhone to computer using USB cables and launch iTunes.
Step 2: Select "Summary" on the left and then click on "Restore Backup".
Step 3: Select the backup that you just created and then click "Restore" to begin the restore process. When the process is complete, you will be able to see all your WhatsApp chats on the device.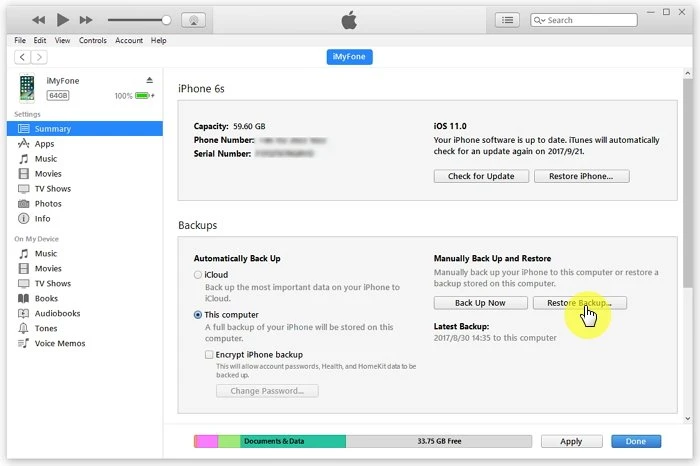 As useful as iTunes can be, it does have a few disadvantages that you may have to contend with. These include the following;
This method doesn't allow you to restore the data selectively as you will not be able to open the backup file to see the individual files.
You will need a lot of storage space on your computer to make a full backup.
The restore process can take a long time since you are restoring all data to the device, not just WhatsApp.
Restoring data to your device via iTunes will overwrite all old data on the device, meaning that you may lose some of the data on the device that wasn't included in the backup.
When you read this article, you will find that it's not hard to restore WhatsApp data without uninstalling this app. If you intend to restore WhatsApp data within the shortest time, iTunes is not a good choice for you. iTunes is a good tool, but it involves to restoring all the data, which will take a long time.
However, FoneGeek WhatsApp Transfer. is a good choice for you to restore all WhatsApp chats at the fastest speed. If you still have other issues about WhatsApp, try to leave us a comment below.

Fay J. Melton has explored the area of technology and software for more than 5 years and he is enthusiastic about helping users solve various technology issues.

Home
>
iPhone Recovery
>[2022 Updated] 2 Useful Ways to Restore WhatsApp Backup without Uninstalling