It is no exaggeration to say that it is indispensable to take pictures with iPhone/iPad, such as taking photos at concerts or a birthday party, etc. However, have you encountered such a problem? You took a lot of photos with your iPhone, and now there is no enough space on the device. You need to transfer these photos to your computer to spare enough storage. Although there is an easy way to send photos by email, but you can only transfer one photo in one click. So is there any way to transfer a large number of photos at once?
Indeed, when using the iPhone to take photos, more and more photos will be saved on the device and take large space. Then, a series of problems arise. For example, the iPhone runs slower than before and the app doesn't work…
In order to avoid this kind of issues, you can transfer photos from iPhone to pc then delete them permanently to clear the space. There are many ways to transfer photos from iPhone to pc or Mac. In this article, I'll introduce 7 ways to transfer photos from iPhone to computer, and choose the best one you like.
1. Transfer Photos from iPhone to PC via USB Cable
The easiest way to transfer iPhone photos to your computer is to connect the device to computer using an USB cable and then back up all photos to computer.
On Windows Computer:
Step 1. To transfer iPhone photos to a Windows computer using an USB cable, you need to install iTunes on your computer first.
Step 2: Connect the iPhone to Windows computer. And trust this computer.
Step 3: Double click the mouse to open the iPhone DCIM folder (the photo folder), select the photos you want to back up, and copy them to other folders on your computer.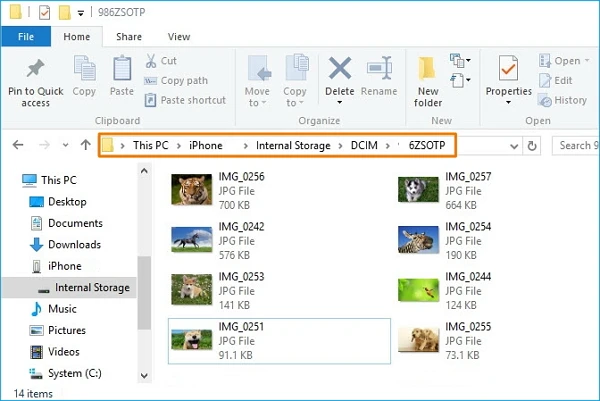 On Mac:
iTunes should be installed on your Mac, so you can view and export iPhone photos on your Mac and view them via Photo.
Step1: Connect your iPhone to your Mac using an USB cable. And trust this computer.
Step2: Turn on the photo software on your Mac. Choose Input -> iPhone. Select the photos you want to transfer.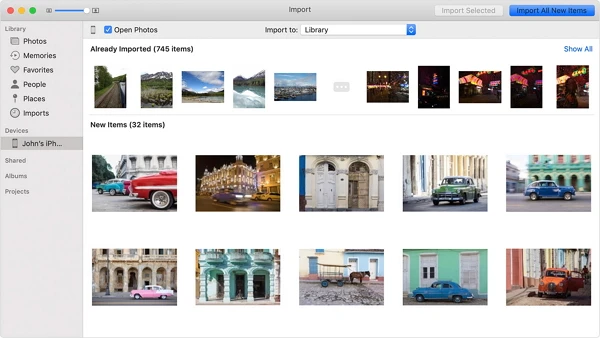 It is the easiest way to transfer photos from iPhone to computer using the USB cable. However, it does not support transferring photos from other apps.
2. Transfer Photos from iPhone to Laptop via iTunes
The basic way to transfer photos from your iPhone to computer is backing up photos via iTunes. Here are the steps:
Step 1. According to settings, iTunes will open automatically as long as the iPhone is connected to the computer. At that, iPhone data will be synced automatically if "Auto Sync" is enabled on iTunes', which will lead to data loss. So turn off the"Auto Sync" feature first before connecting your iPhone to computer.
Step 2. Click the iPhone icon, then tap on 'Backup Now' and all the data on iPhone will be backed up to computer, including the photos.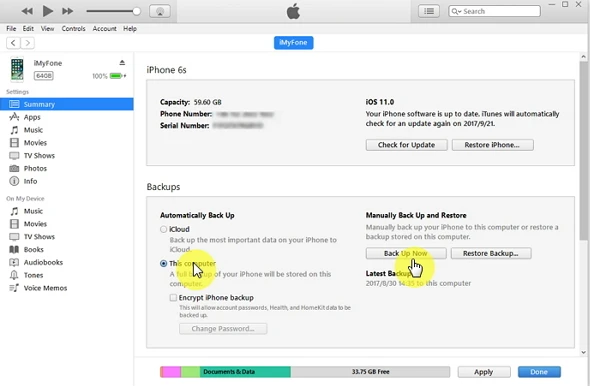 Step 3. Open iCloud Drive on your computer, sign into your own iCloud account, then select 'Photos' and click 'Apply' to sing iPhone photos.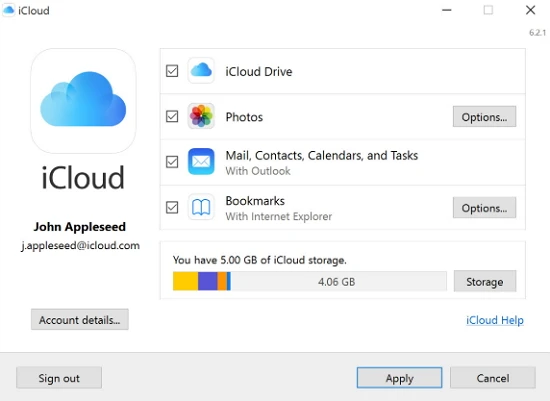 4. Transfer iPhone Photos to Computer via PR iPhone Data Recovery
One of the most professional way to transfer all photos from iPhone to pc is using a reliable 3rd-party tool: FoneGeek iPhone Data Recovery. Apart from the feature of transferring photos to computer, this program also has other features that you cannot imagine.
Preview all photos in advance on your computer for free before the transferring process.
All photos saved on iPhone camera, social apps will be transferred in one click without loss of quality.
Both the deleted and undeleted photos will be transferred to your computer.
Besides photos, this program also supports to transfer and recover contacts, text messages, videos, notes, voice memos, WhatsApp messages, vibes chats, LINE history, and more than 20 types of data.
Supports the newest iOS devices and iOS 12 to iOS 13. 
Hot articles:

iPhone Contacts Disappeared? How to Recover Deleted Contacts from iPhone
How to Recover Deleted Photos from iPhone Without/With Backup
Then follow the steps below to transfer photos from iPhone to computer. First of all, you should download FoneGeek iPhone Data Recovery to your computer.
Step 1. Open this program, then click 'iPhone Data Recovery' option on the main interface.
Step 2. Select 'Recover from iOS Device', then using an original USB cable to connect your iPhone to computer. And click 'Trust' option on the iPhone screen.
Step 3. If what you want to transfer and recover is photos, then click 'Photos' from all the data types, then click 'Next' and the program will start to scan the data that you selected.
Sep 4. You may need to wait for several minutes until the scanning process is finished. After that, you will be able to preview the photos you need, then tap on 'Recover' button to transfer the selected photos to pc.
5. Transfer Photos from iPhone to PC via Dropbox or Google Drive
In addition to the above methods, you can also upload iPhone photos to your computer using Dropbox and Google Drive.
Install Dropbox or Google Drive apps on your iPhone and create an account. Then log in to Dropbox or Google Drive on computer with the same account to transfer photos to your computer.
When using Dropbox or Google Drive for iPhone photo transfer or backup, it is best to connect iPhone and computer to Wi-Fi. Usually the transmission speed is determined by the amount of photos and the speed of the network. The more you transfer, the longer it will take.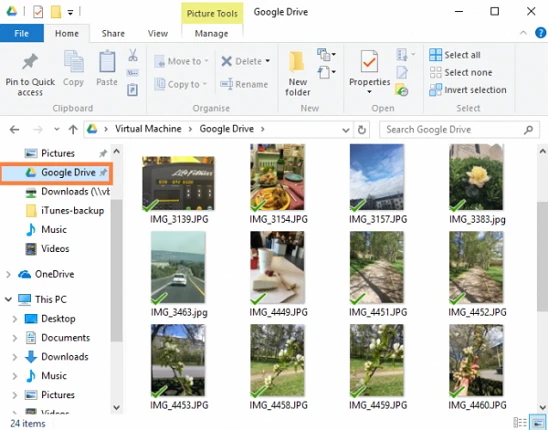 Conclusion
What do you think of the 5 ways to transfer photos from iPhone to computer? Personally, the 4th method is the most simple and easiest. You can only transfer photos from camera via usb cable. Using iTunes to transfer will lost the existing photos. The way of iCloud and Dropbox, Google Drive transfer depend on Wi-Fi connection, so fast speed cannot be guaranteed. According to our test, the transmission speed of the 4th method is stable and fast. And you can even transfer deleted photos with the tool introduced in this part.

As a professional writer who is interested in technology, Edwin J. Parke has helped thousands of users by offering various tips to solve their problems.

Home
>
iPhone Recovery
>5 Free Ways to Transfer Photos from iPhone to PC (Windows/Mac)