As we all know, data loss always happen on iOS devices. Messages and other data may lost due to various reasons, including accidental deletion, iOS update, factory reset, jailbreaking, device broken or damaged, etc. But recently many iOS users have reported that all messages disappeared from their iPhones and it is not clear what is causing the sudden loss of data. For example:
"All of the texts on my iPhone 8 randomly deleted today. I just went and opened the messages app and it was completely empty. Is there a way to restore these messages back to my phone?"
Have you ever run into the same annoying situation - iPhone suddenly deleted all messages? Don't worry. In this guide we will explain why did your iPhone delete all your messages and also introduce an effective way to get them back.
Why Did My iPhone Delete All My Messages
There are several reasons why your iPhone could have inexplicably deleted some of your messages. The following are some of the most common ones:
Incorrect Settings
It is possible that you have set your iPhone to keep messages for only 30 days or a year rather than forever. If this is the case, the messages are removed from the device after the selected period elapses and it could be the reason why iPhone deleted all messages without reason.
To check the period you have selected, go to Settings > Messages > Keep Messages to check. If this is not set to "Forever", please change it or you will lose messages again.
iOS System Error or iOS Update Failure
Your iPhone could also have deleted your messages because of a system bug. These issues may arise during an iOS update or due to malware and viruses that could be affecting the system. This is why some people report this problem soon after an iOS upgrade.
Restore iPhone from a Wrong Backup
This rarely happens, but it is not unlikely. Restoring your iPhone from a backup via iTunes or iCloud has been known to cause loss of existing data on the device. Therefore you may lose the messages for good if you restore the device from the wrong backup.
How to Stop My iPhone from Deleting All My Messages
The following are some of the ways you can prevent this problem from happening in the future:
Way 1: Check Your Settings
Like we mentioned before, you need to set the "Keep Messages" settings to "Forever" to avoid losing the messages after a specific period. To do that go to Settings > Messages > Keep Messages and then make sure that "Forever" is selected.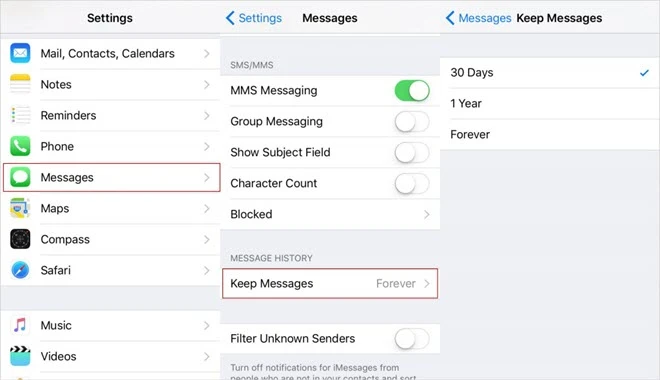 Way 2: Check Your Storage Space
Although we didn't include it in the reasons above, some users seem to think that having low storage space can cause iPhone to delete some of the messages on the device. So, check that the device has adequate storage or remove some unnecessary files to create more space.
Way 3: Apple System Error
If you are certain that your iPhone or your iOS system is running good, then there is a possibility that the Apple System Status could be "unavailable". Go to the official status page to check it. In this case, there is nothing you can do but wait until the status is "Available" again.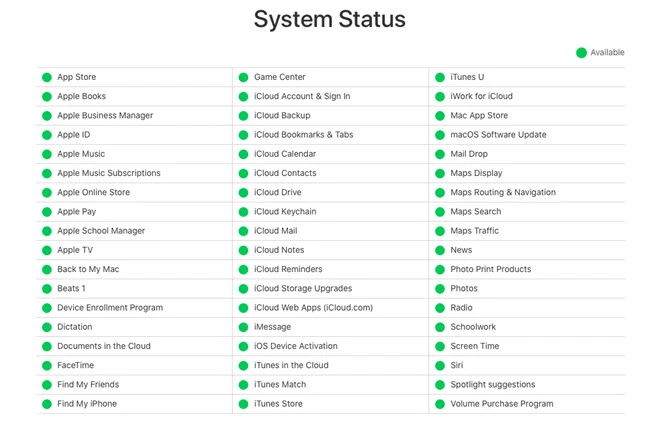 How to Get Back All My Messages Got Deleted on iPhone
All the preventative measures above may prevent you from losing the messages on your iPhone again, but they will not help you get the messages you've already lost. For that purpose you will need a third-party data recovery tool to recover the missing messages. Here we recommend FoneGeek iPhone Data Recovery. This tool is both highly effective and very simple to use. Some of its main features including the following:
It can help you recover deleted/lost messages directly from iPhone or from iTunes/iCloud backup.
It supports to recover nearly all types of data including text messages, contacts, call logs, photos, videos, notes, WhatsApp, Viber, Kik, and much more.
It is also useful in data recovery regardless of how you lost the data in the first place. You can use it to recover data lost due to accidental deletion, factory reset, system crash, damaged device or even iOS issues.
It is compatible with all iOS devices and iOS versions, including the newest iPhone 15/14/13/12/11/11 Pro and iOS 17.
It is also very easy to use, allowing you to recover data directly from the device in a few simple steps.
Follow steps below to recover deleted messages on iPhone without backup:
Step 1: Download and install FoneGeek iPhone Message Recovery on to your PC or Mac. When you launch the program, you should see a wide range of tools. Plug the iPhone to the computer using USB cable and then click on "Data Recovery" to recover the missing messages.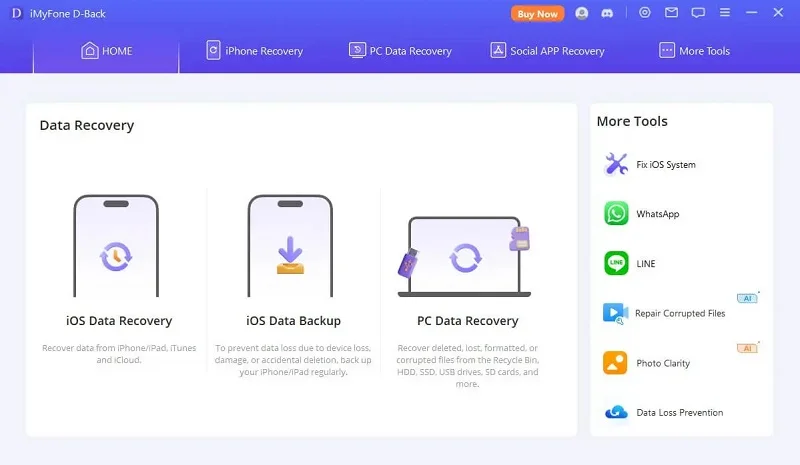 Step 2: Once the program detects the device, you will see an interface with all the different types of data you can recover. Select "Messages" and then click "Start Scan".
Step 3: The program will scan the device for the disappeared messages. After scanning, you will be able to view all the messages available on the device (both deleted and existing). Select the ones you want to recover and then tap on "Recover to Computer" or "Recover to Device" to complete the process.