Many of us who use iOS devices must be inseparable from upgrading or downgrading iOS system. The newest iOS 15 brings many unexpected new features. Some users are eager to installing the new iOS 14 or iPadOS 15 on their iPhone and iPad. Nevertheless, we got a great bad feedback about the new iOS version that different kind of problem arose followed by upgrading the iOS 15 or iPadOS 15. It really makes most users feel uncomfortable. Is there any chance to downgrade iOS 15 and reinstall the old iOS 14.7/14.6 on the device? You've come to the right place. This article is mainly telling you how to remove iOS 15 profile and downgrade to iOS 15 or other older versions.
1. What You Should Know Before Downgrade
There are some important issues you should be aware of before downgrading from iOS 15 to iOS 14 on your iDevices.

There are 3 methods for Downgrading: One method will wipe all the content on your iPhone/iPad while another one will retain the data and settings.

Time Limit: The downgrade "channel" won't last long after the release of iOS 15. If the "channel" is closed, users will not be allowed to downgrade anymore. Hence, it's better to downgrade as soon as possible if you regret for the upgrade.

iCloud Backup Issues: If you early created an iCloud backup before upgrading to iOS 15, then the iCloud backup will not be available to be restored to your iPhone after the device is downgraded to older iOS version.
2. How to Downgrade from iOS 15 to iOS 14 without iTunes
If you don't consider using iTunes to perform the downgrade, then we are glad to highly recommended an excellent program -FoneGeek iOS System Remcovery. It stands out and gets plenty of compliments for its simplicity, high reliability and good performance. You can easily downgrade from iOS 15 to iOS 14 without any hassle. And one more shining point of this tool is that you can easily finish the downgrade without worrying that your data will be lost or affected. Any iOS devices (iPhone, iPad, iPod touch) are supported by the program.
Note: If you run into problems of iPhone won't turn on, stuck on black screen, white screen, etc. after the downgrade is complete, you can still use FoneGeek iOS System Recovery to fix any iOS or iPadOS issues.
Step 1. Begin by downloading the downgrade tool on your computer (Windows or Mac system). Make sure that you have downloaded the right version. Then open the program by double-clicking the software icon. After opening it, connect your iPhone or iPad to the computer.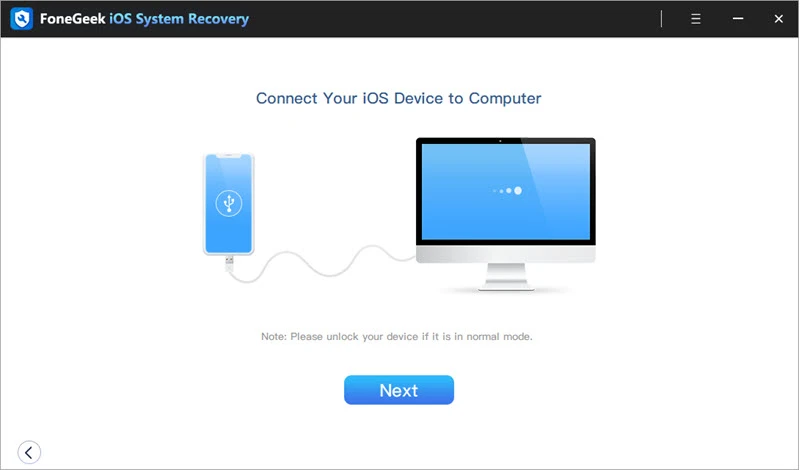 Step 2. After the device is successfully connected, hit on "Repair Operating System" from the interface.
Step 3. To better detect your iOS device, the program will force you to put the device into Recovery/DFU mode.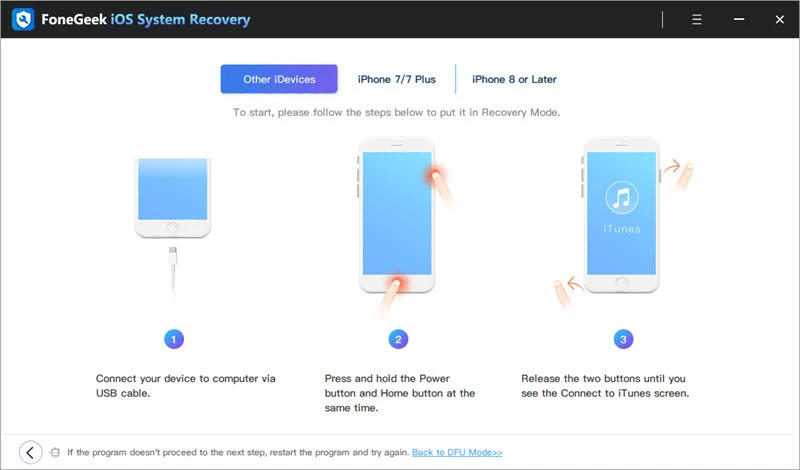 Step 4. The program will detect the iOS device and display the basic information of the firmware version after it has entered the Recovery/DFU mode. You should check the information carefully to ensure that the most appropriate firmware package is detected. Or else you can click on the drop-down menu to choose other older firmware package you wish the device to downgrade to. After the checking and selection, click on "Download".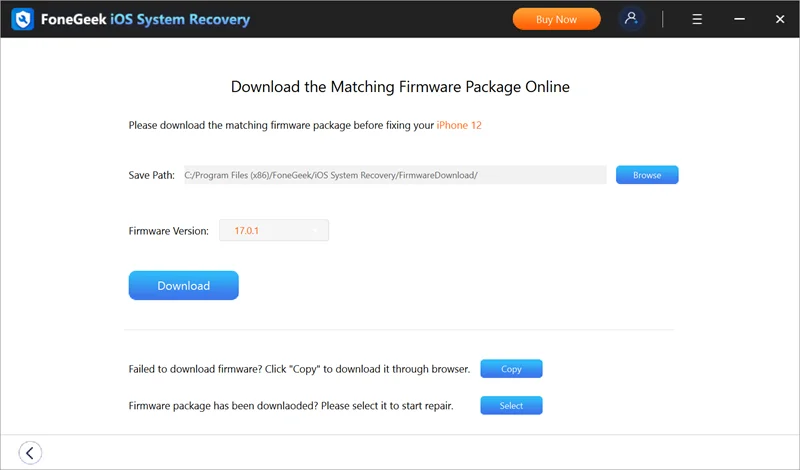 Step 5. The firmware package of older iOS/iPadOS version will be verified and installed on your iPhone or iPad.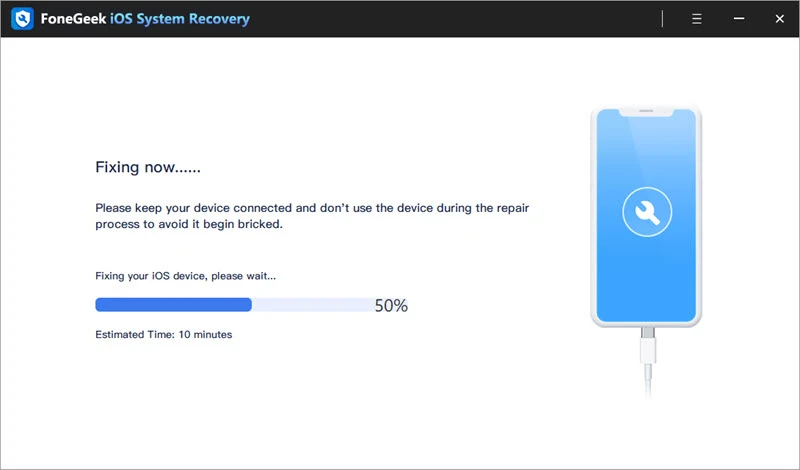 3. How to Downgrade from iOS 15 to iOS 14 with iTunes
You should ensure that you have had the full backup file in hand for your iPhone or iPad data before downgrading with iTunes to prevent something from going wrong. You are able to back up the device using iTunes or iCloud. Keep in mind, you need to archive the old iOS backup of iOS 14 if you choose to back up with iTunes, or the old iOS or iPadOS backup will be overwritten by the new iTunes backup.
Step 1. Download the iPSW firmware file of iOS 14 online and ensure that the firmware file is matched with your iPhone or iPad and is accessible.
Step 2. On your Windows or Mac computer, run the latest version of iTunes.
Step 3. Connect your iOS device that has installed iOS 15 to your computer with the USB cable.
Step 4. In the menu bar of iTunes, open the iPhone settings interface by tapping on the iPhone/iPad icon. Click Summary option and perform the following settings.
Windows: Press the SHIFT button and tap on Update.

Mac: Press the OPTION button and tap on Update.
Step 5. Select the iOS 14 IPSW firmware file that you downloaded before from the browser.
Step 6. When the download process gets started, the device screen will become black to reboot for several times. Just leave the iPhone or iPad alone and keep it connected with the computer until the downloading process is completed.
4. How to Downgrade iOS 15 by Putting iPhone into Recovery Mode
The last chance you can use to downgrade iOS 15 is using the DFU restore or Recovery restore. Your device will be restored from an available backup after it is putting into the DFU or Recovery mode. That is, you are in risk of losing all the data on your iPhone if there is no backup available.
Step 1. Open iTunes on your PC or laptop.
Step 2. And then connect the iPhone that runs the version of iOS 15.
Step 3. Put your iPhone or iPad into Recovery mode. The procedures vary from different models of iOS devices.
Step 4. After the iOS device is recognized to be in Recovery mode by iTunes, click on the tab of "Restore". (Everything will be wiped out and the older iOS version will be installed on the device.)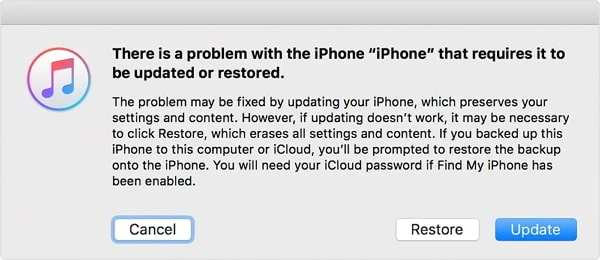 Step 5. The iPhone or iPad will restart when the restoring process is done.
Conclusion
If your iPhone or iPad still fails to downgrade iOS 15, you may also try to use DFU mode to perform the downgrade. Have you ever tried to downgrade your iOS version? We will be glad if you could share your thoughts with us below.

Thursday on Jun 20, 2019, 22:54:57 GMT / Post By Joan J. Mims to iPhone Issues
Joan J. Mims is interested in researching all tips about iPhone, iPad and Android. He loves to share useful ideas with all users.

Home
>
iPhone Issues
>[3 Ways] How to Downgrade iOS 15 to 14 with/without iTunes