It is very normal and common to find iPhone screen broken or water damaged. However, it is aberrant and strange if the screen doesn't respond correctly to what you are actually making, or becomes completely unresponsive.
Many iPhone X users reported that the screen is responding itself even though they do not touch the screen. And sometimes the screen doesn't respond at all. The phenomenon is called "iPhone X ghost touch".
In most cases, lock and unlock screen can temporarily solve the problem. However, what makes this problem become complex is that it occurs randomly and hardly preventable.
So the question is, what causes the issue of ghost touch on iPhone and what are the solutions?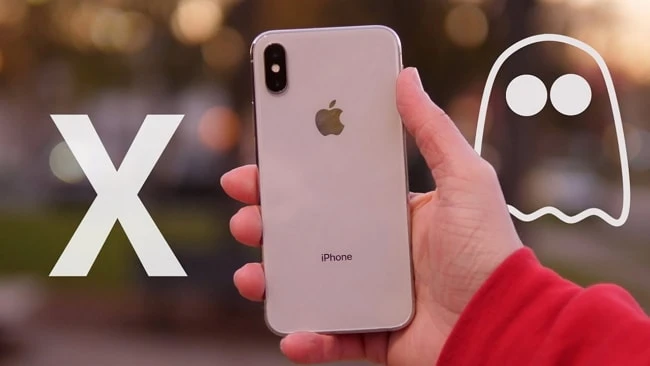 Part 1. Analysis on Why iPhone X Ghost Touch?
You may not sure what would cause this problem, the underlying reasons are listed below:
1. Charging Cable and Adapter
When you place your finger on the touch screen, a low current will be drawn from the touch point. And the controller calculates will calculate the exact point of the touch point by calculating the ratio of currents on different electrodes (the current size is related to the electrode distance).
It can be seen that the correct touch of the capacitive screen is very sensitive to current stability. However, when we use inferior adapters and charging cables for charging, the capacitance and inductance will not meet the requirements. And the screen will be prone to interference under these ripples.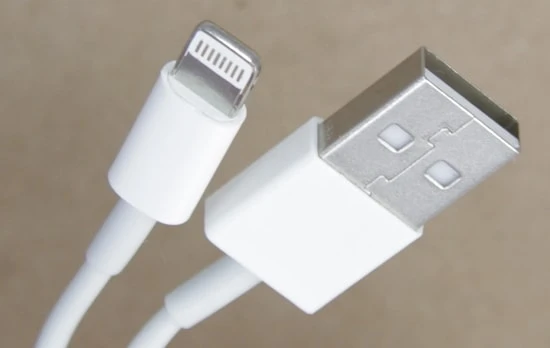 2. Electrostatic Screen
The iPhone ghost touch problem will be more severe in dry weather. In dry days, the screen may be covered with static electricity when the iPhone is taken from pocket, leaving the screen temporarily untouchable.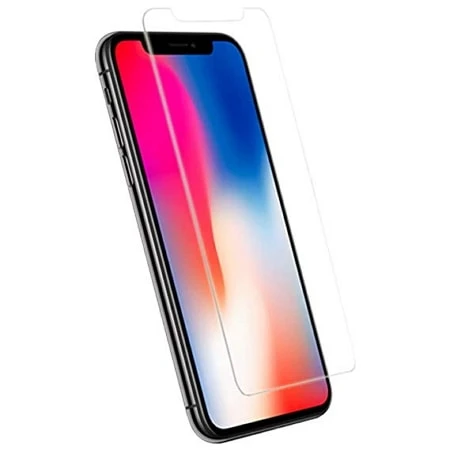 3. Touch IC
The chip welded to the phone's motherboard is not working properly. This is statistically more likely to happen with the iPhone X.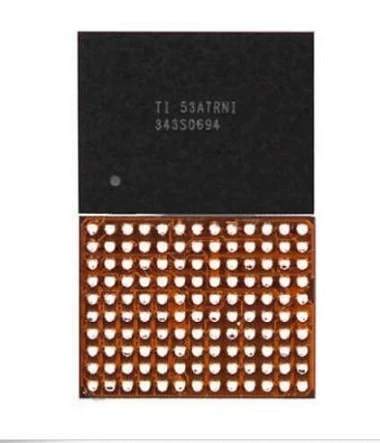 Part 2. The Most Effestive Solution - FoneGeek iOS System Recovery
In such a situation, most users with no technique knowledge will prefer to using a professional 3rd-party tool to avoid more issues. As such, an excellent repair tool to fix any iOS issues on iPhone/iPad/iPod touch without data loss is FoneGeek iOS System Recovery. This program has become very poputer in recently years and obtained many good reviews from CNET, Software.Informer, Filehorse, GetDroidTips, Lera Blog, etc.
FoneGeek iOS System Recovery - Fix All iOS Issues without Losing Data!
A better tool than iTunes to fix looping on start, touch screen not working, black screen and other iOS issues with ease.

iTunes errors could also be settled in one click, such as iTunes error 27. iTunes error 50, 4005, etc.

Fully compatible with iOS 15/14 and all iPhone, iPad and iPod touch models, such as iPhone 13, iPhone 12, iPhone 11, etc.

It offers the most straightforward instructions to perform the fixing process within only minutes.
Follow these simple steps to fix iPhone ghost touch issue without data loss:
Step 1. FoneGeek iOS System Recovery should be downloaded on your compute first. After the launch, plug your iPhone X into the computer using an USB cable and select "Standard Mode".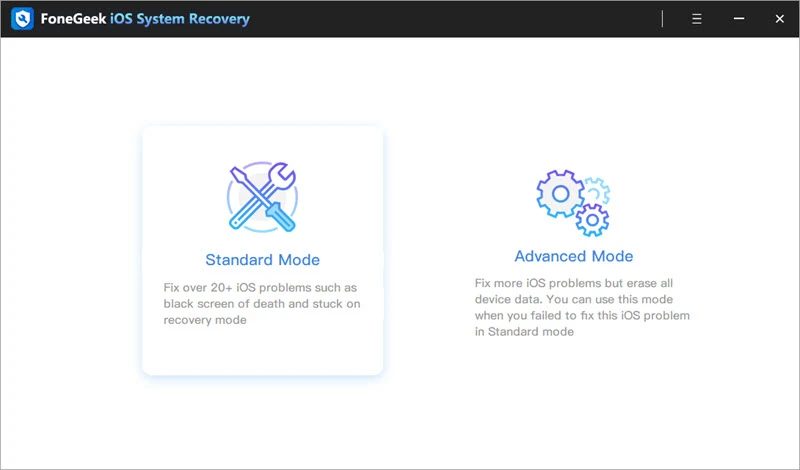 Step 2. Once your device is recognized by the program, click "Download" to download the firmware package.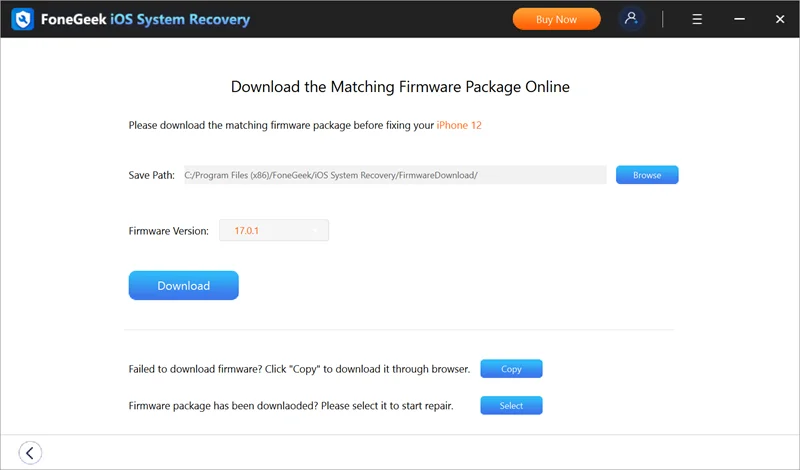 Step 3. Then the program will begin to fix the ghost touch bug on your iPhone X.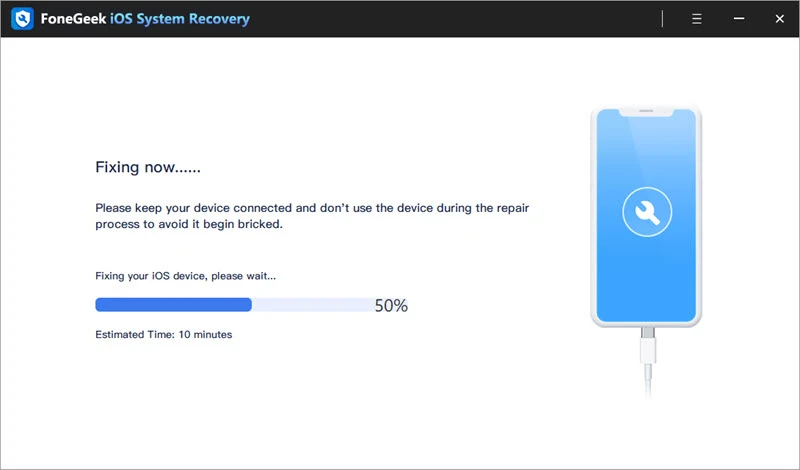 Part 3. Other Easy Tips to Troubleshoot iPhone X Ghost Touch Issue
Tip 1. Switch USB Cable
Any non-original charger or accessory not developed by Apple may lead to the malfunctions on iPhone. If your iPhone X is connected to a 3rd party charger, pull it off and switch to an original charger, then get it connected with your iPhone. Now click any side of the iPhone screen to see if your iPhone X will still ghost touch.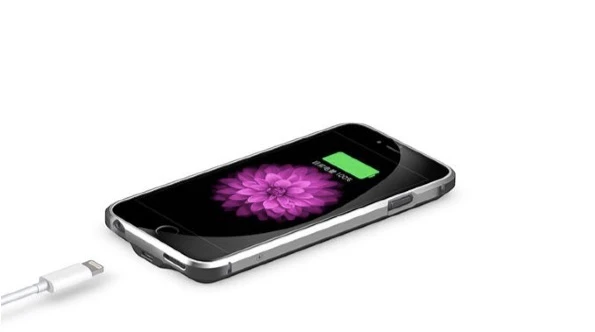 Tip 2. Clean iPhone Screen
The 2nd measure to try is to clean your iPhone X screen to get rid of the iPhone ghost touch problem.
The safest and most effective way to clean the screen is to use a microfiber cloth. You can also wet the microfiber cloth with distilled water and wipe the screen. Don't forget to turn off your iPhone X before the cleaning process.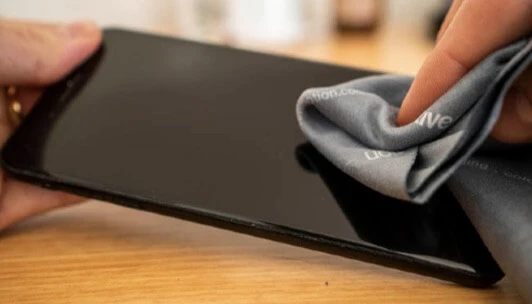 Tip 3. Remove iPhone Case
The twisted screen on your iPhone X can always result in the problem of iPhone X ghost touch. For this reason, you might have to remove the iPhone case to resolve this problem. Check whether the screen responds as normal after removing the case.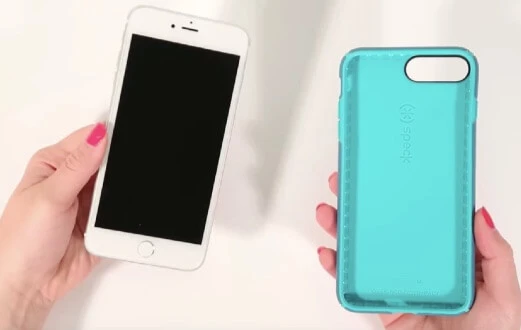 Tip 4. Remove Screen Protector
In case of the screen being scratched, most users perfer to attaching the screen protector on the home screen. However, the screen protector may sometimes cause errors like iPhone ghost touch, etc. In this situation, you'd better take off the screen protector.
Tip 5. Force Close Background Apps
Malwares could also be the main reason for the issue of the phantom touches on your iPhone X. To accurately locate this problem, you can quit all the apps running in the background.
Swipe your finger up and pause in the center of the home screen.

Swipe from left to right to close all background apps.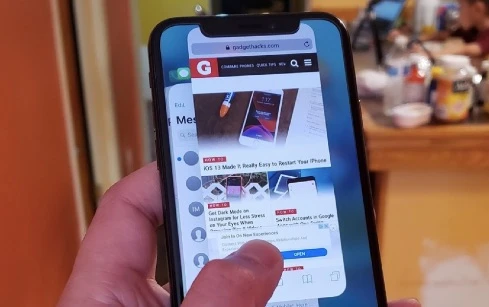 Tip 6. Restart Your iPhone
If your iPhone X stills suffers from ghost touch after switching to an original cable, trying to reset and restart the device is another great chance to fix it.
Hold down the power button and home button to turn off the device, release home button and keep holding the power button to turn it on. Now check whether the screen touch is back to normal.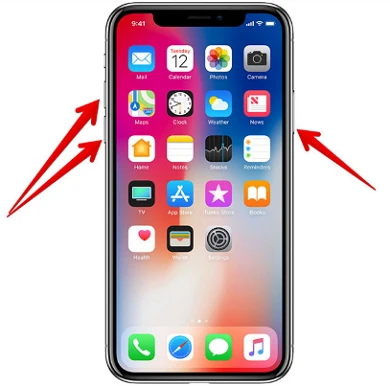 Tip 7. Reset iPhone to Default Settings
If force restarting doesn't help, reset your iPhone X to default settings is also worth trying.
To reset iPhone settings, go to Settings on iPhone's home screen, find General option, select it and click Reset, then tap on Rest All Settings. You need to enter the passcode to initial the process. And your iPhone will be restored to original settings.
Tip 8. Update to the Newest iOS 15/14
If you are certain that there is a software glitch, it's time to update the iPhone X to the newest version of iOS 15/14 if your iPhone X still ghost touch. You can know how to update the device by reading the steps below:
On Settings of your iPhone X, click on General.

To execute the update process, click on "Software Update" and then "Download and Install".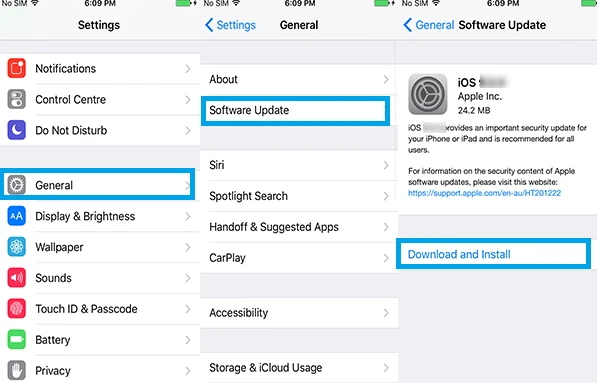 Note: You can neglect this method if your iPhone X has installed iOS 15/14 version.
Tip 9. Replace the Screen from Apple Store
There might be a hardware issue of your iPhone X if the screen touching problem still hasn't been fixed via the methods mentioned above. You can take the iPhone to local Apple Store to replace a new screen if it is still under warranty.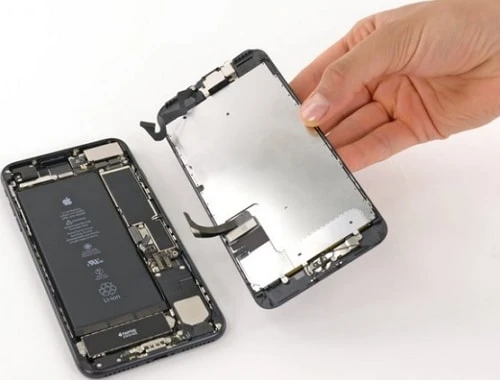 You now have 10 tips to repair this difficult problem of iPhone X ghost touch. Besides iPhone X, these methods are also workable for iPhone 13/12/11/XS/XR/8/7 in iOS 15/14. We hope to hear good news from you after trying these tips.

Sunday on Jun 10, 2018, 15:05:10 GMT / Post By Joan J. Mims to iPhone Issues
Joan J. Mims is interested in researching all tips about iPhone, iPad and Android. He loves to share useful ideas with all users.

Home
>
iPhone Issues
>10 Easy Tips to Fix iPhone X Ghost Touch Problem for Free 2021