User Concern
"My iPhone died completely and turned off. It's been 3 hours charging and it's not turnning on, it's totally stuck on the read battery logo screen. Anyone got any idea how to fix that?"
Recently many Apple users have complained that their iPhone didn't move past the charging screen for hours and they were unable to use the device. Take it easy, there are some effective solutions to help you get rid of the problem. Continue reading to check out.
Why is iPhone Battery Stuck While Charging?
Before you begin the fix this problem, let's first take a look at some common causes of this battery stuck issue:
Your iPhone is not charging properly or overcharging.
The lightning cable you're using is not MFi-certified or damaged.
The battery of your iPhone is bad or damaged.
Your iPhone is overheated while charging.
Your iPhone is running an old iOS or has some software-related errors.
Too many background apps running on your iPhone.
What to Do If iPhone is Stuck on Charging Screen?
1. Get an Original Cable to Charge
Firstly, check if the lightning cable is included in the original factory, or if the lightning cable is MFi certified. If you purchase an "original" lightning cable online at a very cheap price, then it must be useless.
In this situation, you can take an original USB cable to recharge your iPhone and if the charging issue still exists, you can refer to the solutions below.
2. Charge with Another USB Cable
Ensure that the charging cable you're using is working. If the lighning cable has been damaged, and even the wire inside can be seen, it is recommended to charge your iPhone with another USB cable to avoid the issue of iPhone stuck on red battery charging screen.
3. Clean iPhone Lightning Port
Since we often put our iPhone in the pocket of the trousers, this will cause the iPhone charging port to be stuck with a lot of small cotton fibre after a long time. It will slow down the charging time and your iPhone will seem to be stuck on charging screen.
In this situation, it is advised to clean the iPhone lightning port to ensure it charges properly. You can power off the iPhone first, and use a toothpick or a paper clip to hook the cotton wool or the thread.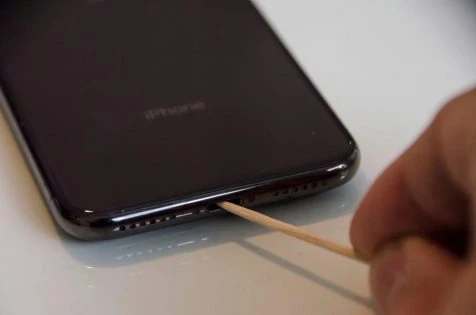 4. Heat iPhone Battery Before Charging
Some forums shared a simple approch to overcome iPhone stuck on the charging screen. Here are the steps:
Just unplug your iPhone from the charging cable and use a hairdryer to heat the back of iPhone for 30 seconds to a minute.
Then try to power the device by pressing the Side button.
This method is said to work for some people, you can have it a try.
5. Charge iPhone for Up to 30 Minutes
If the iPhone has not been used for a long time, and the battery is completely drained, it is recommended to charge the iPhone through the wall outlet for up to 30 minutes, then try to boot it.
If the iPhone is stuck on the charging screen however long it is charged, it is recommended to take the device directly to Apple Repair Center for repair. You can replace with the original lithium rechargeable battery under warranty.
6. Force Restart Your iPhone
If your iPhone stuck on the red battery charging screen and you're unable to use it, you can perfrom a force restart (also known as hard reboot). The steps differs for different iPhone models:
For iPhone 6s or earlier models: Keep pressing the Home button and the Side button at the same time until you see the Apple logo on the screen.
For iPhone 7 or 7 Plus: Press and hold the Side button and the Volume Down button together until the Apple logo appears on the screen.
For iPhone 8 and later models: Press and quickly release the Volume Up button, then press and quickly release the Volume Down button. Finally, press and hold the Side button unti you see the Apple logo on the screen.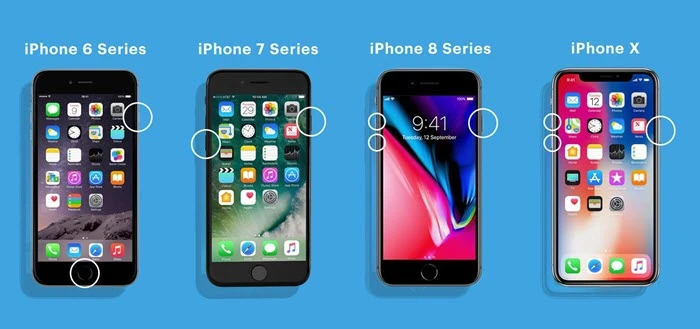 7. Put iPhone Into Recovery Mode and Restore via iTunes (Data Loss)
If force restart did not work for you, It is recommended to put the device into Recovery mode and restore the iPhone via iTunes to see if it can be solved. Keep in mind that this will delete all the existing data and settings on your iPhone.
Connect your iPhone to a Mac or Windows PC using a USB cable. Then oepn Finder or iTunes.
Next, put the iPhone into Recovery Mode by pressing the proper buttons on the device.
Once the device is in Recovery Mode, iTunes will detect it and ask you to update or restore the device.
You can choose to restore your iPhone to its factory settings. After that, your iPhone will restart and working normally again.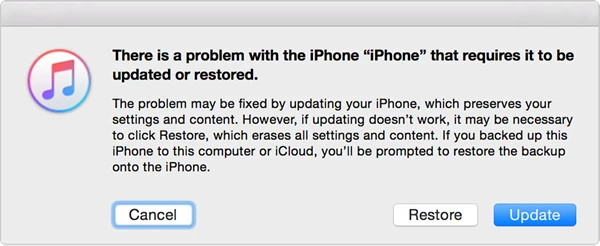 8. Fix iPhone Stuck on Charging Screen without Data Loss
Instead of restoring iPhone to factory settings and losing all data on the device, there is a better way to fix various kinds of iOS issues including iPhone stuck on charging screen. You can use a reliable third-party tool like FoneGeek iOS System Recovery to repair iOS system without affecting your device's data.
FoneGeek iOS System Recovery can help you get rid of iPhone stuck on recovery mode, black screen, looping on start, white Apple logo, etc. Also, it works for all iPhone models (iPhone 15/14) and fully compatible with the latest iOS 17/16.
Step 1: Download, install and launch FoneGeek iOS System Recovery on your computer, then choose the "Standard Mode" to continue.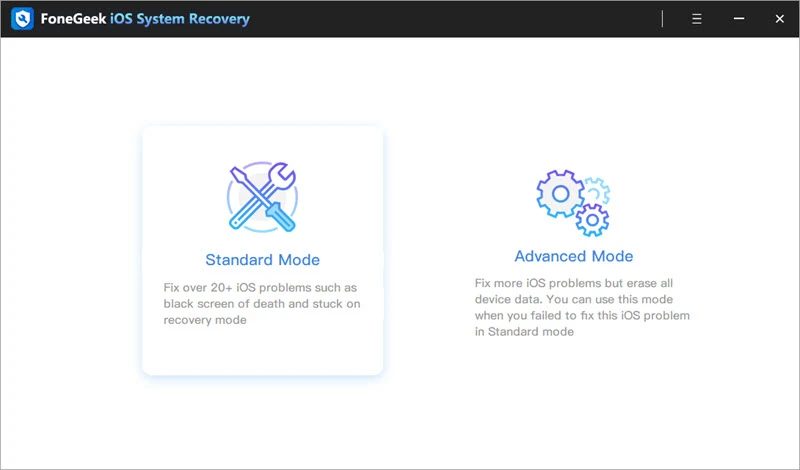 Step 2: Connect your iPhone to the computer and once it is detected, click on "Download" to download the matching firmware package.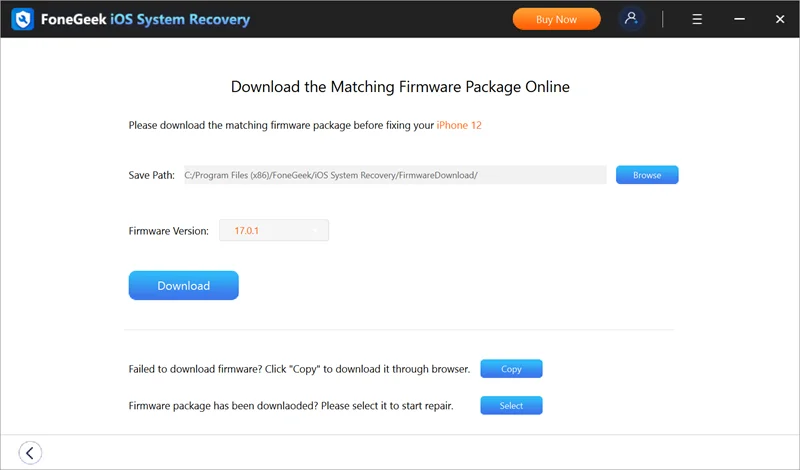 Step 3: When the download is complete, click on "Fix Now" and the program will start the repairing process.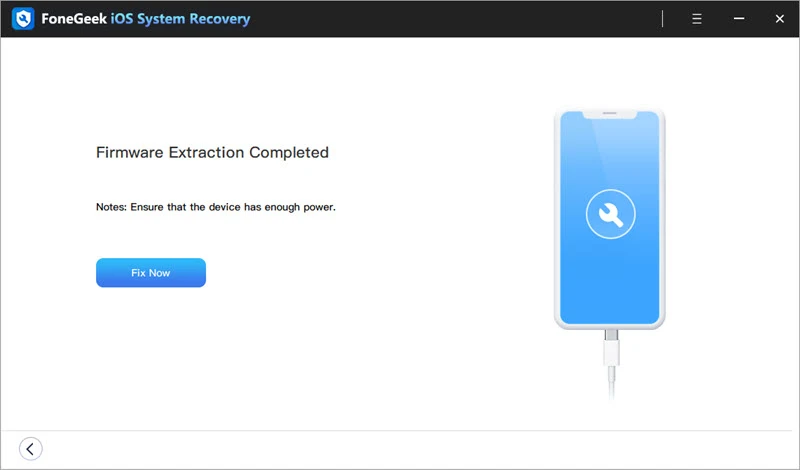 9. Repace iPhone Battery at Apple Store
If your iPhone is still stuck on charging screen and the screen is still unresponsive after trying all the tricks, you can fix this issue it by removing the iPhone battery and replacing it with a new battery. You'd better ask help from a local Apple Store and DO NOT try this yourself.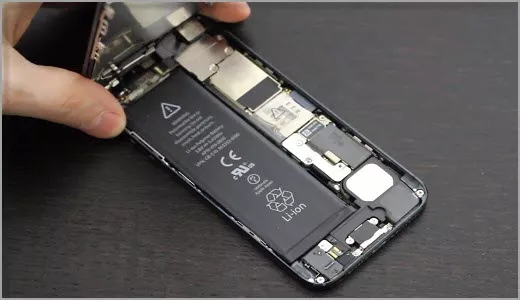 Conclusion
Go ahead and refer to the methods above to fix the issue of iPhone stuck on charging screen. Almost all software and hardware related solutions are covered. Or if you have more powerful expert suggestion to resolve this issue, you can feel free to leave the comment below to share your ideas.