Although Apple made it quite possible to transfer data from one iPhone to another, sometimes the process may fail to work, leaving the user feeling really frustrated. If unfortunately, this is your case, don't get worked up about it. Yes, it's indeed frustrating when you're unable to complete data transfer, but we're here to help you out.
In this detailed post, we'll show you effective methods you can utilize to troubleshoot and fix it without hassle. First, though, let's learn why this error usually happens.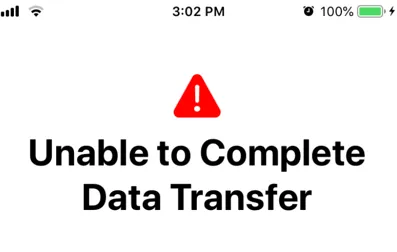 Why is My iPhone Unable to Complete Data Transfer?
iPhone usually fails to complete data transfer because of several logical reasons such as:
Not sufficient storage space - the target or source device may not have enough storage space hence causing the transfer process not to complete successfully.
Network connectivity issue - the transfer process can get interrupted or errors midway if the network connection is unstable due to a weak Wi-Fi signal or something else.
Outdated iOS version - if any of the devices run on an old iOS version, direct transfer of data between them may not work. Incompatible file formats could also be the reason.
In general, the two devices need to run on the latest iOS version. The files that are getting transferred also have to be supported by the device receiving them. Once your sort out these issues, you can be able to carry out the data transfer successfully.
Simply Resolve iPhone Unable to Complete Data Transfer Issue
You're now aware of the possible causes behind this iPhone unable to complete data transfer issue, why not utilize the following methods to fix it?
Bring the Two Phones Closer
In case you're moving data from one iPhone to another wirelessly, ensure that the two devices are at a close distance. Generally, Bluetooth and WiFi are required for wireless data transfer. Bluetooth usually has quite a short range. This means you'll be unable to complete data transfer when you put the two devices apart, even if it's by a few feet.
So, have the two devices set side by side. This way they'll be closer enough to each other to make a successful connection. Try it out and see if the data transfer works.
Insert the SIM Card
It's possible that you're unable to complete data transfer because you have a new (target) iPhone and it's not activated. You'll need a SIM card to activate the device. So, ensure to insert a SIM card into the target phone and then attempt to transfer data once more.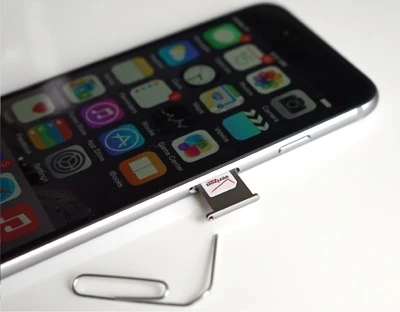 Turn on the Bluetooth
We mentioned before that you need Bluetooth and WiFi when doing wireless data transfer from iPhone to iPhone. Therefore, you should get Bluetooth enabled on either device to establish a connection. This way the transfer can happen successfully via Quick Start. To turn on Bluetooth on your iPhones, if you've not yet done so, follow these steps.
Step 1. Open the iPhone's Control Center
For iPhone X or newer, swipe down right from the top of the iPhone screen.
For iPhone 8 or earlier, swipe up the screen starting from the bottom edge.
Step 2. Locate the Bluetooth option/icon and tap on it to turn it ON.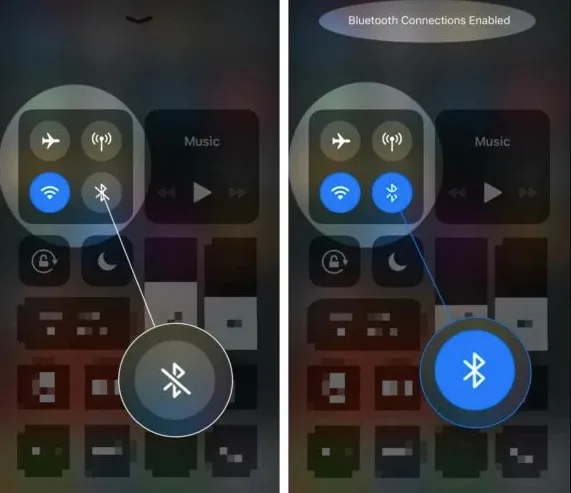 Charge Both Devices During Data Transfer
There are times when you may get this transfer problem due to the low battery life of iPhone. If that's the case, you can avoid any further interruption by getting both your new and old iPhones fully charged before starting the data transfer process. Or keep them in charge as the transferring process goes on. Doing so will ensure an uninterrupted transfer.
Restart Old iPhone & Reset Your New iPhone
A simple reboot of the source iPhone and a factory reset of your new iPhone can easily solve this unable to complete data transfer iPhone 14 issue. If there are any system glitches that prevent the data transfer process from completing, then doing these steps will refresh the phones and possibly fix them. So, reboot your old iPhone and factory reset the iPhone 14.
Reboot the old/source iPhone:
Press both the volume up button and the side/power button simultaneously. Hold them until the Power Off slider is on the screen.
Turn off iPhone - drag the Power Off slider to the right to do so.
Now long press the side button to turn on the phone again after about 30 seconds.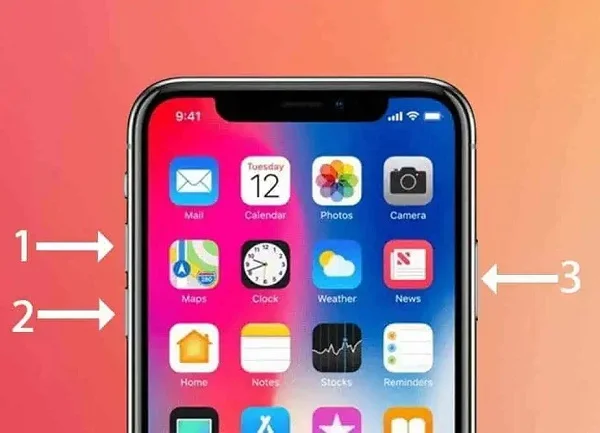 Reset the new iPhone 14:
Go to Settings and select the General option.
Select Transfer or Reset iPhone and then tap Erase All Content and Settings.
Now tap "Continue" and then confirm the operation by following the given instructions.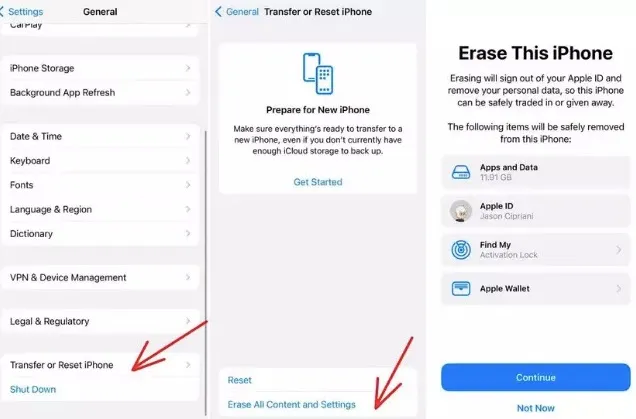 Update Both iPhones
Data transfer is only possible on iPhones running iOS 12.4 or a later version. Therefore, if your iPhones are unable to complete data transfer, you should check if they meet this system requirement. In case they have an outdated iOS version, then update both of them to iOS 12.4 or a higher version and then try the data transfer again. To update them, follow these steps:
Launch Settings on each device and get to the General menu.
Go to Software Update and tap it.
Check if there's a new version available. If there is one, tap on Download and Install to get the new version.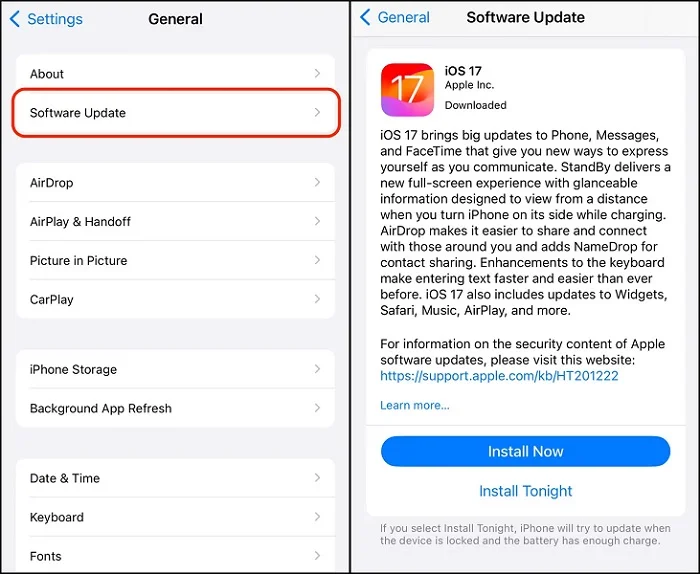 Try the Wired Data Transfer
Doing a wired data transfer is much more reliable and stable compared to wireless transfer. Therefore, if you've been encountering the iPhone unable to complete data transfer issue when using WiFi and Bluetooth, try a wired transfer. You can do that by getting the two iPhones connected using a lightning cable and a USB 3 Camera Adapter.
Once connected, continue transferring the data. In case you're still unable to complete data transfer, the USB cable may have a deficit or physical damage. Inspect it to see if that's true. If it's so, get another Apple-certified cable, connect both devices and try the data transfer again.
Transfer Data via iTunes
If wired and wireless transfers fail to work, then you can try using iTunes. It's a reliable alternative method for transferring data from your old iPhone to your new iPhone. You can follow the steps below to transfer data via iTunes.
With a USB cable, get your old iPhone and computer connected.
Launch iTunes on the computer. When it opens, go to the iPhone icon and click it.
Choose the Back Up Now option to make a backup copy of your old iPhone data.
When the backup is created, get your old iPhone disconnected from the computer.
Now connect the new iPhone to the computer. Go to iTunes and click the iPhone icon.
Choose the Restore Backup option. The backup of your old iPhone data will now get transferred to your new iPhone.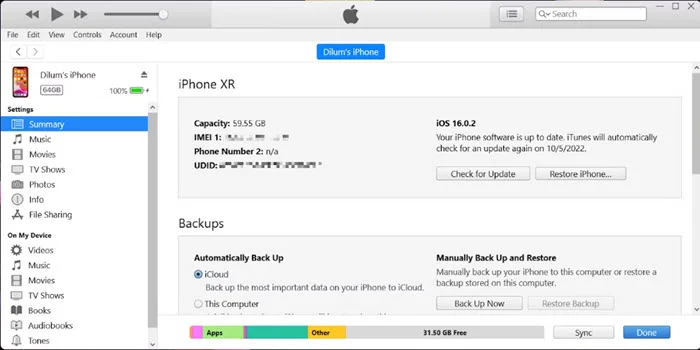 Fix iPhone Unable to Complete Data Transfer - No Data Loss
No matter what causes the data transfer on iPhone 14 issue, FoneGeek iOS System Recovery will fix it effortlessly. It's a powerful and secure all-in-one iOS system repair software that's able to fully fix any iPhone system issue. It does that with a very high success rate and without leading to data loss either. Moreover, FoneGeek's user interface is really simple making it easy to operate for all users. The software equally works with every iOS version (iOS 6 to iOS 16). It's also compatible with all iPhone and iPad models, and even iPod Touch. Check more features here:
Resolve any iPhone and iPad issues with 98% success rate.
Various features for transferring data from one iPhone to another without data loss.
Downgrade iPhone iOS or upgrade it to the latest version.
All iOS versions (iOS 6 to iOS 16) and all iPhone/iPad models are supported.
Windows and Mac's computers are both supported.
Steps to fixing iPhone unable to complete data transfer using FoneGeek iOS System Recovery
Download FoneGeek iOS System Recovery and get it installed onto your Mac or Windows computer.
Plug your iPhone into the computer and unlock it. Launch this program, and choose the Standard Mode. Go to the Next button and click it to continue.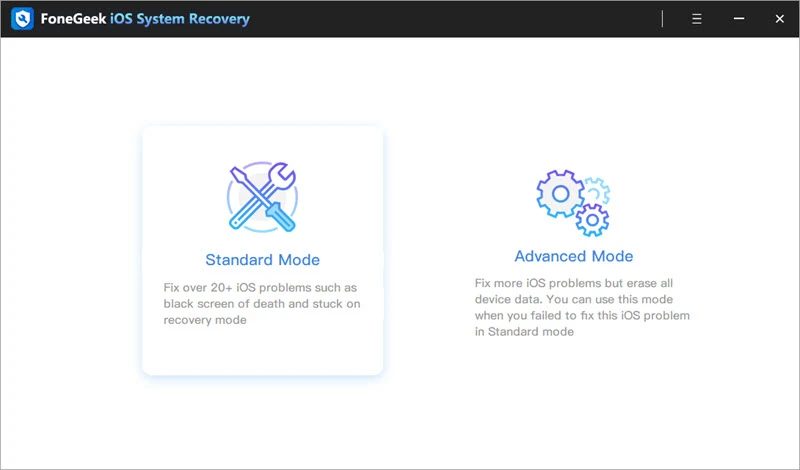 If the program fails to detect your device, put it into DFU or Recovery Mode by following the instructions given.
If your device is recognized, FoneGeek will display the suitable firmware version for it. Click the Download button to start downloading the firmware that will repair the iOS device.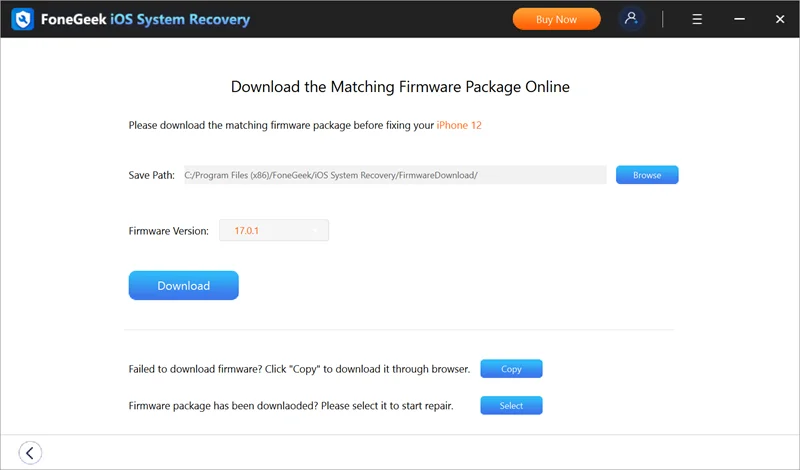 After downloading, hit the "Fix Now" button. FoneGeek will initiate the repair process. While it repairs the iOS/iPadOS issue, ensure the device remains connected and don't operate it.
Your device should restart and work properly when the repair is done. You can now complete the data transfer successfully.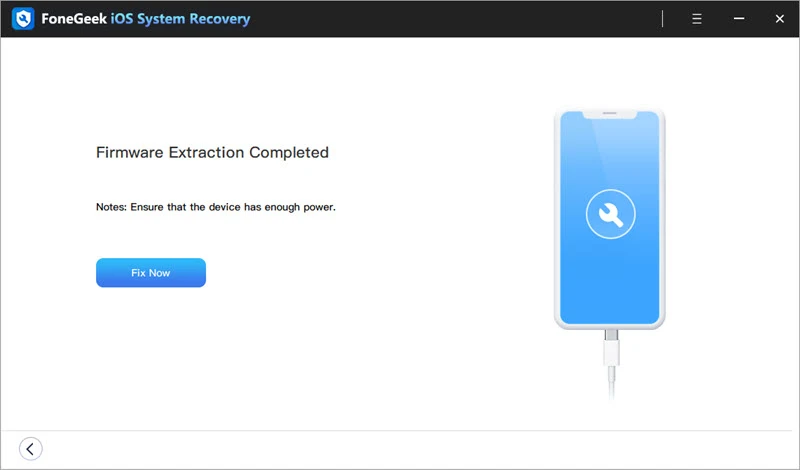 FAQs about Data Transfer
Does transferring data to a new iPhone take long?
Well, how long it takes to move data directly to a new iPhone depends on various factors. It's not a fixed time. It can be short or long based on the data you'll be transferring. The internet speed and the transferring method you use also matter.
In general, if you completely transfer data from iPhone to iPhone using any official method, the process should take around 45 to 60 minutes according to Apple. However, if using iCloud to transfer data, it can take several hours. So, using a computer or wired transfer may be faster compared to using iCloud.
What are the costs of data transfer?
There are costs you may incur when performing data transfer. These costs tend to vary, though, based on the transfer method you use and how much data you transfer. There could also be other applicable service fees. For instance, you may get charged for excess data usage by some internet service providers.
The Cloud storage services may as well offer different pricing tiers depending on the storage or the amount of data getting transferred. So, overall, before performing data transfer, always ensure you review and confirm the pricing plans, plus any associated costs.
Is moving data from my computer to mobile device or vice versa possible?
Yes, it's very possible. You only need the right method and you'll be able to easily move data from your mobile device to your computer and vice versa. You can use Wi-Fi Direct, Bluetooth, cloud storage services, specialized software, or USB cables, which is the most common option.
Conclusion
As you've seen, there are various ways of sorting out this unable to complete data transfer issue. It's even easier when you know the cause behind it as you will know the exact method to use. However, if you're not sure of the cause and don't want to waste time trying every method, simply use FoneGeek iOS System Recovery. It's the best and most reliable iOS system repair tool for fixing all kinds of iPhone system issues including unable to complete data transfer. It will resolve the error fast without any data loss, regardless of the cause. So, install it and just follow the steps given.