Touch ID basically utilizes fingerprint identity sensor technology to provide a quick, secure, and convenient way of unlocking your iPhone and apps. However, sometimes you may face some errors when setting up Touch ID on your iPhone. You often end up with the message, "Unable to complete Touch ID setup" followed by the request to go back and try again. If you were trying to set up your Touch ID and encountered this error too, don't panic!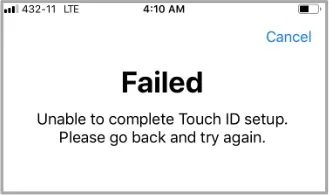 We understand that it can be frustrating because the error means you can't use Touch ID. Quite often, the culprit is a dirty fingerprint sensor or a system glitch. These are mostly the root causes. Fortunately, though, this is a common error that many have resolved easily. So, follow any of the solutions we've enlisted in this article and you'll have your Touch ID set up in no time. Let's get into them!
Clean Up the Touch ID Sensor and the Phone Case
As we mentioned earlier, one root cause of this unable to complete Touch ID setup error is a dirty/smeary fingerprint sensor and this often happens when you try to set up Touch ID after you've been using your iPhone for some time. Probably you were doing the initial setup or wanted to add maybe one or more fingerprints. To resolve this error then, you should clean the sensor and keep your finger, the phone's Home button, and the screen, clean, clear, and dry.
Find a clean lint-free cloth (like a microfiber one) or tissue as they are ideal for removing grease and grime.
With the cloth, gently scrub/wipe your phone's home button (which holds the Touch ID sensor). Use the cloth to also wipe your finger because the Touch ID might not work if your finger is wet.
When done, try to scan your finger once more.
You may also consider cleaning your phone's case if it's using one. If you still have issues with the Touch ID setup, then we recommend removing the case altogether and even the screen protector if you've put one on your iPhone. This will ensure nothing covers the Home button or interferes with the Touch ID setup process.
Change the Touch ID Settings
If the iPhone Touch ID settings are not properly adjusted, this could likely lead to the unable to complete the Touch ID setup issue you're facing. Therefore, you need to ensure the settings are adjusted appropriately. To do that;
Open Settings, then tap Touch ID & Passcode. Put your passcode when prompted in order to move to the next step.
Now disable iPhone Unlock as well as iTunes & App Store.
Restart your iPhone.
Once it's turned on, head to Settings again and tap Touch ID & Passcode. Put your passcode once more to proceed.
Enable iPhone Unlock as well as iTunes & App Store again.
Finally, retry setting up the Touch ID. Your iPhone should now complete the Touch ID setup.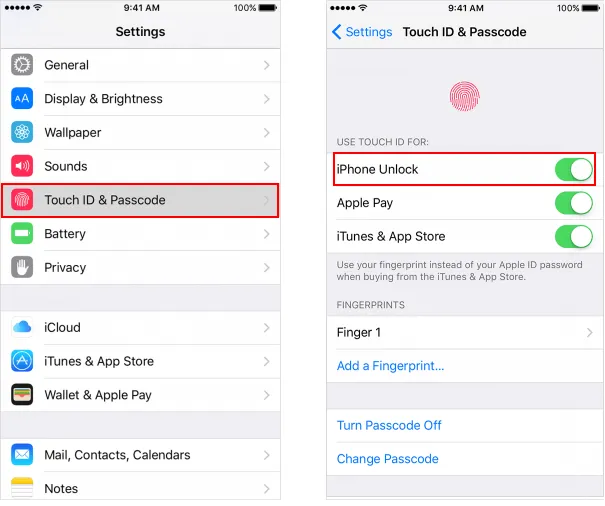 Enroll a Different Finger
The fingerprint of the finger you're seeking to register may have several issues and that's why you can't set up the Touch ID. For instance, if you've been a banker for a long time, constantly counting money could leave your thumb somewhat scarred permanently. Hence, you can't set up Touch ID with such a thumb. Even if you have had a small cut on the fingerprint of your finger, or if it's worn out due to repetitive tasks, you won't be able to set up Touch ID.
So, if this your case, the best way you can remedy this problem is to add or use a different finger to set up the Touch ID function.
Force Restart the iPhone
Many technical iPhone issues can be resolved by performing a hard reboot. With that in mind, then it would be a good idea now to force restart your iPhone. It's a quick, simple method compared to the others and it normally restores your entire device to its default state or full potential which is likely to unblock the Touch ID without resulting in any data loss.
Note though that while this method may fix the error, it only has a success rate of 50%. Follow these steps to hard boot your iPhone.
For iPhone 6, long-press the Home and Sleep/Wake buttons concurrently. Release them once you see the Apple Logo.
For iPhone 7/7 Plus, follow the same method as above but this round long-press the Volume Down and Sleep/Wake buttons instead.
For iPhone 8 or newer versions (such as iPhone X/11/12), the process is a bit complicated. Quickly, press the Volume Up button, then release it. Next, long-press the Volume Down and Sleep/Wake buttons concurrently until you see the Apple logo.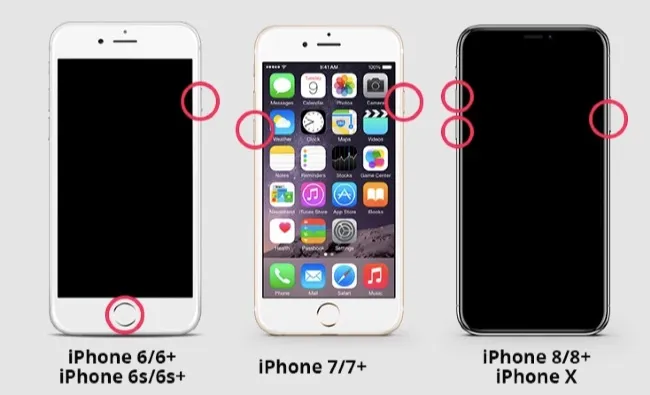 Once your iPhone reboots, try setting up the Touch ID again and see if the process completes.
Fix "Unable to Complete Touch ID Setup" Without Data Loss
If after trying all the above solutions you still face the Touch ID error, it's likely there's some glitch or problem with your iPhone's software. In such a case, we recommend using a professional iOS system repair tool like FoneGeek iOS System Recovery. This is an effective third-party tool that's designed to fix over 200 issues related to the iOS system. It can reliably resolve the Touch ID issue with just several clicks. There's no data loss while fixing the iOS issues and the software can work with nearly all iPhone models (even iPhone 14 series) and iOS versions (even iOS 16).
How to fix unable to complete Touch ID setup using the FoneGeek iOS System Recovery.
Click the respective download link above. Once you have FoneGeek iOS System Recovery downloaded to your computer, install the program, launch it, and then connect your iPhone to your computer using Apple's original USB cable.
On the main screen, click the 'Standard Mode' function. If the FoneGeek program fails to notice your device, follow the displayed guide to put your device into Recovery Mode so that it's detected by FoneGeek.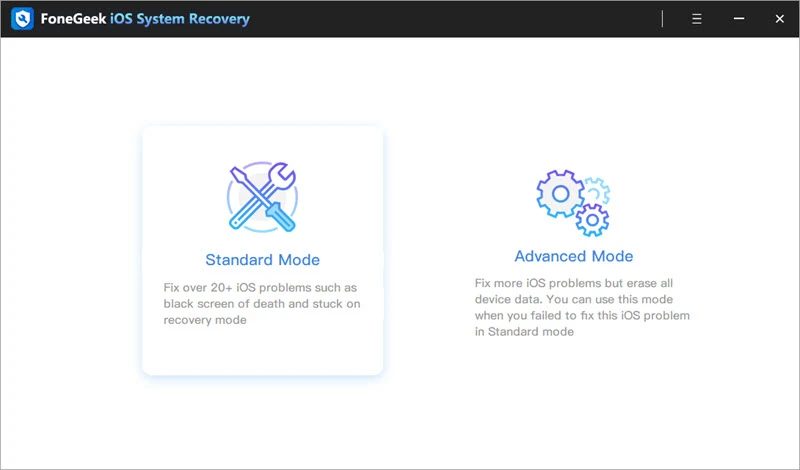 After detecting your device, a new window will appear showing the device model plus recommended firmware options. Select the right firmware and choose the location you want it saved. Then, click the Download button.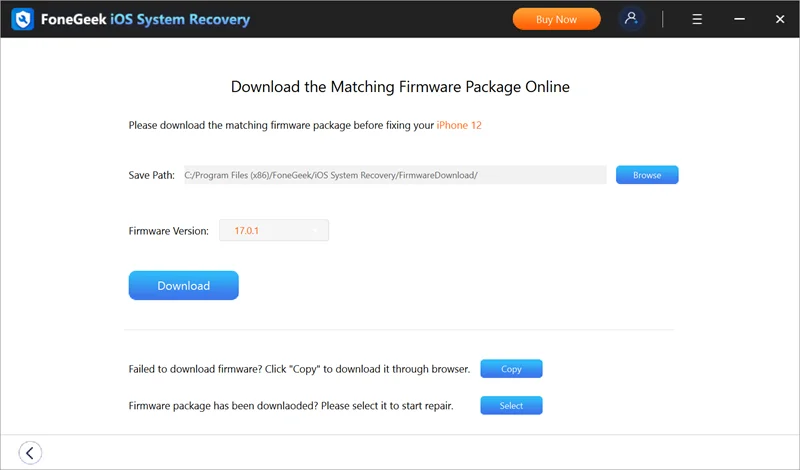 Once the firmware package matching your device is downloaded, click the 'Fix Now' option. FoneGeek iOS System Recovery will begin repairing the iOS of your iPhone.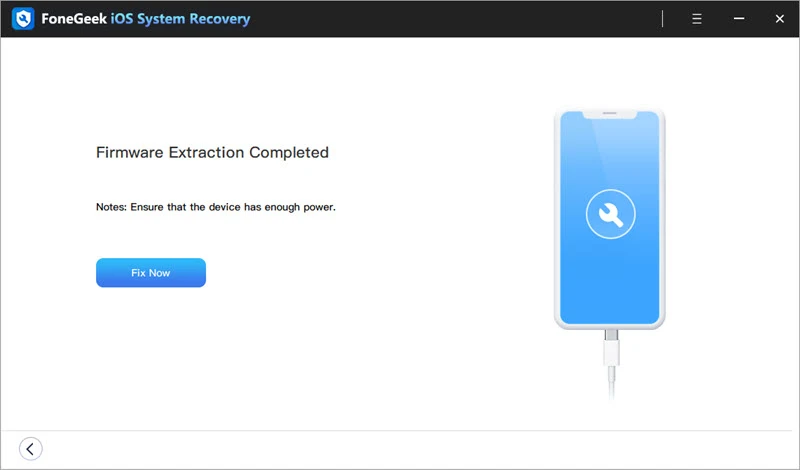 When the repair is done, the iPhone will reboot normally and you should now complete the Touch ID setup without any issues.
Update iPhone to the Latest iOS Version
The old iOS version may have glitches that could be causing the unable to complete the Touch ID setup error. Apple releases iOS system updates on a regular basis and these updates come with fixes that can resolve the Touch ID issue. Therefore, you should update the iOS system of your iPhone to the latest version. Follow these steps:
Open Settings and head to the General settings option.
Here, tap the Software Update.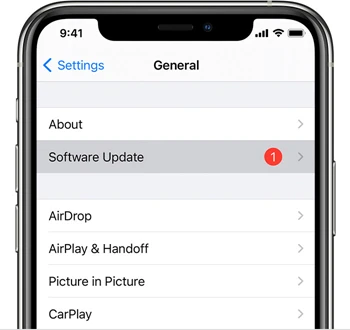 When your iPhone detects any available update, tap the Install option to download and install it.
You'll see some on-screen instructions. Follow them to finish the process.
Reboot your iPhone. When it's up and running, retry the Touch ID setup to see if it works.
Contact Apple Support
The Touch ID/fingerprint sensor is a sensitive hardware component, so when it gets damaged or become defective you're not likely to set up Touch ID. The only possible solution to such a case is to contact Apple Support. They'll request you to send your iPhone to their repair centers, upon which they will diagnose the problem and fix the Touch ID issue if the main culprit is physical damage on the Touch ID sensor.
Conclusion
Well, all these solutions are quite effective. They will easily resolve this type of error and allow your iPhone to complete the Touch ID setup. So, try out each one of them and we're certain you'll find one that works for you. As for us, we would suggest the FoneGeek iOS System Recovery software. It's the best method, especially if you don't want to try each and every solution we've listed above. It's an all-in-one tool that can quickly solve the Touch ID issue and various other iOS problems. So, you can skip the rest and use it should you want to save time.