User Concern
"Upgraded from iPhone X recently. I've been having an issue with the WhatsApp notifications on the iPhone 13. I don't get notifications when receiving WhatsApp messages. Only WhatsApp has the problem and Messages still show up in notification centre. Any help would be appreciated!"
Many iPhone users prefer to use WhatsApp to chat whih friends ad family. Recently, some users posted in Apple's Community, complaining that the WhatsApp notification not working on their iPhones.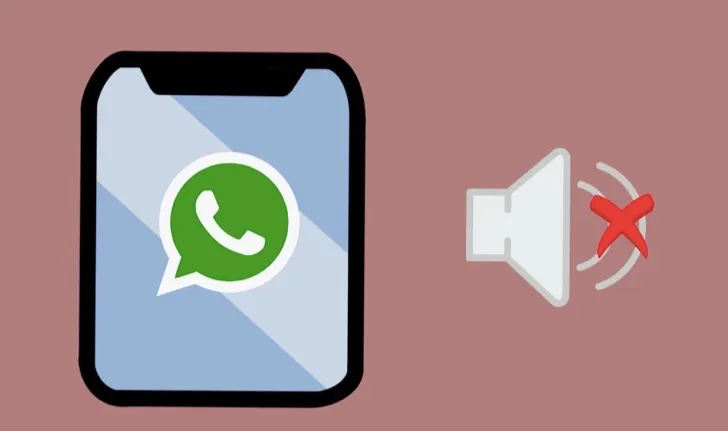 If you are facing the same problem, you've come to the right place. In this article, we will introduce 11 troubleshooting tips to fix WhatsApp notifications not working on iPhone. Let's check out.
Tip 1: Turn On WhatsApp Notification
You might check whether the option of "Allow Notifications" has been turned on supposing that you can normally get notifications from other apps rather than WhatsApp.
After upgraing to a new iOS version, all the original settings will be reset, including the app notifications. Thus it is the first thing you need to do when you found the WhatsAapp notification not working on iPhone.
Go to Settings from the home screen on iPhone and select "Notifications".
Find the WhatsApp option and toggle on the button of "Allow Notifications".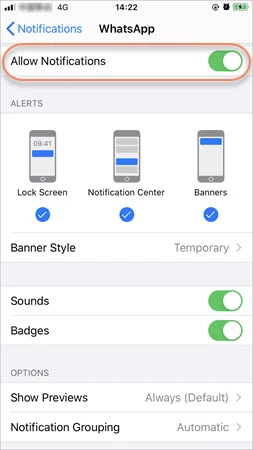 Also, open WhatsApp and go to Settings > Notifications to turn on "Show Notifications for Message and Group Notifications".
Tip 2: Enable WhatsApp Sound
If you have enabled "Allow Notifications" for WhatsApp but still don't get any notification sound, you may have forgotten set it up from WhatsApp. Here's how to check or turn on sound for your WhatsApp notifications:
Open the WhatsApp app and go to Settings > Notifications.
Tap on "Sound" and choose the sound you like, then click "Save".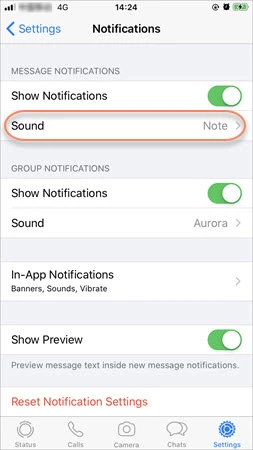 Tip 3: Turn On Airplane Mode and Turn It Off
Airplane Mode will turn off your iPhone's connection to all wireless networks, including Wi-Fi and cellular data as well as Bluetooth, GPS, etc. If you've enabled Airplane mode on your iPhone, you won't be able to receive any WhatsApp messages, let alone the notifications.
You can swipe up from the bottom of your iPhione's screen to reveal the Control Center and then check if the Airplane Mode is on.
If Airplane Mode is on, you can tap the airplane icon to turn it off. If it is off, you can turn on Airplane mode and wait for 10 seconds, then turn it off.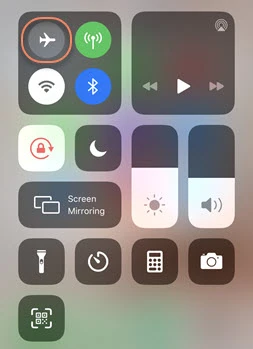 Tip 4: Check Do Not Disturb Settings
Do Not Disturb option is helpful when you do not want to be interrupted. Any calls, alerts, and notifications will not make any noise when the device is locked.
However, the Do Not Disturb feature may be turned on unknowingly sometimes and thus cause your WhatsApp notifications not working.
Check whether there is a moon icon near the battery icon. The moon icon means that Do Not Disturb is activated.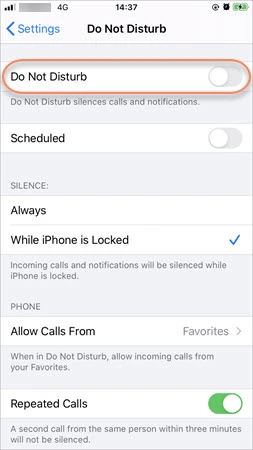 In such case, you can head over to Settings > Do Not Disturb and toggle the switch to turn it off.
Tip 5: Check Network Connection
The WhatsApp messages and notifications might not work properly if your iPhone is connected to a poor network.
Check the signal of Wi-Fi or cellular data from home screen. If it is of weak signal, you will need to switch it to a strong network that will allow WhatsApp messages and notifications to be received.
If you are using Wi-Fi, try to turn off the Wi-Fi and wait for 10 seconds, then turn it on. Also, you can try to restart your Wi-Fi router and or modem.
If you are using cellular data, you can also turn it off for about 10 seconds, and then turn it on.
If necessary, you can navigate to Settings > General > Reset Network Settings to erase the old network settings and reconnect to Wi-Fi or celluar data.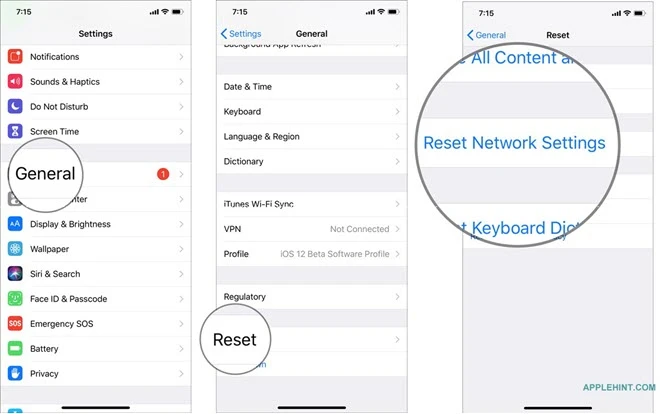 Tip 6: Force Stop WhatsApp and Restart iPhone
If the WhatsApp notification is still not working normally on your iPhone, force stop the WhatsApp app and restart the device may help to fix the problem.
On iPhone 8 or earlier, simply double-click the home button to display your recently used apps and close the WhatsApp app.
If you use an iPhone X or later, swipe up from the bottom of home screen and pause in the middle. After that, restart your iPhone and then check if the notifications working normally again.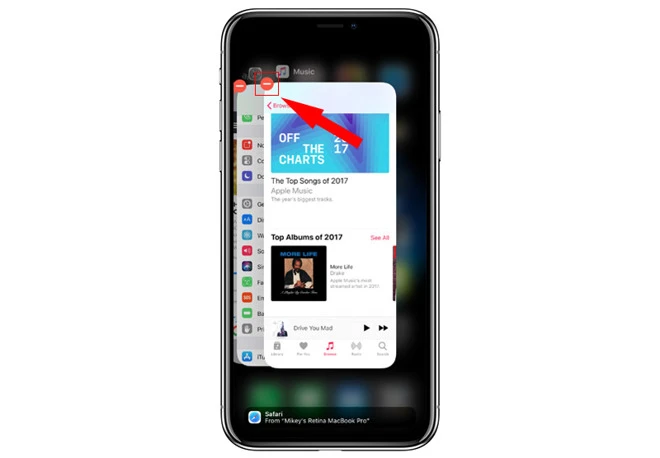 Tip 7: Uninstall and Reinstall WhatsApp
WhatsApp data may occupy large storage space and prevent the app from running properly. Sometimes the WhatsApp notification will not work or be delayed due to the cache files.
In this case, the easiest and most fast-forward method to fix the notification issue is to delete and reinstall the WhatsApp application.
Remeber to back up important WhatsApp chats before the uninstallation. Open WhatsApp and go to Settings > Chats > Chat Backup and tap "Back Up Now" to backup WhatsApp chats with iCloud.
After backup, keep pressing the WhatsApp icon on your Home screen until the app waggles, then click "X" to uninstall the app.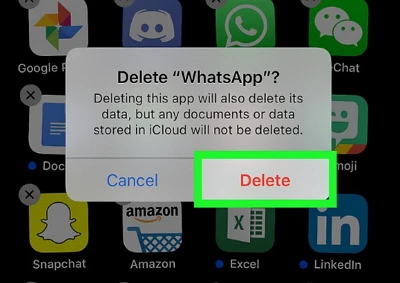 Then search WhatsApp on Apple Store, download and reinstall it on your iPhone. Follow the onscreen insturctions to set up WhatsApp using your phone number and select "Restore" if you want to restore chats from your backup.
Tip 8: Log Out of WhatsApp on Other Devices
If you've logged in WhatsApp in multiple devices, you may get the WhatsApp notifications on another device and then have no alerts on your iPhone.
You can try to log out of your WhatsApp on all other devices and keep logging in on your iPhone only. Please note that there is no Log Out option in WhatsApp, you need to sign out by directly deleting the app on other devices.
Tip 9: Update the WhatsApp App
Sometimes an outdated version of the WhatsApp app can also cause the notifications not working properly. If you don't want to delete and re-install the app, you can do an app update to fix the error.
To do that, just go to the App Store and tap "Today", then tap on your profile icon, scroll down to find "WhatsApp" and tap "Update" next to it.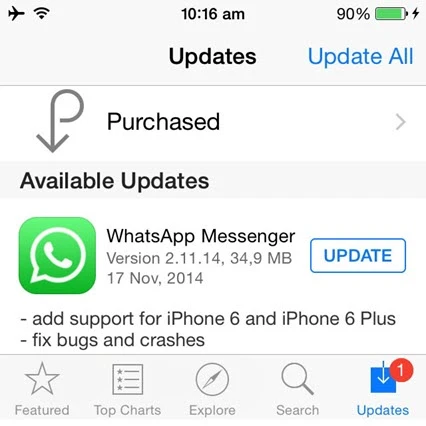 Tip 10: Update iOS to Latest Version
Apart from updating the WhatsApp app, it is also important to keep your iPhone's operating system up-to-date. In most cases, installing the latest iOS updates can help to fix glitches on your iPhone, including WhatsApp notifications not working problem.
You can update iOS to the latest version either through iTunes or wirelessly on the iPhone according to your situation.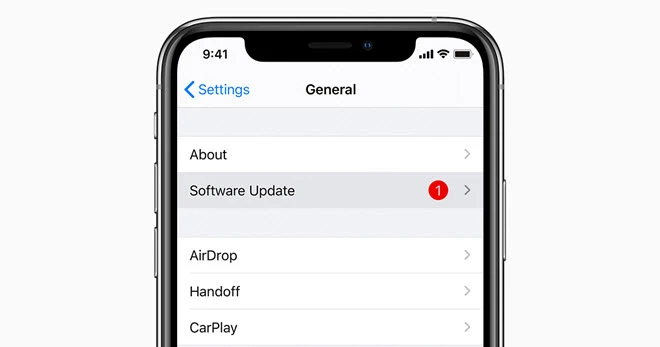 Tip 11: Fix WhatsApp Notifications Not Working without Data Loss
WhatsApp notifications not working on iPhone often happens after an iOS update. There might be system bugs caused by iOS installation that stop WhatsApp notifications from working properly. In such case, we recommend you to use FoneGeek iOS System Recovery. This professional iOS repair tool is capable of fixing various iOS issues easily and quickly. Below are some of its most noticeable features:
Fix arious iOS system issues, such as black screen, stuck on recovery mode, app notification issue, keep rebooting, iPhone won't turn on, etc.
In most causes, it can help you fix iOS and bring your iPhone to normal without causing data loss.
It is safe and easy to use, working with all iOS devices (iPhone 15/14 included) running iOS 17/16 or earlier versions.
Here's how to fix WhatsApp notifications not working on iPhone without data loss:
Step 1: Select "Standard Mode" once you have downloaded and run the program on your computer.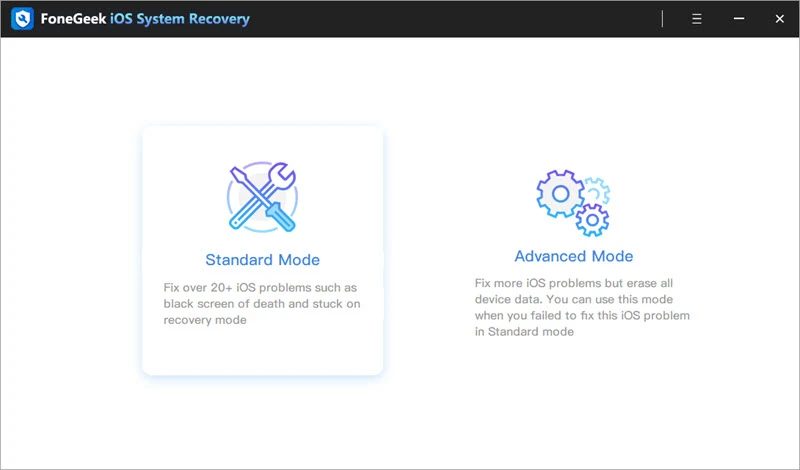 Step 2: Then connect your iPhone to the computer with USB cable and wait for the program to detect the device.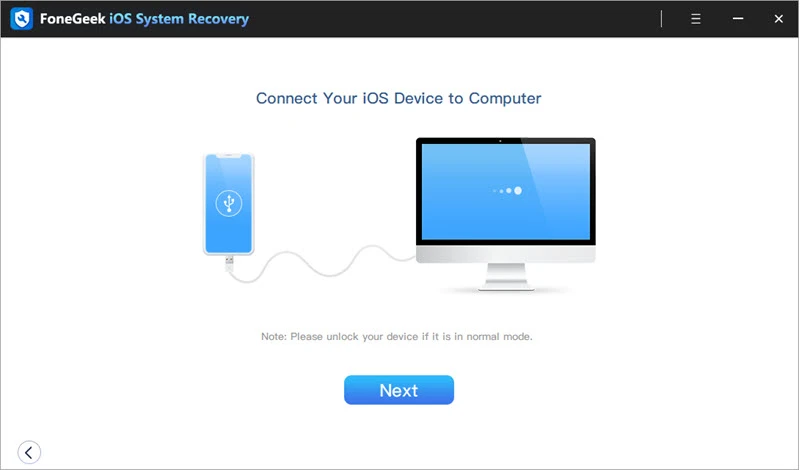 Step 3: Then you'll be required to confirm the device information, tap on "Download" and the program will download the firmware package for your iPhone to fix the issue.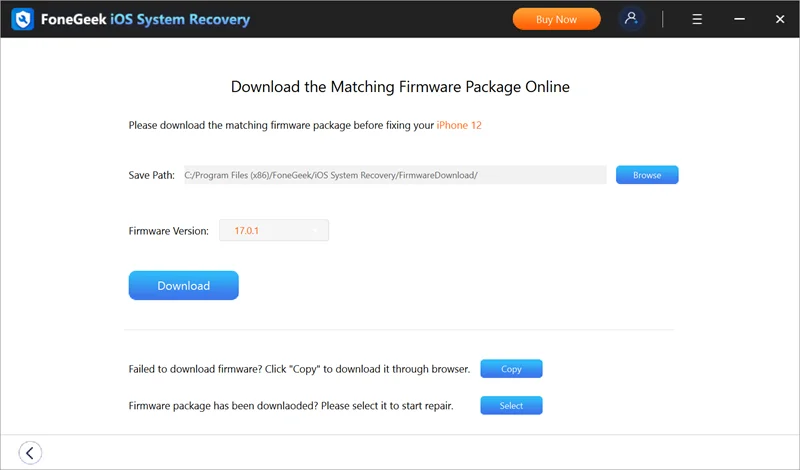 Step 4: When the firmware is downloaded and verified, repairing the iOS and get the WhatsApp notifications working properly on your iPhone.