Sometimes you will get a popup on your iPhone that says "Carrier Settings Update." We want to assure you that it is not an error. Instead, it's an update that might help to improve your iPhone's cellular network performance.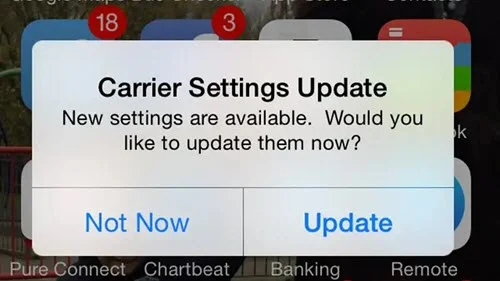 If you are wondering about the Carrier Settings Update popup on your iPhone, keep reading this article. In the below part of the write-up, we will let you know what it means and how to update carrier settings on iPhone or iPad. Keep reading!
What is Carrier Settings Update on iPhone?
The "Carrier Settings Update" popup on your iPhone occurs to notify you about a newly released update by your wireless carrier service provider. These updates can improve cellular services like calling, cellular data, voicemail, etc. In case you don't know, each carrier service provider has unique settings for your device. Unfortunately, you cannot view or modify these settings.
When the service provider makes a carrier settings update, you will see the "Carrier Settings Update" text. You need to press the "Update" or "OK" button to install the update. Sometimes, you will only find the "OK" button in case of mandatory updates. The update usually takes less than a minute, and you can keep using the device in the meantime.
How Are Carrier Settings Different from An iOS Update?
The iOS update is much bigger and more extensive compared to the carrier settings update. The major iOS updates bring many new features and changes to the user interface. Besides, the smaller iOS updates usually come to action to solve bugs and system errors.
The iOS update basically brings an update for all aspects of your iPhone. On the other hand, carrier settings updates usually change how the iPhone works with the carrier service. A carrier settings update can't affect or alter the other features and functions of the device.
Is It Safe to Update Carrier Settings on iPhone?
It is 100% safe to update the carrier settings on your iPhone. If you prevent these updates, your iPhone will be unable to gain the enhancement and newer technologies offered by the carrier service provider. So, it is important to keep the carrier settings up-to-date to enjoy a top-notch cellular performance from your iPhone.
Is It Important to Accept the Carrier Settings Updates?
The carrier service providers (Example: Verizon, T&T, etc.) regularly work and release newer technology to provide the user with a better cellular experience. Whenever a carrier service updates its technologies, your iPhone's carrier settings need to be updated to be compatible with the technology. If you reject the updates, the wireless cellular services on your iPhone might not work properly.
These updates sometimes bring new cellular features such as Wi-Fi calling, 5G, voice-over LTE, etc. Besides, sometimes the glitches or bugs related to the cellular services are also fixed through the cellular settings update. So, it's highly important to accept the updates.
How to Manually Update the Carrier Settings on iPhone?
You will be prompted to update the carriers settings when a new version is available. If you dismissed a carrier settings update, you might be wondering if there is any way to update the carrier settings manually.
You will be glad to know that it is possible to manually update your iPhone's carrier settings. Here are the steps you need to implement for the manual update:
Turn on your iPhone's Wi-Fi or cellular data.

Open the Settings app and go to General. Then go to "About" under General.

You will get the popup if an update is available. Press "Update" to begin the process.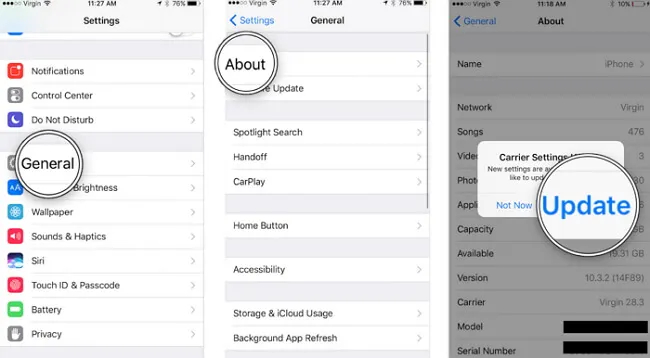 That's it; you are done!
How to Check If iPhone Carrier Settings Are Updated?
Not sure whether the carrier settings on your iPhone are updated or not? You can restart your iPhone and check it.
First, pressing and holding the Power button to turn your iPhone off and back on.

Then, you can go to the Settings > General > About to check your carrier settings version.

If there is a new version available, you will get the popup. If the setting is already updated to the latest version, the popup will not occur.
The Bottom Line
As you see above, iPhone's Carrier Settings Update is very important, and you can easily make the update both manually from Settings and automatically if the popup occurs. If you encounter any issues like being stuck or a system crash, consider utilizing the FoneGeek iOS System Recovery. The tool can help you get rid of the situation quickly and efficiently.

Joan J. Mims is interested in researching all tips about iPhone, iPad and Android. He loves to share useful ideas with all users.

Home
>
iPhone Tips
>How to Update Carrier Settings on iPhone/iPad