"Apple does really disturb me when my iPhone pops up notification to upgrade to the latest iOS 14. I use an iPhone 6 and it works good as for now, I do not get used to upgrade, apps or system. If there's any way that can stop iOS nagging me to update to the latest version? Thanks for any help."
iPhone users must always encounter such annoying situation: When you get used to the current iOS version, a message box pops up reminding you to update iOS to the latest version. Unfortunately, Apple has not given much thought for users who are not willing to update the iOS system in real time, there is no "Never Remind" options available. As a result, users are harassed by the update notification every day. There is no other way but tick "Remind Me Later". It will become worse if you accidentally press the wrong button.
Don't worry. In this article, we're going to show you 4 troubleshooting tips to disable iOS update notification on iPhone. Read on to find out what you can do.
Tip 1. Turn Off Automatic Updates
The Automatic Updates are enabled on iPhone by default and all your apps will be updated without your consent. You can turn off the automatic updates option and thus stop getting iOS update notifications. Follow the procedures below to stop the future update notifications:
Go to Settings on your iPhone.

Scroll down and select "iTunes & App Store".

Find "Updates" option under the Automatic Downloads section, and drag to turn it off.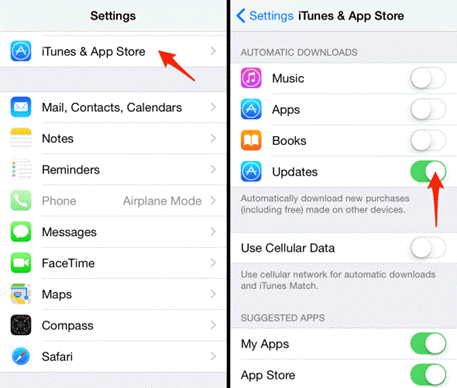 Tip 2. Delete the iOS Software Package
You can also delete the downloaded software update package on your iPhone to turn off the iOS update notification. Here's how to do that:
Click on the Settings option on iPhone and tap on General.

Tap on "Software Update" to check if the newest system version has been downloaded.

Then back to General > iPhone Storage, scroll down to find the iOS update that downloaded to your iPhone.

Tap on it and select "Delete Update", and confirm the action in the popup.
Note
Simple as the method is, it doesn't address the underlying cause. In a few days, the iPhone may automatically download the new system installation package again, and there will be another update notification. If you want to completely eradicate it, you need to use methods below.
Tip 3. Install Up-to-date Apple tvOS Profile
Another method to disable iOS update notifications is to install an up-to-date version of tvOS. This method will fool the software update feature to thinking that your iPhone is up-to-date and stop the endless pop-ups. Follow these steps below:
Step 1: Copy the link oldcat.me/web/NOOTA9.mobileconfig. Paste and open it up on Safari to download the tvOS beta configuration profile. You can also download the profile on a computer and AirDrop it to your iPhone.
Step 2: Once the profile is downloaded, you will be redirected to the Settings app to install it. Simply click "Install" in the upper right corner of the interface, enter the lock screen password and follow the prompts to continue.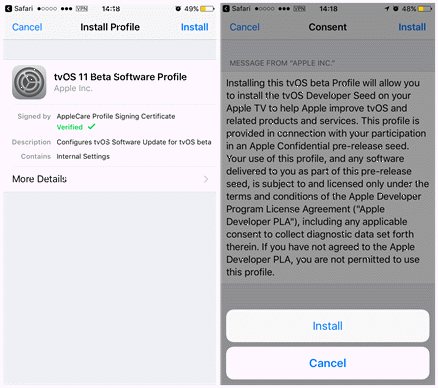 Step 3: The profile will be installed and require you to restart the iPhone to apply the changes. After the reboot, you can go to Settings > General > Software Update to check if the software is up-to-date.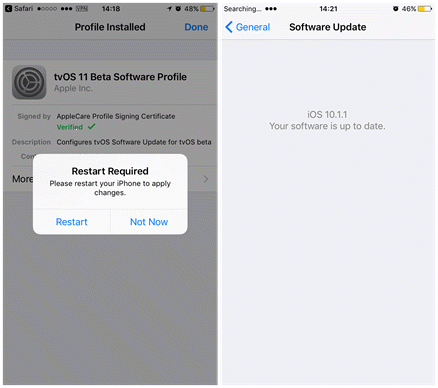 What if you intend to upgrade to the newest iOS version? Don't worry, you can your changes, simply go to Settings > General > Profile and find the tvOS Software Profile, then click on "Delete Profile" to delete the installed profile. After that, reboot the iPhone and the latest version will be detected.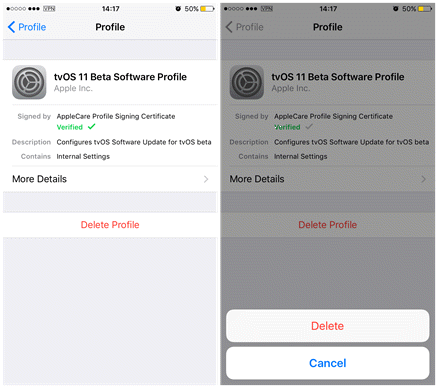 Tip 4. Block Apple Updates from Wi-Fi Router
Even though the iOS update has been deleted or disable on Settings, the iOS updates will still be automatically downloaded when your iPhone is connected with WiFi. For users who never want to receive the update notification, this option is advisable – to block the Apple software update domains on Router or Gateway connecting to the internet. The process various on different Router that you use. Here are the processes on how to do it:
Connect your iPhone with the Router.

Enter the router's IP address which you can find on the bottom or back of the Router. You can also call the router's manufacturer for the IP address.

Find the service that you can block a specific domain, then add the domain of mesu.apple.com or appldnld.apple.com to the block list.
This method works for preventing the iPhone from installing the iOS update system when the device is connected with your personal Router. It will be invalid when the device is connected with any other public Router.
Conclusion
Above are 4 ways to disable iOS update notifications on an iPhone or iPad. Each method has its advantages and disadvantages. You can choose the most effective one depending on your own situation. If you've already updated your iPhone to the latest iOS 14/13 and are now faced with regret, you can rely on iTunes or third-party tool like FoneGeek iOS System Recovery to downgrade iOS to an old version. Please note that the downgrade process will erase all the existing data on your device, so you'd better take a backup of your iPhone before doing that.

Thursday on Jul 12, 2018, 11:00:53 GMT / Post By Joan J. Mims to iPhone Tips
Joan J. Mims is interested in researching all tips about iPhone, iPad and Android. He loves to share useful ideas with all users.

Home
>
iPhone Tips
>How to Disable/Stop iOS Update Notifications on iPhone