User Concern
"I want to update my iPhone 14 Pro to 17 beta, but I am not in a place where I can get WiFi. I have sveral gigs of LTE, plenty for a 250meg update. Is it possible to update iOS without WiFi?"
Apple has restricted iOS update download with Mobile data (LTE) or Cellular Data, they hope users downloading major iOS update via stable Wi-Fi connection.
However, you may suffer from an unstable Wi-Fi or there is no Wi-Fi service nearby when you get an update notification of the newest iOS 17 on your iPhone. It could be rather troublesome if you want to install the new iOS update immediately.
"Can I update my iPhone using cellular data?" Don't worry, there are still ways to update iPhone without using a Wi-Fi connection. In this article, we will introduce several solutions that are helpful for iOS users.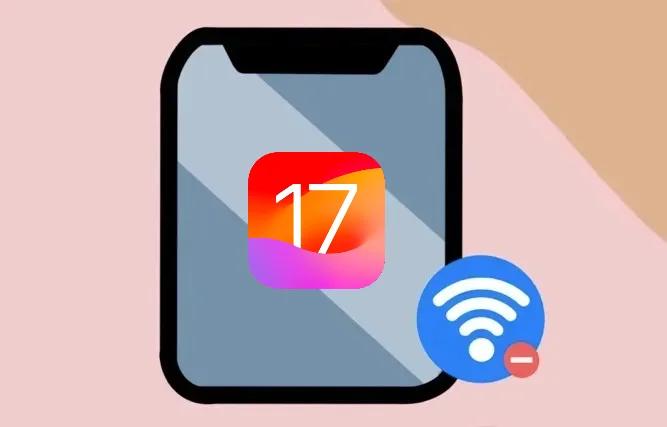 Can I Update to iOS 17 without WiFi?
YES! It is certainly that you can update your iPhone to the newest iOS 17 without proper WiFi connection. But other network connection is still required if WiFi connection is not available.
So you should ensure that your iPhone can be connected with celullar data/hotspot or your computer can be connected to network to initial the iOS 17 update process.
How to Update iPhone Without WiFi Data
#1. Update iOS with Cellular Data
Since network connection is always required to update iPhone to the newest version. The easiest solution to update your iPhone without WiFi is using cellular data.
One thing to keep in mind is that you need to ensure enough data plan since the iOS update file download requires a lot of data. Also, make sure that you have enough free space on iPhone to install the iOS update and the device's battery is not less than 50%.
After than, follow the steps below to update iPhone without WiFi using the cellular data .
Step 1. Go to Settings on your iPhone and enable that Cellular data is turned on.
Step 2. Then click "General" and tap on "Software Update" option. If your iPhone is not the newest iOS version, the iOS system will automatically detect the newest iOS 17 on software update settings. What you need now is to click "Download and Install" option.
Step 3. After downloading, the update process will get started immediately when you click "Install Now".
Step 4. When the installing process starts, the device screen will be black with Apple logo displayed. It may take for several minutes. After the updating, the iPhone will get started with the newest iOS 17 installed.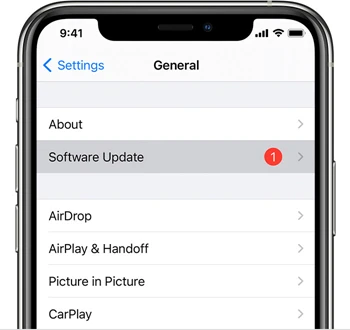 #2. Update iPhone via Hotspot
This method can be used when your iPhone has no service and cannot connect to cellular data. If your friend's device is nearly or you have a spare phone, you can connect your iPhone to cellular data from another phone via hotspot.
Step 1. On your friend's phone, go to Settings > Cellular to turn on Personal Hotspot.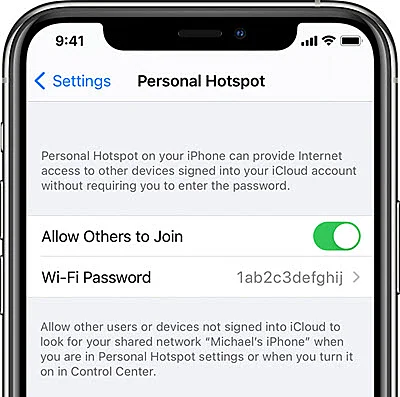 Step 2. Turn on WiFi on your iPhone and connect your iPhone to the personal hotspot you just created.
Step 3. Click on Software Update from your iPhone settings and tap on "Download and Install" to update.
#3. Update to iOS 17 via iTunes/Finder
iTunes is always a reliable tool to backup, restore iPhone data or upgrade and downgrade iOS version. To update iOS version with iTunes, you need to install the latest version of iTunes. Also, you should have all the iPhone data backed up before start the process since you might lose all existing data after the update.
Step 1. Connect your iPhone to the PC with an USB cable, open iTunes and ensure that your computer is connected with an internet.
Step 2. When your iPhone is recognized by iTunes, an iPhone icon will appear automatically. Click the iPhone icon in the upper left and tap on "Check for Update".

Step 3. The newest iOS version will be available in the pop-up window, now you need to check the iOS version and download.
Step 4. Click "Agree" and the upgrade process will get started. Do not disconnect your device with computer until the restore process ends.
Step 5. When the process ends, you will find that the device has been updated to iOS 17. Reset all settings and start using the phone.
#4. Perform iOS 17 Update Through Web (Not Recommended)
The last method is as simple as the methods above. You can update iOS without WiFi by downloading the IPSW file on your computer and then manually apply the firmware to your iPhone using iTunes. However, your computer should have access to internet connection.
Visit the official site of IPSW files and search your iPhone model.
Download corresponding IPSW file on your computer and you should ensure that your iPhone has enough space to install the IPSW file.
After downloading the IPSW file, connect your iPhone to computer and launch iTunes.
Click on "Update" while keep pressing shift button to choose the IPSW file you downloaded.
Then iTunes will update iOS on your iPhone.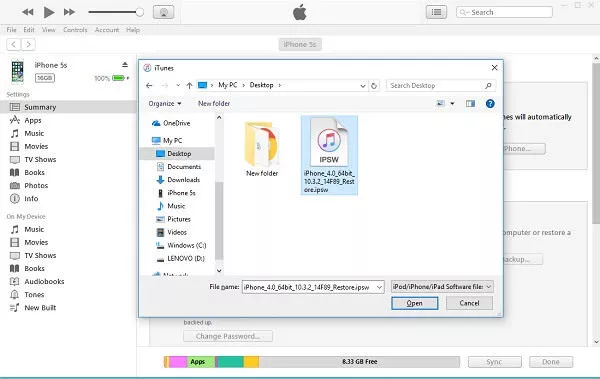 Update iPhone Without WiFi Using a Reliable Tool
Maybe this is the most appropriate approach when it comes to updating iOS without WiFi or fixing different iOS issues. FoneGeek iOS System Recovery is such a professional tool for you. You may use this program to resolve almost all iOS system errors effectively. Still, the computer should be connected with network connection.
FoneGeek iOS System Recovery: Fix All iOS System Issues
Fix iPhone/iPad issues without data loss when using the Standard Mode.
This tool is highly recognized by influential and famous media sites, including GetDroidTips, techtricksworld,etc.
It promises that no data will get affected after the upgrading process.
Fixes all iPhone and iTunes errors, like iTunes error 4013, error 9, error, 27, iPhone keeps restarting issue, iPhone stuck on black screen and other problems.
Step 1. Once you have downloaded and installed FoneGeek iOS system recovery tool on your computer, select the option of "Standard Mode".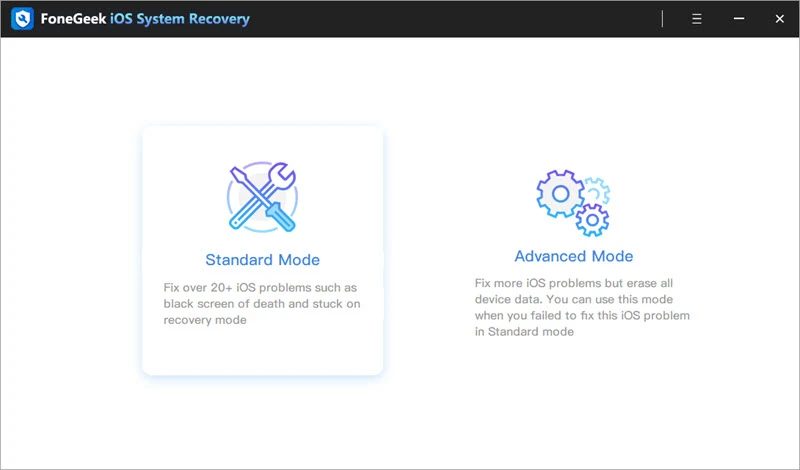 Step 2. Then make the iPhone connected with the computer and program, and click "Next". If the device is not detected, the tool will prompt you to enter the DFU or Recovery mode.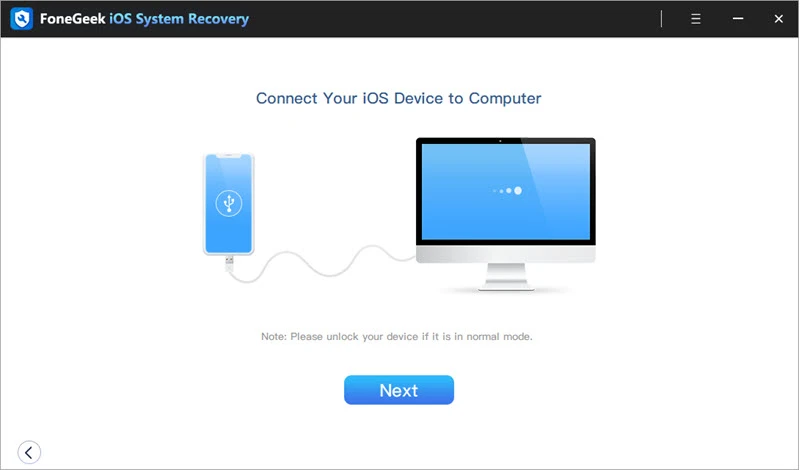 Step 3. After entering DFU or Recovery mode, the iOS System Recovery will show different iOS versions of firmware package. Choose the newest iOS version and click "Download".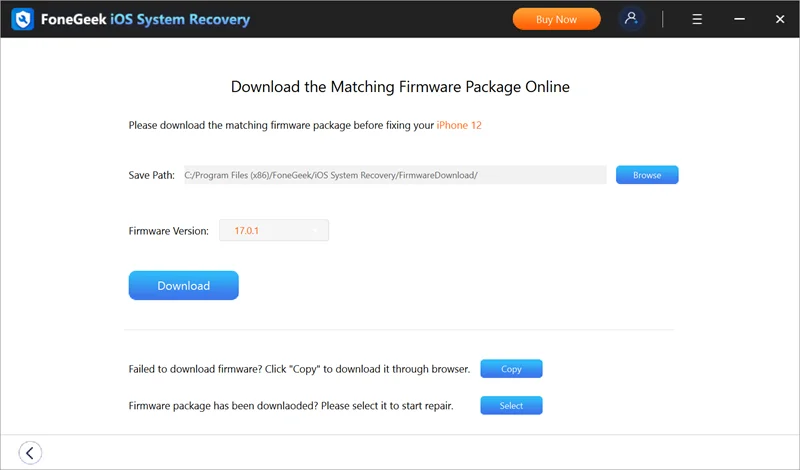 Step 4. The repair process is also the update process, after the repair process, the device will restart automatically and you can now check whether the iOS 17 is installed or not.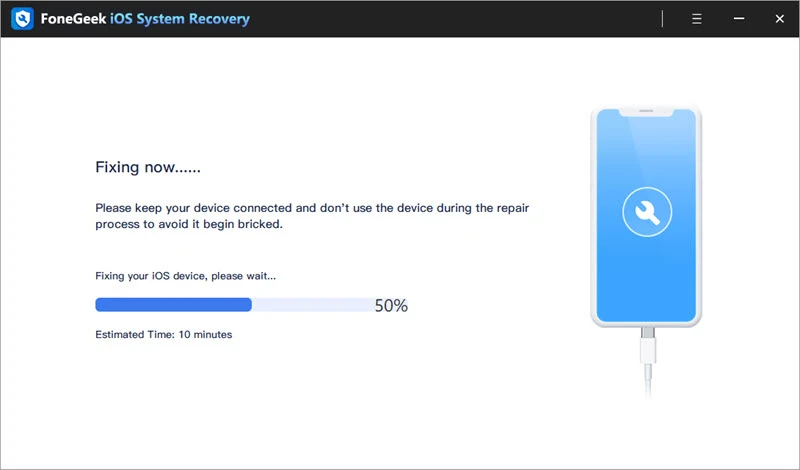 Conclusion
Now you get 5 methods available to update iPhone without WiFi. If you have enough time, you can try these methods one by one. If your free time is short, we suggest you use FoneGeek iOS System Recovery to update iOS version, after all, it is the fastest and easiest solution.