Cleaning up unnecessary and rarely used apps is a normal part of regular maintenance that can help declutter your iPhone and free up its local storage, especially if you have lots of apps.
However, sometimes there are certain apps you may want to delete but you can't locate them anywhere on your iPhone Home Screen. You are sure you installed them but they aren't visible on the Home Screen hence you find it difficult to remove them from your device.
These are hidden apps and to delete such apps, you need to look beyond the Home Screen and that's what we're going to help you do herein. This brief guide will show you exactly how to delete hidden apps on iPhone using 6 different ways.
With these methods, you'll be able to find hidden apps and ensure they're completely removed from your iPhone so as to keep its memory tidy and enhance its performance. Let's dive in!
Why You Can't Find an Installed App on iPhone Home Screen?
There are several reasons that could cause your iPhone apps not to appear on the Home Screen. Some of them are:
In iOS 14 and later versions, Apple introduced the App Library feature which allows you to hide the apps on your iPhone from plain sight. You just long-press any app icon, tap the Remove App option and then tap Remove from Home Screen. Once you do that, the app will move to the App Library immediately and be only visible there but not on your iPhone's Home Screen.
When you head to Settings, tap on Home Screen, and then choose the App Library Only option, all the new apps that you install on your iPhone won't show up on the Home Screen. You'll only be able to see their app icons inside the App Library.
iOS 14 and later versions allow you to hide your iPhone Home Screen pages. Doing this will naturally hide all your apps on the Home Screen page.
It's also possible that the app is hidden within an app folder or even on the second or the third page within the folder.
These are the most common reasons why you may not see apps on the Home Screen of your iPhone. If this is your case and you still want to get rid of these apps, here are several ways to delete apps on iPhone that are hidden.
Way 1: Delete Hidden Apps Using App Library
The introduction of App Library in iOS 14 and later versions by Apple was quite thoughtful, since it can help to declutter the apps you have on the Home Screen of your iPhone and create a list that contains all installed apps. Therefore, when you remove a particular app from your Home Screen, the app will land straight in the App Library.
With that in mind, here's how to delete apps not on home screen using the App Library:
Swipe left on your device's Home Screen until you get to the App Library.
Tap on the Search box within the App Library and find the desired app by typing its name.
When the app icon shows up, long press on to it to show the various options.
From the options, tap Delete App. Then confirm your choice by tapping on Delete.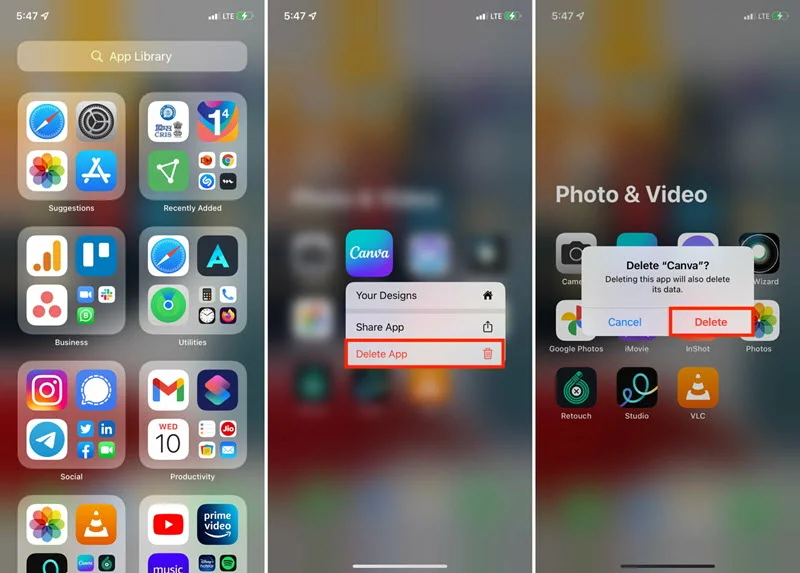 Way 2: Delete Hidden Apps from iPhone Settings
You can access the list of all installed apps on your iPhone (both Apple and third-party apps) right from Settings. Even if a particular app isn't visible on your Home Screen, you'll find it here and delete it from your phone.
Here's how to delete apps on iPhone that are hidden using the Settings app:
Launch the Settings app and open the General menu.
Select iPhone Storage and then allow it to display all the apps.
When the full list is displayed, find the name of the app you wish to delete and tap on it.
Now tap on Delete App from the pop-up menu and confirm. That's it!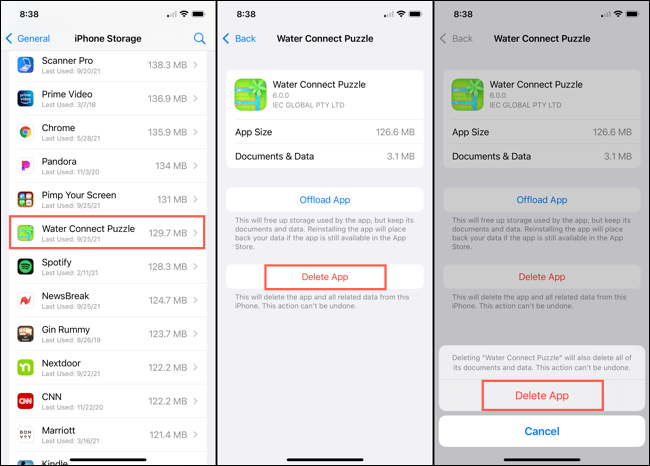 Way 3: Remove Hidden Apps Using Spotlight Search
With the Spotlight Search tool, you can find almost anything that's on your iPhone or even the web. It's a quick tool that you can no doubt use to find hidden apps and delete them. Here's how to remove hidden apps on iPhone using the Spotlight Search tool:
Go to the Home Screen and swipe down on it or just tap the Search icon that's at the bottom.
Head to the Spotlight Search box on top and enter the hidden app name.
When the icon is displayed, press and hold on to it for the pop-up options to appear.
Tap the Delete App option from this menu. Then tap on Delete again to confirm your selection.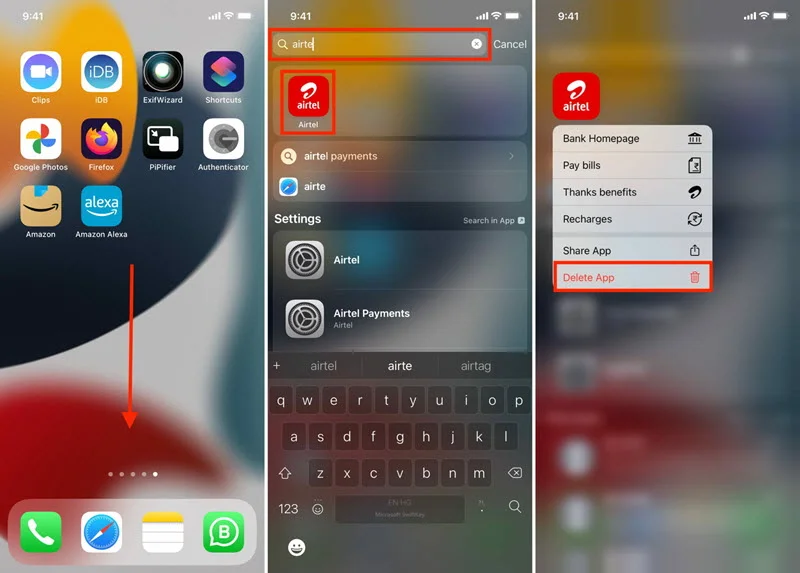 Way 4: Uninstall Hidden Apps from App Store
You can find the full list of all apps that are installed on your iPhone in the App Store and remove the unwanted ones. With this method, though, you'll only be able to delete apps that have been updated recently or ones with pending updates.
Here's how to delete apps not on the home screen using the App Store:
Launch the App Store. Head to your profile picture in the upper-right corner and tap it. You can as well go to the App Store icon, long-press it, and select Updates.
Navigate down to find the particular app. If it's not there, simply refresh the updates screen by pulling it down.
Once you locate the app under "Updated Recently" or "Available Updates," just swipe left on the app's name and then tap Delete.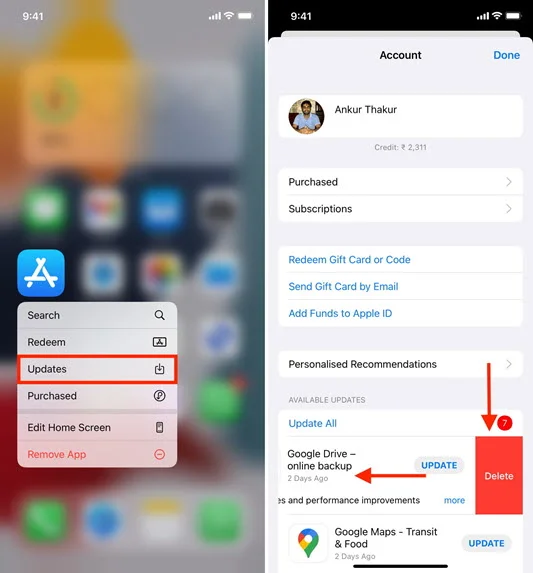 Way 5: Delete Hidden Apps on iPhone in One Click
If all the hidden apps are not removed from your iPhone, then you can take extra steps to get them completely uninstalled from your device. FoneGeek iOS Backup & Restore is one specialized tool that can help you quickly achieve this milestone without much effort.
This tool can immediately find all hidden apps on an iPhone and delete them permanently, plus you won't have to worry about the deleted apps getting installed once more when you sync with iTunes. It takes just a single click to delete all hidden apps, which anyone can perform very quickly.
Here's how to uninstall hidden apps on iPhone using FoneGeek iOS Backup & Restore:
Download and install the program on your computer. Once you've connected your iPhone, go to the top menu and select the "Manage" tab.
When the main interface shows up, head to the left pane and select "Apps". To delete apps in bulk, choose all and then click the "Uninstall" button. That's it!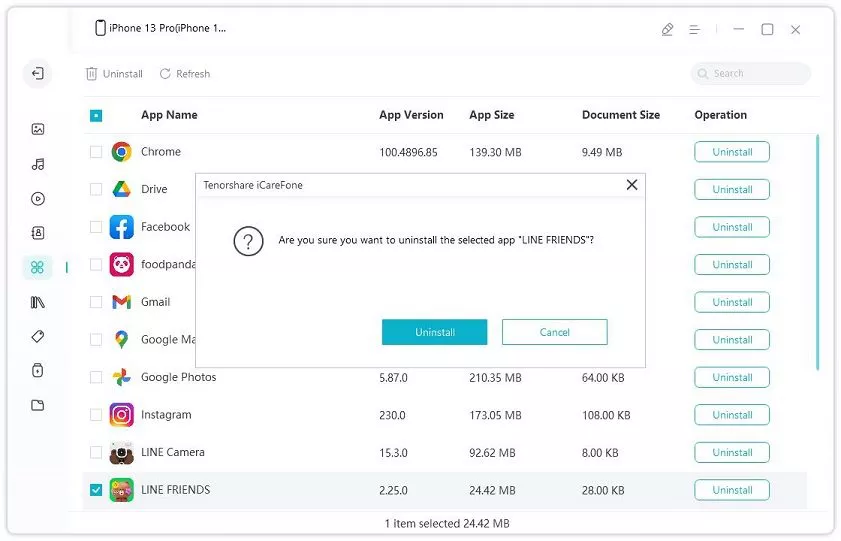 Way 6: Delete Hidden Apps on iPhone Using iTunes
Another software you can use to remove hidden and other unwanted apps from your iPhone is iTunes. It's one of the smart tools within Apple's ecosystem that have been around for decades and most iPhone users know it very well.
In general, iTunes is not just a mere media player because you can use it to control most items (music, movies, apps, etc.) you have on any of your Apple devices, not just the one where they're installed. That's why it's important to delete the unwanted apps from the iTunes library once you've removed them from your phone, otherwise, they could return the next time you sync your devices with iTunes.
Here's how to permanently delete unwanted apps in iTunes:
Launch iTunes on your computer and click on the iTunes Library to open it.
Go to the Apps tab (in the menu that's on the left part of the screen) and click on it. Choose the device on which the apps are stored, i.e iPhone.
Head to each app that you want to delete, right-click on it, and select Delete App.
Once you do this, you can rest assured that the hidden apps are permanently removed from your device and won't hog space anymore.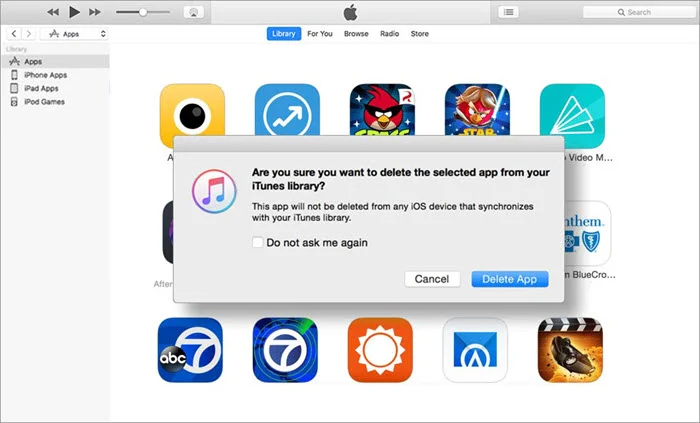 Conclusion
When your iPhone is full of hidden apps, they can end up taking up a lot of storage space, making the phone to be slow and not as responsive as it's supposed to be. That's why learning how to delete hidden apps on iPhone is something you'll no doubt be glad you did.
We've provided various methods that can help you do just that but in case you're still not able to delete the hidden apps on your device or don't want much hassle, we recommend you use FoneGeek iOS Backup & Restore. This specialized tool doesn't take much time or effort to find and permanently remove all hidden apps from your iPhone - it takes just a single click to do that. It's quick, very reliable, and works with virtually all iPhone models. So, download it and try it out.