You may need to delete multiple contacts on iPhone due to various reasons. Maybe you want to get rid of unwanted contacts to organize your address book, or you've recently changed jobs and no longer want all your old work contacts.
However, can you delete multiple contacts at once on iPhone? Well, despite so much advancement, iPhones unfortunately still don't have a native way to delete multiple contacts all at once.
The iPhone Contacts app limits you to only deleting one contact at a time which is not only tiresome but also time-consuming if you have lots of contacts to remove. But that shouldn't be the case. There are quick and more efficient ways to do it.
In this post, we'll show you 5 workable methods that can help you to delete multiple contacts on iPhone whenever you want. Let's jump straight to them!
Way 1: How to Delete Multiple Contacts on iPhone in iOS 16
Apple's iOS 16 comes with a new feature that enables you to drag your finger over multiple entries. With just a simple double fingertip swipe and then a long press, you can quickly delete multiple contacts at the same time right from your iPhone. Follow these steps to do so:
Head to the Contacts app and open it. Alternatively, open the Phone app, and from the bottom menu, tap on Contacts.
Now locate the contacts you wish to delete.
Using two fingers, select one contact and then drag down or up to select multiple contacts to delete. They should be highlighted gray once they're selected.
After selecting all the contacts you want to delete, release your fingers.
Now long press on the selected contacts. A menu will appear with four options: Copy/Share/Merge/Delete the contacts. Click on Delete.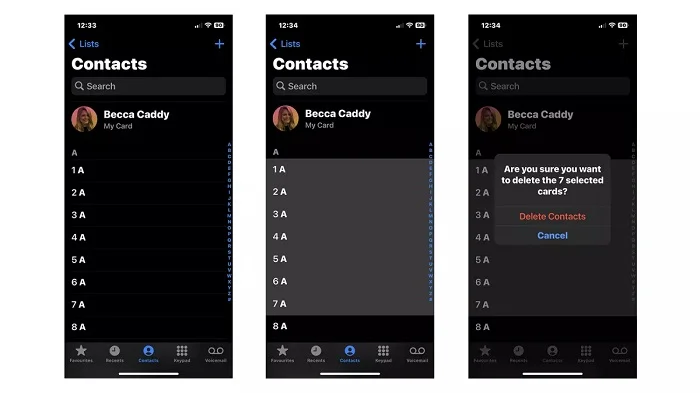 Way 2: How to Delete Multiple Contacts on iPhone Using Third-party Tool
Using a professional data management tool is another way you can easily delete all your contacts at once or multiple contacts at a time. Data management tools are very useful and they often perform various other functions besides deleting contacts. Our top choice in this case is the FoneGeek iOS Backup & Restore.
Here's how you can delete multiple contacts on iPhone using this tool:
Step 1: After downloading FoneGeek iOS Backup & Restore, install it on your computer. Connect the iPhone to the computer via USB cable.
Step 2: Launch the program and tap the "Trust this Computer" pop-up message that appears on your iPhone. When the program automatically identifies the phone, head to the main interface and click the "Manage" tab.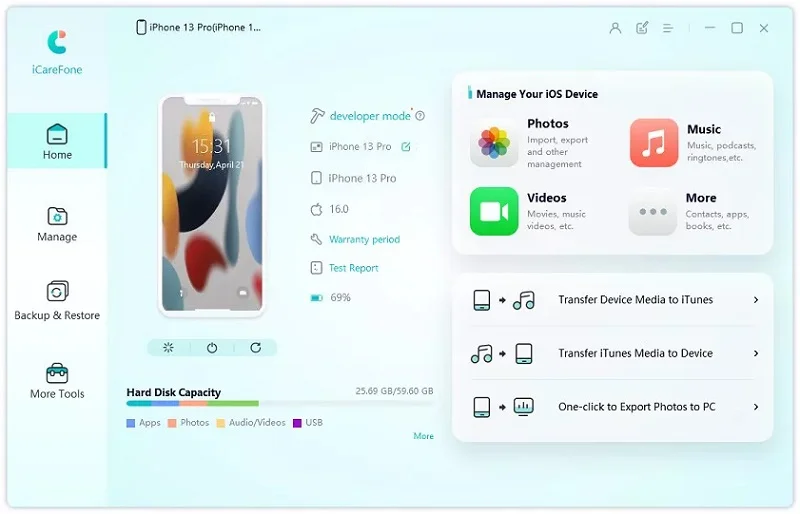 Step 3: You'll see 8 types of files listed in the next panel. There are three actions you can perform here; import, export, and delete the files.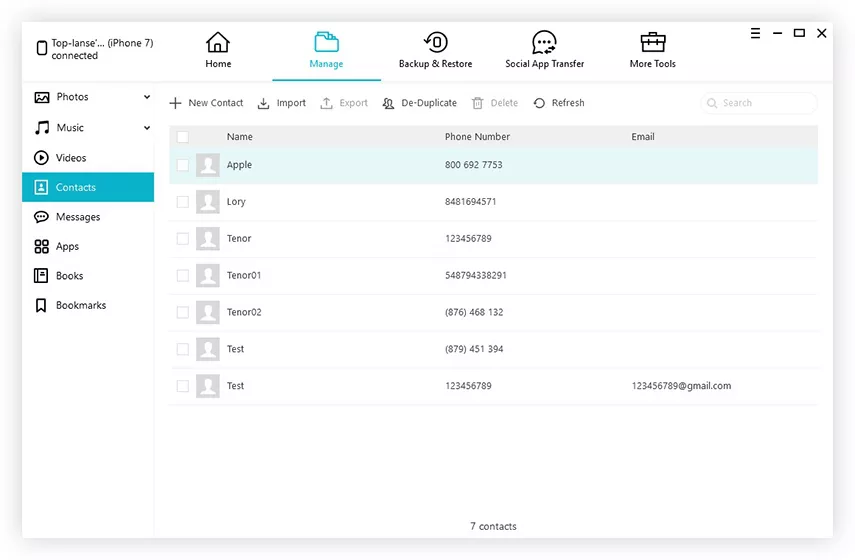 Step 4: Since you intend to delete Contacts, simply click the "Contacts" option on the left part of the panel and then click the "Delete" option.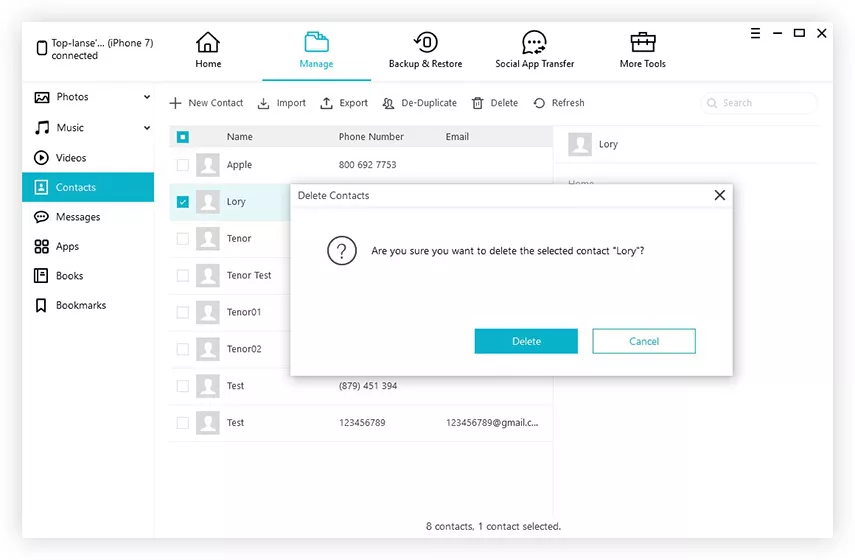 From there, you can decide to delete all your contacts in the iPhone or just select several unwanted contacts from the right part of the panel. Once you click "Yes", the contact will get deleted instantly.
Way 3: How to Delete Multiple Contacts on iPhone Using iCloud
Apple usually stores and backs up your contacts in the cloud in case you're using iCloud. This way, you're able to access and use your contacts across all your Apple devices (both iOS and macOS).
Besides that, any changes you make to the contact information reflect on all of your Apple devices automatically. For instance, if you change an email in your iPhone's Contacts app, the same change will be pushed out to your MacBook Pro, and other Apple devices.
The best part is that the web version of iCloud allows you to select multiple contacts to delete, which is something you can't do in the Contacts app of iPhones.
Here's how you can delete multiple contacts on iPhone using iCloud:
Head to iCloud.com on the browser on your computer (not your iPhone). Login in with your unique Apple ID and password.
Click Contacts from the apps on the main page. Then hold down the Control key on your computer and select all the contacts you intend to delete.
Head to the bottom left corner of the screen and click the Settings icon. Next, click on Delete.
When the pop-up window appears, click Delete again to confirm your choice. Now all the contacts that you selected will get deleted across all your Apple Devices.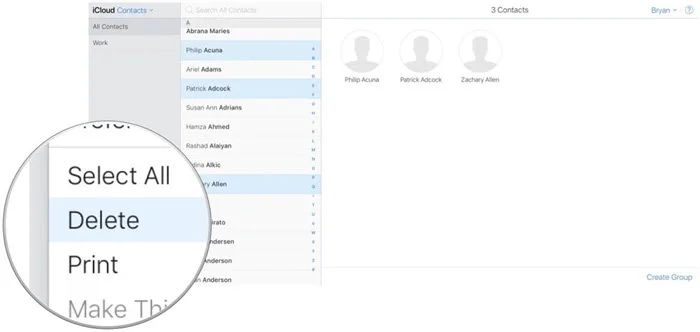 Way 4: How to Delete iPhone Contacts in Bulk Using Mac Contacts App
You can also use your Mac computer to delete multiple contacts on iPhone thanks to the synchronization between Apple Devices. You can do this right from your Mac Contacts app. You have to log into the same iCloud account though as your iPhone (the Apple ID on your Mac computer and iPhone have to be the same). Here's how to do it:
On your Mac computer, head to Applications and click Contacts from the menu.
On your keyboard, hold down the Control key and select all the contacts you intend to delete by clicking on them.
Now right-click on the selected contacts. From the menu that appears, click the Delete Cards option.
Complete the process by clicking Delete when prompted to do so.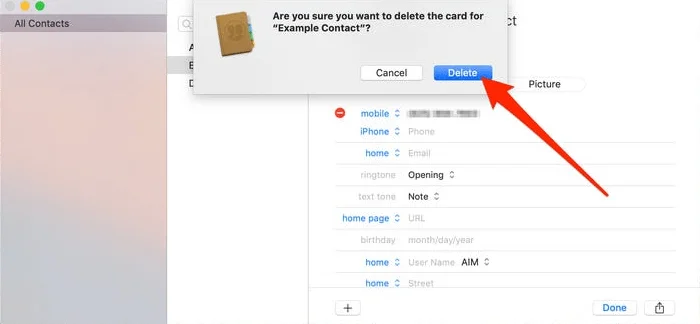 Way 5: How to Delete Multiple Contacts on iPhone Using Groups
Groups is a third-party app that provides a way to delete contacts on your iPhone in bulk. It offers advanced features through in-app purchases, but the function for deleting contacts is free. You can remove as many contacts as you want at once using the app. Here's how to do it:
First, download and install the Groups app onto your iPhone. Open the app after it's installed.
Allow the app to access your contacts by tapping Let's Get Started and then OK.
From the Groups list, tap on All Contacts. Select the contacts you intend to delete by tapping the red circle outline next to their name.
Now tap the Choose Action option at the top. From the pop-up menu, tap Delete Contacts.
Next, confirm by tapping on Remove from my iPhone. Confirm your action one last time. That's it!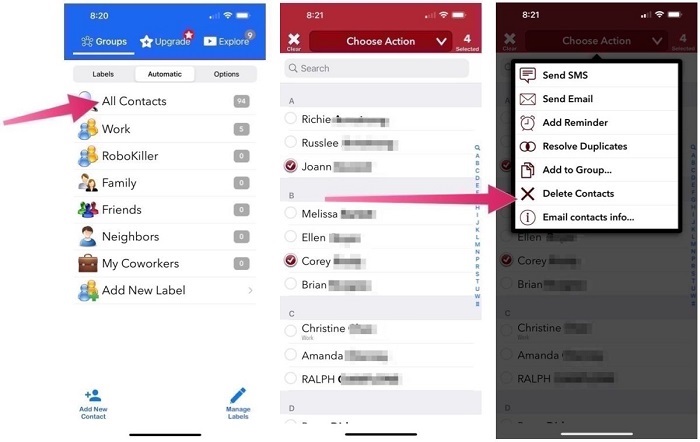 Some other apps on the App Store that can achieve the same goals include Contacts Multi Remove, Delete Multiple Phone Contacts, Delete Contacts+, etc.
Bonus: How to Get Deleted Contacts Back without Backup
If you've been wondering whether it's possible to get back your deleted contacts even without backup, then the answer is a definite yes. However, to do that, you'll need a professional recovery tool that can help you restore those contacts. One excellent choice we would recommend is FoneGeek iPhone Data Recovery. This professional tool is fast, efficient, and highly reliable at retrieving deleted contacts from iPhone with or without backup.
Here are steps on how to get back deleted contacts on iPhone without backup:
Step 1: Download and install FoneGeek iPhone Data Recovery onto your computer. Then, connect your iPhone to it.
Step 2: Open the program. From the main menu, click on the "Recover from iOS Device" option. The program should automatically detect the phone if it's properly connected and trusted.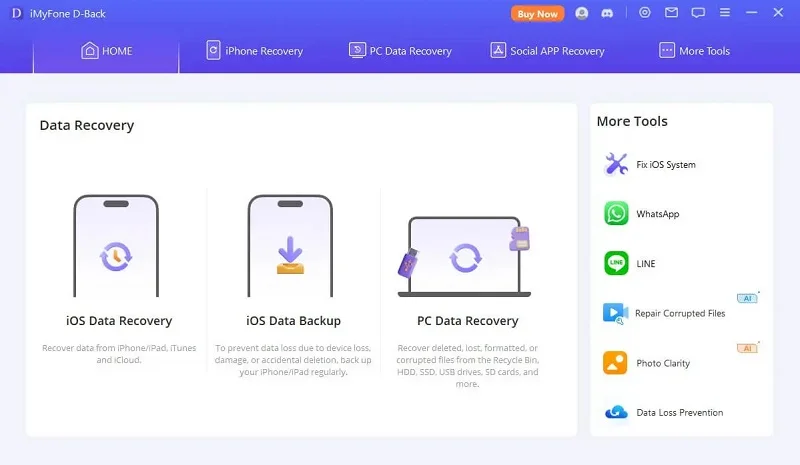 Step 3: The next window that appears will allow you to scan and then recover any file that you want. Hence, check the list and then click on "Contacts". Now click the "Scan" button.
Step 4: The program will list the scanned files categorically for your convenience. From there, you can selectively recover the files you want.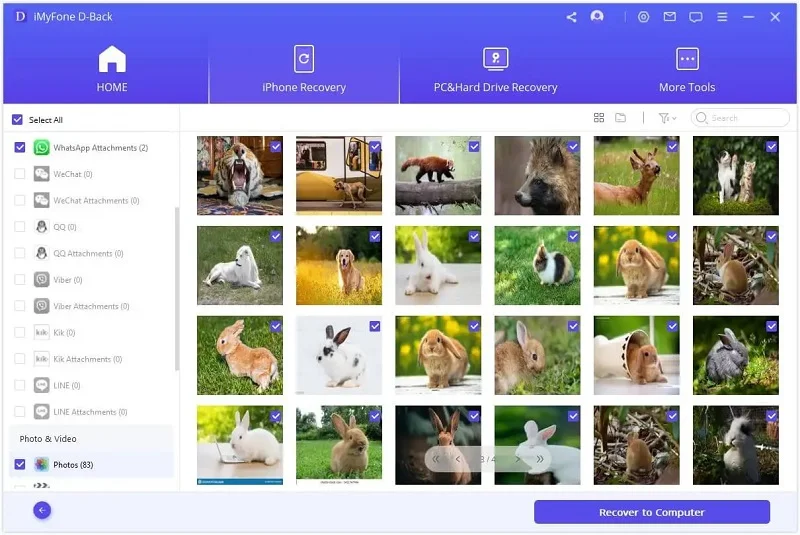 Step 5: Simply click "Recover" once you select the files you want. Since you're restoring the contacts, you'll be able to restore them directly to the iPhone.
Conclusion
Now you should be able to easily delete multiple contacts on iPhone using any of the methods we've shared above. All of them are quite simple to implement by anyone. It is just a matter of choosing the one that suits you best. Among them, though, we would highly recommend FoneGeek iOS Backup & Restore tool. It's surely the fastest and most efficient method. It will get the job done quickly. Just download it and give it a try.