You may save large amounts of photos on your iPhone, taking up too much storage space of the device. Then you may wonder if it is possible to delete photos from iPhone but not iCloud. This way, you can easily free up space on the iPhone without giving up your precious photos for good. Well, if this is the situation you find yourself in, you're in luck as there are several ways to delete photos from the iPhone but keep on iCloud.
In this article, we are going to share with you five different ways you can actually remove photos from your iPhone but still retain them in iCloud.
Way 1: Turn Off iCloud Photos on Your iPhone
The iCloud Photos sharing function to sync your photo library on all your iOS devices can be very useful. However, this is also the reason why you delete a photo on your iPhone, it is also deleted from iCloud. Therefore, if you want to delete photos from your iPhone but not iCloud, the first thing you should try is to disable iCloud Photos. Here's how to do that:
Step 1: Open the Settings on your device and then tap on your Apple ID.
Step 2: Go to iCloud > Photos and toggle the iCloud Photos switch off.
Now you can go ahead and remove the photos from your iPhone. But please note that this method is only applicable if you want to separate the two photo libraries for good. If you re-enable the iCloud Photos on your iPhone, the photos you've deleted from the device will also be deleted from iCloud as well.
Way 2: Sign Out of iCloud then Delete Photos
Another way you can delete the photos from your iPhone while keeping them in iCloud is to simply signing out of iCloud account and then deleting the photos from the device. This should keep the photos in iCloud while removing them from iPhone. Just follow the steps below:
Step 1: Go to Settings on your iPhone and then click on your Apple ID.
Step 2: Scroll down to find "Sign Out" and tap on it to sign out of your iCloud account.
Step 3: In the popup that appears, confirm that you would like to sign out and turn off "Find my iPhone" if required.
Once you are signed out, open the Photos app on your iPhone and delete the photos you no longer want to store on the device.
Way 3: Log in with Another iCloud Account
If you have more than one iCloud account, you can log in with a second iCloud account and sync the photos with this new account. This way, after you delete the photos from the iPhone, the photos in the old iCloud account will remain unchanged. Here's how to log in with another iCloud account:
Step 1: Ensure that you have copied all your photos to your old iCloud account.
Step 2: Now follow the steps in Way 2 to sign out of the account and then log in with another iCloud account.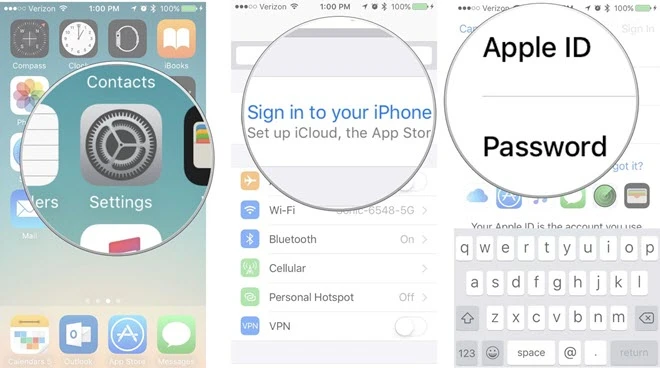 Once logged in, you can safely go to the Photos app and delete the photos you don't want to keep.
Way 4: Sync iPhone Photos to iCloud from Computer
If you would like to delete some of the photos on your iPhone without losing them completely, you can also export all the photos on the iPhone to your computer. This way, even when you delete the photo from the iPhone you can sync them to iCloud Drive from your computer to keep them safe.
Step 1: Begin by transferring all the photos on your iPhone to the computer.
Step 2: Now go to the Photos app on your device to delete the photos you don't want to keep on the device.
Step 3: On the computer, go to https://www.icloud.com/ to upload the photos to your iCloud account.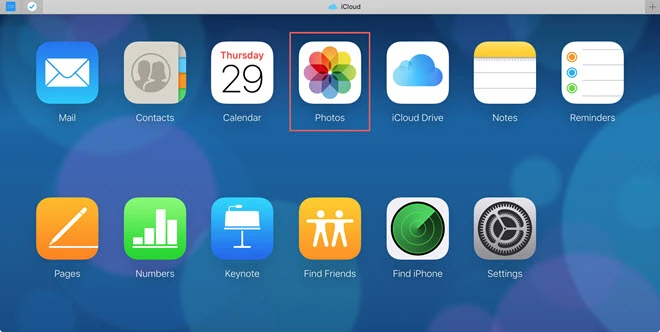 Way 5: Backup Up iPhone with iCloud Alternatives
The ideal of syncing iPhone photos to iCloud from computer is OK, but it is not s simple task to transfer photos from iPhone to PC or Mac. If you need to delete the photos on your iPhone just to free up some space on the device, then you might want to consider an alternative way to keep all photos safe. FoneGeek iOS Data Backup & Restore presents the most useful and viable way to back up all iPhone data including photos to your computer in a single click.
The following are just some of the features that make this tool the best solution:
You can transfer and backup photos from iPhone or iPad to your computer in one click.
You will also be able to backup videos, contacts, messages, WhatsApp, Messenger, Kik, Viber, notes, voic memos, Safari bookmarks, etc. on iPhone.
You're allowed to access and view the files in the backup in details, and thereby selectively restore any data from backup to your device as per your wish.
It is very easy to use, you can complete the whole and transfer process in a few simple clicks.
It supports all iPhone models and all versions of the iOS, including iOS 16/iPadOS 16 and iPhone 14/13.
To create a complete backup of all the photos and data on your iPhone, follow these simple steps below:
Step 1: Download this iPhone Photo Backup tool on to your computer and then launch it after successful installation. From the options in the home screen, tap on "Backup & Restore" to begin.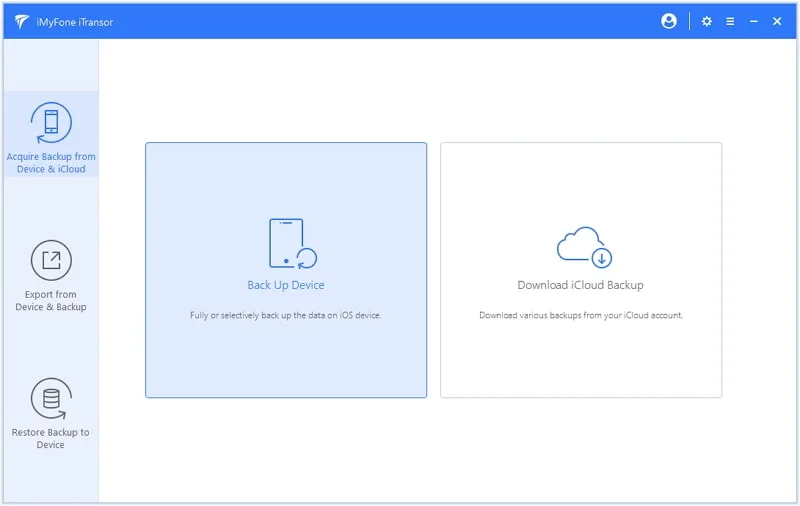 Step 2: Click on "Backup" and then plug your iPhone to the computer with USB cable and wait for the program to recognize the device. The software should detect the device automatically.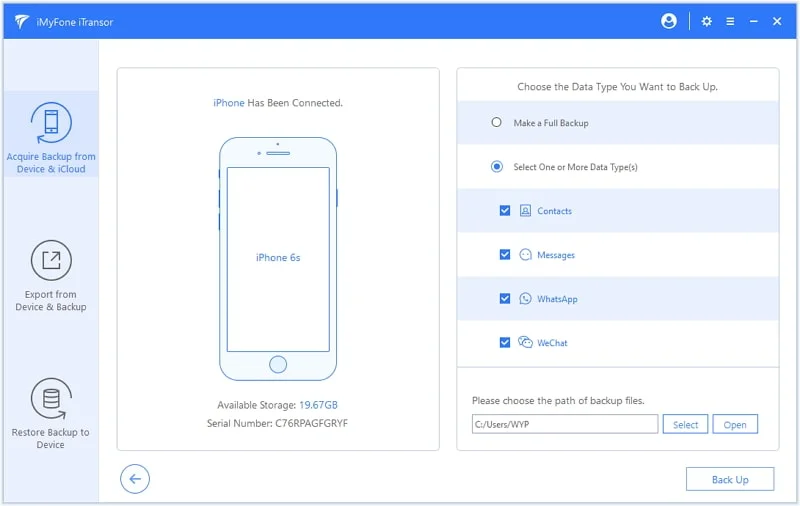 Step 3: Now select "Photos" and any other types of data you would like to transfer and then click on "Backup". Wait for the backup to complete and keep your device connected to the computer.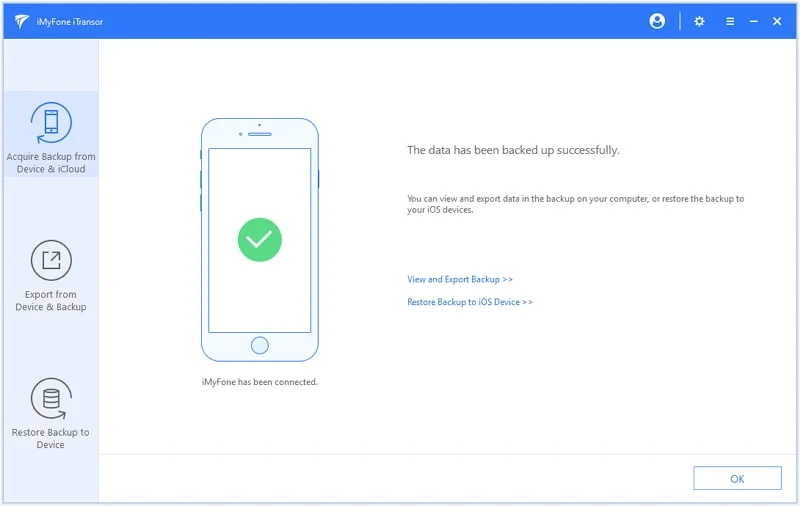 As you can see, the entire process takes just a few minutes. Once the backup is finished, you can view the photos and other backup file on your computer. After successfully backing up your photos to computer, you can freely delete any pictures on your iPhone.
By the way, if you mistakenly deleted important photos on your iPhone and there is no backup available, don't panic. You can rely on FoneGeek iPhone Data Recovery to get them back. This powerful tool can directly scan your device and help you recover deleted photos from iPhone/iPad without backup.