The Low Power mode is a very convenient feature that helps extend your iPhone's battery life, especially when it's pretty low and you need it to last until you are able to charge it. It does this by limiting most of your phone's background functionality like reducing the display brightness, system animations, app refresh, etc.
Many users were wondering if Low Power mode can increase an iPhone's charging speed. Does iPhone charge faster on Low Power mode? Well, that's what we're going to find out in this article. We carried out research and did some tests too, and we're going to share our findings herein and also look at several ways you can make your iPhone charge faster. So keep reading!
What is Low Power Mode on iPhone?
Now before jumping to the effect that Low Power mode has on iPhone charging speed, let's first understand what this mode actually does once it's activated. As the name suggests, your iPhone immediately enters into a low-power diet when you enable this mode in order to further extend the battery life.
To achieve this, Apple limits or disables many of the background functions/tasks running on your iPhone. For instance, it disables email syncing, AirDrop, iCloud photos syncing, 5G connectivity, background refresh, Siri, automatic downloads, and more. It also reduces the screen brightness as well as the system animations.
By limiting all these tasks, your iPhone's overall power consumption gets reduced significantly hence allowing the battery to last longer. Note though that the Low Power mode has little to do with the hardware. It's mainly a software-level implementation.
Does iPhone Charge Faster on Low Power Mode?
From the test we did on an iPhone 11 and the thorough research we carried out online, we found that the Low Power mode has no effect on iPhone's charging speed. And even if it does, the impact is so minimal that it's not even noticeable.
In our test, the iPhone 11 was a minute faster in charging from 20% battery power to 100% while on the Low Power mode. Of course, this was probably due to other factors and not the Low Power mode - it's worth noting that we had put the phone on Airplane mode during the charging test.
Therefore, we can conclude that an iPhone's charging speed doesn't increase on Low Power mode. From our test, we can equally conclude that the myth that iPhones tend to charge slower on Low Power mode is not true. The mode only limits background tasks and can slightly reduce the CPU strain such that more power can go to the battery.
There won't be a difference even if you charge your iPhone using the slow standard 5W Apple charger. The mode just affects other things that influence the battery life such as screen brightness, iCloud photos syncing, and 5G connectivity while the iPhone is discharging.
How to Charge Your iPhone Faster?
Battery-saving techniques such as turning your device off, enabling the Airplane mode, avoiding using the phone when charging and more can help your iPhone charge faster.
Avoid Using Your iPhone While Charging
Leave your iPhone alone while it's charging. Don't browse, visit social media, or check emails. Just avoid using it completely. Doing so will help quicken the charging process hence increasing the charging speed.
This is equally crucial when it comes to safety as using the phone while it charges can cause the battery to explode. Besides that, it causes the charger to work harder in order to fully charge your phone.
Switch Off Your iPhone
Switching off your phone prior to charging is another method that can make it charge quickly because your phone will remain idle during the charging hence not wasting energy. As such, all the power gets concentrated on increasing the battery charge level which results in faster charging than when the phone is on.
Enable the Airplane/Flight Mode
This power-saving option is also able to increase your phone's charging speed. When you have this mode turned on, your phone will consume much less energy since most of its operation will get halted. Thus, it will charge quickly because it will concentrate only on charging. It will take a bit longer though compared to when you have the phone turned off.
Use A Fast Charger
While the 3.5-volt chargers are the most common, we would recommend investing in 5.0-volts adapters simply because they are high-power fast-charging chargers that can reduce your charging time. These adapters are able to charge phones faster than many normal chargers.
Use A Wall Outlet Instead Of A USB Port
It's easy and convenient to charge your phone via a USB port as you work on your computer. However, this method isn't the most ideal since your phone may take much longer to fully charge as not much electrical voltage gets dissipated through the USB port. However, a wall charger dissipates higher electrical voltage hence connecting your phone directly to it will no doubt increase the charging speed.
What To Do When Your iPhone Won't Charge?
There are times when an iPhone may fail to charge or even to come up when you turn it on. This could happen due to several reasons and the most common one is software issues which is what we will focus on here. If a phone has software issues, it's very likely to start malfunctioning. It may not come up when you power it on, it may freeze, etc. While these problems might be overwhelming, the FoneGeek iOS System Recovery software offers the best solution.
This powerful, all-in-one iOS repair tool provides multiple useful services. It can effectively fix the iPhone won't charge issue and many other problems such as stuck screen problems, update issues, and more. Most importantly, it doesn't erase any of your data while fixing your device. Moreover, the program features a user-friendly interface that makes it easy for even amateurs to operate.
Steps on how to fix iPhone won't charge without data loss:
Download the iOS System Recovery software from FoneGeek official website. Install it on your computer, then launch it. You'll see a new interface on the screen with two options: Advanced Mode and Standard Mode. Select the Standard Mode.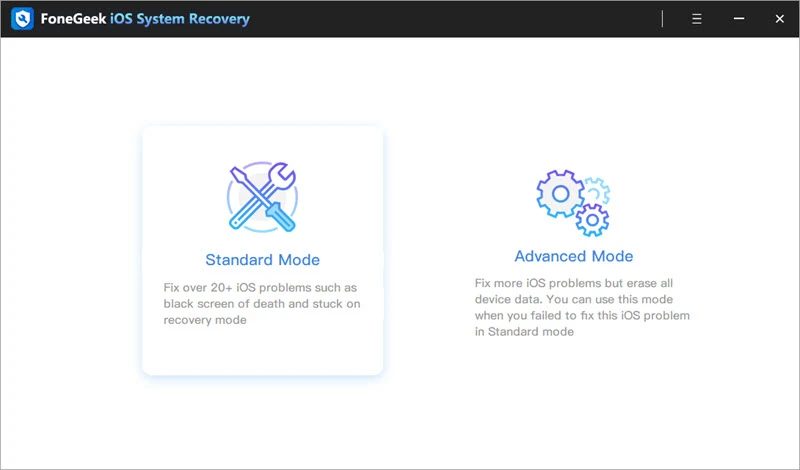 Now use a lightning cord to connect the iPhone to the computer. Allow the software to identify the phone. When it detects the device, click on Next to begin the repair procedure.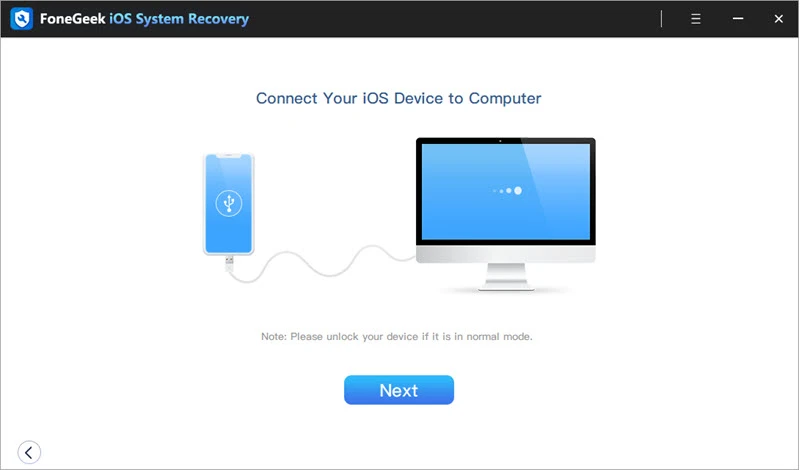 A new interface will pop up. You'll see the firmware package that matches your iPhone model ( which you have to download). So, click the Download button to continue.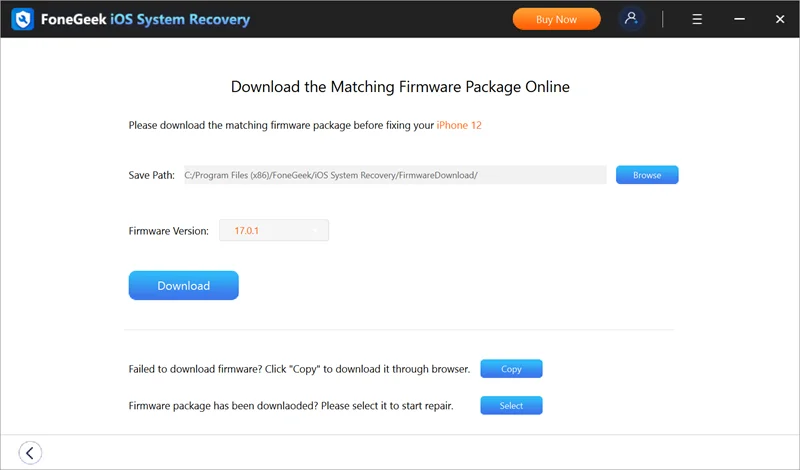 After the firmware download is done, simply click Fix Now and the software will instantly start fixing your iPhone. When it's done repairing the iPhone won't charge issue, the program will let you know and from there, your iPhone will restart itself.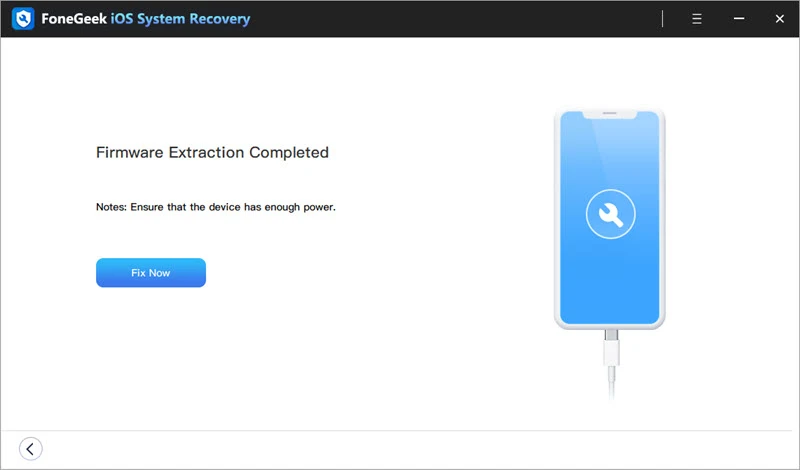 The Bottom Line
Now you know that iPhone doesn't really charge faster when in Low Power mode and it doesn't charge slower in the same mode either. However, as we've mentioned above, there are techniques that can actually help speed up your iPhone charging and we've shared some of them above. So, give them a try to see if your phone's charging speed will improve.
In case your phone won't charge for whatever reason, don't worry. Just use the FoneGeek iOS System Recovery software. This powerful tool will completely eliminate the issue causing your iPhone not to charge plus other iOS software issues (over 200) that your iPhone may be facing. Its interface is very simple such that it doesn't need any expertise to operate. So, download it and try it out!