Are you tired of the default background on your iPhone's iMessage app? You are not alone. Many iPhone users find this standard white background very dull. Unfortunately, iOS doesn't allow you to change the background of the native app easily. However, it is still possible to get rid of this boring background and replace it with something you will love. Keep reading to find out how to change your iMessage Background.
Part 1. Change iMessage Background on iPhone (No Need to Jailbreak)
As mentioned earlier, there is no way to directly change the iMessage background on iPhone. You will require a 3rd party program is required to do so. Below, we will show you how to do this with the "Color Text Messages" app, available in the App Store.
At first, open the App Store from your iPhone and click on the search option from the bottom-right of the screen.
In the search bar, enter color text messages and find Search.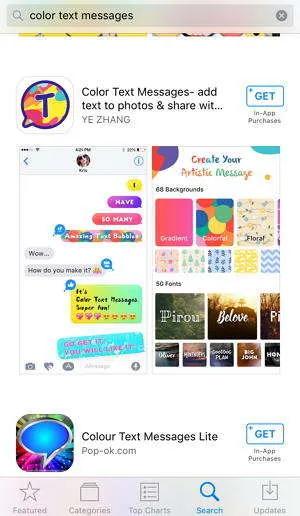 There should be many apps in the search result that lets you customize the background, colors of text, etc., within the iMessage apps.
Choose an app (preferably the one with the most reviews) and install it.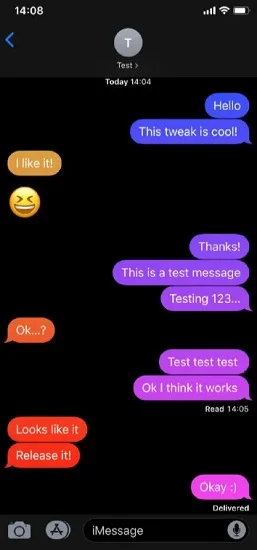 That's it. Now you should be able to customize your iMessage background as you prefer.
Part 2. Change iMessage Background on Jailbroken iPhone
Jailbreaking iPhone enables you to customize the device the way you want. However, it's important to note that jailbreaking the iPhone voids Apple's Terms, which means you will no longer receive the warranty coverage.
Once you are done jailbreaking your iPhone, you can use Cydia to download the programs to change the background image of iMessage. In case you don't know, Cydia is a package manager application enabling you to find and install preferred software on iOS devices.
Most popular iOS jailbreaking tools add the Cydia program atomically during the process. Here are the steps you need to pursue to deal with changing the wallpaper of iMessage after jailbreaking.
Open the Cydia app icon from your iPhone's app menu and click on Search.
Enter SMS/Desktop Background.
Now choose a background and press Install > Confirm > Settings > Wallpaper.
Choose Camera Roll and then pick the image you desire to put as background for the iMessage app.
Click the SMS option to set the wallpaper as the background. That's it, done!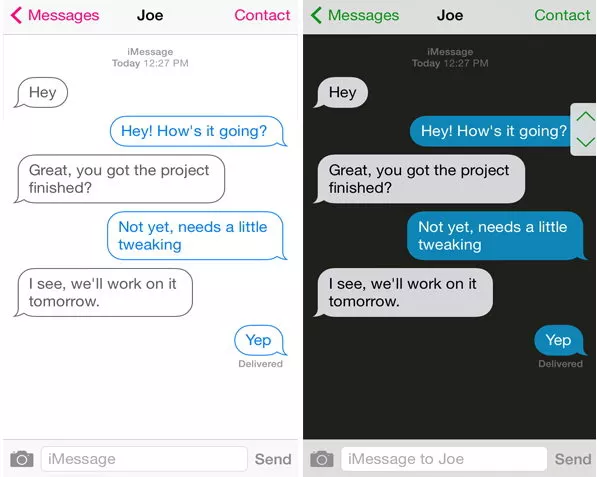 Part 3. How Can I Change the Color of iMessage Text Bubbles?
You have to use a third-party app if you want to change the color of iMessage Text bubbles. There are many apps available on App Store to do, but we recommend the "Color Text Bubbles." Here are the steps to use it:
Open App Store and search for Color Text Bubbles.
Press Install and open the app.
Now open iMessage and start a new chat.
From the top of the keyboard, choose Color in the Menu.
Select Type Custom Message and then enter a text in the bubble on the screen.
Select the preferred color. That's it; done!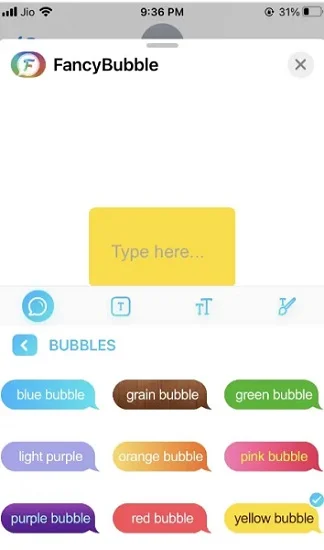 Part 4. How to Add Screen Effects to My iPhone's Messages App?
Fortunately, you can add screen effects to your text messages directly from the messaging app on your iPhone. There are a few effects available such as fireworks, bubbles, lasers, shooting stars, etc. Here is how you can add these screen effects:
Start the iPhone's message app.
Find the preferred format and start a new chat.
Enter your message.
Now long-press Send to get the choose an effect.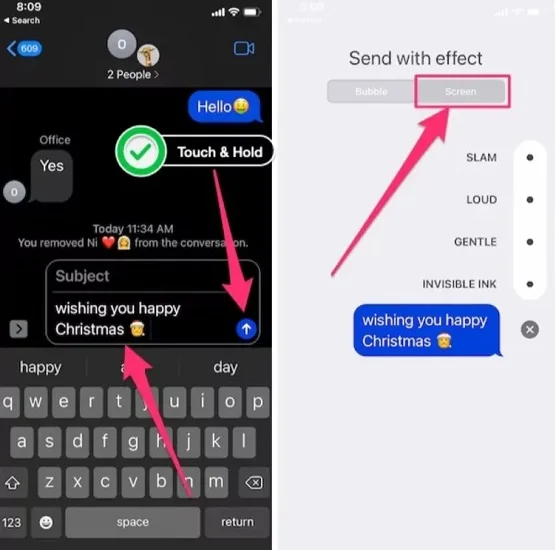 Part 5. Bonus Tip for Retrieving Removed Text Messages/iMessage from iPhone
The text messages/iMessage on your iPhone often include a lot of loved memories. If you mistakenly deleted your messages or iMessages, now you can get them back with FoneGeek iPhone Data Recovery. The robust recovery tool enables you to quickly retrieve more than 18 types of data from your iPhone, including images, messages, and so on.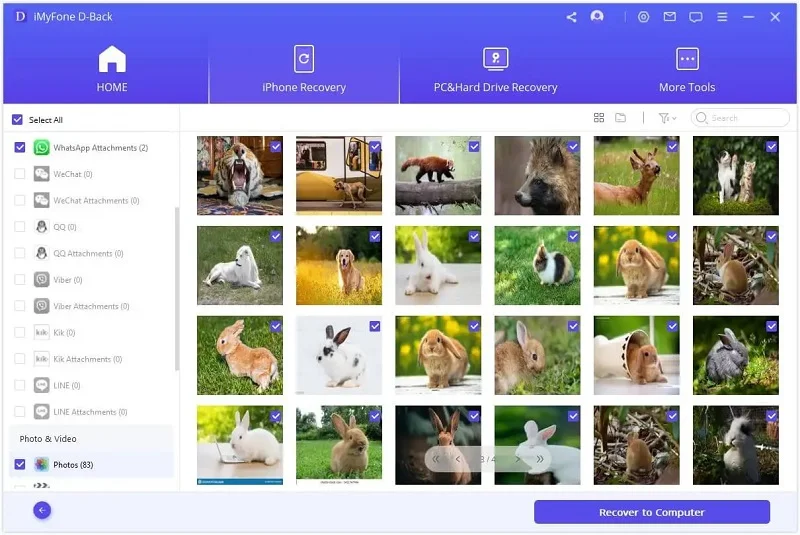 Part 6. FAQs about Changing Message/iMessage Background on iPhone
Here are some of the common questions that may occur in your mind while changing the iMessage/Message background on iPhone:
How to add bubble effects to iMessage/Message?
You can replace the default blue bubble while sending your iMessage with various bubble effects such as loud, gentle, invisible, slam, etc. Here is how to do that:
Add the message you desire to send.
Press and hold the Send button.
Select the preferred effect.
Tap Send to send the message with effect.
How can I add screen effects to iMessage/Message?
You can also add various screen effects, such as balloons, fireworks, lasers, shooting stars, etc. while sending a message following the below steps:
Add the message you desire to send.
Press and hold the send button until the effect tab occurs.
From the top of the display, select Screen.
Browse the selection of screen effects by swiping right to left.
Choose the preferred screen effect and click Send.
If you want to make your messages more visually appealing, the screen or bubble effects are a great way to do it without jailbreaking your device.
Why iMessages in my iPhone Green Instead of Blue?
Your messages could be green instead of blue if they were sent through SMS/MMS instead of iMessage. It may occur because of:
The receiver of the message didn't use an Apple device.
It can also occur if the iMessage is turned off on your or the recipient's device. Here is how to check it: open Settings> Messages. Then go to iMessage and check if the toggle is on or off beside iMessage.
iMessage is unavailable on your or the recipient's device because of an unknown reason.
Conclusion
So, if you are tired of the dull background on the iMessage app, you can consider the above techniques to customize it and make it more appealing. We have discussed various ways to modify the background with/without jailbreaking the device. So go ahead and try them out. Also, be sure to check out FoneGeek iPhone Data Recovery if you ever need to retrieve deleted data from your device.