iMessage is more than just an advanced messaging app. Besides texting, you can play various games on it with friends such as pool, golf, air hockey, darts, and so on. What's even better is that downloading these iMessage games and playing them on your iPhone is nowhere near rocket science. That's why we share this guide. Below, you'll learn exactly how to play iMessage games, including how to download them. Let's dive in.
What Are iMessage Games?
iMessage games are apps or games that are available on iMessage app. You can download them from the iMessage App Store and play with friends or any other iPhone user right on the iMessage app. The games are just like those commonly found on phones. The only difference is that they are developed specifically for use on iMessage app. Moreover, these games are available in different genres to cater to everyone. So, it's easy to find a game that will suit you. Some of the popular options include:
Trivia Crack
Words with Friends
QuizUp
8 Ball Pool
Draw Something
Game Pigeon
Heads up!
How to Play iMessage Games
After the brief introduction about what iMessage games are, it's time to know exactly how to play games on iMessages.
Phase 1. Enable iMessage First
iMessage must be enabled on your iPhone first to play any game. You also need to message the person you want to play the game with, which means they must use iMessage app on their phone. Follow these steps to enable iMessage.
Go to your iPhone's Settings app and open it.
Navigate down to the Message option and tap it to go to the next screen.
You'll see a toggle next to iMessage. Tap the toggle to the On position.
With the toggle on the On position, iMessage is now enabled on your iPhone.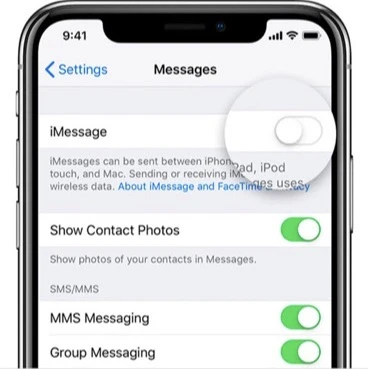 Phase 2. Download the iMessage Games
After enabling iMessage, launch the Messages app. You'll see a keyboard with a bar that contains several downloaded apps. The bar should be right above the keyboard. If it's not there, go to the gray App Store icon that's beside the text input field and tap it to enable the bar.
When the bar shows up, go to the blue App Store icon (letter "A") and tap it to access the iMessage App Store. In the iMessage App Store, you'll see all available apps as well as plenty of Emoji packs and iMessage games that you can download. Scroll through the list of games to see if you'll find a game you fancy. If you find one, simply go to the "Get" icon beside the game and tap it to download the game.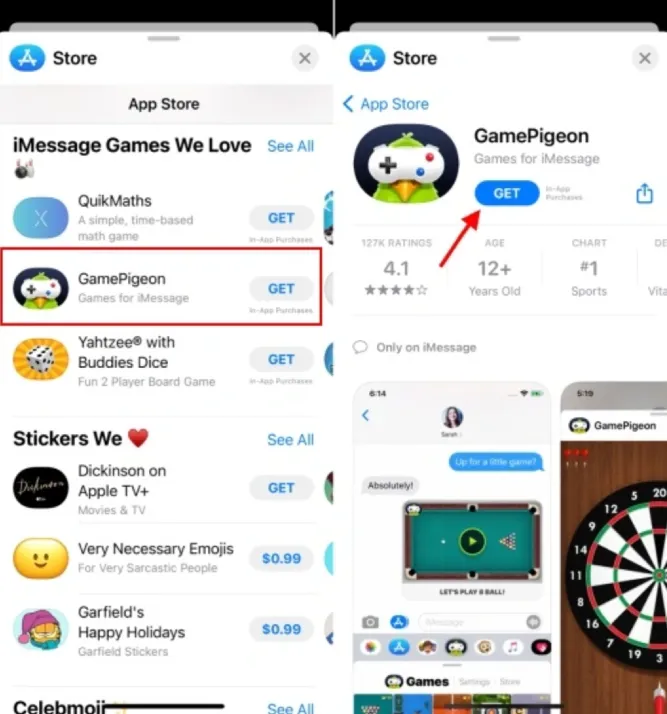 Phase 3. Start the iMessage Game
Your new iMessage game will show up in the bar that's above the keyboard once you open the Messages app. From there, you can start the game by simply tapping on its icon and then the friend you intend to play with will get notified right away. If they already have the game on their iPhone, the game will start - if they don't, they'll have to download it first.
Note: iMessage games are only played between iPhone/iPad users that use the iMessage app. Moreover, your text messages must be blue before you ask your friend to play a game - that will show that you communicate through iMessage. Check the text bar as well to see if it shows iMessage or Text Message.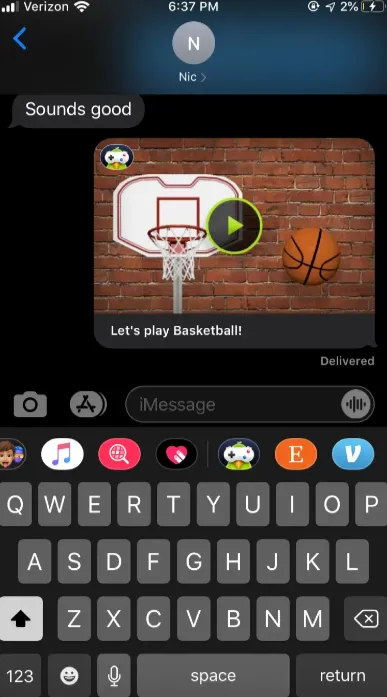 Is It Possible to Play iMessage Games on Android Phone?
Well, considering that iMessages are only designed for Apple devices, playing iMessage games on Android is basically impossible. The messages sent and received by the devices are specifically end-to-end encrypted in the iMessage app and only Apple devices can decrypt them.
The option you have in case you really want to play iMessage games on an Android device is to use weMessage. This advanced app integrates iMessage's cloud messaging function with Android smartphones hence giving users access to almost all the iMessage features.
However, for Android device to play any iMessage game it must have certain things and one of them is weMessage. When you have weMessage downloaded on your phone, the other things you should take care of are:
Have an Apple ID for accessing the iMessage app.
A Mac that runs macOS 10.10 or a newer version.
Your mac will require Java 7 or a newer version installed on it.
Have an Android smartphone that runs Android OS 5.0 or a later version.
The macOS will enable you to play your favorite iMessage game on an Android device. The iMessages on the Android device will get passed to the Apple device through two phases. In the first phase, the messages will be received by the weMessage server. From there, weMessage's server will send the messages to iMessage, which will then send them to the macOS and your Android device.

Note
Apple will use its security system to encrypt all the messages that the weMessage app will send.
Steps on how to play iMessage games on Android device through the weMessage app.
Get Java SE Development Kit
Go to Oracle's official website where you can download the latest Java SE Development Kit for your Mac OS. After installing it, change its System Preferences so that your server can have access to terminal rights for it to exchange messages between Mac and your Android device.
Get weMessage app
Install the weMessage app on your Android smartphone. You can do so from Google Play.
Get the weServer Zip File
Download and install weServer zip file that's compatible with the operating system of your Mac. Visit wemessageapp.com to download the zip file. After you've downloaded it, search for the run.command file in the weServer zip folder and extract it. Now double-click on the icon to open weServer.
Connect weMessage to iMessage
The next step is to connect iMessage to the weMessage app. Just open weMessage and type in your primary iMessage email to get the two apps connected. Select a strong password to ensure better security.
Enter Contacts into the weMessage App
With the weMessage app installed on the Android device, what you need to do now is to add your friends' contact info into the app.
Get weMessage Connected with Your Mac
Go to your smartphone and open the weMessage app. Once launched, tap Continue and then let the app access the iMessages. Next to weMessage, you'll see an option "Allow modify system settings" - tap the toggle beside the option to the On position (green) to activate it.
With that done, it's time to get weMessage linked with your device. If the weMessage server is already available on Mac, and both the Mac and Android device have connected to the same internet network, your Android device's weMessage app should automatically connect to the Mac.
Manually Enter Mac IP Address in Android Device
It's possible that your device may fail to connect automatically. If that's so, you'll need to have them connected manually by entering the IP address of Mac into your Android's weMessage app. You'll have to get the IP address first and you can do that by opening the System Preferences on your Mac. Choose your network, click on Advanced, and then TCP/IP. Here you'll see the IP address of the Mac which would be in the form of an IPv4 address.
Now that you've got the Mac's IP address, enter it together with your credentials in the Android device's weMessage app and select Sign In to link both devices. After signing in, the conversation screen will open in the app where you can send and receive messages, audio, videos, and so on, to and from the Android device to iMessage.

Note
Your macOS and Android device can only connect through the weMessage app and when both devices have joined one wireless/internet network.
Conclusion
With this detailed guide, you may know how to play games on iMessage. iMessage games generally provide a great way to add fun to your experience. If keeping text conversations is becoming hard, you can just switch to playing iMessage games with your friends and still stay in touch while having lots of fun.