Facebook is a social networking service platform to send text messages, pictures, videos, documents, textures, and audio messages to other users. When using Facebook, you will watch many interesting or meaningful videos and wish to save them on your iPhone. After downloading the videos to iPhone, you can watch them later at anywhere you want without network connection.
However, download button is not provided on Facebook app. Even though it is not easy to save video from facebook to iPhone directly, there are still ways to download facebook video to iPhone. This article will offer various tips and tricks for you.
1. How to Save Video from Facebook to iPhone with MyMedia
Apple launched a free app called MyMedia on iOS 12, which makes it easy to save videos from facebook to iPhone with one click.
Step 1. Open the App Store and search [MyMedia] to download and install this app.
Step 2. Launch the Facebook app and select the video you want to download. You will see the "Share" option while playing the video. Click on this option and select the 'Copy Link' in the menu that appears to allow you to share the video.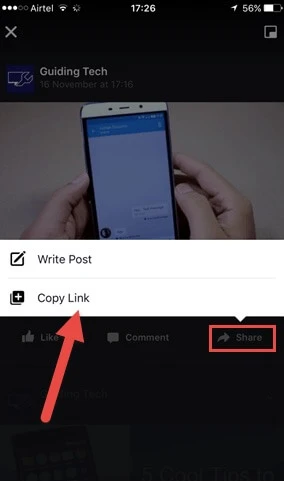 Step 3. Start MyMedia App and visit the "http://en.savefrom.net/" page. Then paste the facebook video link into the "Enter the URL" field, and click the button on the right to decode the video.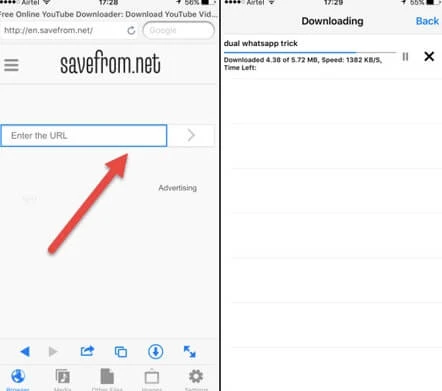 You can choose to download the video as HD or SD format. (Note: If the page cannot be found, copy the alternative link of http://www.downfacebook.com/).
Step 4. After clicking on "Download the file", a window will pop up for you to name the video. Once the video is downloaded, you will be able to find the downloaded video in "Media".
Step 5. Now you can watch the downloaded facebook video through MyMedia or save it Camera Roll.
2. Download Videos from Facebook to iPhone via Workflow
Workflow app is not free for users. It is a God-level automated process application for the iOS devices. Workflow is just like a 'factory'. There are a variety of tasks in this factory, such as getting clipboard content, or opening an app, playing songs, downloading facebook videos to iPhone and more. The following easy steps will guide you how to save video from facebook to iPhone.
Step 1. Open the App Store on your iPhone to get Workflow installed.
Step 2. A list of Workflow orders will be displayed on the main interface. Install one of them to download Facebook videos.
Step 3. Open the site of https://workflow.is/workflows/634aa8c77ff34349a83f1455fff88c7a and click on 'Get Workflow' to initial the setup process.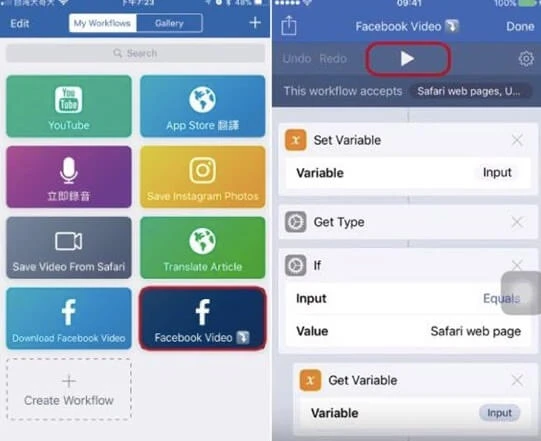 When this application is installed and set up on the device, you can save facebook video to iPhone by following these steps:
Step 1. After opening the Facebook app and locating the video you need to download, click on 'Share' and copy the video link.
Step 2. Click on the Workflow order after running the Workflow app and the Facebook video downloading process will start executing.
Step 3. After downloading the video, you need to select a third-party app to open it or click "Save Video" to save the video.
3. Save Video from Facebook to iPhone to Watch Later
And sometimes you just wonder how to save video from Facebook to iPhone to watch later. Indeed, it is pretty simple for to save it for later viewing without installing any apps. Yet, the Facebook video will not be downloaded on your iPhone. It is just saved on the Facebook profile.
Step 1. Click the Facebook app to open it on your iPhone. Then open the video that you need to save and play the video.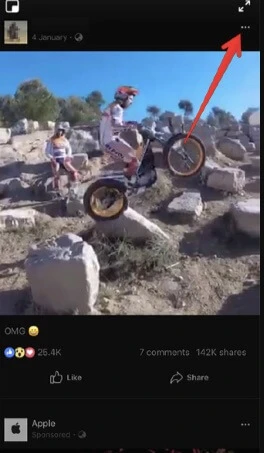 Step 2. Then click on the Settings tab at the top right corner of the screen and select 'Save Video'.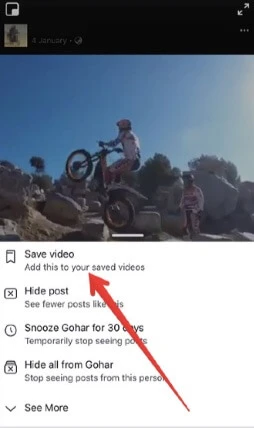 Your Facebook video will saved on the profile to watch later. If you need to watch the saved video, click on 'More' > 'Saved' button to check all the saved posts or videos.
Tip for You: Recover Lost Data from iPhone
If you happened to lose videos or other data from your iPhone/iPad, you can get these data back with a trusted 3rd-party software called iPhone Data Recovery.
You must have known how simple it is to save video from facebook to iPhone. Like we said above, you can view the downloaded facebook video offline wherever and whenever. You can also share other solutions in the comment below if necessary.