The iPhone blocking feature is quite helpful in stopping frequent calls and messages from spam numbers. It also comes in handy when you want to stop someone you probably know from calling or messaging you. However, sometimes, you may block a number but you're unsure if it's blocked successfully, or accidentally block a number that you never intended to block at all.
What do you do in such situations? You need to confirm if that's the case first, which means checking your iPhone blocked number list. How do you do that? That's where we come in. Below, we'll show you how to check blocked numbers on iPhone in four easy ways, and if there's a number you want to unblock, we'll show you exactly how to do that, too. So, let's get into it.
1. See Blocked Numbers on iPhone via Settings
You can check blocked numbers on your iPhone directly from the Settings app. You just navigate the Phone menu from the Settings page and view your list of blocked numbers. It's the easiest way. Just follow these steps:
Open the Settings app on your iPhone.
Find the Phone option (scroll down) and tap it to proceed.
Tap the Blocked Contacts option from the menu list.
A list of all blocked contacts on your iPhone will show up. That's how to see blocked numbers on iPhone.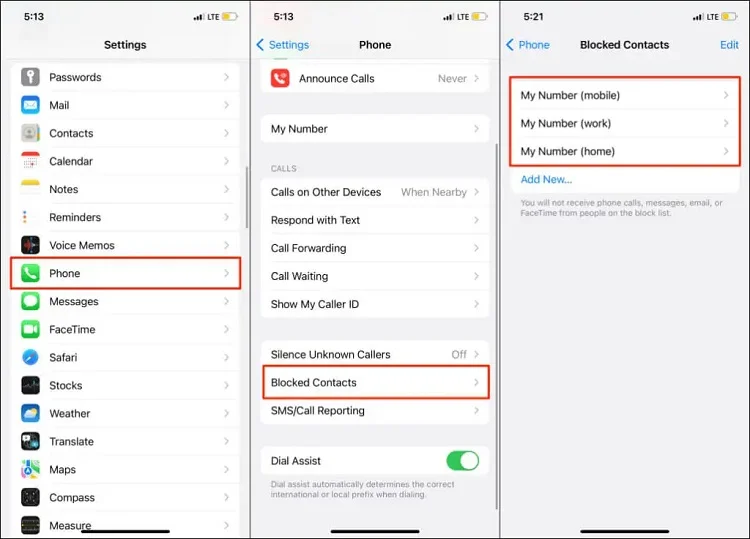 Now, if there's a contact you want unblocked, just tap the red circle next to the number or name and then tap Unblock to get the contact out of the Blocked Contact list.
2. Find Blocked Contacts on iPhone in Messages
Getting promotional messages from spammers now and then can become annoying sometimes. The only way to put an end to them is to block them completely in Messages. If you've done so, here's how to check blocked numbers on your iPhone through Messages.
Go to Settings and open the Messages menu.
Tap the Blocked Contacts option from the menu.
You'll see the list of numbers and emails blocked from sending you iMessages or texts.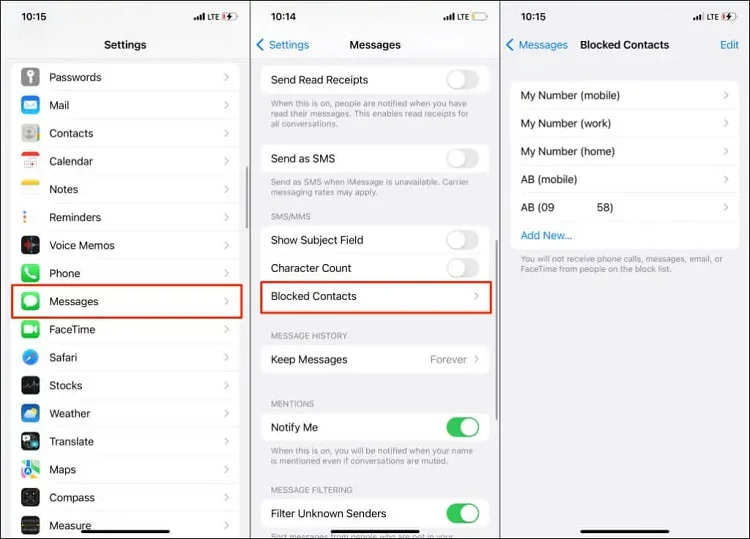 If there's a number on the list that you want it to text you, you can unblock it by tapping the Edit option and then tapping the minus sign that's beside that number.
3. Check iPhone Blocked Numbers through FaceTime
When you block a contact, all communication from it, including calls, messages, and FaceTime, gets blocked. At times, though, that person may have another FaceTime ID different from their phone number. If it's so, the blocked number will show up under FaceTime settings, where you can check it using these steps:
Get to Settings on your iPhone.
Open the FaceTime menu and tap Blocked Contacts.
You'll see contacts you've blocked and can't FaceTime you.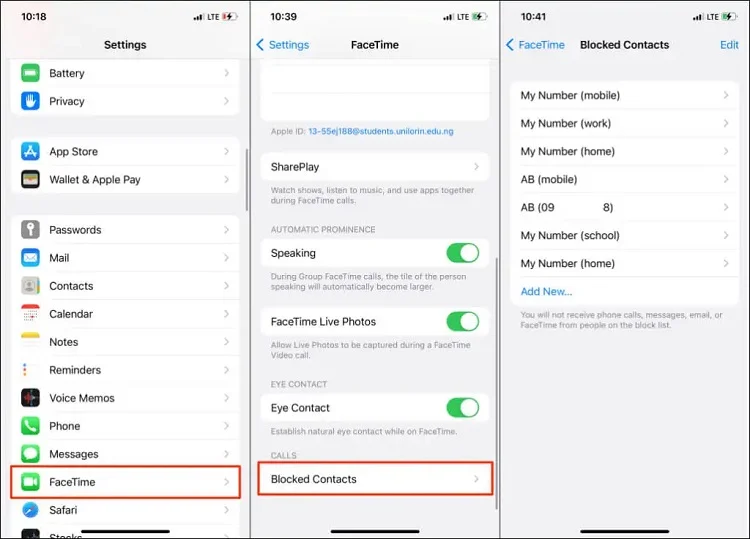 There's a number or email that I want to FaceTime me. What should I do? Tap the Edit option and then tap the red minus icon beside the contact.
4. View Blocked Contacts on iPhone via the Mail App
The Mail app is another place to access the iPhone blocked numbers list. So, if you blocked some people on mail over the years, you can check them by following these steps:
Launch your iPhone's Settings. Open the Mail tab.
Go to the Blocked option and tap it.
Check the list of all mail contacts and numbers you blocked.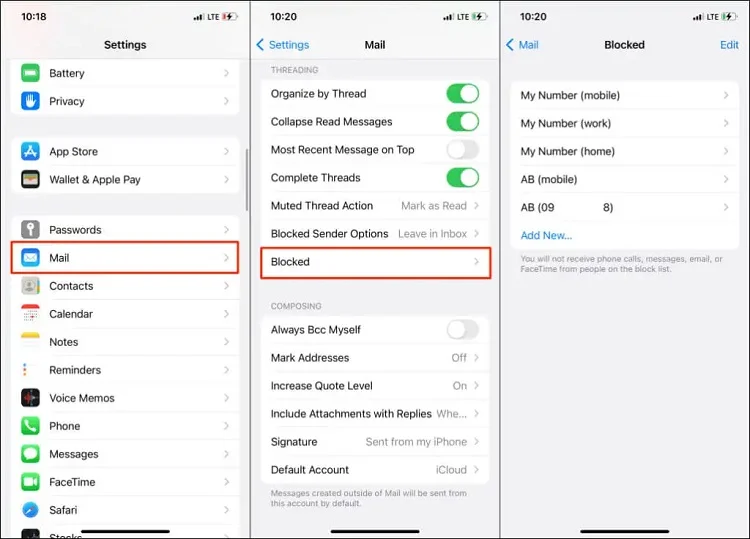 Note: You can remove any contact from the list. Just tap the Edit option and the red minus icon beside the contact.
How to Unblock a Number on Your iPhone or iPad
Now that you've checked your iPhone blocked number list, there could be a specific number that you would want to unblock. Probably you want to receive calls, messages or emails from it, or even FaceTime calls. If that's the case, follow these steps to unblock the number:
Use any of the methods above to access your list of Blocked Contacts.
Tap Edit in the upper right corner of the list.
Go to the number you intend to unblock and tap the red icon beside it.
Tap the red Unblock icon. Now, you won't see the number on the Blocked Contact list anymore.
You can unblock other numbers if you want. Then tap on Done to finish.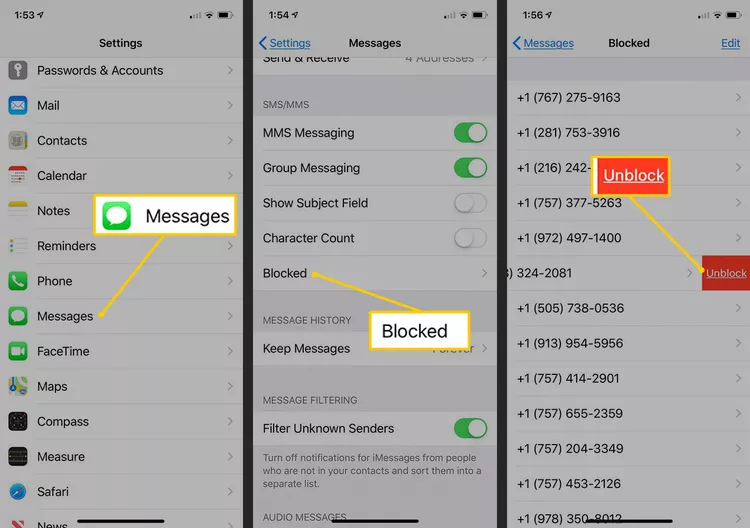 FAQs
Can I know when someone blocks my number on iPhone?
Yes, you can, but only if you ask them directly. That can be uncomfortable to do, though. If it is, you can "tell" if you're blocked if you hear a single ring and then the call enters voicemail. Still, that may not mean you're blocked. The person is likely on another call, or the phone has Do Not Disturb mode enabled.
Do I need to save a number to my contacts to block it?
No. Just go to the call log or message and tap the "i" icon. Navigate to the Block option and tap it. That's it! With this method, you can block any phone number that calls or texts you.
What happens when I block a contact on my iPhone?
With the contact blocked, you won't get any communications from it. Calls or messages from it won't show up at all. Moreover, the person you blocked won't know that you have blocked them. When they call your phone number, their call will be entered into voicemail right away.
Can I see texts from the contacts that I blocked on my iPhone?
No, you won't be able to see texts or messages from contacts you've blocked on your iPhone. Blocking a contact prevents their messages from appearing in your inbox, and they won't receive read receipts for their messages either.
Can the contact know when I block them on my iPhone?
When you block a contact on your iPhone, they won't receive any notification that they've been blocked. However, they may eventually realize they are blocked if they consistently can't reach you through calls, texts, or FaceTime, and their messages do not show as delivered or read.
Conclusion
As shown above, you now know how to see blocked numbers on your iPhone. So, if there's someone you blocked without knowing, just check your iPhone blocked number list using any of the provided methods. Use them to check the list to see if there's a number you doubt was blocked.