Sharing is caring and TikTok has made good use of that phrase with its Repost feature that lets users re-share all kinds of videos with their followers. But, while sharing is good, sometimes you may repost a video and then want to remove it. Maybe you shared it by mistake or it had some problem you noted and no longer want the video reposted.
Regardless of the reason, you can undo a repost on TikTok quite easily and there are straightforward ways to do it which we've shared in this guide. We'll get to that soon but let's learn about this TikTok Repost feature first.
1. What Is TikTok Repost Button?
Unlike on the other social apps, you could not repost/share videos of other creators on TikTok. This was up until 2021. There was actually no official way to do so, anyway. What you could do was download the video you want and then re-upload it again on TikTok. That was the only way and it often resulted in copyright warnings.
All that changed in 2022, though. A new TikTok Repost feature was rolled out and users can now repost and share videos of other creators on TikTok without the fear of copyright infringement.
If you've used this TikTok "Repost" button, you would agree that it almost looks like Twitter's "Retweet" button. It lets you re-share a TikTok video with your own followers and the original creator gets credited too. The reposted video ends up in the "For You" feeds of your friends, a slight difference from Twitter retweet, which usually ends up on your own profile.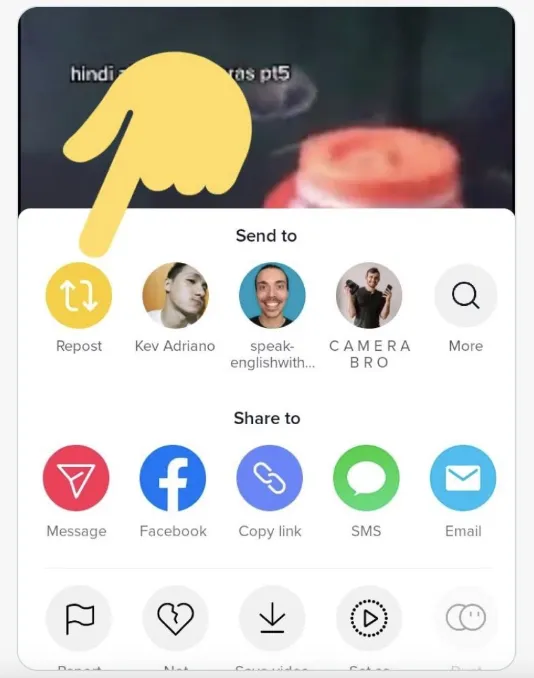 2. Why Undo a Repost on TikTok?
Despite plenty of interesting and relevant TikTok videos to repost and share, there are instances where you may repost something and then want to remove or undo it.
Probably you've decided you no longer want the video reposted.
It could also be that you got a copyright warning for not recognizing the original creator or giving them credit.
Another reason could be that you tapped the Repost icon by accident but you didn't intend to share the video.
Or maybe you were endorsing someone on TikTok but now you don't want to do so anymore hence you want to remove the Repost.
3. How to Undo a Repost on TikTok?
With the way TikTok's repost button is placed close to the other sharing options, it's easy to accidentally repost videos that you never intended to. So, how do you undo a repost on TikTok if you're ever in such a situation? Try these simple steps.
Way 1. Remove the Repost in the Video's Page
You may not be aware of this but it's easy to remove a repost on TikTok right from the video's page. You'll need to go to the specific video page to do this.
Tap the TikTok app. When it opens, get to the post you intend to delete by searching for the video. Alternatively, you can search for the exact username.
Go to the Share button you see on the reposted video and tap it again.
You should now see the Remove Repost option. Tap it if you've located it.
You'll see a pop-up right away requiring you to confirm your decision.
Go to the pop-up and tap the Remove option to do so.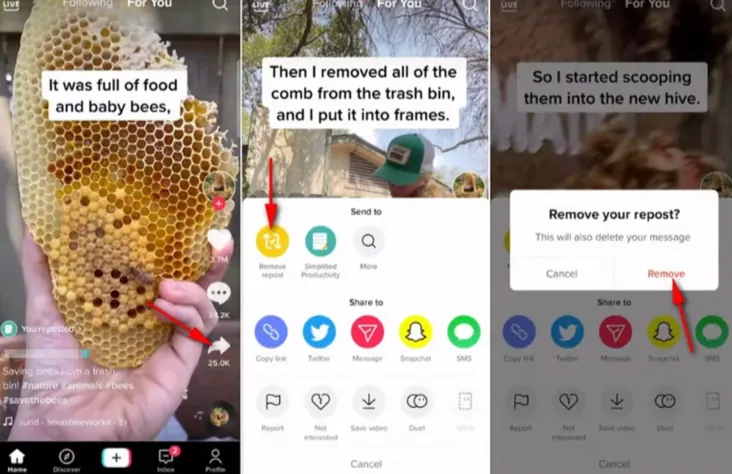 Way 2. Locate the Post in Your Watch History
Since reposted videos don't appear on the profile page, locating the one you want can be a problem. You can find it though in your watch history and delete it.
Select the Me icon on your TikTok.
From your profile page, tap the three dots you see in the upper-right corner.
Head to the Content & Display section and tap on Comment and watch history.
Select Watch history in the next menu.
Go through the history to locate your target video. If you find it, select the Share button and then tap the Remove Repost option to get rid of it.

Note
You can find a reposted video easily in the liked videos section (heart icon) on your profile - this only works for videos liked before the reposting. Now, use the same un-reposting steps to remove the video.
Way 3. Get Assistant from a TikTok Friend
Do you know a TikTok friend that has the video you reposted in their feed? Get in touch with them and have them message you the video. You'll find it easier to locate the video this way and undo the post, especially if the other two methods fail.
Generally, it shouldn't be much trouble to undo a repost on TikTok. Follow these steps and you'll have the video deleted fast and correct any unintended reposts and sharing. That's the flexibility and level of control over your content that TikTok offers, which is quite impressive.
4. Tips for Un-Reposting
As you've seen, you can undo a repost on TikTok using very simple steps. It's not smooth sailing all through, though - there are some potential issues that you may encounter. You can deal with them using these few tips & tricks.
Unable to Find Video: Are you having trouble finding a video you intend to un-repost? Maybe it's because of the many videos on your profile. How do you deal with it? Sort out the videos by date. Try also using the specific details of the video to search for it.
App Is Lagging: TikTok can sometimes just lag or freeze. When it does so, it becomes challenging to un-repost. To fix that, simply restart the app. You can try restarting your device too. Try also updating the TikTok app to a newer version if restarting doesn't help.
Getting Error Messages: If there are network issues or TikTok's servers are down, chances are you may get an error message as you try to un-repost. If that's so, ensure your internet connection is working fine and attempt un-reposting again after a while.
It's possible that nothing is wrong altogether. It can take a bit of time to update the profile and the feed when you undo a repost on TikTok. Therefore, just give it some time as you may not see any change once you refresh your page immediately after un-reposting a video.
5. Recover Videos Deleted from Your iPhone
I accidentally deleted an important video on my iPhone on more than one occasion and it was very frustrating if not stressful. So, I know how it feels when that happens, especially if you have no backup and you've no idea what to do. But, that's not the end of it all. FoneGeek iPhone Data Recovery offers a solution. If you've permanently deleted any video, this effective data recovery tool can help you reliably retrieve it without a backup.
Furthermore, you need no expertise to use it. Its user-friendly interface and straightforward steps make it so simple to recover your lost data. You don't have to retrieve everything either. You can choose to just view your deleted videos in the scanning stage and conveniently recover them. In short, this FoneGeek iPhone Data Recovery is highly recommended if you need an easy and effective way to recover deleted videos from any iPhone device.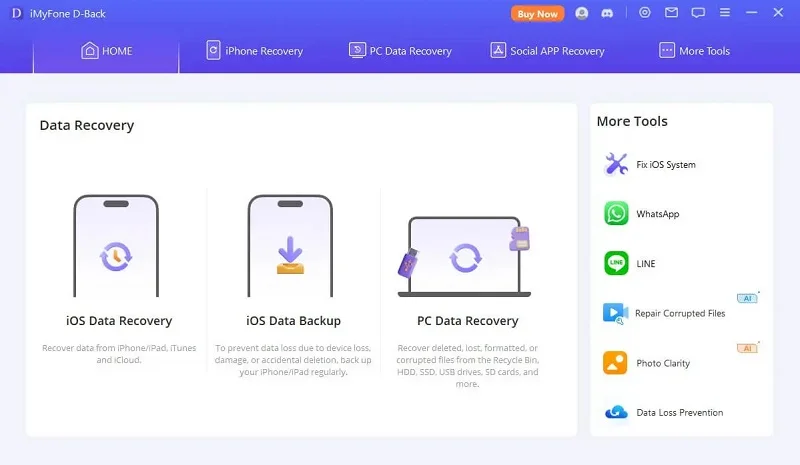 6. FAQs Regarding Undo a Repost on TikTok
Will the original video get affected if I delete the reposted video?
The original will remain the same once you delete a reposted video. So, nothing will change. Go to the creator's profile and you'll still see the original video. You'll find it too in the TikTok feed.
I want to keep the repost hidden rather than deleting it, is it possible?
Unfortunately, there's no option on TikTok that allows users to hide their reposted videos. If you want a reposted video out of your profile, then the only option is to delete it.
What about the likes and comments, do they remain after deleting the reposted video?
No, they don't remain. Once you remove any reposted video, all the interactions linked to it, including the likes and comments get lost too.
I shared the repost with my followers, can I still undo it?
Of course, you can. A reposted video is a totally different post compared to the original video post on TikTok. After you repost it and share it with followers, it's possible to undo it if you don't want it appearing on your profile. But, you'll have to manually delete it to get rid of it.
Does TikTok have a set deadline for deleting a reposted video?
No, there's no specific timeframe or deadline within which a user has to delete a reposted TikTok video. Once you repost it, you can delete it any time you want.
Conclusion
Allowing users to re-share interesting videos with their followers through the Repost button has really made TikTok more vibrant. The best part, however, is that you can undo a repost on TikTok too in case you never intended to share it. We've shared several methods above that can help you do that quickly and easily.
If you also happened to unintentionally delete crucial videos on your iPhone and you've no idea what to do, try FoneGeek iPhone Data Recovery we've recommended above. It's among the most reliable data recovery tools. It can easily retrieve lost videos and even other data from social apps. It's pretty easy to use too, so try it out.