You've bought a new iPhone but need clarification about how to transfer all of the data you'd want to retrieve from your old devices, such as photos, texts, contacts, and other data.
When we first get a new iPhone or iPad, we commonly make a few mistakes in the initial setup. However, whenever it happens, we wonder whether there is a method to revert to the iOS setup assistant on our device. We could not identify a solution that would have allowed us to do so.
But don't worry, since we've covered you in this blog. We will guide you on how to return to the iPhone's setup screen.
Part 1. What Is iOS Setup Assistant?
While setting up your phone, the iOS Setup Assistant will provide you with guidance at every step. Put that another way. You can activate new devices, delete old ones, modify basic settings, and personalize preferences such as language and ID.
Part 2. What Is the iOS Setup Assistant Capable of?
iOS Setup Assistant assists consumers in properly configuring their iPhone and transferring data from older devices to newer ones. The following is a list of everything that the iOS setup assistant can do for you:
Activating and Setting up iOS Device
It will make the process of setting up your iPhone simpler and easier for you. Users can configure their preferred language, location, type of password, pins, etc., in addition to other aspects necessary for a more positive and seamless experience.
Transferring Data and Applications
You may transfer data from an Android smartphone or an older iPhone device to your new iOS device using the iOS setup assistance. You may quickly move data to your new device, whether the media or the apps, by retrieving it from an iCloud backup or a local backup on your desktop or laptop.
When you want to move data from an older device to a newer one, you receive different options depending on whether you have an Android or an iPhone. If you select the "Don't Transfer Apps & Data" button, for any reason, by doing this, you will not be able to move any of your data or applications to the new device.
Advanced Networking Settings
The iOS setup assistant iPhone also allows you to configure your device's advanced and powerful network settings. During setting up your iPhone, you will be asked whether you want to use cellular data or connect to a Wi-Fi network. After pressing and holding the side button for two seconds, select 'Wi-Fi Settings' from the menu that appears.
You will then be able to access the options of the network that are accessible to you, allowing you to configure the network settings to your preference. You have several choices available to you, such as turning on BootP, configuring DNS, and setting up an HTTP proxy.
Part 3. How to Quickly Access iOS Setup Assistant
During the process of setting up a new iPhone, did you ignore most of the sections of the iOS setup assistant? Don't be anxious about it! The following guidelines will help you through accessing the iOS setup assistant so that you may customize your iPhone to suit your own needs.
Open Settings on your iPhone or iPad.
Select "General" and tap the "Reset" button.
Choose the option you are the most familiar with to factory reset your device. Selecting "Erase All Content and Settings" is the option we will recommend you go for.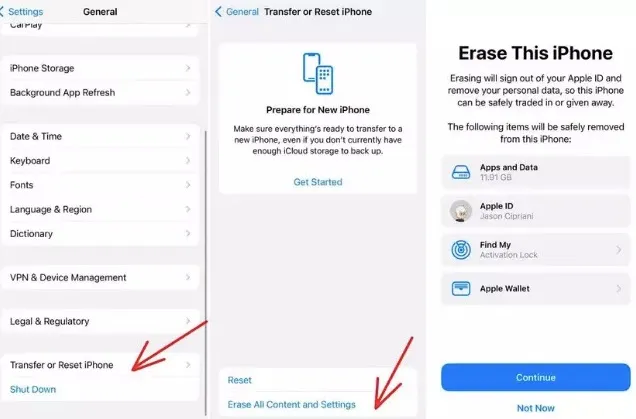 Click the 'Erase iPhone' button. To continue, you will need to input the password that you have set for your device.
Please be patient as the settings on your iPhone are restored. The quantity of data saved on your device will determine how long the procedure will take.
After it has been restarted, the screen for the iOS setup assistant will appear.
Users who are unsure where is iOS setup assistant is accessible on their devices might benefit from utilizing this strategy effectively.
Part 4. iOS Setup Assistant Helps to Move Data from Android to iPhone
Transferring data from one iPhone to another using the iOS setup assistant is very simple. You only need access to the internet and a recent backup stored on iCloud to proceed. The difficulty arises when moving your data from an Android handset to an iPhone.
This guide will walk you through the steps necessary to transfer your data from Android to iPhone successfully:
You may configure your iPhone by selecting the language and location you want to use, establishing a connection to Wi-Fi, and registering Face ID or any other device security option.
After you have entered your passcode and moved on to the next page, the iPhone will display a number of different settings under the Apps & Data screen. After that, select Move Data from Android from the options.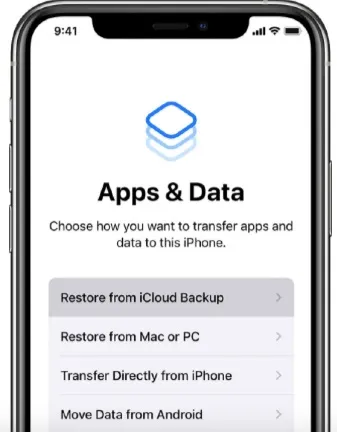 Move to iOS is an application that can be downloaded from the Google Play Store onto your Android handset. After the download is complete, select Continue, and then select Agree by tapping on agree.
After the download is complete, select Continue and Agree to agree. On your Android smartphone, ensure all permissions are allowed, and that location services are turned on.
Tap Continue on your iPhone and input the 6-digit passcode.
On your Android smartphone, you'll need to enter the 6-digit passcode same as on the iPhone.
Tap the connect button to connect the device. After that, choose the things you wish to transfer to your iPhone from your Android device, and then hit the Continue button. The transfer may take some time; we appreciate your patience.
After the transfer is finished, you may set up your iPhone by following the directions on-screen.
Data may be moved from Android to iPhone in the above ways using the iOS setup assistant: But! If upgrading from a previously-configured iPhone, you'll need to either erase the device clean and start again or manually transfer your data.