Updating your iPad makes it cool than before in different ways. However, you may realize it is stuck or fails to recover successfully. In this way, the device could be rendered useless.
Before you start getting worried, there are several ways to resolve the iPad stuck in recovery mode issue. In fact, you don't need to visit the nearest Apple store or pay a large sum of money.
In this article, you'll find very effective ways to fix iPad stuck in recovery mode without losing any data. Now let us find the exact solutions below.
1. Get iPad Out Of Recovery Mode via RecBoot
Designed to access and exit recovery mode, RecBoot is an increasingly popular software for iOS devices. With the tool, you can fix stuck iPad, iPhone, or iPod touch recovery mode. Interestingly, it doesn't require any special tech skills.
A step-by-step guide on how to use Recboot
Visit Softonic or CNET to download the software for free.
Install it on your Windows PC or Mac PC.
Connect your iPad to the computer using the USB cord.
Open the software and select "Exit Recovery Mode".
Wait for your iPad, iPhone, or iPod touch to reboot successfully.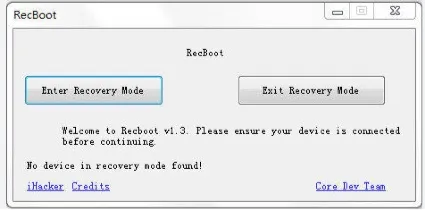 2. Turn off and Turn on iPad
This is also one of the easiest solutions for the iPad stuck in recovery mode issue. Here is what you can do to turn off and turn on your iPad:
For iPad with home button: Hold down the top button until the slider appears, then drag the slider.
For other models of iPad: Press and hold the top button and any volume button until the slider appears, then drag the top slider.
For all models: Go to Settings > General > Shut Down and drag the slider.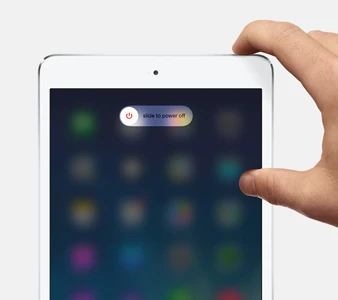 To turn on the iPad, press and hold the top button until the Apple logo appears.
3. Get iPad Stuck in Recovery Mode without Data Loss
Another easy to understand solution to resolve this problem is to restore the iPad system. Now, you might worry about data loss when it comes to restoring iPad system. Such fears are overblown. FoneGeek iOS System Recovery can get your iPad out of recovery mode by restoring the whole system without losing data. It has gained positive reviews from famous authorized sites.
Small as the tool is, it has unbelievable features to fix any iPhone or iPad issues without data loss.
Unlike iTunes, this program can easily get every issue fixed without any error.
It is very simple and easy to use without connecting the iPad to computer.
It supports all iPhone, iPad iPod touch models and al iOS versions, including the newest iPhone 14 and iOS 16 that have not bee released yet.
Now, are you ready to get iPad out of recovery mode without data loss using FoneGeek iOS System Recovery?
Step 1. After launching the repair toolkit on your laptop or pc, choose 'Standard Mode' from all the options on the main screen.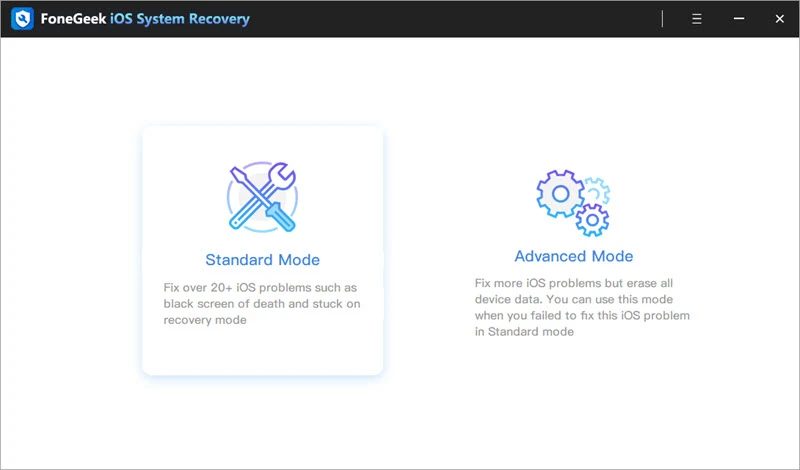 Step 2. If the iPad is detected, the firmware package that suites the iPad system will be displayed. If it it not the firmware you want to restore to the iPad, you can select any one you think is appropriate fro the drop-down box and click on 'Start'.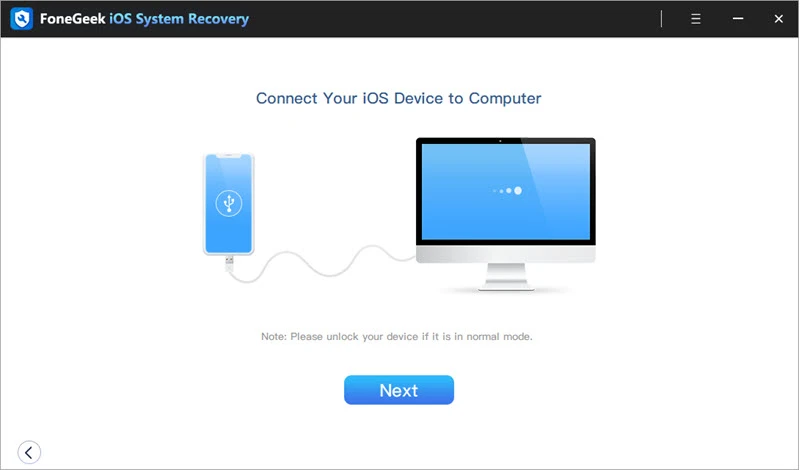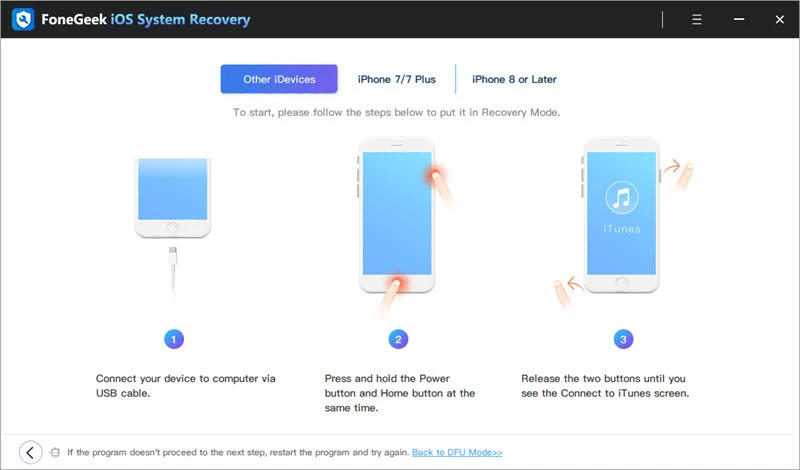 Step 3. Click on "Fix Now", the repair process will get started automatically. And the iPad get restarted as normal in only a few minutes.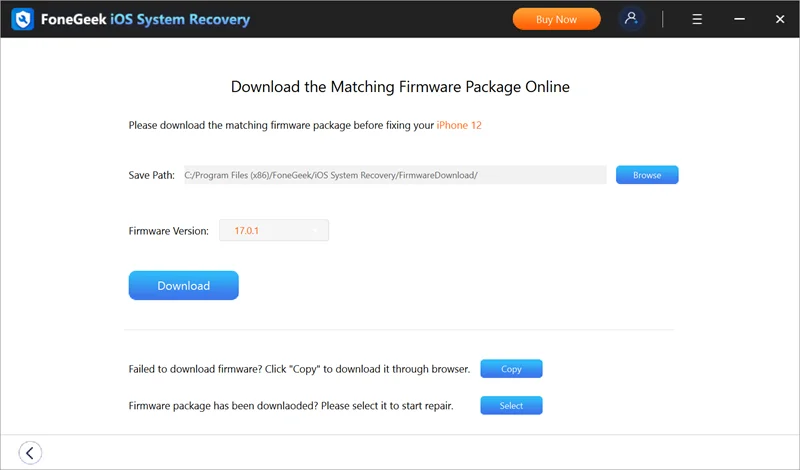 4. Exit the Recovery Mode on iPad Using iTunes and Finder (Data Loss)
Sometimes, you may discover that your Apple device is stuck while restoring or updating, don't fret. Make an effort to put it in recovery mode and reset it again. This often works for iPad, iPod touch, and iPhone series. Learn more details below:
Step 1. Visit iTunes to update it to the latest version. You may need to delete it from your PC and clear the recycle bin as well. For Finder users, check whether your Mac is up to date or not.
Step 2. Using the USB cord to connect your PC and iPad.
Step 3. Now, open iTunes or Finders, and you may use either of the approaches below:
Use the home button and power button by pressing them at the same time. The Apple Logo will emerge. Don't lift your fingers from the button until the recovery mode appears.
On iPad models that support Face ID, press the volume Up button and release quickly. Afterward, press the volume Down button and release quickly. Now, press the Power button and hold even after the iPad comes up. Until you see the recovery mode screen, don't let go of the button.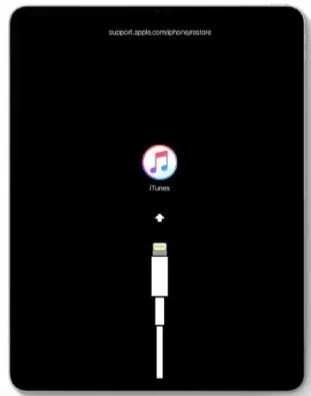 Step 4. You will see 3 options on iTunes to update or restore your device. Choose the 'Update' option, and iTunes or Finder will install the most recent version of the iOS on your device. All data will remain intact.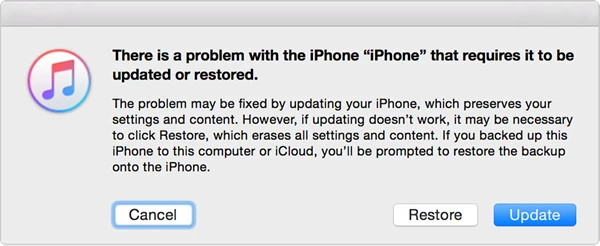 Step 5. Complete your device setup once the update is complete.
NB: If the processes above fail, you may consider using a set of a headphone jacks. Connect the jack to your iPad and try the processes again. It has been reported by some iPad owners that the headphone jack works.
5. Restore iPad from DFU mode
If you notice that your iPad is stuck on the restore screen, you can use DFU mode to regain the device. Note that using this approach means losing your iPad data. Hence, it is only advised if the other methods fail to work. DFU mode approach may differ slightly, depending on your device model. Follow the guide below to complete the processes:
Establish a connection between your iPad and PC.
Launch iTunes on your PC and ensure the device is off.
Hold the side button for three seconds. While still holding, press the volume down button for ten seconds and hold.
Let go of the side button and keep hold of the volume down button for additional five seconds.
Let go of the volume down button and watch your iPad screen comes up black with some illumination. This is the DFU mode.
Final Note
RecBoot provides a simple solution to fixing an iPad stuck in recovery mode. Feel free to use the software by following the guides shared herein. Also, you may consider the other approaches discussed. Rather than abandoning your iPad and losing your important data, fix the issue swiftly on your own without fuss.