When turning off your iPhone, you may see the iPhone is findable message right below the power off slider ("Slide to Power Off" prompt). You may also see it while charging your iPhone when it's turned off. If you're seeing it for the first time, it may spark some anxiety in you because you may wonder if there's an issue with the phone or if you're being tracked. However, it's far from it.
That iPhone is findable is a useful security feature that helps users track and locate their iPhone if lost, misplaced, or stolen. If you're curious to know more about it or what it means, then this is the right place. We will give you a complete explanation of this iPhone is findable message in this post and also show you how you can turn it off if you would like. Let's get straight to it.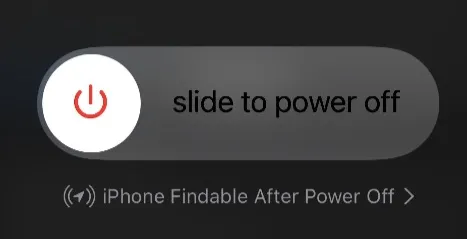 What Does 'iPhone Is Findable' Mean?
The message "iPhone is findable" is basically a feature under Find My Network and Find My app that allows for remote location of certain recent iPhone models running on iOS 16 like the iPhone 14 model. This is very possible because the iPhone does supply a little amount of the reserve power to Bluetooth, NFC, and UWB processors even when it's off.
The iPhone still continues to power these parts even when you turn it off and the tracking continues for at most 24 hours. It's designed this way so that in case you lose your iPhone or it gets stolen and it turns off, you'll still be able to locate it. However, some hackers that can access the system are capable of exploiting this and taking control of it, even when the iPhone is switched off.
How Does 'iPhone Is Findable' Work?
As mentioned earlier, through Find My app and Find My network, iPhone is findable feature makes it possible to remotely locate recent iPhone models running on iOS 17 or other later versions while they're turned off. What makes this possible is the fact that the iPhone continues supplying a small amount of its reserve power to UWB, NFC, and Bluetooth processors even after it's powered off. As such, the feature is able to help you easily locate a lost iPhone, even if its battery has died.
Generally, when you switch off any of the supported iPhone, a power-off slider will appear and under the "Slide to Power Off" message, you'll see a link/message saying "iPhone Findable After Power Off".
When you tap on this link ("iPhone Findable After Power Off"), a pop-up menu will show up, providing more details and options. You'll see the "Temporarily Turn Off Finding" option which when you tap it you'll temporarily disable the finding feature until the time you switch on your iPhone. However, if you want to permanently disable it, continue reading.
Why Does My iPhone Say iPhone Is Findable?
Well, you're seeing iPhone is findable message on your phone because you've turned on Find My feature which helps locate your iPhone when it's lost, even if the battery is dead. When you disable this feature, then it will not work anymore. In general, iPhone is findable stands out as quite a helpful tool for ensuring your iPhone remains safe and secure. You can use it to quickly and easily track your lost iPhone or simply locate your misplaced phone.
So, when the message shows up on your iPhone, don't panic. Instead, ensure you take advantage of this useful feature so that your iPhone is secure and remains in good working condition. However, in case you don't want this feature enabled on your phone, you can easily turn it off anytime using the methods we've explained in the following section.
How to Disable iPhone Is Findable
In case you want your iPhone to be always unfindable when it's switched off, you can turn this feature off in Settings. To do that:
Open Settings, head to the top, and tap on your Apple ID.
Select "Find My" in the Apple ID settings.
Next, tap on "Find My iPhone" in "Find My" screen.
Now, tap the toggle next to "Find My Network" to turn off Find My feature.
Finally, select "Disable" from the warning message that appears.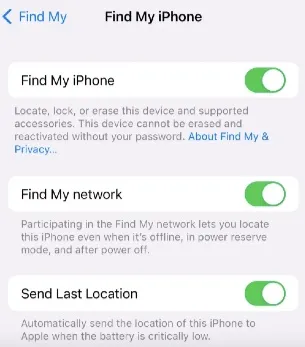 Note: When you turn off the Find My network in settings, it won't be possible to remotely locate the iPhone when it's powered off, low on power, or offline (not connected to Wi-Fi or cellular network).
Once you're done, "Find My Network" will get disabled, and you won't be able to locate your device using "Find My" once it's powered off.
What If iPhone Is Findable and Won't Turn On
Using FoneGeek iOS System Recovery
If your iPhone is saying iPhone is findable and won't turn on, it probably has some software issue. To fix this, you need a more permanent solution that can also solve many other issues that your iPhone may have besides this one. FoneGeek iOS System Recovery is such a solution. It's efficient and quite reliable when it comes to fixing iOS issues.
It will completely resolve this iPhone is findable and won't turn on issue and much more, including iPhone findable not working after power off, which is essential if you want to always locate your iPhone when it's lost or you misplaced it. You can utilize the program's Standard Repair option to achieve this. It's certainly a 100% safe and secure solution. Just follow these steps to use FoneGeek iOS System Recovery to fix the iPhone is findable and won't turn on issue or iPhone findable not working issue.
Install FoneGeek iOS System Recovery onto your PC or Mac once you download it.
After launching it, choose 'Standard Mode'.
The program will identify your iPhone's model plus all its other required details. From there, the program will extract and then install the ideal firmware files after downloading them.
Once the firmware package gets successfully installed, tap the green Continue button to begin repairing your iPhone.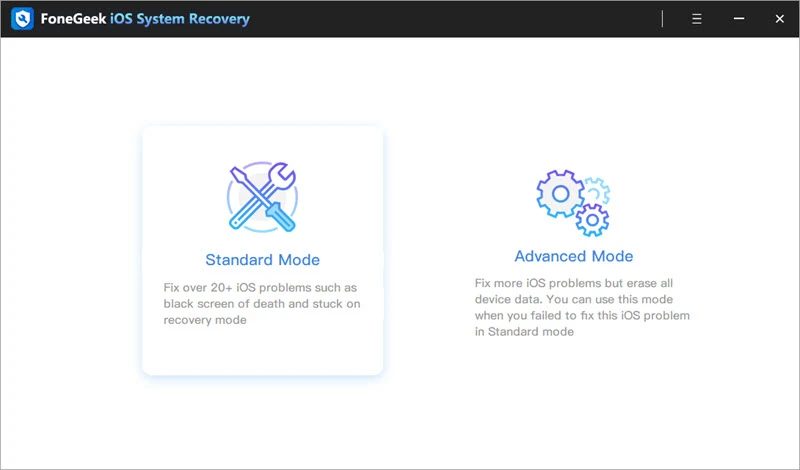 After several minutes, FoneGeek iOS System Recovery will complete the process and inform you that the repair has successfully solved your problem. Now you'll no longer have the iPhone is findable and won't turn on issue or iPhone findable not working after power off.
Restart The iPhone
In most cases, restarting your device can solve many issues. The success rate is not as high as that of FoneGeek iOS System Recovery, but it's worth trying.
Start by long-pressing volume up/down button and the side button concurrently to launch the power-off slider.
Drag the slider when it shows up to switch off the phone. Now, wait for around 30 seconds.
After 30 seconds, turn on your phone by long pressing its side button. Release the button immediately after the Apple logo comes up.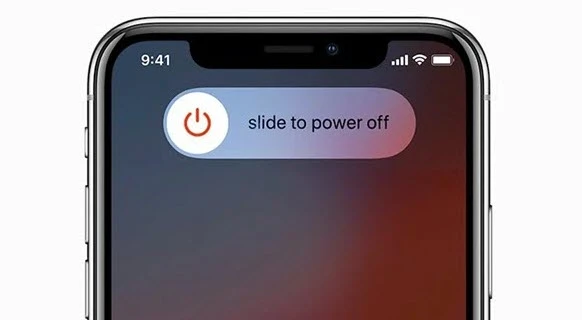 Fully Charge Your iPhone
Charge your iPhone to 100% and then check if the iPhone is findable and won't turn on issue is fixed or not. This should also solve the iPhone findable not working after power off. If you've turned on the Optimized Battery Charging, then you'll get an alert on your iPhone's lock screen when the phone is fully charged. In case you need the phone to get fully charged sooner, just tap and hold the alert to choose the Charge Now option.
That said, there are some things you need to consider when charging the iPhone. They include:
Use Apple's USB power adapter and the charging cable included with the device to get the iPhone connected to the power source.
Place the iPhone face-up on either a Qi-approved charger or a MagSafe Charger. You can also place it on a MagSafe Duo Charger (that's connected to a 20W USB-C power adapter from Apple or any other supported power adapter).
Conclusion
iPhone is findable is certainly a great feature that allows you to easily locate your device whenever it's lost, even when it's powered off. I hope from the above post, you at least now have a better understanding of what it means, how it works, and how you can disable it if you like. Sometimes though, it doesn't work after powering off or you may have iPhone is findable and won't turn on. If you've faced any of these issues, then we recommend you use FoneGeek iOS System Recovery. You can try the other methods we've provided but StarzSoft Fixcon is the ultimate solution. It's reliable and will effectively fix the issue and have iPhone is findable working again.