The iOS 16 beta profile is already available. It has fantastic features, including a redesigned lock screen that allows for more customization and widgets, the option to modify and unsend texts, and access to saved Wi-Fi credentials in your setting.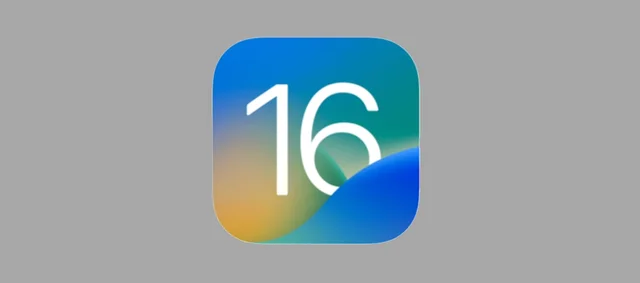 Nonetheless, the beta version is only for testing firmware and comes with bugs and glitches. Therefore, if you have installed iOS 16 beta on your iPhone and don't want to cope with the bugs and issues any longer, this article is for you.
This article will walk you through the steps to remove iOS 16 beta from iPhone and downgrade back to iOS 15. Similar procedures can also be applied to remove the iPadOS 16 beta from your iPad and revert back to iPadOS 15. Keep reading.
How to Remove iOS 16 Beta Profile from iPhone
The public will be able to get the iOS 16 during the fall season this year. If you are willing to wait for the standard iOS version, deleting the beta software profile is a simple procedure. To stop getting beta updates, just erase the beta profile and then download the official edition of iOS 16 on your iPhone when it becomes available.
However, there is a catch. If you are using the iOS beta version, such as 16.1, you will not be able to upgrade to iOS 16 soon as it becomes available. Because you can't upgrade to an edition that isn't typically higher than your latest version, whether beta or not, you will have to wait for iOS 16.1. That's why it's critical to erase the beta profile to avoid accidentally installing the beta software.
Follow these simple steps to remove iOS 16 beta profile from iPhone;
Step 1: Navigate to the Settings app > then select the General Tab.
Step 2: Roll down to the "VPN & Device Management" section and click on it. It will display all configuration profiles installed on your iPhone.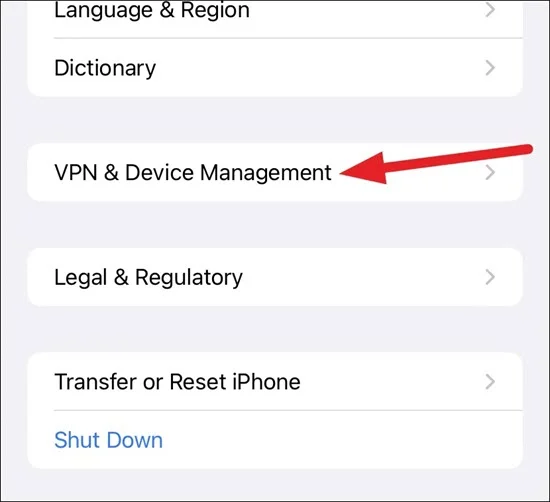 Step 3: If your device has many downloaded profiles, you will see them under the "Configuration Profiles" tab. Select the iOS 16 beta profile to proceed.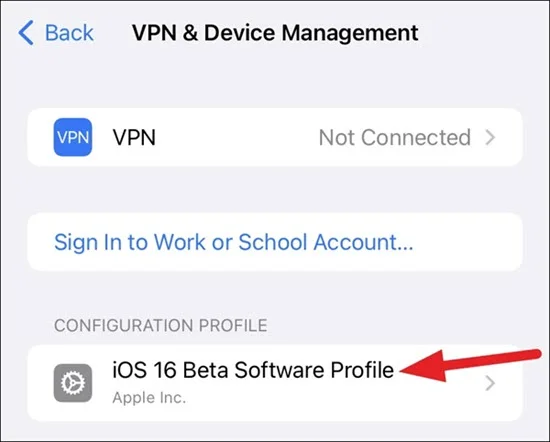 Step 4: Now click on "Remove Profile" option to delete the iOS 16 beta version from your iPhone. Then, restart your device after you have successfully deleted the software.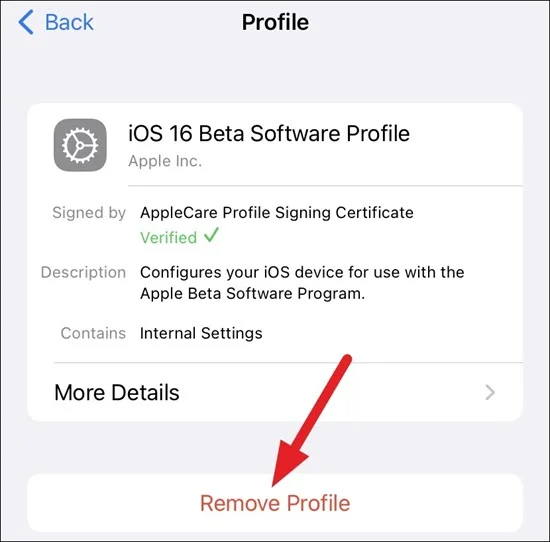 After you have deleted the iOS 16 beta profile, you will get the iOS 16 version in the Software Update area in the general setting when it is ready. Just exactly as you always do. Make sure you download the program to return to a non-beta reliable version.
How to Remove iOS 16 Beta and Downgrade Back to iOS 15
There are basically two techniques you can use to remove iOS beta from iPhone and revert back to iOS 15. We will walk you through each method with details.
Option 1: Remove iOS 16 Beta by Restoring iPhone with iTunes
You must erase and restore your iPhone to remove the iOS 16 developer beta. Using iTunes to uninstall iOS 16 beta is, without a doubt, a simple process. First and foremost, ensure that your PC or Mac is running the most current edition of operating system and has the latest release of iTunes downloaded. Then plug your iOS device to a computer and follow the steps below:
Step 1: Launch iTunes on your computer.
Step 2: Turn off your iPhone and put the device in recovery mode. Press the Volume Up key and quickly let it go. Then press the Volume Down key and quickly let it go. Finally, keep holding the Side button until you see the Apple logo on the screen.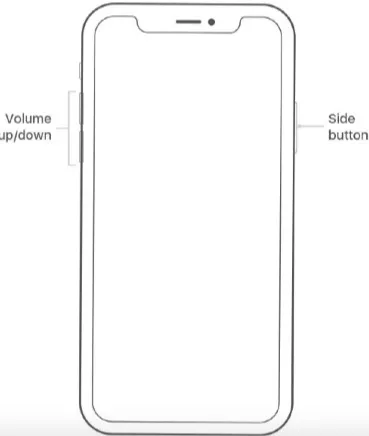 Step 3: iTunes will detect the device that is in recovery mode, choose "Restore" from the pop-up window. The current non-beta edition of iOS will be installed while your device is erased.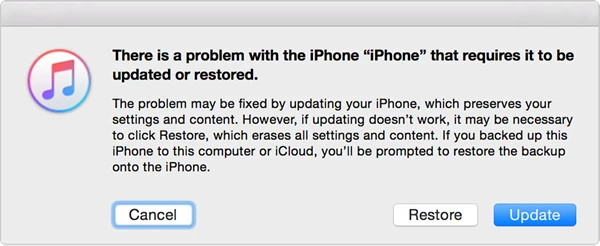 Continue with step 2 if the installation takes longer than 15 min and your iPhone exits the recovery mode display.
Step 4: Wait for the restoration to be completed. Enter your Apple ID and password when prompted to turn off Activation Lock.
Once the restore is complete, you can set up your iPhone using the archived backup, which must be from a previous iOS version.
Option 2: Remove iOS 16 Beta from iPhone without iTunes
Have you encountered any troubles with the current iOS 16 beta version? Do you have no idea how to uninstall iOS 16 beta from your iPhone? You can't use iTunes because it doesn't function for you, or you're scared about losing your data?
The great news is that there is a straightforward way to delete the iOS 16 beta from your iPhone without necessarily using iTunes. All you have to do is download FoneGeek iOS System Recovery and let it do the rest. With this professional software, deleting the iOS 16 beta and downgrading to iOS 15 is quicker than ever, and there is no data loss.
Here's how to uninstall the iOS 16 beta from your iPhone without using iTunes:
Step 1: Select "Standard Mode" from the home page after downloading, installing, and running FoneGeek iOS System Recovery on your computer.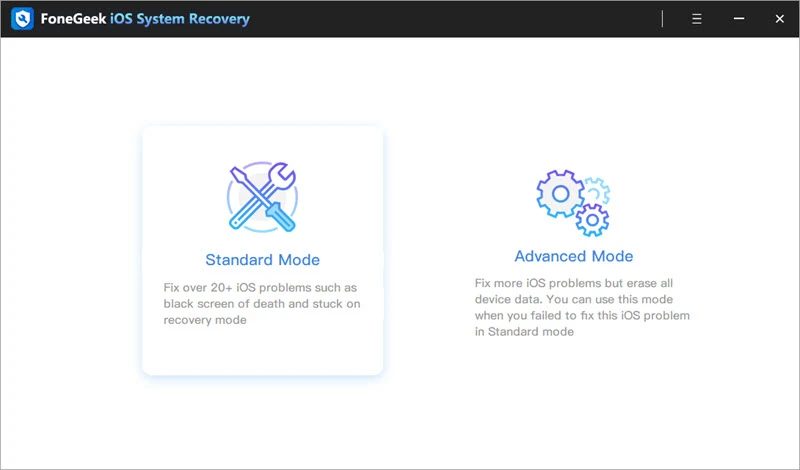 Step 2: Connect your iPhone to the laptop using a USB cord and wait for the software to detect the device, then click on "Next" to continue.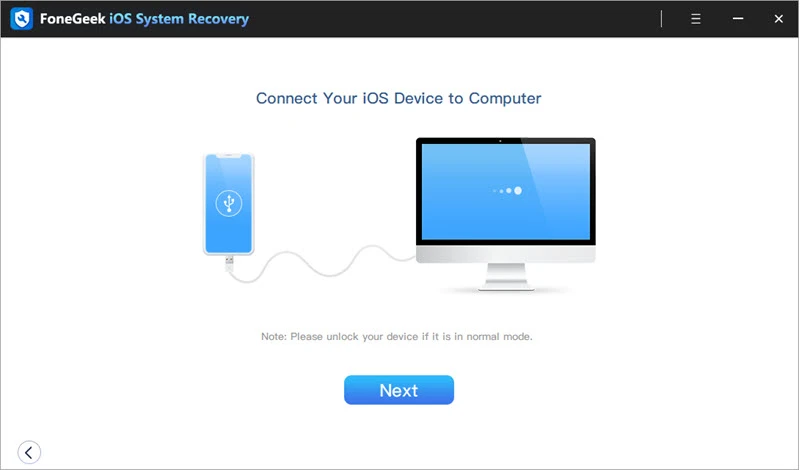 Step 3: The software will display the device name and list every version of the iOS that is currently available. To install the software package, choose the version you want to use and click "Download."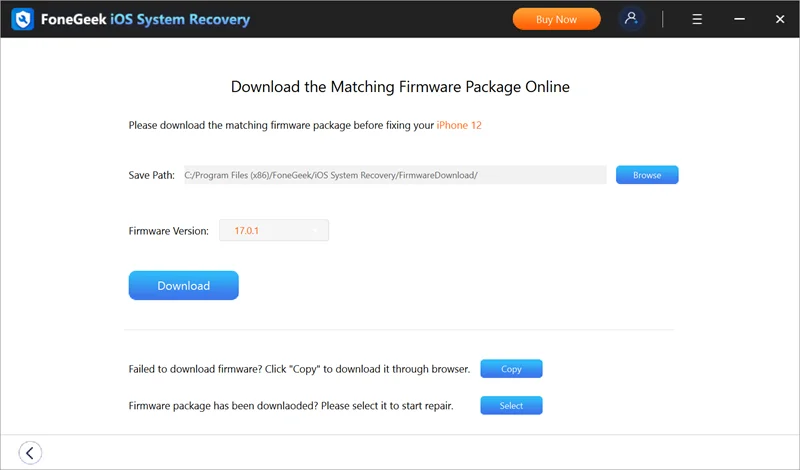 Step 4: Wait for the software to finish downloading. It will then begin removing iOS 16 beta on your iPhone and downgrading to the latest version of iOS 15.5 when you click "Fix Now."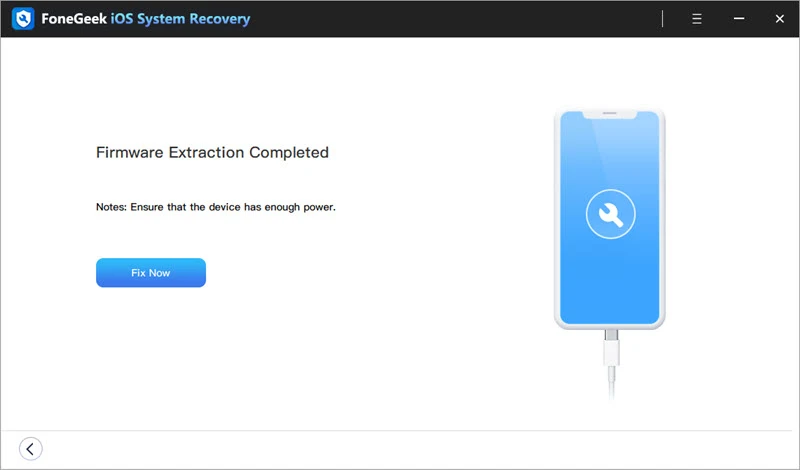 The Bottom Line
Although the iOS 16 beta version is meant for bug fixes, it has some issues during the procedure. This tutorial has given you some easy steps to remove iOS 16 beta from your iPhone. The first way to remove the beta program using iTunes is very straightforward. One more thing, if you want to downgrade your iPhone quickly, try FoneGeek iOS System Recovery. We hope you found this article helpful and that you already know how to uninstall the iOS 16 beta and downgrade to iOS 15.