Controlling Apple TV with a remote is pretty easy, but when the remote gets lost or it's broken, then it becomes a problem. It's even more challenging when the TV encounters some issues and you need to reset it, like when the TV freezes or fails to respond after you restart it.
To fix such an issue, you'll need to find a way of resetting Apple TV without remote. Fortunately, there are several ways you can achieve this and that's what this post is all about.
Herein, we're going to show you exactly how to reset Apple TV without remote, even if the TV is frozen. First, you need a few things.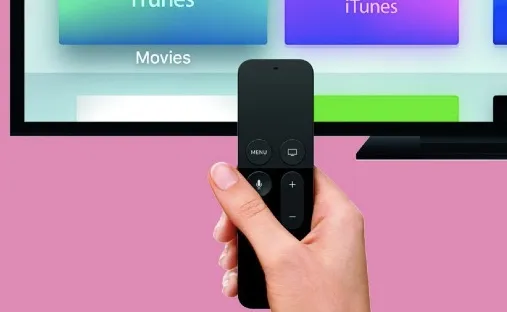 What's Needed Before Resetting Apple TV Without Remote?
There are several things that you need so that you can reset Apple TV 4K successfully when you don't have a remote.
A USB-C or original USB cable is required.
A strong and steady internet connection is required.
You must have an iTunes account.
You'll need a computer with the latest iTunes software.
Having an iOS device will be helpful too.
Once you have all these things set and ready, proceed to the following methods so that you can reset Apple TV without remote.
Reset Apple TV Using the Remote App on iOS Device
You can actually use your iOS device to control your Apple device. Therefore, if you've lost your remote or it's broken, you can reset Apple TV using the iOS device. Follow these quick steps to do so.
On your iOS device, launch the App Store and then search for Apple TV Remove app. Download and install this program onto your device. Ensure you connect both the device and the Apple TV to the exact same Wi-Fi network.
Once the Remote app is installed, open it, and tap Add Apple TV. Choose your Apple TV.
If prompted on your device to enter a 4-digit code that appears on your Apple TV, then enter the code. Now head to Settings and tap "System" (or "General" for third-generation devices and earlier models). Tap "Reset" next to factory reset the Apple TV without using a remote.
Reset Apple TV via iTunes on Computer
It's also possible to reset Apple TV without remote using iTunes on computer. It's a fast and simple procedure. Here's how to do it:
First, disconnect all Apple TV's wires which include the HDMI and power cords. Head to your Mac/PC and launch iTunes (ensure it's the latest version).
Connect the Apple TV to the PC/Mac using an original USB cord. If your Apple TV is 3rd generation model or older, use the micro-USB cable. For the 4K Apple TV, use a USB-C cable. Now connect the Apple TV's power cable.
Go to iTunes on the computer and look for an Apple TV icon.
Head to the "Summary" section and click "Restore Apple TV".

Using FoneGeek iOS System Recovery to Reset Apple TV
The ultimate solution to resetting Apple TV without remove is having the Apple TV remote issue fixed using FoneGeek iOS System Recovery. This is an application that's designed to quickly and safely fix a wide range of iOS issues.
The software features two repair modes. There's a Standard Mode that's able to resolve several common problems without losing any data on the device. There's also an Advanced Mode which is used to deal with critical issues that the Standard Mod can't solve. With the Advanced Mode, you can even unlock the iOS device with higher success rate. The software also allows you to place your iOS device into recovery mode or get it out of the mode for free.
How to reset Apple TV without remote using FoneGeek iOS System Recovery?
First, download FoneGeek iOS System Recovery and install the software onto your PC/Mac after downloading it. You need to choose one of the two repair modes. In this case, choose 'Standard Mode' as it can fix your Apple TV remote problem without causing any data loss.
Then get the Apple TV connected to it through a micro-USB cable. After that, click 'Next' on this program.
Click your iOS device's model number and then just follow the instructions appearing on the screen to place your Apple TV into a recovery mode. Once the process is done, click 'Download' to start downloading and validating the appropriate firmware for your exact Apple TV model.
After getting the firmware package, click 'Fix Now' to unzip the just downloaded firmware and start fixing your Apple TV remote problem.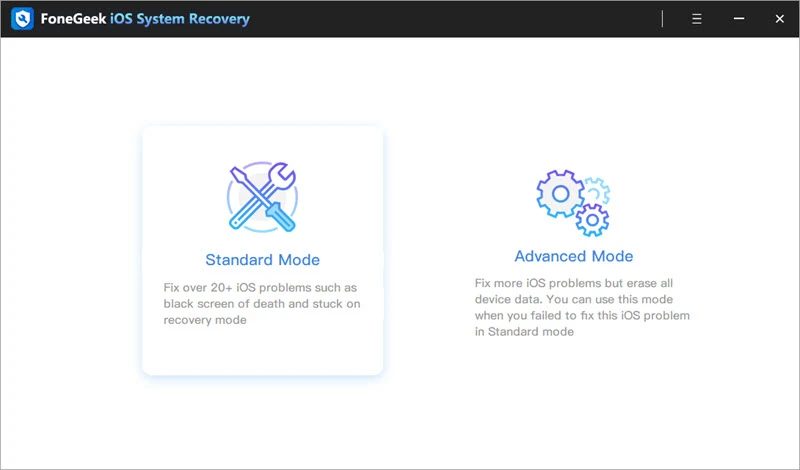 Conclusion
As you've seen above, you can reset Apple TV without remote using your iOS device or the iTunes app on your PC or Mac. However, the ultimate solution is FoneGeek iOS System Recovery. This application will allow you to completely fix your Apple TV problem and be able to reset the TV using its remote again. If you need a quick and permanent solution to this issue, then it's the best choice. Moreover, no data loss will occur when you use the software, plus it can solve various other Apple TV and iOS problems.