What is An Anonymous Text Message?
An anonymous text message, also known as a burner message, is a message that is sent without revealing the sender's phone number or any other identifiable information. This ensures that the receiver cannot track or identify the sender.
Unlike regular text messages, anonymous text messages do not allow the recipient to reply or respond to the message directly. As a result, the sender's identity remains a secret, and there is no possibility of the receiver contacting them in response.
The purpose of sending anonymous text messages can vary from person to person. Some may choose to send anonymous messages for practical jokes, pranks, or surprises, while others may have more serious reasons, such as reporting sensitive information or expressing concerns without fear of retaliation.
Anonymous text messages provide a level of privacy and discretion, allowing individuals to communicate while maintaining anonymity. For whatever reason, the following sites can help you send anonymous text messages from the computer for free without showing your phone number at the other end.
Important Note: Before using any anonymous text messaging service, it's crucial to check the legality of such services in your state or country. While these websites may prioritize user anonymity, they may not be legal in certain jurisdictions. Laws regarding anonymous communication can vary, and it's your responsibility to ensure compliance with local regulations.
1. SendAnonymousSMS
SendAnonymousSMS is one of the most popular tools to send free text messages anonymously. One of its best features is the ability to remain completely hidden when sending messages.
It is also very easy to use; all you have to do is enter the receiver's number, your number, and the country. You then type in your message and send it. The receiver will get the message, but none of your details will be shared.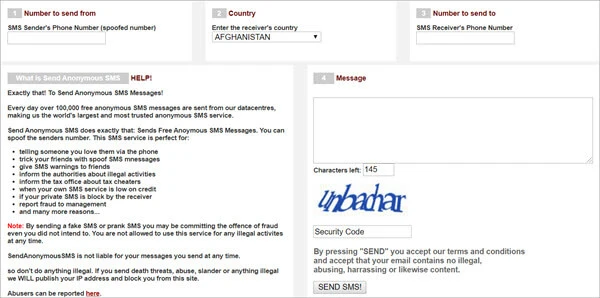 2. TextEm
TextEm is another solution for sending anonymous text messages from the internet. Its main advantage is that it is completely free to use, and it is also quite useful since it supports all major US carriers.
Like most other similar tools, the recipient of the message will not get any of your contact information.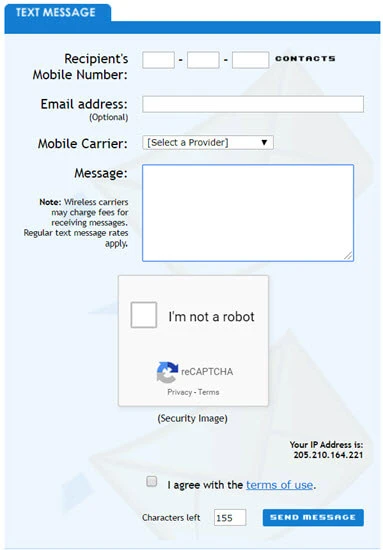 3. TxtDrop
You can also use TxtDrop to deliver anonymous text online to recipients in North America. It is very easy to use; all you have to do is enter the recipient's number and the message you want to send.
The recipient will not see your number. This tool can be used to send messages to people in Canada and the United States.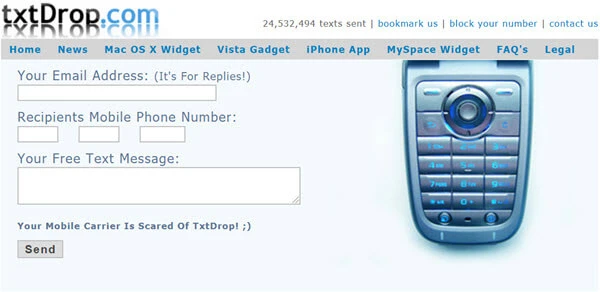 4. TextForFree
As the name suggests, this anonymous tool is completely free to use. TextForFree is also very easy to use; All you have to do is enter the recipient's phone number, your phone number and type in the message you would like to send.
The problem with this tool is that it only supports sending messages to the US carriers and may, therefore, not be an ideal solution to send messages to someone not in the US.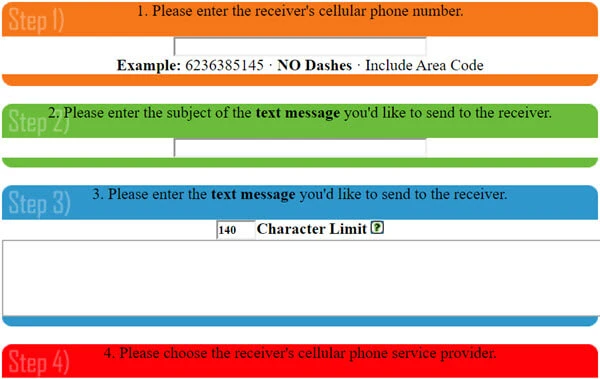 5. AnonTxt
AnonTxt provides another great and easy way to send anonymous text messages from the computer for free. All you have to do to use it is access the tool on its website and then enter the recipient's number and the message you would like to share.
One of its biggest advantages is you don't have to register for an account to use. However, its biggest disadvantage is that it is not available for users outside the US and Canada.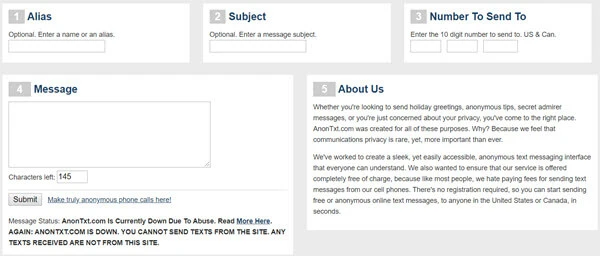 6. Anonymous Text
With Anonymous Text, you can quickly gain access to the message-sending page prominently on the front page of the website. You can choose to send the message completely anonymously or select one of the random numbers the tool provides.
It can be useful to send anonymous text messages anywhere in the world, and you can also choose to schedule the messages to be sent at a later date.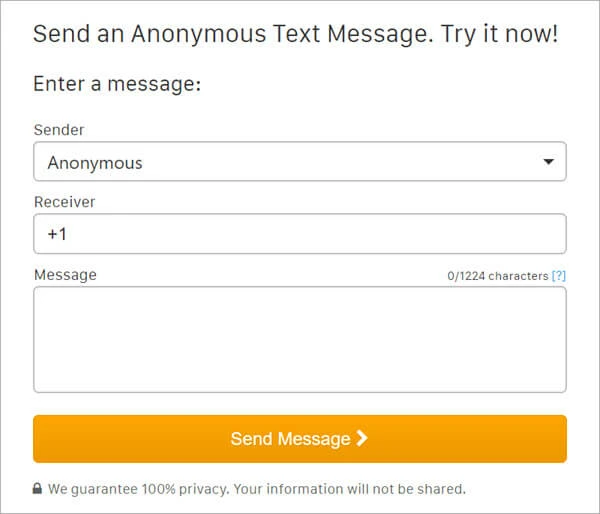 7. SeaSMS
SeaSMS is one of the best tools to choose if you want to send multiple messages to multiple people in different parts of the world. This is because it is one of those tools that support numerous countries, allowing users to send anonymous messages globally.
It can also be used to send MMS messages anonymously, a feature not available in some of the other tools. It will, however, cost you $20 to use this tool.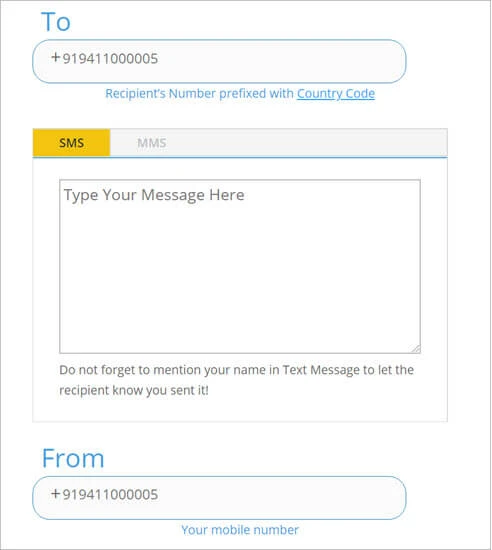 8. Sharpmail
Sharpmail is another great tool to choose if you would like to send anonymous texts around the world. It is easy to use and has one function that most of the other tools we've seen don't have.
It allows you to save a complete history of all the messages you have sent using this tool. You can also create a catalog of the contacts to use to make it easier to access them when you need them.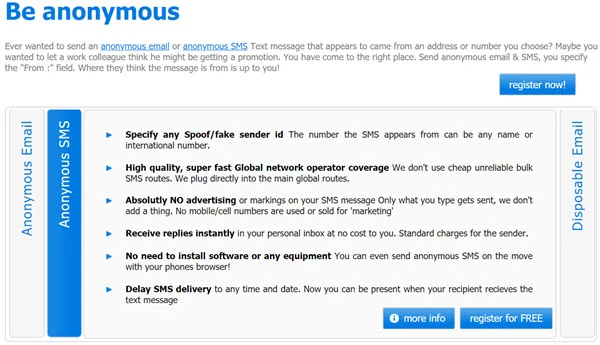 9. SMSflick
SMSflick is a free way to send anonymous texts around the world. To send the messages, select the recipient's location in the world and then enter their phone number.
Type in the message you would like to send and hit "SEND". The process is pretty easy, but you can only send messages that are 100 characters or less.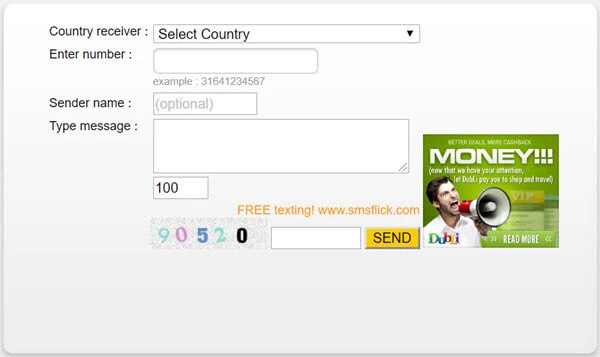 10. Texttasy
Texttasy is a user-friendly platform for sending anonymous text messages online. It allows you to send messages to any mobile number, and you can choose your sender's number to keep your identity hidden. This site ensures message delivery and offers a clean and intuitive interface for a hassle-free experience.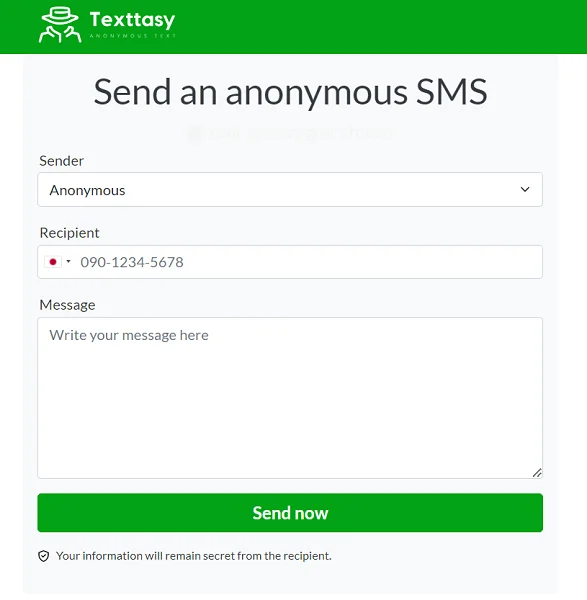 Bonus: Back Up Text Messages on Your iPhone
While sending anonymous text messages may not always allow you to keep a copy of your sent messages on these websites, you can ensure the safety of your text messages by backing them up on your iPhone. By having a backup of your text messages, you can easily recover them in case of device damage, software issues, or accidental deletion. One highly recommended tool for this is FoneGeek iOS Backup & Restore (iOS 17 supported).
It is a professional iOS data management software that allows you to easily back up and restore your iPhone data, including text messages. Here's how you can use it to back up your text messages:
Download and install FoneGeek iOS Backup & Restore on your computer. It's available for both Windows and Mac.
Connect your iPhone to the computer using a USB cable and launch the software. On the main interface, click on the "Backup & Restore" option.
Select "Messages & Attachments" from the list of file types and click on the "Backup" button.
Wait for the backup process to complete. Once it is finished, you can view and manage your text messages within the software.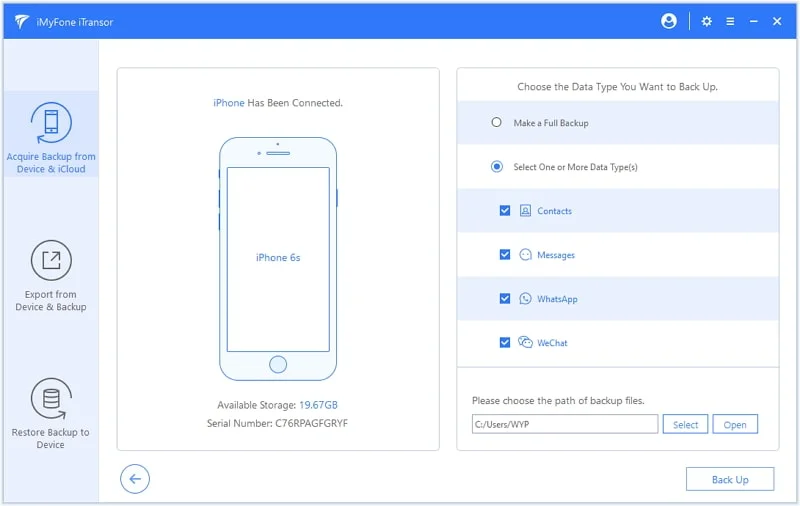 FoneGeek iOS Backup & Restore offers additional features like selectively exporting or printing your text messages, restoring backups to your iPhone and managing other types of iOS data. It provides a user-friendly interface and ensures data security throughout the process.
Conclusion
Sending anonymous text messages can have various practical applications, from fun pranks to serious matters that require privacy. The sites mentioned in this article provide reliable and secure platforms for sending and receiving anonymous text messages.
Remember to use these services responsibly and respect the privacy of others. Whether you need to maintain confidentiality or simply have some fun, these top 10 sites can help you communicate discreetly while protecting your identity.