Find My iPhone is an excellent feature to locate your iPhone and prevent unauthorized access to your data when the device is lost. However, in some situations, the feature can also cause hassle. When the iPhone is broken, the repair center will suggest you turn off Find My iPhone before sending it to them.
You can easily turn off Find My iPhone even when the phone is broken. This guide will introduce several methods that you can utilize to turn off the feature on a broken iPhone. Keep reading!
Turn Off Find My iPhone on Broken iPhone via iCloud (Password Required)
You can easily turn off Find My iPhone feature remotely through iCloud. Under the "Find iPhone" option in your iCloud account, you will find the option to turn the feature off. Here is how you can disable the feature via iCloud:
Go to iCloud.com from a web browser and log in to your account. From the iCloud interface, press "Find iPhone".
Expand the "All Devices" popup menu from the top of the page and select the device you want to remove.
Press "Remove from Account" from the new popup window. Confirm the action to proceed.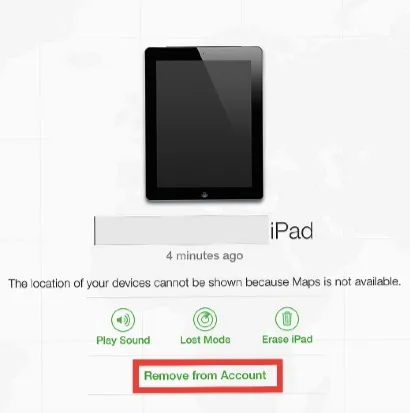 Important Note:
Just turning the Find My iPhone feature off will not delete any data from the device. A factory reset is mandatory to erase the data.
Also, be aware that erasing an iPhone on iCloud is an irreversible action. So be sure to proceed with caution.
Turn Off Find My iPhone When Phone is Broken from Another Device (Password Required)
Another easy way to turn off the Find My iPhone feature is through another Apple device with the Find My app. To be more detailed, you will require to have another Apple device running on iOS 13 or later. Here is what you need to do:
Unlock the Apple device and launch the Find My app. Then sign in to the Apple ID you used on the broken device.
Click on the "Devices" option to see all the devices connected to the Apple ID.
Choose the broken device and turn off the relevant features.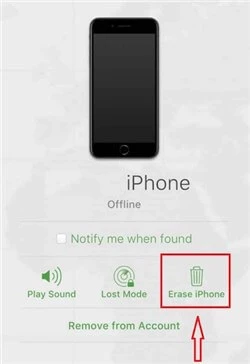 Turn Off Find My iPhone on Broken Phone without Password
Unable to turn off the feature using the above methods? Don't worry; let us bring in the FoneGeek iPhone Passcode Unlocker. It is a powerful tool that enables you to quickly and efficiently turn off Find My iPhone on your broken phone. You don't even require any sort of password with this software.
Here are some other features of FoneGeek iPhone Passcode Unlocker:
Remove passcode, Face ID, and Touch ID from iPhone, iPad, or iPod.
Bypass Apple ID, MDM Screen, and MDM profile.
Fix your disabled iPhone without iCloud or iTunes.
Cross-platform and available for various iOS versions.
Now let's see how to install and utilize the FoneGeek Unlocker in easy steps:
Download and install FoneGeek iPhone Passcode Unlocker on your PC. After installing the tool, launch it and press the "Unlock Apple ID" option on the interface.
Connect the iPhone/iPad (which is broken) to your PC via USB or lightning cable. Once the devices are attached, press the "Start Unlock" button.
FoneGeek will remove the Apple ID from your iPhone/iPad. The procedure will require a few minutes. Once done, your iPhone will restart, and the Apple ID and relevant features on the device will be removed.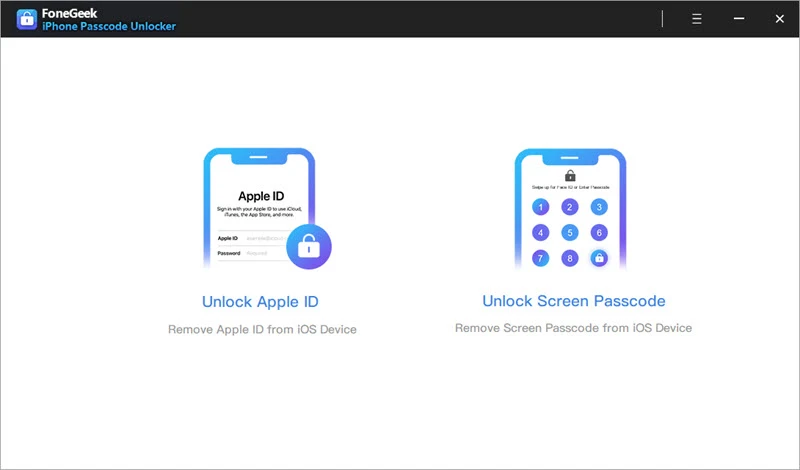 Turn Off Find My iPhone on Broken Phone with Touch Screen Capacity
Yes, turning off the Find My iPhone on a broken iPhone is possible if it has the touch screen capacity turned on. Here are the steps you need to implement:
For iOS 10.3 and later versions
Use the touch captivity feature to open "Settings" on your device.
Press "Your Name" and then go to "iCloud".
Now, choose "Find My iPhone" and turn off the toggle bar beside it.
Put in your Apple ID credentials in the popup, and then press "Turn Off".
In case your iOS version is 10.2 or below, the steps to turn off Find My iPhone are as follows:
Go to the Settings app on iPhone and open it.
Tap on the option of "your name".
Select the "Find My iPhone" option from the list.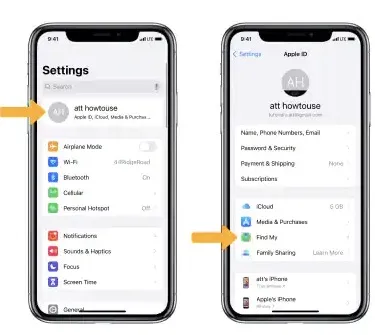 Similar to the procedure for iOS 10.3 and later versions, you will be prompted to enter your iCloud login credentials. Once you provide the necessary information, Find My iPhone will be turned off on your iOS device running version 10.2 or earlier.
Turn off Find My iPhone in Recovery Mode
The iPhone's recovery feature provides various options such as resetting, restoring data, data cleaning and backing up apps to keep the device running smoothly. When the phone is sluggish or not functioning correctly, Recovery Mode can help resolve the issue.
Moreover, Recovery Mode can assist in disabling Find My iPhone on a broken device. Here are the step-by-step instructions to turn off Find My iPhone on a broken device using Recovery Mode:
Step 1: Connect your iPhone to your computer using a cable and wait for the computer to recognize the device.
Step 2: Once your iPhone is detected, launch iTunes and initiate the Recovery Mode by performing a force restart on your phone. The process to activate this mode varies depending on your iPhone model:
For iPhone 8 and later: Quickly press the Volume Down button, then release it. Immediately afterward, press the Volume Up button, and then release it. Finally, press and hold the Power Button until the Apple logo appears.
For iPhone 7 and 7 Plus: Press and hold the Power Button and Volume Down button simultaneously until the Apple logo appears on the screen.
For iPhone 6s and earlier models: Press and hold the Home Button and Power Button concurrently until the Apple logo appears.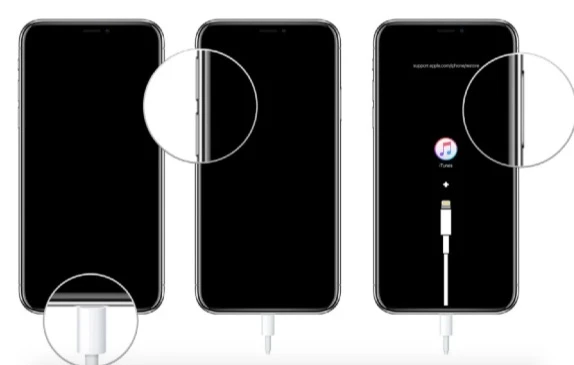 Step 3: Click on the "Restore" button in iTunes to download the software onto your iPhone. Once the download and installation process is complete, you can set up your iPhone as a new device. Doing so will erase all previous data, and Find My iPhone will be automatically disabled.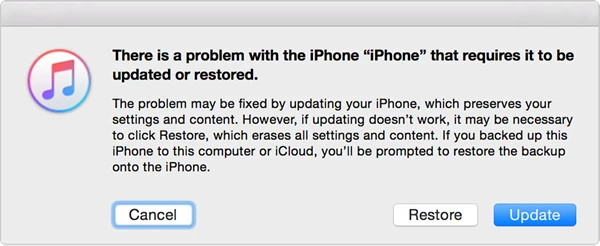 Things to Keep in Mind About Turning Off Find My iPhone
The functionality of Find My iPhone has been present since 2010, but it had a different appearance back then. In those days, users could install the application on iOS 3.1.3 or higher and use it to locate all of their connected devices.
When it was first introduced, Find My iPhone was a revolutionary service because it allowed users to locate their lost or stolen phones. For example, if you left your phone at a shopping mall, you could easily access the Find My iPhone app from another iOS device to determine its location. The service was highly accurate as it relied on the phone's GPS to pinpoint its location.
In addition to helping users locate their misplaced or stolen phones, Find My iPhone had the added advantage of discouraging theft. Thieves would realize that there was no point in stealing a phone that the owner could easily track through the cloud. Such an act would lead the owner or the authorities directly to the thief, making it an unattractive target for theft.
With all the advantages of Find My iPhone, one might wonder why someone would need to know how to disable it on a broken iPhone. The answer is simple: if you intend to sell your device, you and the buyer will not want the phone to be continually tracked. Therefore, it's essential to turn off Find My iPhone before handing over the device to the new owner.
Furthermore, enabling Find My iPhone renders the device useless since the new owner cannot link their iCloud account to it. There's also the risk of remote wiping, making the phone a liability rather than an asset. Even when sending the device in for repairs, the technicians may require access to the iCloud account for diagnostic purposes. Therefore, turning off Find My iPhone is a sensible step to take.
What You Won't Miss About Find My iPhone
Q1. Do you need to turn off Find My iPhone to replace the screen?
The Find My iPhone feature needs to be turned off when you send it for repair or replacement. It is a requirement of the relevant insurance program and claim process. The repair services can even charge you more if you don't turn the feature off.
Q2. Does Find My iPhone work when phone is off?
Yes. Even when the iPhone is dead, the Find My app can trace and show you the last location of the iPhone before the battery becomes empty.
Q3. Can someone see when you use Find My iPhone?
By default, the others can't know that the device is being tracked through Find My iPhone.
Q4. Are Erase iPhone and Remove iPhone Different?
If you no longer plan on using a device, you can remove it from your device list. If the device has Activation Lock turned on, it will reappear in your devices list the next time it's online. Thus, it's crucial to remove the activation lock before giving away or selling the device to prevent it from associating with your Apple ID.
In the unfortunate event that your iPhone, iPod, iPad, Apple Watch, or Mac is lost or stolen, you can use Find My iPhone on iCloud.com to erase it. Once you've erased a device, you won't be able to use Find My iPhone to locate it. If you do find the device after erasing it, you can restore your data with an existing backup.
Q5. Should I Turn off Find my iPhone before Resetting my iPhone?
When Find My iPhone is enabled, resetting your iPhone to factory settings will not disable it. Instead, the activation lock associated with the previous owner's Apple ID will appear on the device. To avoid this issue, it is recommended that you turn off Find My iPhone and create a backup before resetting. This will ensure that the activation lock is removed, and you can set up the device as a new one without any issues.
Conclusion
After reading the article, you should have a vibrant idea of how to turn off the Find My iPhone when phone is broken. We have introduced several solutions, as well as the FoneGeek Unlocker app that enables you to fix the issue quickly. We hope you will be able to turn off the feature successfully following the guide. Thanks for reading!