Voicemail is a helpful feature on iOS devices, storing audio messages left by your unanswered calls.
However, there are a few reasons that some people may choose to disable this feature. For example, some phone service providers will charge extra fees for voicemail, and having voicemail activated while traveling abroad will cause additional charges.
Disabling or turning off iPhone voicemail can be a difficult process due to the restrictions of certain phone carriers. But there are still several ways to go about it.
In this article, we will look at how to disable voicemail on iPhone 12, iPhone 11/11 Pro, iPhone XS/XS Max/XR, iPhone X/8/7/6s/6, etc. Keep reading and have a try.
Part 1. How to Turn Off Voicemail on iPhone
1.1 Dialing a Number
This approach requires you to dial a number to disable the voicemail on iPhone.
Step 1. Click on Phone app on iPhone and dial the number of *#61#.

Step 2. Write down the mailbox number and go to Settings > Phone to turn on Call Forwarding.

Step 3. Then dial #004# and you will see the status below. Click on Dismiss and the voicemail will be turned off.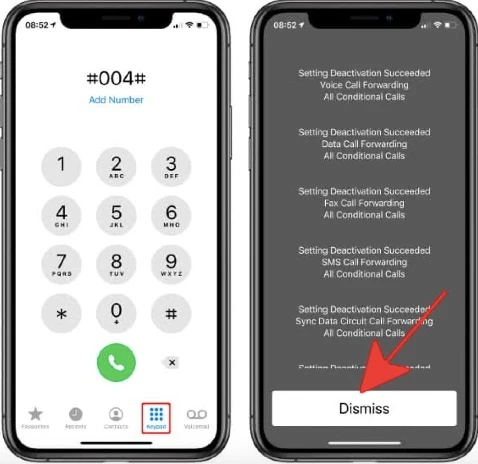 1.2 Use No More Voicemail
If you want to turn off voicemail on your iPhone, you can also rely on a free app called No More Voicemail. The app isn't actually disabling voicemail per the phone carrier, instead, it makes use of the conditional call forwarding feature on your iPhone to send your unanswered or rejected calls to a virtual number that will ring endless. Here's how to do that:
Step 1: On your iPhone, go to App Store and search for the "No More Voicemail" app. When you find it, tap "Get" and then "Install".
Step 2: When the installation is complete, open the app and tap "Get Started" on the main interface.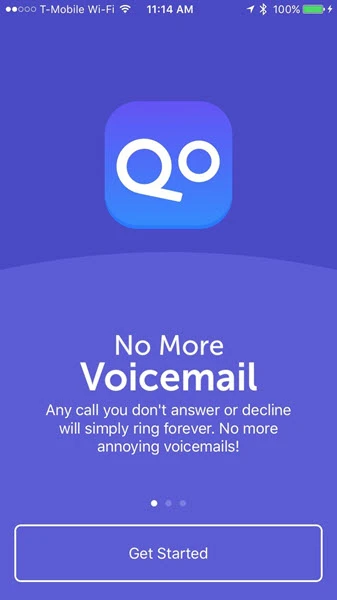 Step 3: Sign up for the app using your email and then tap "Sign Up & Continue".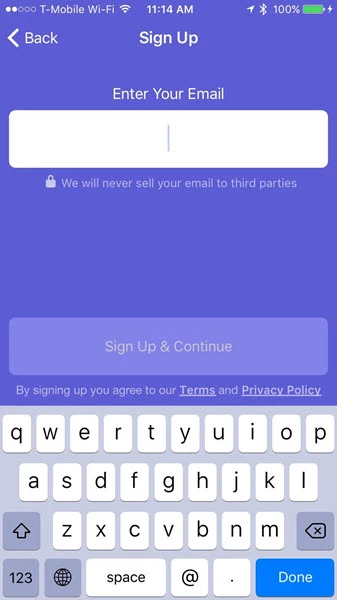 Step 4: Tap "Copy" to copy the number on the screen to your device's clipboard.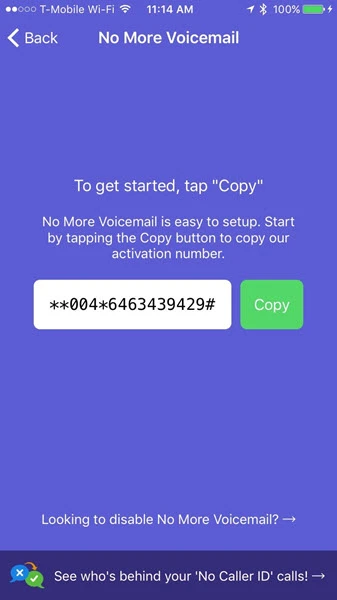 Step 5: Press the Home button to get back to the home screen and then open the Phone app. Tap and hold on the blank area to "Paste" the copied number and tap call. The phone will dial and then quickly disconnect.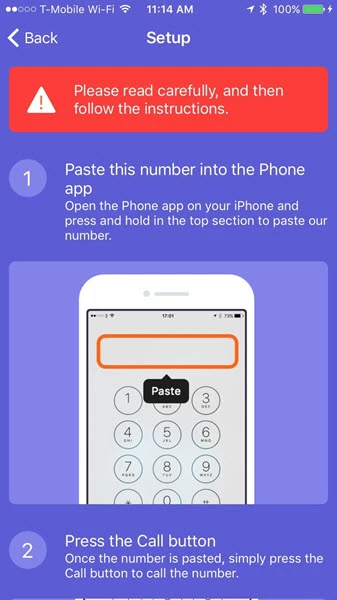 Step 6: Go back to the No more Voicemail app and tap "I Confirmed I Followed These Steps" and all your unanswered calls will be forwarded to a number that rings endless.
If you want to re-activate your voicemail on iPhone, you can simply dial your phone provider's specific code in the Phone app and then tap Call: AT&T (#004#), T-Mobile (##004#), Verizon (*73), Sprint (*730), US Cellular (*920).
1.3 Contact Your Phone Carrier
You can also disable voicemail on iPhone by contacting your phone service provider. Keep in mind that this method will delete all your saved greetings, settings and messages and should therefore be used as a permanent solution. Here's how to do that:
Step 1: Open the Phone app on your device.
Step 2: Dial your carrier's customer service number. The following are some of the most popular numbers:
T-Mobile: 1-877-453-1304
Verizon: 1-800-922-0204
AT&T: 1-800-331-0500
Sprint: 888-211-4727
Step 3: Once you are connected to an agent, ask them to disable your voicemail and explain your reasons. The representative will access your phone info and make the desired changes. They will inform you if the voicemail has been turned off.
Part 2. How to Turn off Voicemail Password on iPhone
If you don't need the service anymore, you can turn off the voicemail password on your iPhone.
Step 1. Call your voice mailbox number. Press number one from the keyboard and enter the voicemail password.
Step 2. Click * key to skip to the Main Menu if you got a new message.
Step 3. On the Main Menu, click on 4 for Personal Options, click on 2 for Administrative Options, click on 1 for Password Options and click on 2 to Turn Password On or Off.
Part 3. Deactivate Your Voicemail Manually
Some phones provide users an option to disable voicemail via Settings. This depends on the type of phone and service provider you are using. If luckily, you can follow these simple steps to manually deactivate your voicemail on iPhone:
The first thing you need to do is accessing the voicemail settings on your iPhone. For example, T-Mobile list this capability as "Visual Voicemail" and Verizon have it listed under "Account Services - Phone Extras". If you are not sure, search for "voicemail" in the product manual.
You may see a button to "Turn Off" or "Deactivate" voicemail under the settings. This option may not be available in some devices.
If you get a code to deactivate the voicemail. Enter the code in the spaces provided. Some providers will allow you to call through the phone to deactivate the voicemail.
Once this is done, check if the voicemail has been disabled. You can do this by simply calling your number from another but don't answer the phone. If no voicemail is offered, the process is successful. BTY, if you accidentally deleted voicemails without no backup, FoneGeek iPhone Data Recovery (iOS 15 supported) will be a good helper to recover your lost voicemails from iPhone.

Fay J. Melton has explored the area of technology and software for more than 5 years and he is enthusiastic about helping users solve various technology issues.

Home
>
iPhone Tips
>5 Ways to Disable or Turn Off Voicemail on iPhone