WhatsApp is now the most popular messaging app used by billions of smartphone users across the world. However, in order to work, it requires to connect to a SIM card with an active phone number on your phone. What if you want to use WhatsApp on your secondary phone but does not have an extra SIM card? Take it easy, there are actually several ways you can use WhatsApp on your iPhone or iPad without a phone number and SIM card in the device. Here, we will take a look at two practical ways to do it.
1. Use WhatsApp without Phone Number via TextNow
One of the ways you can use WhatsApp on your iPhone without phone number is via an app known as TextNow. This app works by providing you with a unique number that you can use to verify your WhatsApp account. Once the account is verified, you can then continue to use WhatsApp as you normally would.
Here's how to use WhatsApp without phone number using TextNow:
Step 1: Download the TextNow app from the iTunes App Store and install it on your iPhone or iPad.
Step 2: Once the App is installed on the device, open the app and grant it all the necessary permissions.
Step 3: When the app is fully open, note down the number that TextNow provide to you. If you forget the number, just tap on the three dots at the top left corner to see it.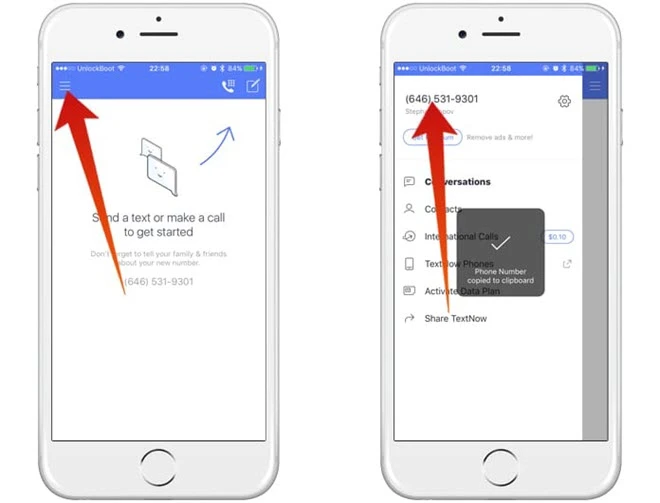 Step 4: Now Open WhatsApp and use that number to verify WhatsApp. Agree to the terms and conditions and then select the country before entering phone number.
Step 5: Wait for the SMS to verify WhatsApp and when asked for an automated call to verify the number, tap "Call Me".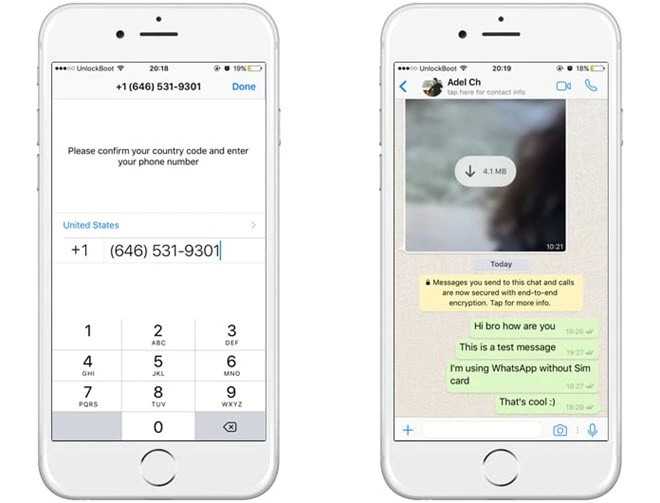 Step 6: You should get a call from WhatsApp on the TextNow App. Take call and note down the verification number.
Step 7: Enter the verification number into WhatsApp to do the verification process and finish the setup. You can then continue to use WhatsApp on your iPhone without a phone number.
2. Use WhatsApp without Phone Number via Landline
If TextNow doesn't work, you can verify your WhatsApp account using the home phone or landline. Here's how to do that:
Step 1: Open WhatsApp on your iPhone and during the verification process, select the country and then enter your landline number.
Step 2: As expected, the SMS verification will fail, which may take about 5 minutes.
Step 3: When asked for an alternative way to verify the number, choose "Call Me" and you will get a call from WhatsApp on the landline.
Step 4: Note down the verification number that you get from the call and use it to verify WhatsApp and complete the setup process.
Extra Tip: How to Protect Your WhatsApp Data
Accident always happen. You may accidentally delete WhatsApp messages on your iPhone or lost important chats due to iOS update, jailbreak, factory reset, device is broken or stolen. And on that note, it is a good choice to backup WhatsApp data on your iPhone or iPad. Instead of iCloud, we recommend you use third-party tool - WhatsApp Transfer to easily create a backup of all the WhatsApp data on the device to protect the chats from loss or accidental deletion. This tool also allows you to restore the same data back on to the phone whenever you need or transfer WhatsApp messages between iPhone and Android devices.
The following are just some of the features that make WhatsApp Transfer the best solution:
It can backup WhatsApp chat history from iPhone to your computer. And you're allowed to preview and export the chats into HTML file for easy viewing or printing.
It allows you to restore the WhatsApp backup to any iPhone, iPad or Android devices of your choice, at any time.
It helps you transfer WhatsApp messages and attachments between mobile phones, including iPhone to iPhone, iPhone to Android, Android to iPhone, etc.
It is also helpful in the backup and restore of other types of social app data, such as LINE, Viber, Kik and WeChat.
Follow these simple steps to create a full backup of your WhatsApp data on iPhone or iPad:
Step 1: Download and install WhatsApp Transfer on your computer, then open the suite of tools. In the main windows, click on "WhatsApp Transfer" to begin the process.
Step 2: Head to the WhatsApp tab and choose the "Backup WhatsApp Messages" option, then connect the iPhone to the computer using USB cable.
Step 3: As soon as the program detects the device, the backup process will begin immediately. Keep your iPhone connected to the computer until the backup process is complete. You can then click "View it" to see the completed backup.

Joan J. Mims is interested in researching all tips about iPhone, iPad and Android. He loves to share useful ideas with all users.

Home
>
iPhone Tips
>How to Use WhatsApp without Phone Number or SIM