If you're an iPhone or iPad user, you've probably tried switching to Do Not Disturb mode when you want to mute the notifications to prevent any form of distraction. But what if you only wanted to block notifications from specific apps? This is when the "Delivered Quietly" feature comes in handy.
The Delivered Quality feature was released in iOS 12. But what does it really mean? Read this guide to find out more details.
What Does Delivered Quietly Mean on iPhone?
The "Deliver Quietly" feature is part of Apple's iOS 12. When switching to this mode, your iPhone or iPad can still accept notifications, but you will not see all of them on the lock screen. What happens is that you'll only see those notifications appearing on the Notification Center.
Additionally, a notification badge also appears on the app icon's upper right-hand corner when you unlock your phone and switch to the Home screen. There will also be no notification banners appearing, and your iPhone or iPad will not ring or vibrate even when a notification from one of the apps set to Deliver Quietly comes through.
The main advantage of this feature is that you don't need to worry about distractions or notifications cluttering the lock screen.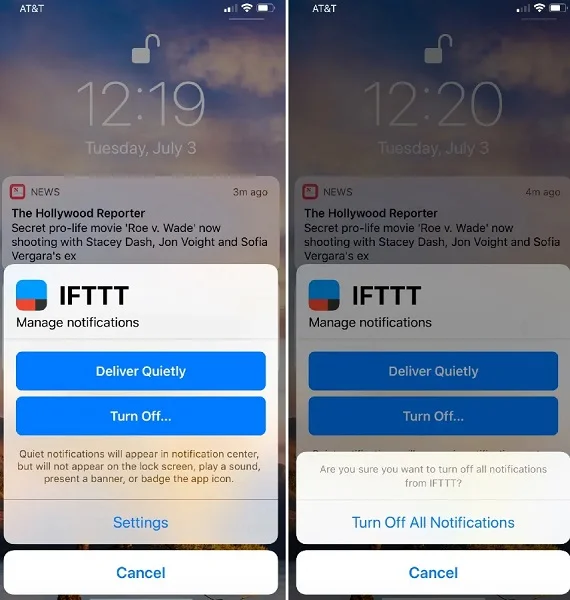 How to Turn on Deliver Quietly on iPhone Notifications?
Thanks to the Delivered Quietly feature, you can now choose which app notifications appear on iPhone or iPad's lock screen. Here's how you can enable this feature.
Open the device's notification center by swiping down from the top of the screen. It should also automatically open when your Face ID is enabled.
Find the app where you want to use the feature. Swipe leftover single or multiple alerts.
Click Manage and select Deliver Quietly. This means the app's notifications will still appear but with no presentations or sound.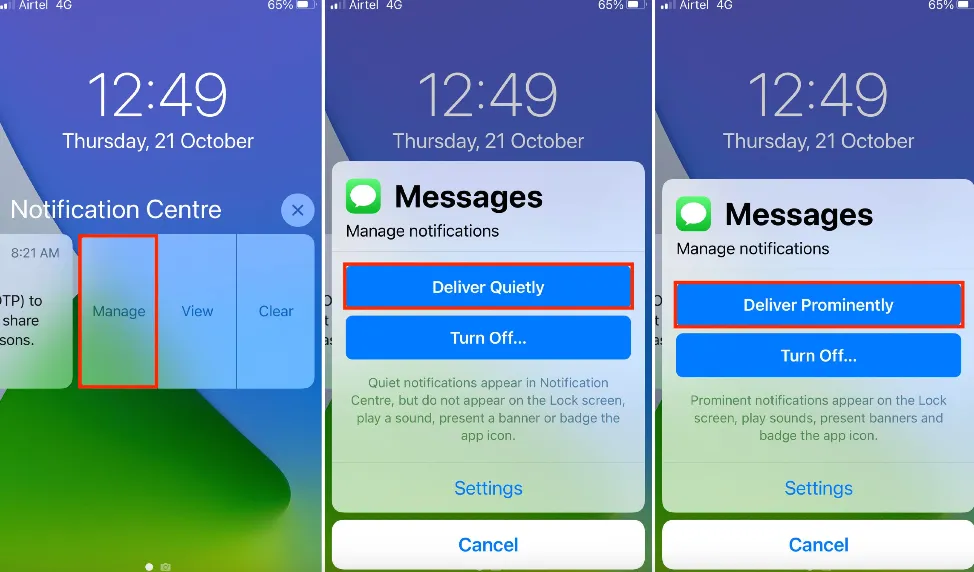 You can allow multiple apps to deliver quietly. All you need to do is repeat the above steps on the other apps as well. If you want to silence or turn off all your notifications, you can choose to switch on your Do Not Disturb instead. Just go to Settings and tap Do Not Disturb.
How to Turn off Delivered Quietly
Should you wish to hear notifications again from a certain app you've switched to Delivered Quietly, it's simple. Just slide that app's notification to the left on your gadget's lock screen. Click "Manage" and select "Deliver Prominently." You will now see notifications from that app pop up on your screen.
The steps above are for gadgets running on iOS 12 to 14. If your iPhone runs on iOS 15 or later, you can still turn off Deliver Quietly by following the steps below.
Open your Settings app. Click Notifications, or you can also swipe on a notification to the left in your Notification Center.
Tap Options and then select View Settings.
Tap on the applications you wish to receive notifications from.
Toggle the Sounds on and remove the Lock Screen's check mark.
Click and toggle the Banners on.
Turning the badges on is also possible when you want to receive alerts from them.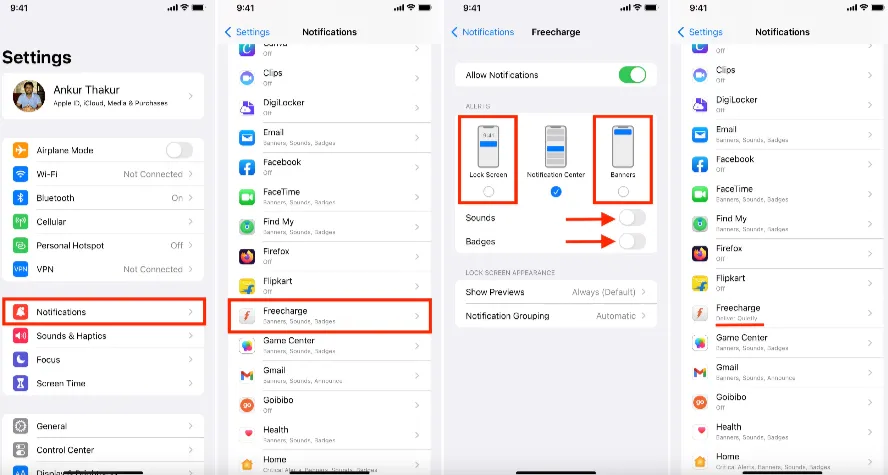 Turning off Delivered Quietly means every time you receive a notification from that specific app, your gadget vibrates or makes a sound like it usually does.
What Happens When You Tap "Notify Anyway"?
Let's say your iPhone is on Do Not Disturb, but your friend taps on "Notify Anyway" on his end. What do you think will happen?
Once your friend taps "Notify Anyway," the notification you receive on your phone will still make a sound. While this is a cool and helpful feature, we highly recommend using it carefully and mindfully to prevent interrupting other people, especially when they're busy.
To be fair, we also suggest waiting for the recipient to pull his gadget out of its Focus mode before thinking whether the message is important enough for you to tap on "Notify Anyway."
"Deliver Quietly" Vs. "Turn Off Allow Notifications": What's the Difference?
Don't get confused between Deliver Quietly and Turn Off Allow Notifications. They don't mean the same thing and work differently.
When you switch off your "Allow Notifications" for a specific app, all notifications will be disabled. You can do this by heading to your phone's Settings → Notifications → the App name.
On the other hand, switching on the "Deliver Quietly" will only reduce your notifications, especially of apps that don't need your attention at once. Yes, you'll still receive those notifications, but they will not create any sound or make your phone vibrate.
Another advantage of delivering quietly is that your iPhone's screen will not light up whenever a new notification from that app comes in. This can make your battery last longer.
The Bottom Line
"Deliver Quietly" is a great feature when you want to mute the notifications of certain unimportant apps and prolong your battery life. It also reduces sounds or vibrations on your gadget that can annoy or distract you, especially when at work or in school.
We hope this guide helped you understand how it's different from your iPhone or iPad's "Do Not Disturb" mode. What apps do you usually put on "Deliver Quietly" mode? Let us know in the comments below!