User Concern
"What does restore iPhone mean? Connected my iPhone to iTunes for iOS 17 update and it said an error occured...now it's saying I need to restore iPhone...what does that mean? Am I going to lose all data?"
If you own an iPhone, then you've probably come across the term "Restore" quite a bit. Connect your iPhone to a computer and open iTunes or Finder, then you will see an option to "Restore iPhone".
And there are many articles or videos describing this as one of the most common ways to fix various iOS related issues with iPhone or iPad. But what exactly does it mean to restore an iPhone and how to do it?
Well, in this article, we will discuss what an iPhone restore is and how to restore an iPhone easily and effectively.
Q1. What Does It Mean to Restore Your iPhone?
What does restore iPhone mean? Restoring an iPhone essentially means restoring the device to its factory settings which usually involves wiping all the data and settings on it.
If you iPhone is malfunction, you can perform a restore in iTunes to reinstall the operating system and return the device to its original state. Generally, your iPhone will be updated to the latest iOS version.
Q2. Does Restoring Your iPhone Delete Everything?
Yes, we need to reiterate here that restoring iPhone will erase all information on your iPhone and cannot be retrieved from the device after restoration. That's to say, you will lost all the existing data like photos, videos, contacts, apps, etc. on your iPhone by restoring it in iTunes.
This is something that you don't want to do unless you have a backup of all the data on the device beforehand. Therefore, the general rule of thumb when restoring an iPhone is to ensure that you backup the data on the device before performing the restore.
Q3. Is It Good to Restore Your iPhone?
Well, it depends on your situations. You may suddenly find your iPhone frozen and unresponsive, and you're unable to power it off using the normal method. Don't worry, this can be fixed by restoring your iPhone in iTunes. However, you will lose all of your data if there is no backup.
Q4. How to Restore iPhone in iTunes?
You can fix a frozen or disabled iPhone by restoring it using iTunes on your computer. If you use a Mac running macOS Catalina or later, you can use Finder to do the restore. It works the same as iTunes. Follow these simple steps to do it:
Launch iTunes or Finder on your computer and connect the iPhone to the computer. If a message pops up asking you to enter the device's passcode or "Trust this Computer", follow the onscreen instructions to continue.
Select the device in the "Summary" (Generally in Finder) tab when it appears.
Click on "Restore iPhone" and iTunes will erase the device of all its data and settings before installing the latest version of iOS on the device.
When the restore process is complete, the device will restart and you can set it up as a new device or restore from iTunes/iCloud backup if you have one.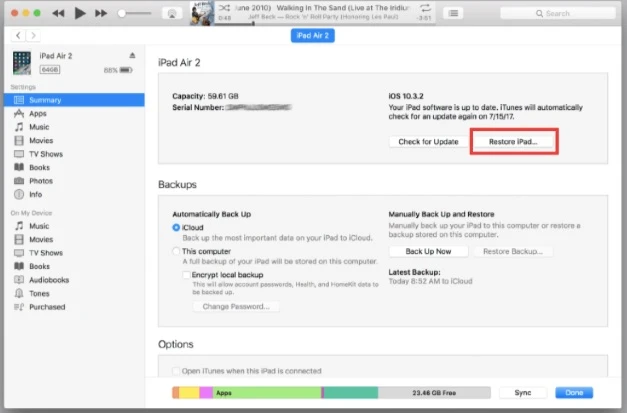 Note
This process will not work if you have enabeld Find My iPhone. You should go to Settings > [your name] > Find My > Find My iPhone to disable it before attempting to restore your device to factory settings.
Q5. How to Restore iPhone without iTunes?
The methods described above will wipe all the existing data on your iPhone. Even you have a backup, anything that is not included in the backup will be lost for good. Is there a way to restore an iPhone and fix iOS related problems without losing any data. The answer is YES.
You can rely on third-party tools like FoneGeek iOS System Recovery to do that. This software can help you fix various iOS issues without performing a full restore. Here's how to restore an iPhone without data loss:
Step 1: Download and install FoneGeek iOS System Recovery on to your computer. Run the program and click on "Standard Mode" in the main window. Then connect your iPhone using a lightning cable and click "Next".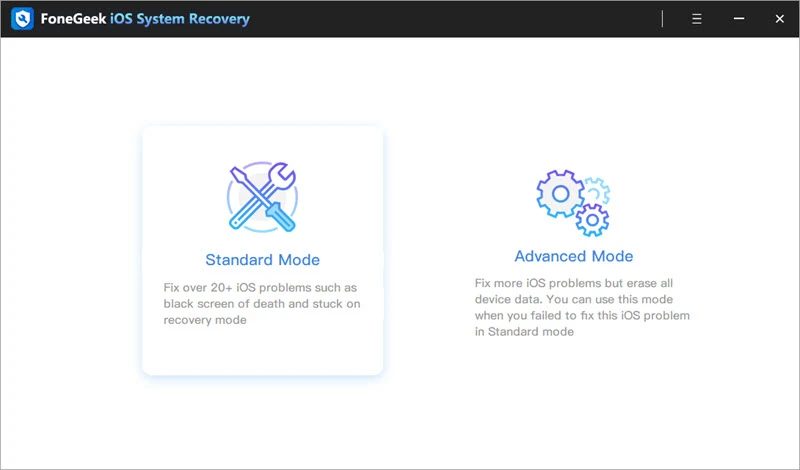 Step 2: When your device is detected by the program, you will see all matching firmware versions provided for the device. Just choose your preferred one and click on "Download" to begin download the firmware package.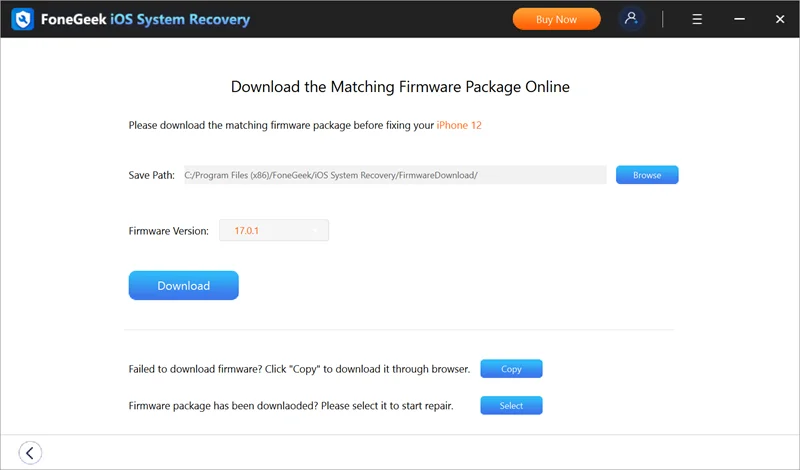 Step 3: Once the download is complete, click on "Fix Now" and the program will immediately begin restoring the device. Keep the device connected until the program notifies you that the process is finished.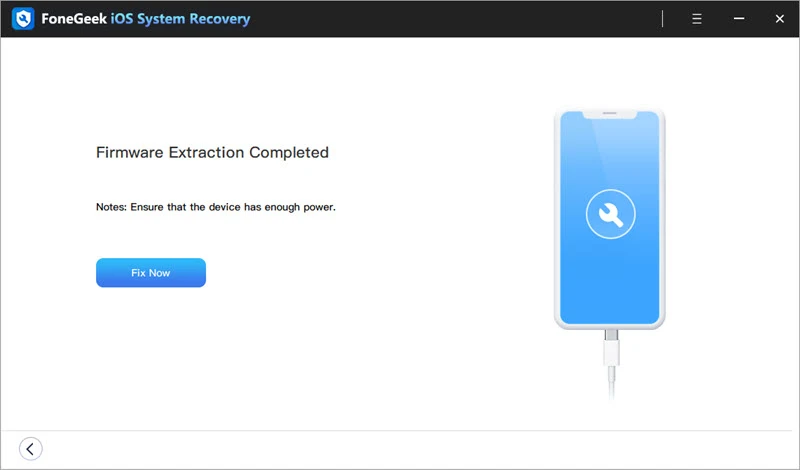 Q6. What Is the Difference between Restore Backup and Restore iPhone?
When your connect your iPhone to iTunes or Finder, you will get two optaions: Restore iPhone or Restore Backup. Then, what's the differences between the two options?
Restore Backup
This restores the contens in an iTunes backup created sometime in the past. It will restore all content and stored data even app settings, home-screen layouts, etc. If the iTunes backup was encrypted, the saved account login information will also be restored.
Restore iPhone
This deletes all data and apps on the iPhone and reinstalls the iOS system, leaving the device reset to its factory settings. Your iPhone will be updated to the latest iOS version and only have Apple default apps installed.
Q7. What Is the Difference between Reset iPhone and Restore iPhone?
So, you may also be wondering how resetting an iPhone differs from restoring an iPhone. Despite these two terms used interchangeably, they refer to vastly different processes.
What is a Reset?
Resetting your iPhone is a lighter form of formatting the device and bring it back to factory settings. A reset can be done from directly the device's Settings app and will not cause any data loss.
It is also worth pointing out that you can reset various aspects of the device such as the settings, network, keyboard dictionary, location and privacy settings if they are not functioning correctly.
What is a Restore?
In sharp contrast, a restore means factory resetting the iPhone and erasing all the data and settings in the device. When perform a restore on your iPhone, you will lose all the photos, music, videos, apps and other files as well as all your preferred settings.
Restore is really helpful when there is a software problem with your iPhone. However, it is not recommended to do that when the device is working fine.