Despite being an extremely convenient messaging service, WhatsApp can get quite addictive or irritating sometimes to the point that you want to get rid of it. However, before you do it, have you wondered what happens if you delete the WhatsApp app or the WhatsApp account?
If you have, then all kinds of scenarios and questions about your WhatsApp chats, media, and more might be on your mind. But, no need to overthink anything. We will answer all your queries regarding the deletion of WhatsApp herein. Keep reading.
Uninstall WhatsApp App VS Delete WhatsApp Account
Uninstalling the WhatsApp app and deleting the WhatsApp account are two different things, so understanding what they actually mean first is pretty important. When you uninstall the WhatsApp app, you remove it from your phone. Your account is still intact (registered with WhatsApp), but you're temporarily unable to access it; thus, you can't receive or send messages. However, a simple reinstall will give you access to it again. You'll even get the messages which were sent during your absence.
Deleting your WhatsApp account, on the other hand, wipes out your WhatsApp presence completely. You're removed from all the group chats, all messages, including your message history disappear, and anyone with your number won't see you as an WhatsApp contact. All your data and contact information will be removed from the WhatsApp servers. You'll only be left with the WhatsApp media files saved on your phone.
What Happens When You Delete the WhatsApp App?
You can restore WhatsApp chat history from Google Drive or iCloud backup when you reinstall the WhatsApp app. The option will come up right after passing the verification stage.
People with your WhatsApp contact can still be able to message and call you. You'll get notifications for those messages and missed calls once you reinstall the app.
You will still remain in your groups and continue being an admin if you were an admin of any of the groups.
Your last profile picture and About will still be visible to your contacts based on your previous privacy settings.
Your friends will see the last time you were active if you activated the last seen feature before uninstalling WhatsApp.
Previous settings and all blocked numbers won't be affected, they'll remain the same when you reinstall the app.
Your number will remain as an active WhatsApp contact in your friend's WhatsApp chat or contacts list even after you uninstall the app.
What Happens When You Delete WhatsApp Account?
All the chat records stored on your phone will disappear. WhatsApp won't open, and you won't access any previously received messages.
All your Google Drive or iCloud backups will be cleared completely. You won't get the option to restore them if you reactivate your account.
People won't be able to call or message you as your account doesn't exist. Anyone who messages you will only see a single tick next to the message they send you. You won't get any messages.
You'll exit all WhatsApp groups. All other members will only see "ABC left" in the group. If you're the admin in the WhatsApp group, the admin rights will also go.
Your profile picture and About will be deleted because they are both saved on the WhatsApp servers. The picture on your phone won't be deleted though.
WhatsApp account and settings will get deleted, too, since the account doesn't exist anymore. You'll get just the default settings if you reactivate the account.
You'll lose your WhatsApp images and videos if you didn't save them on your iPhone or Android device.
Your WhatsApp payment history will be deleted if you've been using WhatsApp. You'll need to connect your bank account again to WhatsApp.
Your friends will still be able to view all the previous chats with you. There will be no impact on their end, so they'll see the past chats with you if they haven't cleared them on their end.
How to Uninstall the WhatsApp App on Android/iPhone
You've learned what happens when you uninstall WhatsApp; now it's time to learn how you can uninstall the WhatsApp app on both iPhone and Android phones.
For Android phones, launch the Play Store and open WhatsApp. From there, you only tap the Uninstall button to complete the process.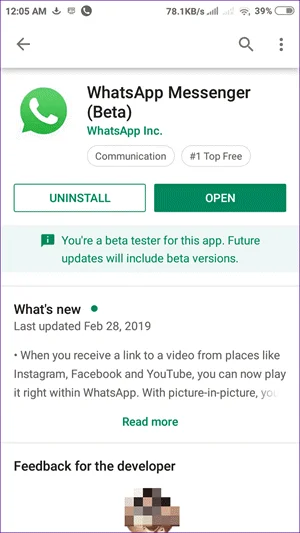 For iPhones, press and hold the WhatsApp icon on your device's home screen. The icons should start shaking. When they do, tap on the cross sign next to the WhatsApp icon to uninstall WhatsApp.
How to Delete WhatsApp Account on Android/iPhone
You can only delete your WhatsApp account on the mobile app. You can't do it through WhatsApp web. Follow these steps to do it (on both iPhones and Android phones).
Launch WhatsApp. If you use an Android phone, tap the three-dot icon positioned at the top right corner and select Settings from the resulting menu.
If you use iPhone, tap Settings at the bottom.
Tap the Account option and then tap the Delete My Account option.
You'll be prompted to put your phone number. Please do so and press Delete My Account.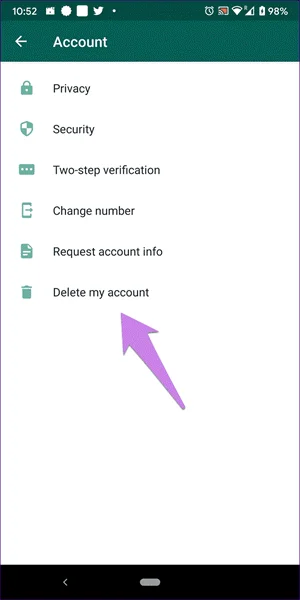 Keep in mind that you must have your phone number to be able to delete your WhatsApp account.
Backup WhatsApp Messages Before Deleting WhatsApp
Backup WhatsApp Messages to iCloud (for iPhone)
If you are using WhatsApp on an iPhone, the best way to save your chats is backing them to iCloud storage. You can do this using the backup feature found in the WhatsApp app itself. Just follow these four simple steps.
Open "Settings" - once you launch WhatsApp on your iPhone, you'll see five buttons/icons at the bottom. Tap the "Settings" icon (on the far right).
Head to the "Chats" Menu - tap the "Chats" option in the Settings menu to access the Chat settings.
Choose "Chat Backup" - now, select the "Chat Backup" option from the "Chats" page.
Select "Back Up Now" - tap on the "Back Up Now" option to begin the backup process. Alternatively, you can choose the "Auto Backup" option and change your backup frequency.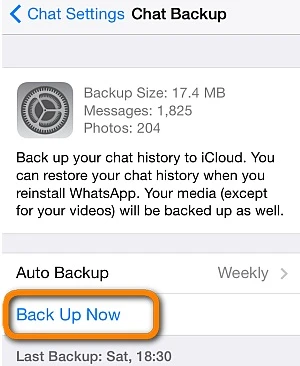 Backup WhatsApp Message to Google Drive (for Android)
If you're using the app on an Android phone, you can easily save your WhatsApp data to Google Drive. You can manually back up your chats to Google Drive at any time or set Google Backups on your Android phone to back up your WhatsApp data regularly.
Taps the Menu Icon - after launching WhatsApp on your Android device, head to the top right corner of the WhatsApp app and tap the three vertical dots to open the Menu.
Select "Settings" - tap the "Settings" option from the dropdown menu.
Head to "Chats" - tap the "Chats" option in the WhatsApp settings.
Tap "Chat Backup" - in the resulting chat page, tap "Chat Backup" (next to the cloud icon) at the bottom of the page.
Tap on "Back Up" - in the "Chat Backup" page, tap "Back Up to Google Drive" under Google Drive settings to set up your backup frequency. Alternatively, you can tap the green "Backup" button right on top of Google Drive settings to initiate a manual backup.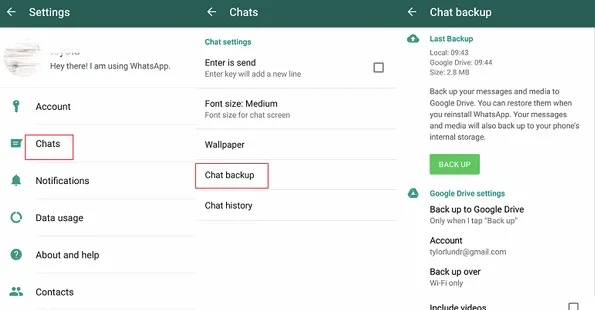 Note: If you've not yet linked your phone to your Google account, then only a local backup will be created when you tap the "Back Up to Google Drive" option.
Backup WhatsApp Messages on Android/iPhone
Besides using the backup feature in the WhatsApp app, you can utilize a tool like Tenorshare iCareFone Transfer to back up your WhatsApp messages from both iOS and Android devices to your preferred storage option.
Apart from WhatsApp backup, this tool offers other special features, including the ability to transfer WhatsApp & WhatsApp Business/GBWhatsApp between Android and iOS devices. You can also download and restore WhatsApp/WhatsApp Business with this Tenorshare tool. It supports almost all iPhone models and iOS versions (up to iOS 16) and over 5000 Android devices and Android versions 2.0 to 12.
Key Features of Tenorshare iCareFone Transfer
Transfer WhatsApp and WhatsApp Business messages and media between Android devices, iOS devices, and Android and iOS devices.
Transfer GBWhatsApp data to WhatsApp/GBWhatsApp between Android and iOS devices.
Back up WhatsApp/WhatsApp Business chats and media from iOS and Android devices to PC/Mac.
Export WhatsApp/WhatsApp Business backup to HTML for viewing.
Fully RestoreWhatsApp/WhatsApp Business backup to iOS /Android device.
Download WhatsApp backup directly from Google Drive to PC and restore to Android/iOS device.
Backup and Restore other iOS social apps, including Viber/WeChat/Kik (only for iOS).
Now that you've seen the features, let's check how to back up WhatsApp using Tenorshare iCareFone Transfer.
Start downloading iCareFone Transfer and installing it onto your computer.
Connect your iPhone to the PC (tap Trust on your iPhone if prompted). On the resulting interface, click the "WhatsApp" icon.
Head to the side toolbar and click the "Back Up" option. Select the iDevice you wish to back up, and click "Back Up Now" to proceed.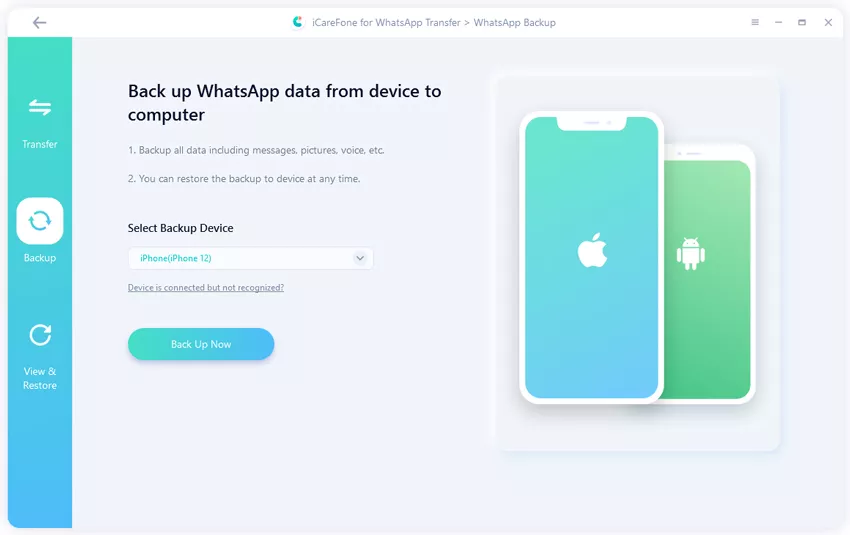 iCareFone Transfer will start backing up the WhatsApp data on your iPhone. The process will take several minutes based on the backup file size. Ensure the device isn't disconnected during the backup process. Once the program finishes the process, it will alert you. From there, you can review the backup and export it.
Backup WhatsApp Chat History via Email
Backing up WhatsApp chat history through email has several limitations, one being that the messages are sent in TXT format. The other one is that you can't send more than 10,000 messages simultaneously. Besides that, you can't restore the messages to your iPhone later. If you don't mind these restrictions, you can follow these steps to back up your WhatsApp on iPhone through email.
Launch the WhatsApp app and head to the chats you want to email. Tap the WhatsApp contact name on top.
Next, tap the Export Chat option and then select whether to include media like attached photos or videos or not.
Finally, select Email or another service.
Once you're done, an email will immediately be sent containing the chats in TXT format. If you choose to send the chats with media, then WhatsApp will send all the photos or videos as individual attachments.
More FAQs about Deleting WhatsApp
How to Know If Someone Uninstalled WhatsApp?
It's hard to detect if someone uninstalled WhatsApp. The best you can do is to assume that they've done so when you send messages to them and you see only a single gray stick. Still, though, this may not be accurate because they could be having phone issues or might not have internet.
Will Your Friends Be Notified When You Delete WhatsApp Account?
No, they won't. No direct message would be sent to your friends by WhatsApp to alert them that you've deleted your account. They will only get to see the "ABC left" text in the WhatsApp groups you're part of.
How to Know When Someone Has Deleted WhatsApp Account?
The first place to check is the common groups. If the person left the group, that should be your first clue. Next is to check the existing chat if there are any available. Look if the profile picture and About are available. If they're not, that's a second clue. From there, try starting a new chat and see if you can find the specific contact. In case there's an Invite button beside their name if you're using WhatsApp on Android, that should tell you that their account is deleted.
If you're using WhatsApp on your iPhone and the name of the particular contact doesn't appear in your WhatsApp contacts when you try to start a new conversation, then their account has been deleted. Alternatively (on iPhone), you can try to call them if you still have a chat thread with them. If their account doesn't exist, then you'll get a call failed error.
Does WhatsApp Delete Inactive Accounts?
Yes, it does. WhatsApp automatically deletes accounts when they have been inactive for 120 days (roughly four months).
What Happens to WhatsApp App after Deleting Account?
When you delete the account, the WhatsApp app will remain on your phone. However, you'll be prompted to register your account when you launch the app. To completely remove the app from your phone, you'll have to uninstall it after deleting your account.
Final Words
We hope now you have a better understanding of what happens when you delete your WhatsApp account or uninstall the WhatsApp app. It is important to ensure you've backed up your WhatsApp data to your PC/Mac and cloud or even on the device itself before you uninstall the WhatsApp.
If you delete your account, your cloud backups will be deleted. So, the best option is to back up your WhatsApp to your PC/Mac. You can easily do that using Tenorshare iCareFone Transfer. It's the best tool and offers other useful features like the ability to transfer, download, and restore backups with just a few clicks and many other things, as you've seen above. We highly recommend it if you don't want to lose your WhatsApp data.