A good way to make sure that people don't interrupt you in your spare time is to delete instant-messaging app, such as WhatsApp. You must also be curious about what will happen when you delete WhatsApp. No fret, just read this article to find answers to this question.
1. What Happens When You Delete WhatsApp Account
Well, it's very normal when you are in the dilemma to uninstall WhatsApp. Before proceeding to delete WhatsApp account, you must wonder what will happen when you delete WhatsApp account. The answer for this question is listed below:
All the WhatsApp messages will be deleted if you don't turn on the auto back service.
WhatsApp data in Google Drive backup will also be deleted.
The old WhatsApp messages will not be visible even if you have reactivated the WhatsApp account with the same phone number.
Your phone number will be deleted from the contact list of your friends.
You will also be removed from all the groups that you have joined in.
WhatsApp data from the server will also be deleted after removing the WhatsApp account.
All the details and information about payment will be removed.
2. Queries for Backing Up WhatsApp Messages
The tips above are what you need to know when you deleted WhatsApp. You will possibly lose WhatsApp messages after removing this app. To prevent this situation, various solutions are described below to back up all WhatsApp chats beforehand.
2.1. Backup WhatsApp Messages to iCloud
The simplest way to back up WhatsApp messages is through iCloud. Follow the steps described below:
Power on your iPhone and open WhatsApp.
Go to Settings of this app and click on 'Chats'.
Then click on 'Chat Backup' and 'Back Up Now'. The WhatsApp chats will then be saved in iCloud.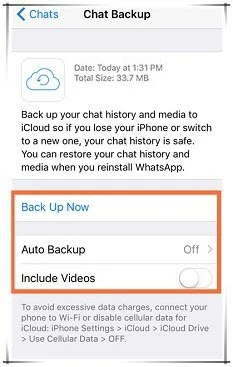 2.2 Individually Backup WhatsApp Messages for Free
A vast number of software on the market are available can be used to back up WhatsApp messages for free. The most recommended option is FoneGeek - WhatsApp Transfer. This is a secure program that fulfills the purpose of backing up/restoring/transferring WhatsApp messages for iPhone/Android users. It is proven to be the most appropriate backup tool no matter how much WhatsApp data you have. Here are the reasons:
The existing data on the device will not be overwritten by the WhatsApp backup messages.
All backup files will be saved on your laptop individually.
Apart from the feature of backup, FoneGeek also allows you to restore and transfer WhatsApp conversations to another device.
This program can work with all models of iOS devices and iOS versions.
And here is how to use FoneGeek to back up WhatsApp messages for free.
Step 1. Install FoneGeek program on your computer and run it. Go to the main screen and click 'WhatsApp Transfer' located at the right side.
Step 2. You need to connect your device with the PC and click on 'Backup WhatsApp messages' to enable the program to start the backup procedure.
Step 3. Do no disconnect your device with the computer until all the WhatsApp messages are fully backed up.
2.3 Backup WhatsApp Chats via Email
There is yet another way you can try to save your WhatsApp messages on iPhone. You can email selected chat history and download them from email address.
Step 1. Run WhatsApp on your iPhone and choose conversations you need to email.
Step 2. Click on the contact name of the selected chat history at the top and contact info will be displayed.
Step 3. Tap on 'Export Chat' from the contact info and choose 'Attach Media' or 'Without Media'.
Step 4. Select 'Mail' from the pop-up window and enter your email address. Your desired WhatsApp messages will soon be sent to that email address.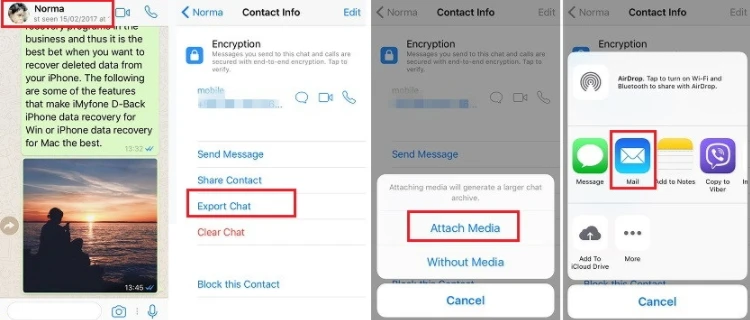 Conclusion
From the content above, the answer of 'what happens when I delete WhatsApp', increasingly, seems to be obvious. If you still have other questions, ask your burning questions in the comments below, and we'll offer detailed answers and advice for you。

Fay J. Melton has explored the area of technology and software for more than 5 years and he is enthusiastic about helping users solve various technology issues.

Home
>
iPhone Tips
>Must-Read Guide: What Happens When You Delete WhatsApp