User Concern
"Have you ever sent a quick voice message to a friend or family member, only to forget where it went?"
Have you ever sent a quick voice message to a friend or family member, only to forget where it went? You're not alone! Many iPhone users are unaware that their messages can be saved and stored. While it may seem like these messages disappear into thin air, the truth is that they are still there — we just need to know where to look for them.
In this blog post, we'll discuss exactly how iPhones store your recordings and provide step-by-step instructions for retrieving lost audio messages quickly and easily. Stay tuned for everything you need to know about where do saved voice messages on iPhone go!

Note
Many iPhone users are unaware that their messages can be saved and stored. While it may seem like these messages disappear into thin air, the truth is that they are still there — we just need to know where to look for them.
Part 1. Where Do Saved Voice Messages Go?
If you are an iPhone user and have received an important audio message, you might wonder where it is saved on your device. It's essential to know the exact location to access and share it with others. Typically, when you receive an audio message through iMessage, it is saved within the thread of the person who sent it. If you accidentally delete the message, fortunately, there's still a way to find it.
Go to the Phone app, tap on Voicemail, and you'll see a list of all the saved voicemails and audio messages. There, you can select and listen to any saved message anytime. Knowing where to find saved audio messages in your iPhone can save you from the frustration of losing important messages.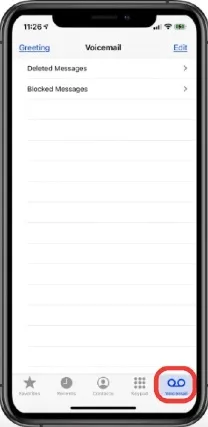 Part 2. How to Save Audio Messages on Your iPhone
If you're an iPhone user and regularly receive audio messages, you might have wondered if there's a way to save them on your device. Fortunately, there are a few easy steps you can follow to do just that. Here are some of the techniques you can perform to save iPhone messages:
Save Audio Messages with the Keep Feature
One such feature to save messages on an iPhone is the "Keep" feature, this feature allows you to save audio messages directly from your iPhone's message app. The "Keep" feature is incredibly useful for those who need to keep track of important conversations or messages, and it eliminates the need to constantly scroll through your messages to find what you're looking for. By simply holding down on an audio message and selecting "Keep," you'll be able to access that message anytime you need it, making it a valuable tool for staying organized and efficient in today's fast-paced world.
Here is a step by step guide:
Open the iMessages app on your iPhone and select the conversation containing the audio message.
Listen to the audio message you want to keep.
After listening to the audio message a "keep" option will appear below the message for you to keep your message.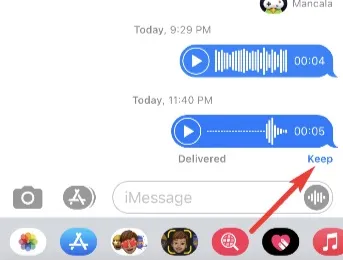 Copy and Paste the Audio Messages in the Files App
Copy and paste audio messages on your iPhone can be a useful tool for easy access and sharing. With the Files app on iPhone, you can store and organize audio messages right alongside your other important files.
Here is a step-by-step guide you can follow to copy and paste audio messages:
Open the messages app and locate the message you wish to save.
Tap and hold until Options menu appears. Then select "Copy".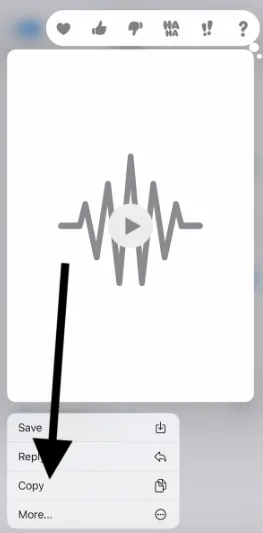 Launch the Files app and choose a folder from the list (e.g. On My iPhone, iCloud Drive, Downloads) where you can paste the audio message or create a new folder if you prefer.
Scroll down to an empty space then press and hold it until the option of "Paste" appears.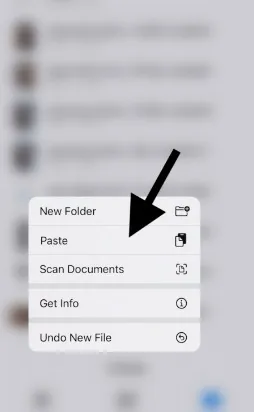 Select Paste to copy the audio message into your chosen folder.
The audio message will now be pasted into your selected folder in the Files app.
Save Audio Messages via Device Settings
Apple has given us the ability to save audio messages via settings on our iPhones. This feature was introduced in iOS 12 and is not only easy to access, but also a convenient way to preserve memories or important messages. Taking advantage of this option will save you from the hassle of downloading and saving each message manually. Keep in mind, this feature may take up storage space on your device, so be cautious if you are running low on space.
Here is a comprehensive guide to save audio messages via device settings:
Open your iPhone Settings on your iPhone.
From the menu appeared, select "Messages".
You will find an option inside messages reading "Audio Messages".
Select "Expire" from the option and select "Never" to save your audio messages.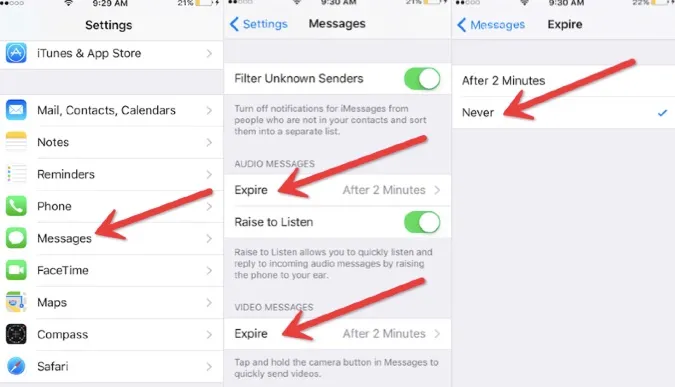 Export Voice Messages Via Notes App
Exporting voice messages on iPhone using the Notes app is a straightforward and convenient process that can be done in just a few steps. With the increasing popularity of voice messages, the need to backup and transfer them has become all the more important. The Notes app on an iPhone allows users to not only type and note down things, but also to record and store audio files. With a few taps, users can export their audio files stored in Notes, and share them on a variety of platforms. This feature can come in handy for professionals who need to share audio notes with their team or for individuals who want to keep a record of important discussions.
Here is a detailed guide:
Select the conversation with your desired audio message.
Keep your finger pressed on the audio message until a menu appears.
Tap "Copy" in the menu.
Launch Note app and create a new note, then select "paste" from the menu to paste the audio message onto the note. (P.S: The file will be saved as a .caf file).
Tap and hold on the audio message. Your audio message will be exported to the Notes app, ready for you to share or save it in iCloud Drive or any other app you desire.
Save Audio Messages on Mac
Keeping track of important audio messages on your Mac has never been easier. With just a few clicks, you can save those messages and keep them organized for future use. Whether it's a voice memo from a client, a recording of a meeting, or a personal message from a loved one, you can rest easy knowing that these audio files will be easily accessible whenever you need them. By utilizing the simple yet powerful tools available on your Mac, you can ensure that you never lose an important audio message again.
Here is a comprehensive guide that outlines each step:
Begin by changing the settings in your iCloud account to make sure your conversations in iMessage are visible in both your iPhone and Mac computer.
Open your Mac, access the Messages application and locate the chat containing the voice message.
Right-click the audio message and select "Services" from the drop-down menu. Then, choose "Show in Finder" from the available options.
Part 3. Is There Any Way to Retrieve Lost Audio Messages?
There are ways to retrieve your lost audio messages. Firstly, check your phone's recycle bin or recently deleted folder. If the audio message is not there, try looking for it on your cloud storage or backup files. Another option is to use third-party data recovery software such as FoneGeek iPhone Data Recovery to scan your phone for deleted files. It's important to act fast and avoid recording or deleting new audio messages to prevent overwriting the lost ones. With these steps, you can recover your lost audio messages and avoid the hassle and stress that comes with it.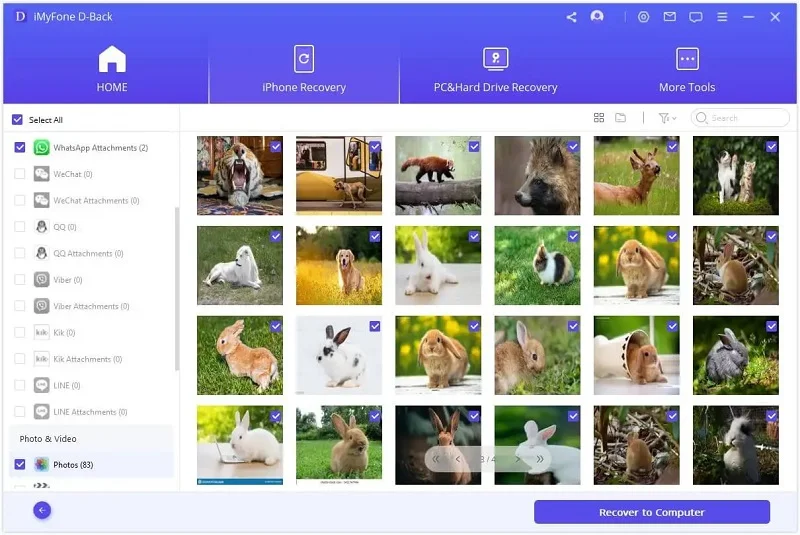 Conclusion
Now that you know the ins and outs of managing voice recordings on your iPhone, your life just got a little bit easier. You're now equipped with a reliable solution to store and organize all your important messages in one place. Whether for work, family or friends, believe me when I say that having quick access to past audio conversations can prove invaluable. So next time you have something to capture for later reference, you won't be caught off guard. Easily access and save feedback from the meeting room or an insightful comment from a loved one - none of it will slip through the cracks ever again!