User Concern
"How to view individual Voice Memos backed up to iCloud on my iPhone? How do I transfer these voice memos from iCloud to my computer without syncing with iTunes? Just wondering how to do that" - from Apple Community
Voice memo is developed as a default Apple app used to record all sounds in our daily life. Most iPhone or iPad users use Voice Memo to record an important speech, or a rare sound for its convenience and flexibility.
Back up voice memos is strongly recommended if you don't want to go through the terrible experience of data loss one day. When it comes to backup, iCloud is always regarded as one of the best choices.
Does iCloud backup voice memos? Most users get confused on this. In this tutorial, you'll learn the indications showing whether voice memos can be backed up with iCloud, how to extract the voice memos from iCloud backup to your computer and different ways to back up voice memos.
Does iCloud Backup Voice Memos?
YES. Go to Settings > iCloud to switch the option of Voice Memo on, and iCloud will automatically back up the voice memos daily over Wi-Fi when your iPhone is turned on, locked, and connected to a power source.
However, here comes another troublesome problem: How to check if the voice memos are backed up with iCloud? Most of us may follow the official way to factory reset iPhone and choose to restore from iCloud backup to browse the voice memo on iPhone. It is awkward and risky.
After all, factory reset iPhone will erase all content and settings, which may lead to data loss. Thus another feasible choice is to view the voice memos from iCloud with an iCloud backup viewer.
Access Voice Memos on All iOS Devices
If you have signed in your iPhone, iPad and Mac with the same Apple ID, the voice memos will automatically appear on these iOS devices when they are backed up with iCloud.
On iPhone/iPad:Go to iPhone Settings, click on your name > iCloud and enable "Voice Memos".
On Mac: Click on Apple icon in the upper left corner and select System Preferences. Click on iCloud and select "Voice Memos".
How to View and Extract Voice Memos from iCloud Backup
With FoneGeek iCloud Backup Viewer, you have chances to view voice memos as well as contacts, messages, photos, videos, WhatsApp messages, viber, kik, notes, safari history, etc from iCloud backup or iTunes backup.
To make a better use of the iCloud backup data, this software also allows you to extract these data from iCloud backup to computer. It is updated regularly and now compatible with the latest iOS 17/16.
Now you can download the free trial version of this iCloud backup viewer on your computer to view the voice memos from iCloud backup for free.
Step 1. After the download and installation process, launch it on your computer. Then three recovery mode are offered, tab on "Recover from iCloud" and you'll need to enter the iCloud information to sign into iCloud account.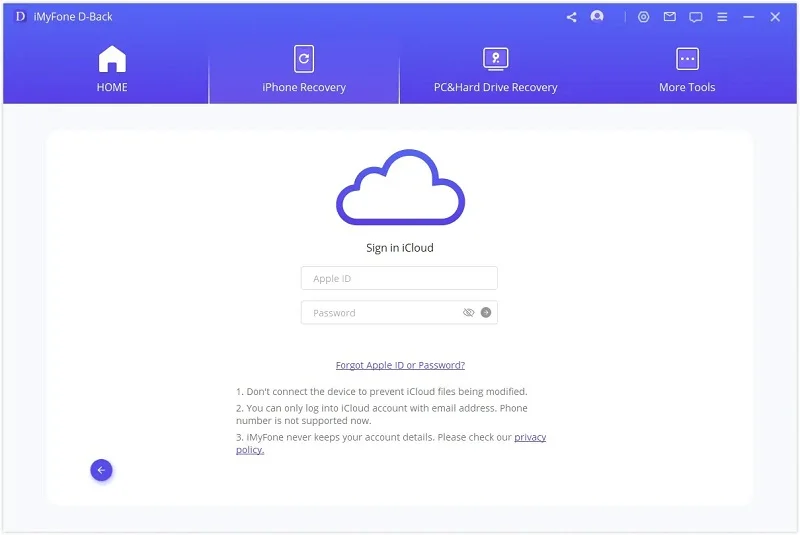 Step 2. Choose an iCloud backup file to scan. After scanning the iCloud backup, select "Voice Memos" and export them to computer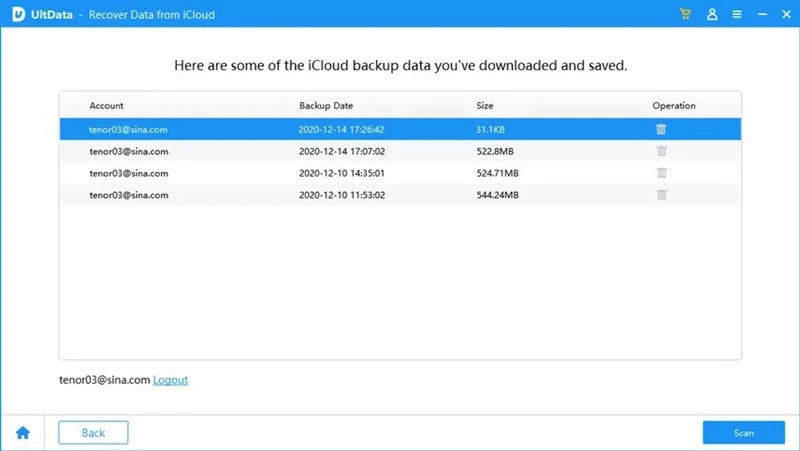 It seems to be much easier than what you imagined, right? Actually, this iCloud backup viewer can also be used to view and extract deleted voice memos whenever you have backup or not.
Other Ways to Back Up Voice Memos
Way 1: Back up voice memos via the sharing feature
The inbuilt sharing feature on iOS devices allow you to back up your voice memos without connecting the device to computer. If you are using Windows computer, you can share the voice memos via text message or email. If you are using a Mac, AirDrop is definitely the best sharing tool.
Open Voice Memo app on your iPhone and choose one voice memo you want to export to computer.
Click on the 3 dots and the "Share" button.
On Windows: click on Mail and send the selected voice memo to your email address. Then you can sign into your email on computer to download the voice memo.
On Mac: Click on Airdrop and select your Mac computer. Then the voice memo will be transferred to your Mac's Download folder.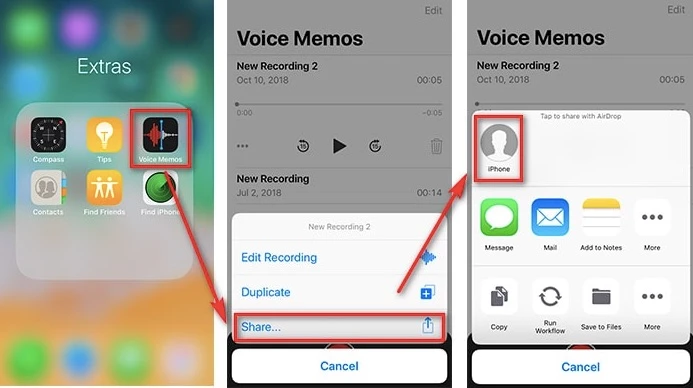 Way 2: Back up voice memos via iTunes
Whether you use Windows or Mac computer, you can use iTunes to sync iPhone voice memos to computer.
When iPhone is connected with computer, launch iTunes.
Tap on the iPhone icon represented on the top of the iTunes and click on "Music".
Check the option of "Sync Voice Memos" and click on "Apply". After that, all the voice memos will be added to iTunes. You can file the iTunes backup file in this path:
On Windows: C:\Users\NAME\Music\iTunes\iTunes Media\Voice Memos in File Explorer
On MacOS: /Users/NAME/Music/iTunes/iTunes Media/Voice Memos in Finder