Most users will set the screen password on their iPhone or other mobile devices. If you do not enter the correct password or your fingerprint is not recognized, you will not be able to unlock your iPhone. With this security feature, you don't have to worry that the phone is used by other person, nor do you need to feel anxious about losing important information when your phone is lost or stolen.
However, if you forgot the password to unlock the iPhone, the iPhone will get locked then. What does it mean if your iPhone is locked? It means that you will not have access to the data such as contacts, text messages saved on your iPhone. Then how to extract contacts from locked iPhone may be exactly what you want to know. Don't worry, we are here to guide you all the possible solutions to extract contacts from a locked iPhone.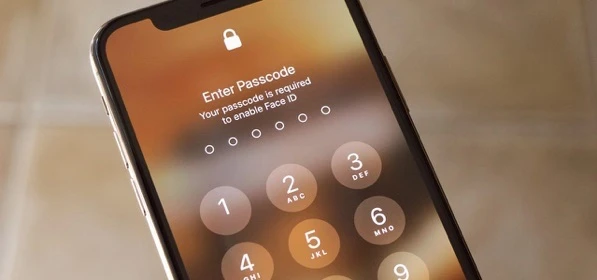 1. How to Get Contacts out of Locked iPhone with 3rd-Party Tool
If your iPhone or iPad is locked or disabled and you need to extract or get data from the locked iOS devices, then FoneGeek iPhone Data Recovery is the most appropriate tool for you. By using the recovery program, you can selectively get contacts out of your locked iPhone with 3 options. You don't even have to restore your iPhone system.
FoneGeek iPhone Data Recovery: Recover Data from Locked iPhone
You can have access to all deleted contacts, text messages, photos, videos, notes, voice memos, WhatsApp messages and other data from disabled iPhone.
Preview and recover deleted data from iPhone or from iTunes/iCloud backup without reset iPhone system.
It is 100% easy to use. Whenever you are young or old, you can easily use the tool without any hassle.
All iPhone/iPad/iPod Touch models and iOS versions are supported, including the newest iOS 13 and iPhone XS/XR/XS Max.
Let's learn how to extract contacts from locked iPhone via iTunes/iCloud backup with this recovery tool.
Step 1. Check the official site of this iPhone Data Recovery to download and install it on your computer. Then run the software and choose 'iPhone Data Recovery'.
Step 2. Click on 'Recover from iTunes Backup' or 'Recover from iCloud Backup' tab from the left panel. You will view that a list of iTunes or iCloud backup files that you created will be shown like the screenshot below. Choose one backup file available on the interface and the software will scan the backup file you selected.
Step 3. When the scanning process is finished, select 'Contacts' from the category on the left panel and choose all contacts or specific contacts from the list and click the Recover button to save the contacts on your computer.
2. Get Contacts from Locked iPhone via iCloud
For most iPhone users, using Apple's iCloud storage service to back up and synchronize mobile phone address book information seems to be a natural thing. But few people know that they can easily export single, multiple or even all iPhone contacts without connecting the iPhone to computer via iCloud's web interface. This technique can play an unexpected role when iPhone is locked or stolen. The following is the complete operation process:
Step 1. Open iCloud.com in your browser and sign in with an Apple ID that corresponds to your iPhone or other iOS device.
Step 2. Click the "Contacts" icon.
Through the iCloud's web interface, users can directly view all address book and address book information. If the user's iPhone has the contact backup feature enabled, the address book in the iCloud on the webpage will be automatically updated.
Step 3. Find the contact you want to export in the address book, and click to select it. If you need to export multiple contacts, hold down the Command key (Ctrl key under Windows) and use the mouse to make multiple selections.
Step 4. Click the gear icon in the lower left corner of the page and select "Export vCard..." from the pop-up menu. Then you can view the exported results in the download folder.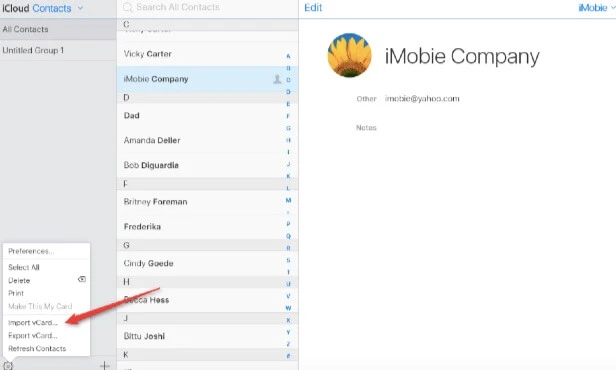 3. Unlock iPhone to Extract Contacts
If you don't extract contacts from locked iPhone via iTunes or iCloud backup as the procedures above, you can also try the solutions below to unlock your iPhone then extract contacts from iPhone directly.
3.1 Restore iPhone System with iTunes
If you have a computer has synced with your locked iPhone before, you can choose "Restore iPhone" to remove the device's screen password.
After connecting the iPhone to iTunes, select the "Restore iPhone" option to clear the iPhone data. In the process, the computer must reinstall the ipsw file to your computer, so it will take some time.
3.2 Unlock iPhone via Recovery Mode
If it's unfortunate that you don't have a computer that syncs with your iPhone, or if the iPhone is not synced with any computer at all, we must use the "Recovery Mode" to erase the iPhone password.
Step 1. Firstly, we have to connect the iPhone to iTunes and put the iPhone into Recovery Mode:
On iPhone X, iPhone 8 or iPhone 8 Plus: Press the Volume Up button and release it quickly. Press the Volume Down button and release it quickly.
Next, press and hold the side button until you see the recovery mode screen.
On iPhone 7 or iPhone 7 Plus: Press and hold the side button and the volume down button until you see the recovery mode screen.
On iPhone 6s and easier models, iPad or iPod touch: Press and hold the Home button and the top (or side) button until you see the recovery mode screen.
Step 2. After entering the recovery mode, we can also see the "There is a problem with the [device] that requires it to be updated or restored." dialog box on iTunes, select "Restore" here.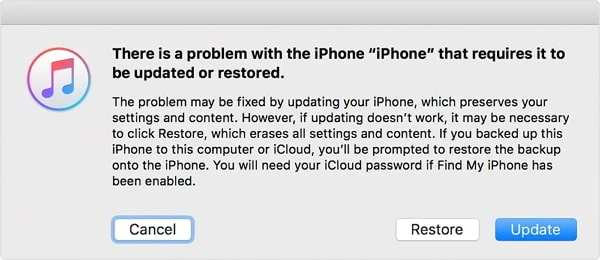 Step 3. After clicking on the Restore button, iTunes will inform you that all the data will be erased. Select "Restore and Update" here.
Don't be worried that the iPhone data will be erased after the restore is completed. If you use iCloud to back up your device, you can try to restore the iCloud backup to the device.
In the future, in case of losing important data such as contacts after the iPhone is locked and disabled, it's better to develop the habit of backing up iPhone with iTunes and iCloud regularly.

Fay J. Melton has explored the area of technology and software for more than 5 years and he is enthusiastic about helping users solve various technology issues.

Home
>
iPhone Recovery
>4 Ways to Extract Contacts from Locked iPhone with/without Backup