If you are trying to unlock iPhone screen continuously with incorrect password, the device will automatically lock up and become disabled eventually. Luckily, there are 5 ways you can try to unlock iPhone without passcode. Below is an overview of these methods:
1. Unlock iPhone without Passcode via Reliable Software
It could be annoying to unlock iPhone without passcode. Don't worry, you can try one of the best unlock program called FoneGeek iPhone Passcode Unlocker. When you get an error of iPhone system or you forgot your iPhone screen passcode, this program will come in handy. It is developed to remove all types of passcodes on iPhone or iPad.
20% OFF Coupon Code: UNLOCKCODES20
Steps to Unlock iPhone without Passcode with FoneGeek
Here are the step-by-step guide to unlock your iPhone password with FoneGeek iPhone Passcode Unlocker.
Step 1. The 1st thing you need to do is to download and install the program on your computer. Run the software and tap "Unlock Screen Passcode".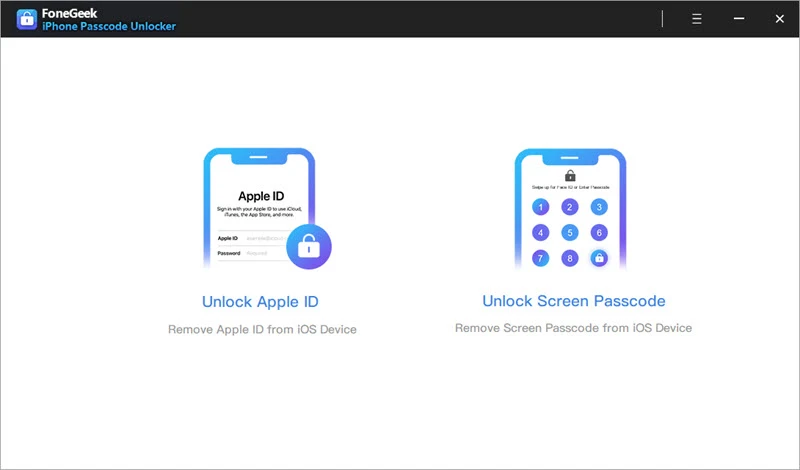 Step 2. You should connect your iPhone to computer and follow the on-screen steps to boot it into DFU/Reocvery mode.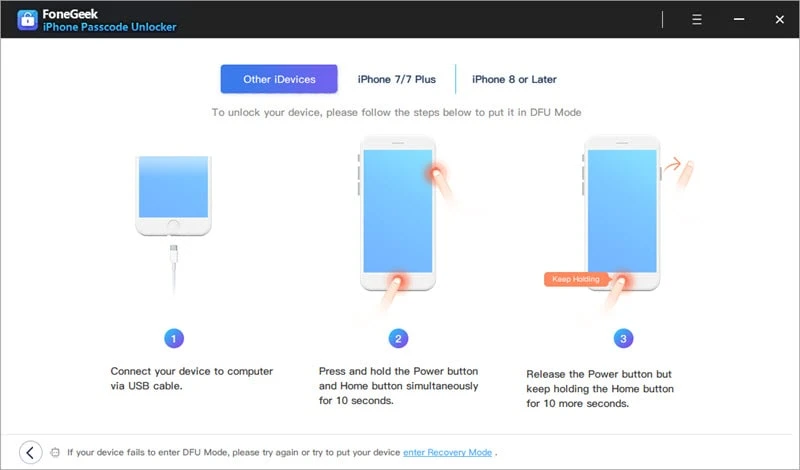 Step 3. Your iPhone information will be displayed on the screen when it is in DFU/Recovery mode, such as the iOS version and device model. Verify the information and click on "Download" button.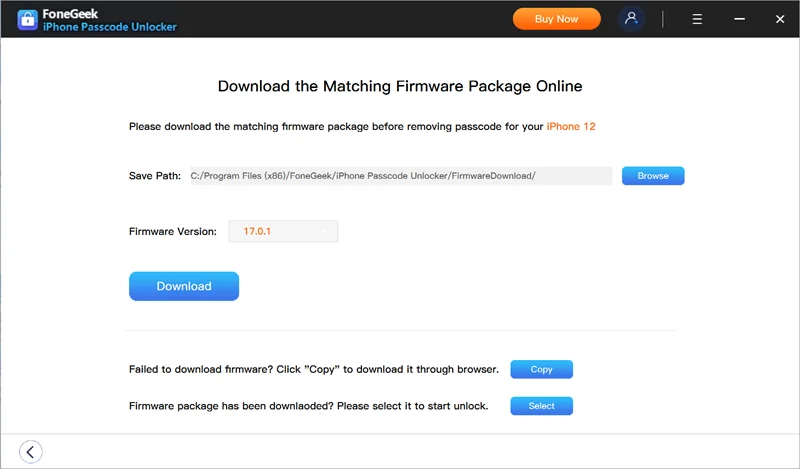 Step 4. Once the firmware package is downloaded successfully, tap the "Start to Unlock" button to begin unlocking. After the process, the screen password will be removed.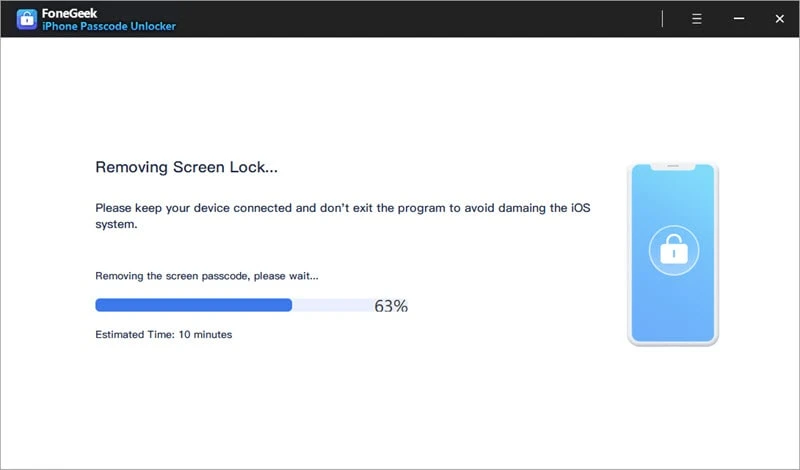 FoneGeek iPhone Passcode Unlocker: Best iOS Unlocking Tool
You can easily unlock any disabled iOS devices you want without passcode.
Disconnect your iPhone with old iCloud account by removing iCloud account without password.
It is completely compatible with iPhone 13, iPhone 13 Pro, iPhone 12 mini, iPhone 12, iPhone 12 Pro (Max).
It updates regularly and is now available with iOS 15, iOS 14 etc.
It is trusted and recommended by several top rated media sites, such as iLounge, CNET, Software.Informer, Filehorse, JustWebWorld, iGeekPhone, etc.
It is 100% secure to use and you data will not be exposed.

Pros of FoneGeek iPhone Passcode Unlocker:
Very effective to use. It only takes 5-15 minutes to remove iPhone passcode without passcode.
It has much cheaper price with the same features than its compatitors.
Cons of FoneGeek iPhone Passcode Unlocker:
It will delete the data and settings on iPhone. Thus we highly recommend you to back up your iPhone with free tools like iTunes or iCloud. After removing the passcode with FoneGeek, you can restore from iTunes/iCloud backup to avoid data loss.
2. Get Into Locked iPhone without Password via Find My iPhone
You can also use "Find My iPhone" feature to remotely get into your locked iPhone without passcode. But here are some limitations of this method you should not miss:
This method only works when you have previously enabled "Find My iPhone" on your iPhone or iPad before the device is locked.

It requires the iCloud account credentials (Appld ID and passcode) linked to the iPhone.

All the device data will be erased. You can follow the setup process and recover data from the previous iCloud backup (if available).
Step 1. Ensure that the locked iPhone is connected with stable network.
Step 2. Open "Find My iPhone" app on another Apple device or on a computer. Log in to your own Apple ID and you'll be able to see your own device.
Step 3. Select "Erase iPhone", then all the data and settings on your iPhone (including the screen passcode) will be erased.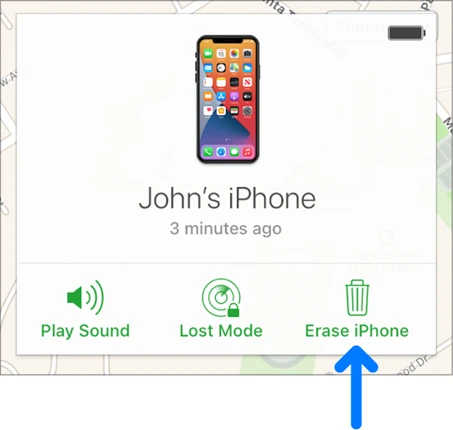 3. Unlock iPhone without Passcode via iTunes
When it comes to removing passcode from iPhone with iTunes, here are 2 ways:
3.1 Unlock iPhone Using Recovery Mode
Before trying out this method, you should notice that:
All the content and settings will be erased when you unlock iPhone with iTunes in recovery mode.

The Apple ID and passcode of the iCloud account is required.

iTunes will create a full backup of your iPhone, which can be restored to the device after the whole process.
Step 1. Plug your iPhone or iPad into any computer, then run iTunes.
Step 2. Next, we have to put the device into recovery mode. The process depends on the device model you have:
For iPhone 8 or later versions: Press and release the volume up button quickly. Then press and release the volume down button quickly. Finally, hold down the Side button until you see the Recovery Mode screen on your iPhone.

For iPhone 7 or iPhone 7 Plus: Press and hold the power button and volume down button simultaneously. Keep it until you see the recovery mode screen on your iPhone.

For iPhone 6s or earlier versions: Press and hold the home button and the power button at the same time. Keep it until you see the recovery mode screen on your device.
Step 3. iTunes will display a pop-up window stating "There is a problem with the iPhone (or iPad or iPod touch) that needs to be updated or restored." Click "Restore". iTunes will download the correct software version and install it on your device.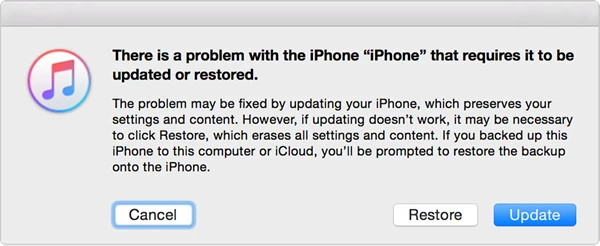 Step 4. If the download process takes more than 15 minutes, your device will automatically restart. If not, just repeat the steps 3 and 4 above.
After the recovery process is complete, safely unplug the device and continue the setup process. If you have previously backed up this device using iCloud (you should do this), you will have the opportunity to set up your device with the last backup. Otherwise, you still honestly start from 0.
3.2 Unlock iPhone in DFU Mode with iTunes
Open iTunes on computer and put the device into DFU mode.

Connect the device to computer and erase it with iTunes.

If you backed up your iPhone to computer before, you can restore the device with the backup.
Both of the method require you to install the latest version of iTunes. But there is one trouble that it is difficult to put iPhone into DFU or Recovery mode.
4. Unlock iPhone without Passcode via Siri
In this section, let's go through the procedures to unlock iPhone without passcode via Siri.
This method is only available for iOS 10.3.2 and 10.3.3 versions.

You should provide the iCloud account and passcode linked to the device.

The good thing is that your device data will not be erased, so you don't have to restore the device after unlocking the device.
How to Unlock iPhone with Siri
Activate Siri by pressing the home button on your iPhone. Once this feature is enabled, you can ask Siri to open the clock. When the clock is displazyed on the screen, click on the clock to proceed.

Tap the + icon to add one more clock, then click on "Select All" and "Share" to share the clock via Message.

Click on the Return icon to return to the "Create New Contact" screen. Select "Add Photo" and "Choose Photo" to go to the photo library. Click on the home button again and you'll find that your iPhone is unlocked without password.

5. Turn Off Passcode on iPhone
The procedures in this part is to show how to turn off passcode on iPhone, after turning off this feature, you will not be asked for the passcode to unlock your iPhone. However, screen passcode is required to turn off this feature.
Open Settings on your iPhone and click on "Face ID & Passcode" or "Touch ID & Passcode".

Click on "Turn Passcode Off" and enter the screen passcode to confirm.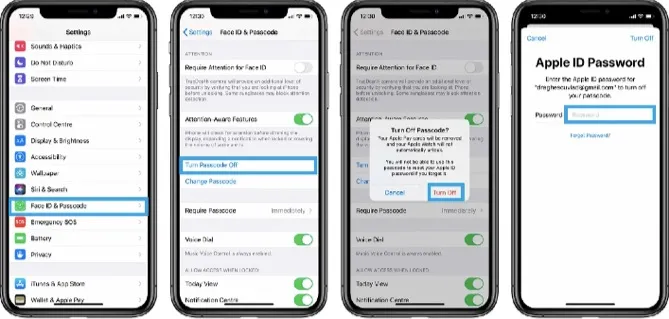 The Bottom Line
We have shared 5 ways to unlock iPhone without passcode, have you got it? In fact, to avoid unnecessary trouble, it is best to set up a relatively simple password that you can remember. On your daily life, you can also try to unlock your password to consolidate your memory.

Joan J. Mims is interested in researching all tips about iPhone, iPad and Android. He loves to share useful ideas with all users.

Home
>
Unlock iPhone
>[100% Work] 5 Ways to Unlock iPhone without Passcode 2022