'hey i just broke my screen and i'm expecting a new phone in the mail but i don't want to loose all the stuff i had on my last iPhone X.  i tried to back up the phone but iTunes wont recognize my phone before i enter the password on my phone.  the problem is i cant navigate through my phone because the screen is broken.  HELP!!!'
Is your iPhone screen broken for the reason that it is dropped on the floor by accident? You may be very hurting and worrying a lot for the iPhone with broken screen. The easiest way to overcome this issue is to change a new screen. However, a more problematic issue arises: Do you have a backup file of the iPhone before the screen is broken? If you have never created a backup of your iPhone data, you may take the risk of losing data after replacing the screen.
If you have no idea of what to do now, read this article. You will know how to backup iPhone with broken screen after going through the solutions in this post.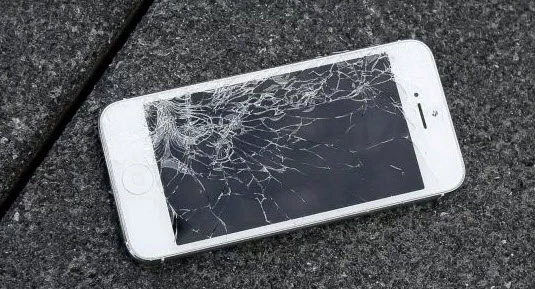 Tip1. Backup with iTunes If You Have Trusted a Computer Before
Have you ever connected your iPhone to a computer and click 'Trust' option when the system prompted you to trust the computer before the screen is broken? If the answer is YES, then you are really a lucky dog. You will never have to be annoyed about the matter. Why? Your computer and iTunes will automatically detect your disabled iPhone with the device is connected, you don't even need to click 'Trust' on the iPhone screen. So that you can easily backup iPhone with broken screen via iTunes. You can follow the steps below:
Step 1. If the latest version of iTunes is installed on your Windows or Mac, it will automatically detects your iPhone when you connect the device to computer.
Step 2. After the device is detected, click the iPhone icon on the navigation bar and tap 'Summary'.
Step 3. Under the section of Backup, tick 'This Computer' option, then click 'Back Up Now' and iTunes will start to make a full backup of your iPhone data.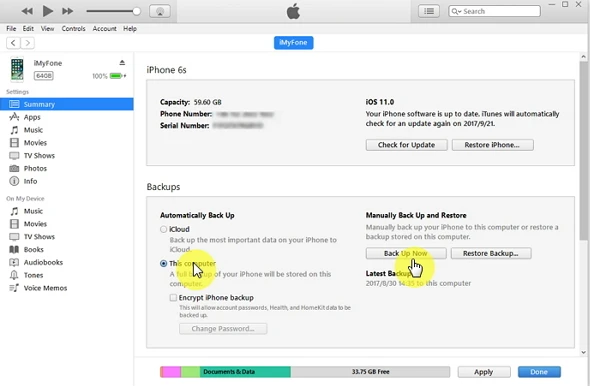 Tip 2. If You Have Never Trusted a Computer Before
The method above will not be ideal for you if you have never trusted your iPhone with a computer before the screen is broken, since iTunes will require you to trust this computer on the broken screen, which is nearly impossible to be done.
Worry not, we have also provided relevant solution for this situation. FoneGeek Backup & Restore (iOS) will be required under this circumstance. This program acts as a backup and restore tool to make a full/partial backup of the iOS data, then restore the data to another phone selectively without data loss. Meanwhile, it is completely free to backup an iPhone with a broken screen with this program. After the backup, you can also preview what you have backed up on the software interface.
Besides the feature of backup and restore, this software also aims to export up to 20 types of dat from iPhone, or from iTunes and iCloud backup to computer. This feature will be available when your iPhone screen is broken and you have no access to the data any longer. You can still choose to export data from the backup file with this program. Now download the free trial version of PR Backup & Restore to your computer and backup specific data of your iPhone.
Step 1. When you have downloaded this toolkit on the computer, select 'Backup & Restore' from all the tools. Connect the device to computer with the computer or laptop through an USB cable. You iPhone will be automatically detected.
Step 2. Almost all data types are supported by this program, including text messages, contacts, photos, social apps data like whatsApp, LINE, Viber, Kik, Wechat, etc. You can select the data you need to back up and click on 'Backup' to continue. At the same time, you can also select the folder to collect the backup data.
Step 3. The backup will get started afterwards. The complete backup process depends on the data size of the data you selected.
Step 4. After the backup is finished, click on 'View Backup History' to view each data you backed up with this program in detail. After that, you can choose to export these data to your computer for print or restore to a different device.
You must have get an answer for how to backup ipPhone if screen is broken in this article. There are still solutions on how to trust computer on iPhone with broken screen and  recover data from disabled iPhone without backup on our website.

Fay J. Melton has explored the area of technology and software for more than 5 years and he is enthusiastic about helping users solve various technology issues.

Home
>
Backup & Restore
>How to Backup iPhone with Broken Screen – 2 Different Ways